Embark on an incredible adventure as we transit through the Panama Canal. Travel from the Pacific Ocean to the Atlantic Ocean and experience firsthand the extremely impressive engineering effort required to create this modern wonder of the world.

Full transit through the Panama Canal
A visit to the Embera Quera Indigenous Community
El Macho Waterfall
Experience authentic Panamanian cuisine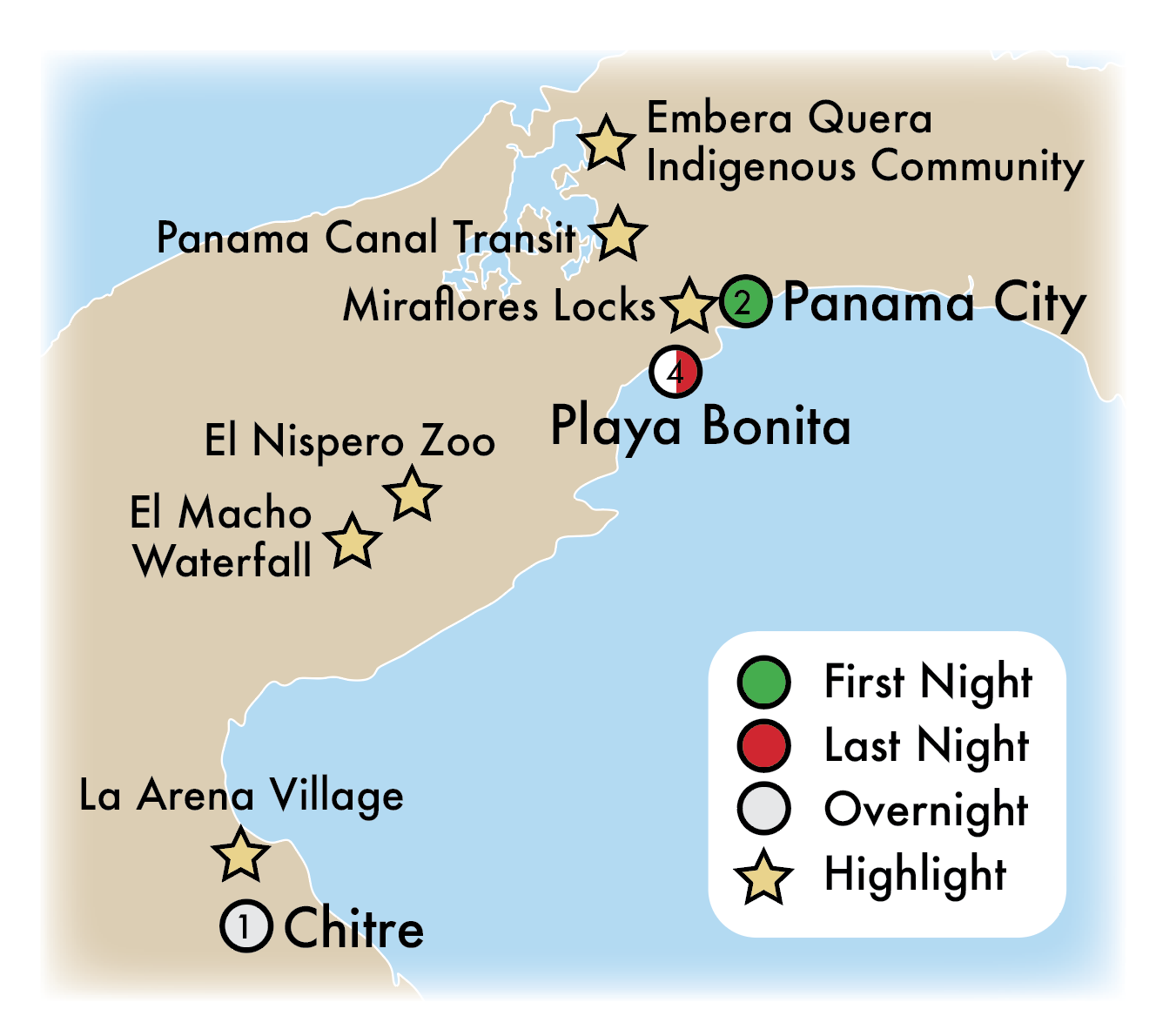 DAY 1—ARRIVE IN MIAMI
Travel to Miami and enjoy the evening before tomorrow's flight.
DAY 2—WELCOME TO PANAMA!
Travel to Panama this morning as a group. This evening includes a delicious welcome dinner and overnight stay at
the AC Hotel by Marriott in the heart of Panama City. D

DAY 3—CITY TOUR & MIRAFLORES LOCKS
Spend the day visiting the ancient ruins of the"Old Panama" in the "Casco Antiguo" or Old Quarter. After lunch, visit the Miraflores Locks visitor center which includes a museum and lookout point to view the ships passing through the chambers. B, L, D
DAY 4—PANAMA CANAL TRANSIT
Transit through the Panama Canal today and transfer from the Pacific Ocean side to the Atlantic Ocean. Along the way, marvel at the Bay of Panama and Panama's impressive skyline before we pass underneath the Bridge of the Americas. Next, we travel through both the Pedro Miguel Locks and the Miraflores Locks before entering Gatun Lake where we pass by the Smithsonian Research Station. B, L, D
DAY 5— EL VALLE DE ANTON EXPEDITION
Travel to the province of Cocle. El Valle de Anton is a picturesque town set in the crater of an extinct volcano. Browse through fresh locally grown fruits and indigenous crafts during our first stop at the scenic local market. We'll also visit El Macho Waterfall, and see the pre-Columbian petroglyphs. We'll even have time to take a dip in
the natural pools! We finish off our day today by visiting El Nispero Zoo, home to many exotic species of birds,
mammals, and reptiles. B, L, D
DAY 6—BEST OF AZUERO/PANAMANIAN CRAFTS
Today head towards the Herrera Province where we'll observe how the salt is extracted from the Pacific Ocean using the same technique the indigenous invented. Learn about traditional pottery making followed by a visit to a sugar cane mill where we'll sample the local sugar cane juice. See how the local bread is made and sample its unique taste before enjoying a traditional Panamanian lunch in a local restaurant. Marvel in the detailed handcrafting of the Pollera, one of the most beautiful traditional costumes in the world! Meet a group of ladies devoted to the traditional dress of Panamanian women! Local artisans will show us the drums used in traditional music and masks used for folkloric dances. B, L, D
DAY 7—CHITRE
Enjoy a morning at our beautiful resort on Playa Bonita. After lunch, we will head towards the quaint town of Chitre, capital of the Herrera province, and see its colonial charm and agricultural ambience. Our hotel for the night was inspired by the local architecture of Azuero and all the elements of the pre-Columbian cultures of the region. B, L, D
DAY 8—EMBERA QUERA INDIGENOUS COMMUNITY
Travel to the end of the Gatun River with a 30-minute ride in a motorized canoe to visit the Embera Quera Indigenous Community. Together, learn about the lifestyle, food, and culture of the Emberas. We even have the opportunity to see a traditional dance with music. Enjoy a traditional lunch and shop the homemade crafts made by the residents. B, L, D
DAY 9—FAREWELL
Say farewell this morning in Panama City and head home with treasured memories. B


Quality Accommodations
Night 1: Homewood Suites Miami Airport
Nights 2-3: AC Hotel Panama
Nights 4-5: Westin Playa Bonita
Night 6: Hotel Cubita, Chitre
Nights 7-8: Westin Playa Bonita

Dates:
Mar 13-21, 2024
Price Per Person:
Double $4,797
Single $5,445

Pre-/Post Tour Hotel:
$338 per night
Depart/Return:
Miami, FL
Inclusions:
Round-trip airfare from the U.S.
Free airport shuttle or hotel parking
Welcome Dinner and meals as indicated (B=breakfast, L=lunch, D=dinner)
Fees and tips for included attractions and meals
Luggage handling of one suitcase per person at hotels
Free bottled water on coach
24-hour emergency call service
Arrival Time

Day 1 arrival into Miami can be anytime that day. Our group flight to Panama will be on Day 2, with our Welcome Dinner at our hotel, AC Hotel Panama, starting at 6:00 pm.
Departure Time

Schedule your flight home to depart the Miami Airport any time after 6:30pm on Day 9.
Airport Transportation / Vehicle Parking

Our starting hotel offers a complimentary shuttle service to/from the Miami Airport. If you are driving to the starting location, they also offer complimentary parking for the duration of the tour.
Walking Distance

(Moderate) walking is required to fully enjoy this tour. Some walking will also be on uneven paths. While walking canes are allowed, we are unable to accommodate travelers using other mobility devices, including walkers and wheelchairs.
Average Temps

Panama City- High of 88 degrees and Low of 77 degrees
Citre- High of 91degrees and Low of 75 degrees
Time Zone
Eastern
Hotel Amenities
Each hotel has a hair dryer, iron, swimming pools, in room safes, and a coffee maker. Westin Playa Bonita hotel also offers beach access.
Additional Information
A total of three mailings are sent to assist you in preparing for your tour, including information sent upon receipt of your reservation.
Dress on tour is casual. Sunscreen, sunglasses, hat, visors, and comfortable walking shoes will add to your enjoyment of this tour.
Travel Protection Available
Yes, see CountryTravelDiscoveries.com/TravelProtectionPlan.
Share it
---