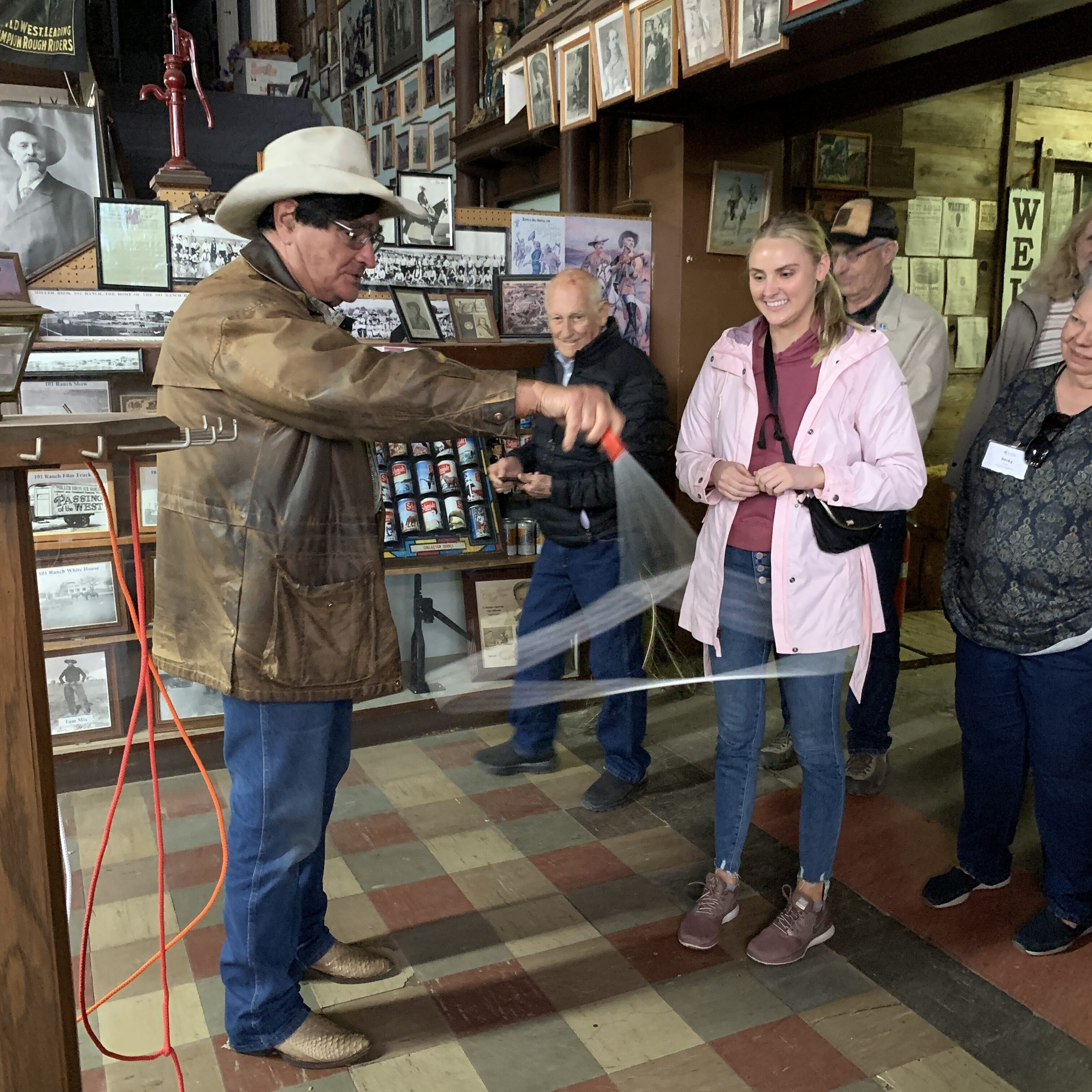 ---
The Wild West!
Oklahoma, also known as The Sooner State, is a fascinating state boasting with Native American history and Western culture. While on tour, our group was curious to know how Oklahoma got its nickname as "The Sooners State." We learned from our tour guide at the Citizen Potawatomi Nation Cultural Heritage Center that back in the late 1800's when people arrived in Oklahoma to claim land, what is referred to as a "land claims race" was held by the U.S. government. Thousands of people participated in this race attempting to stake claims in Oklahoma land (that had once belonged to the Native Americans). However, those who snuck out onto the land early before the race's official start time were labeled as "sooners" giving Oklahoma the famous nickname as The Sooner State.
As one of CTD's newest team members, Oklahoma's Frontier Country was my first experience out on tour with CTD travelers, and we sure did have a blast! From learning a classic western roping technique to observing traditional Native American dresses during a private fashion show, and meeting the famously down to earth CTD travelers face-to-face, this trip did not disappoint! During our adventures I discovered that Oklahoma is home to many warm-hearted locals beaming with pride for their wonderful state. (Not to mention… I discovered it's also the birth state of Brad Pitt!) We had the unique opportunity to experience first-hand how old Western and Native American culture is embedded in the local's culture and still thriving today, I thought this state's efforts to honor its original residents was something very special to witness!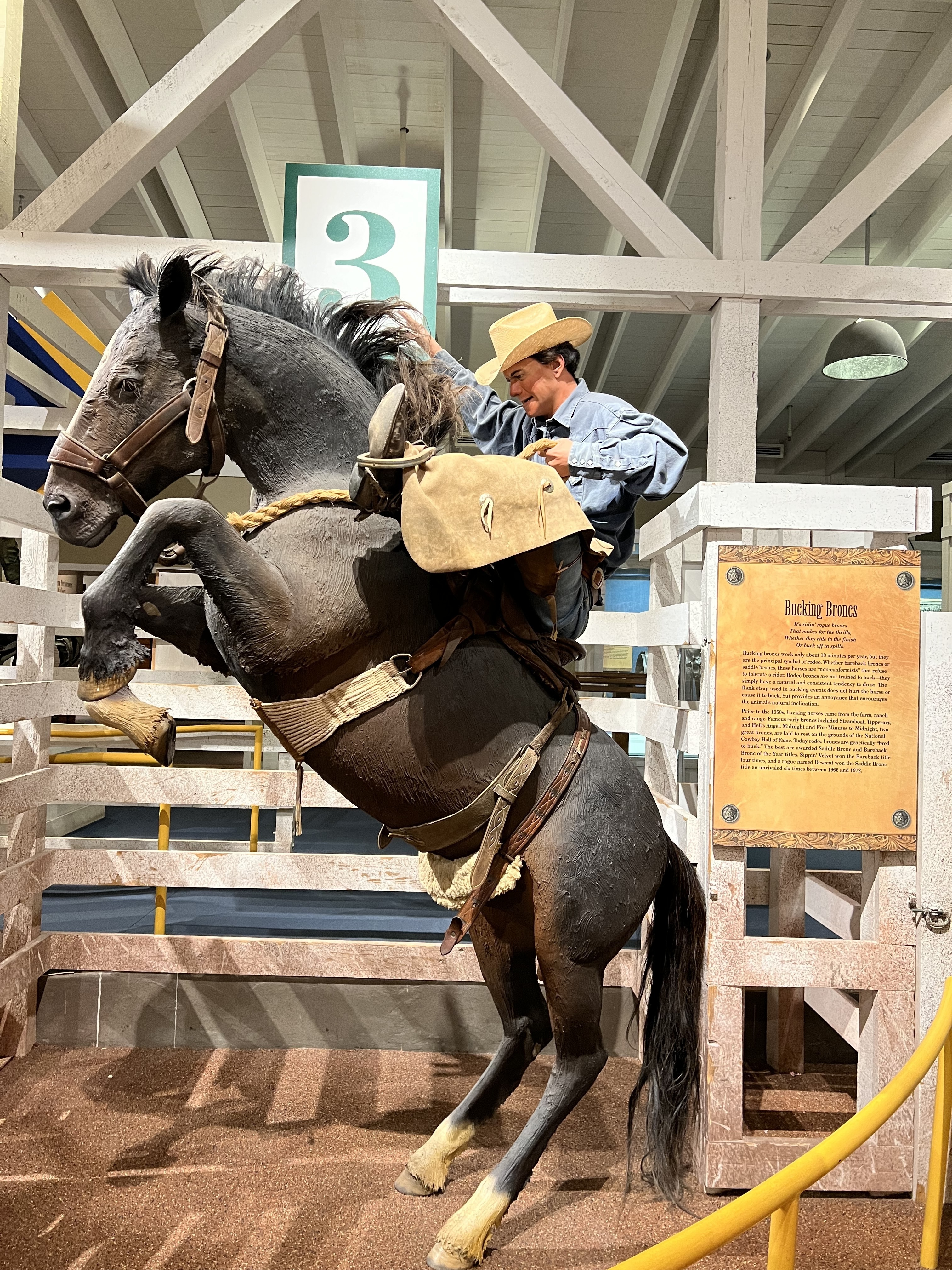 With this location being so rich in Native American history, our group excitedly toured the Citizen Potawatomi Nation Cultural Heritage Center. My favorite exhibit here had to be the abundance of moccasins handmade by tribal members from all around the United States. People of various ages and skill levels contributed to this project to honor their heritage. Our group also had the extremely unique opportunity to visit the Citizen Potawatomi Nation Eagle Aviary where several injured eagles call home. Here we saw majestic eagles up close and learned about their significance to the Potawatomi tribe. We even had the opportunity to see two injured eagles foster a baby and raise it as their own. Their passion and efforts to assure eagles thrive both inside and outside the Aviary was extremely impressive!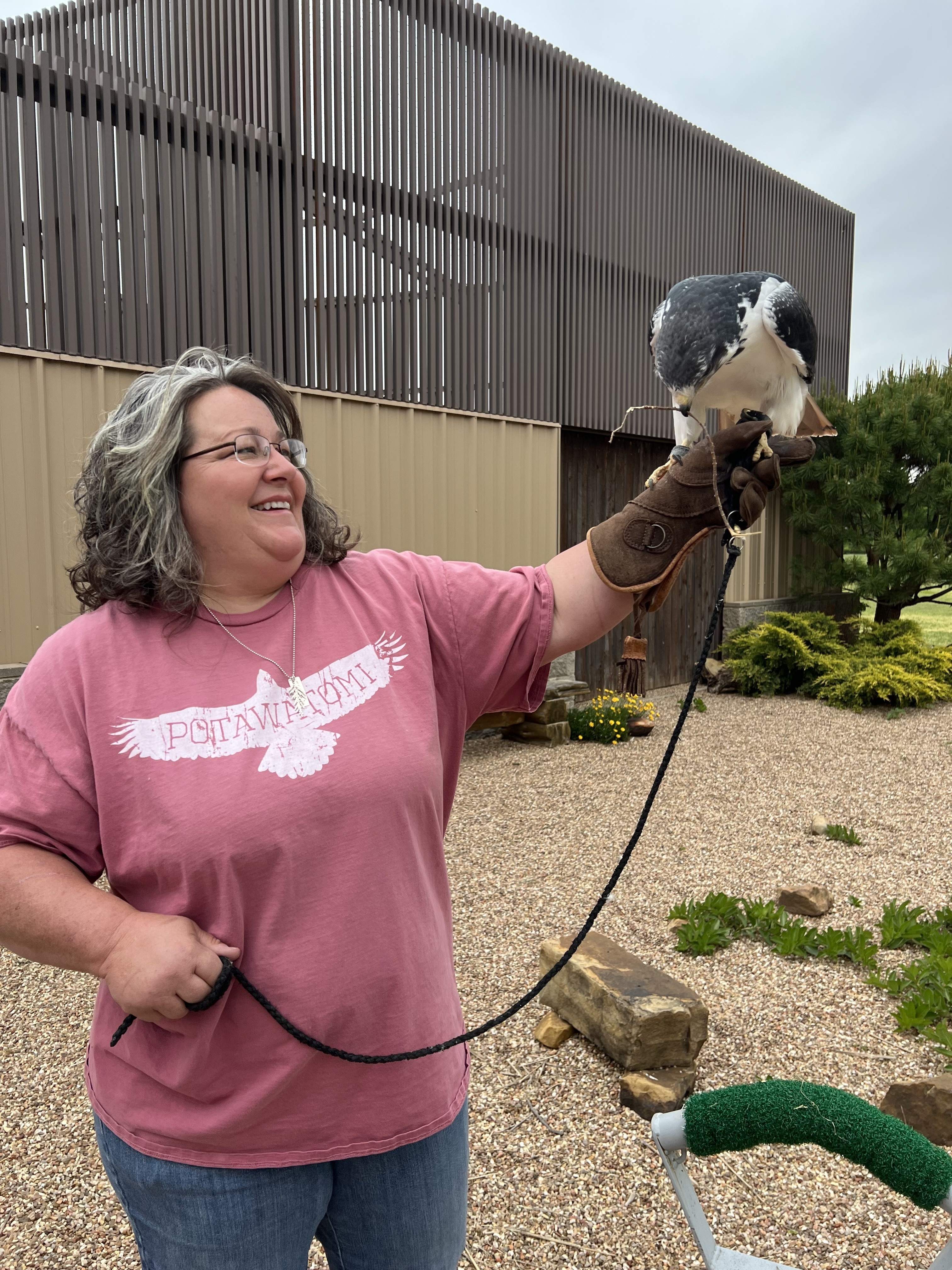 Our adventures also took us to Oklahoma City starting with a visit to the Oklahoma Stockyards where we experienced a real cattle auction and listened in from the audience. I am born and raised in the dairy state, but have definitely never experienced anything like this! We also visited the National Cowboy & Western Heritage Museum. This museum wonderfully combined Western history, art, and culture. I felt like I was truly transported to the Old West when I walked through a unique exhibit showing a street replica of an old frontier town during the 1800's lined with churches, bakeries, and schools to walk through. I even met a friend to show me the true Old Western ways! (See below)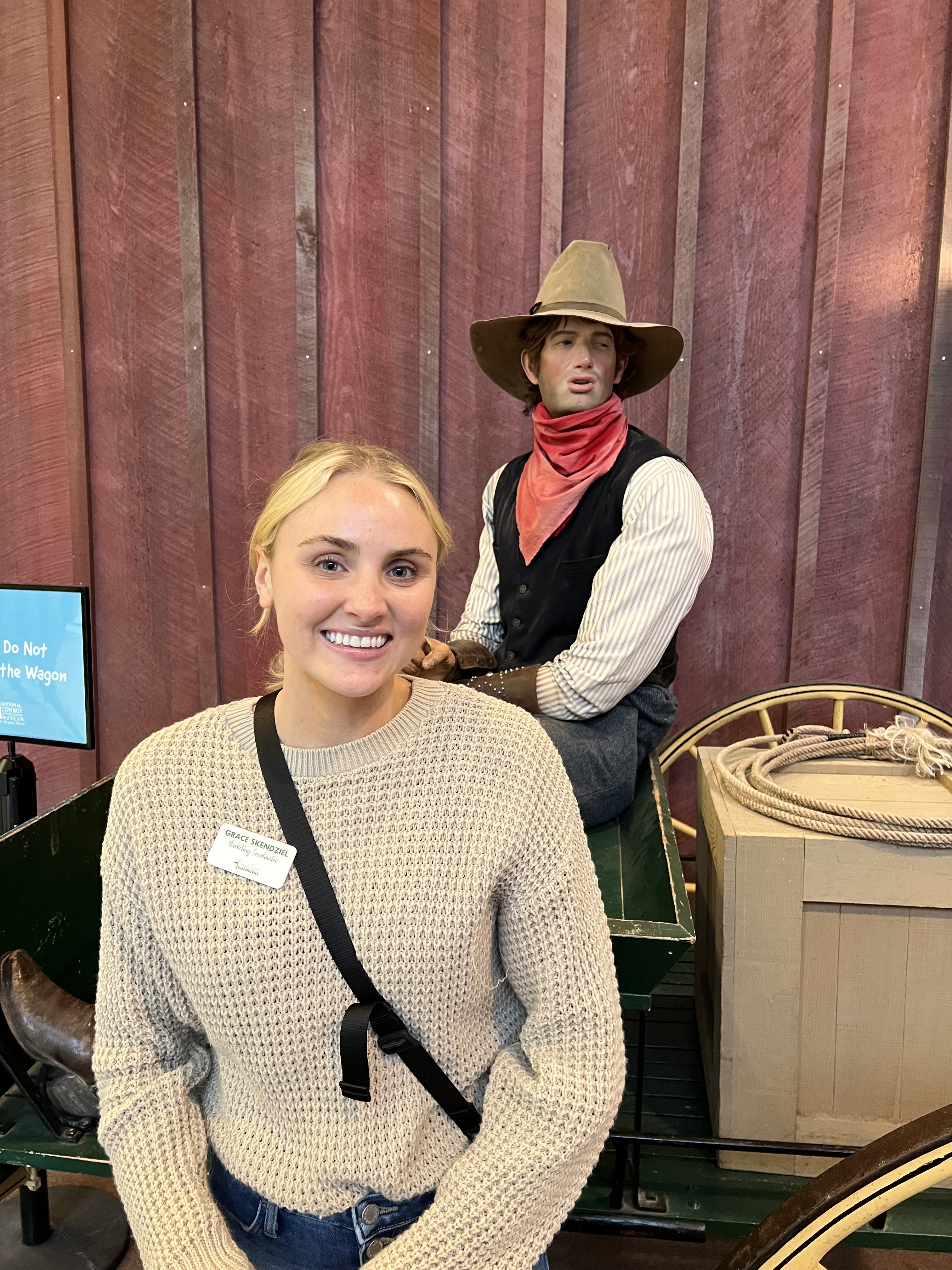 Living in Wisconsin my entire life, I never thought I would be up close feeding and touching live (huge) buffalo, but there I was feeding the largest buffalo of the bunch, a gentle giant named Woody! And I was not afraid to feed them at all… (even though my fellow travelers might tell you different). Before Europeans settled in Oklahoma, we learned that buffalo were always a staple in the lives of Native Americans providing them with many of their much-needed essentials. Some of the uses for buffalos included using the meat for food, the hides for clothing and blankets, the horns and bones for tools, and the fat for soap… and that is just to name a few! The Native Americans found use for the entirety of the buffalo not letting the animal's life go to waste. This stop was the perfect blend of learning the story of the American buffalo and spending time with these beautiful creatures up-close.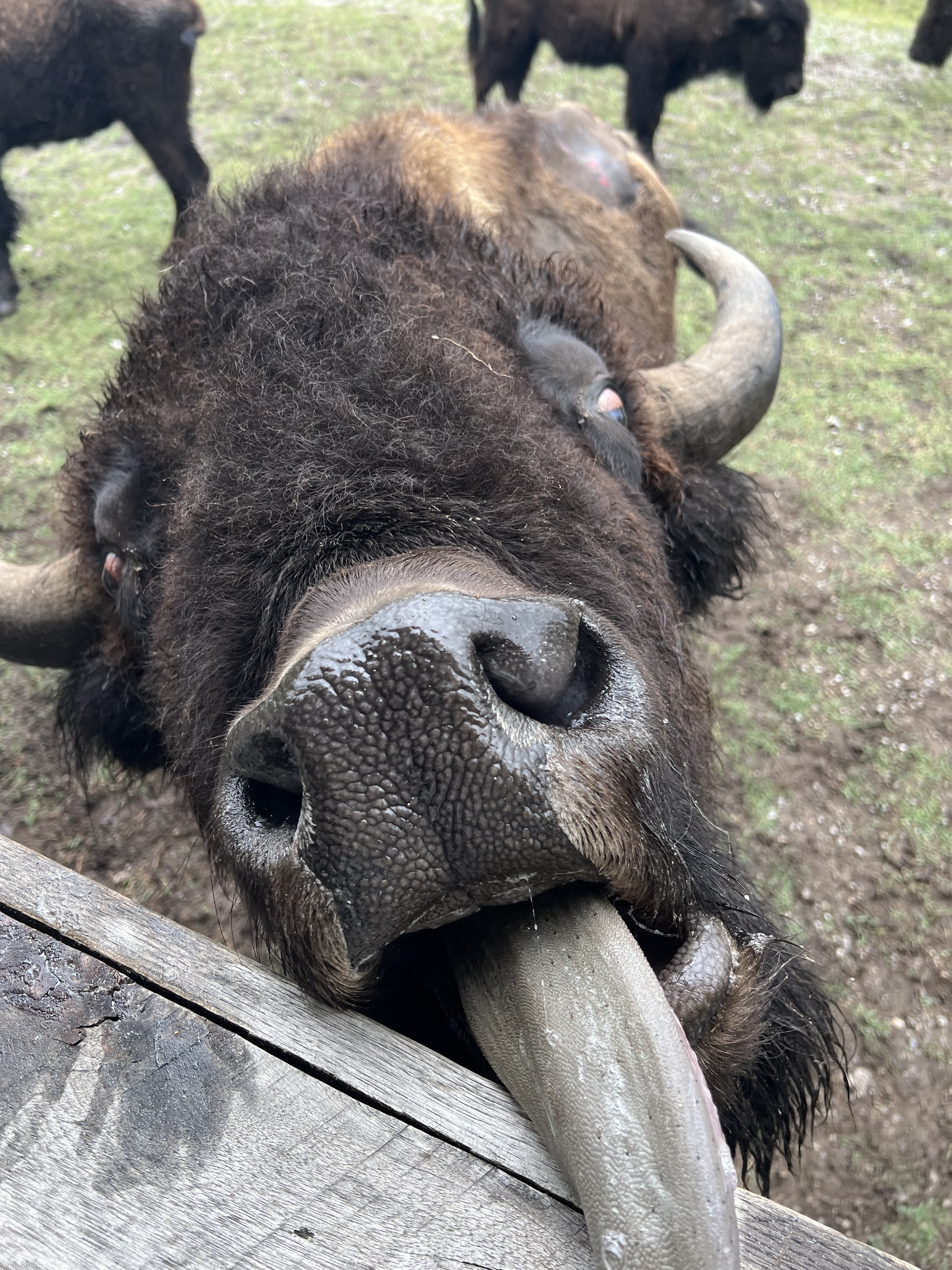 The animal experiences didn't end there, we also took a private horse drawn carriage ride at the Express Clydesdales. After our ride around the grounds, we had the opportunity to pet these impressive horses and learn more about them from the passionate Clydesdale team. These horses were huge, powerful, and friendly as can be!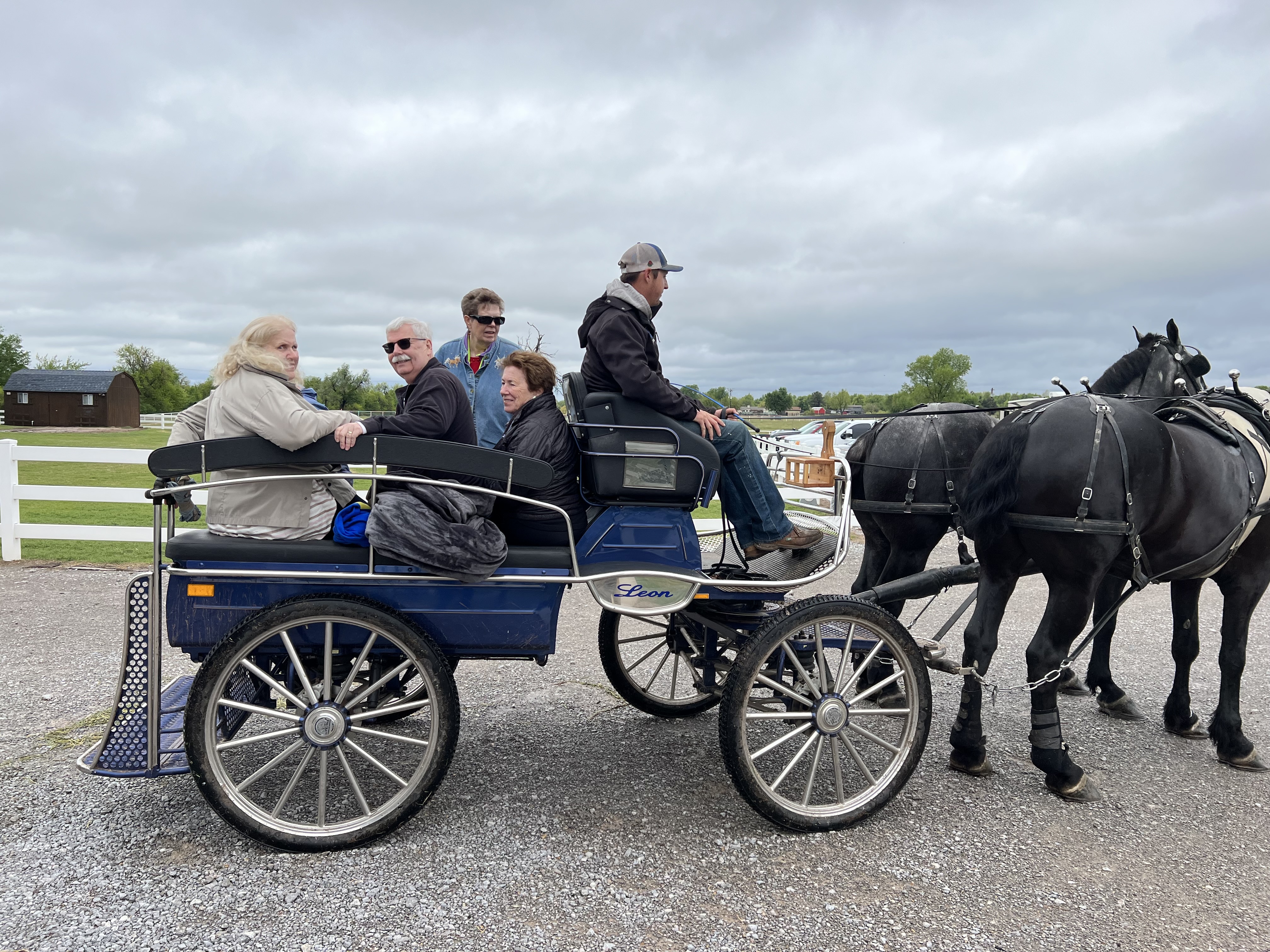 If you've ever wondered what the different Native American tribes wore, and how they created their outfits, we could tell you! We enjoyed a private fashion show featuring women from several different Native American tribes. The women modeled the authentic clothing while a narrator shared with our group information about how these outfits were made and what occasions they were worn for. Little did we know we were in for a real treat because the fashion show ended with a short comedy show put on by two of the models!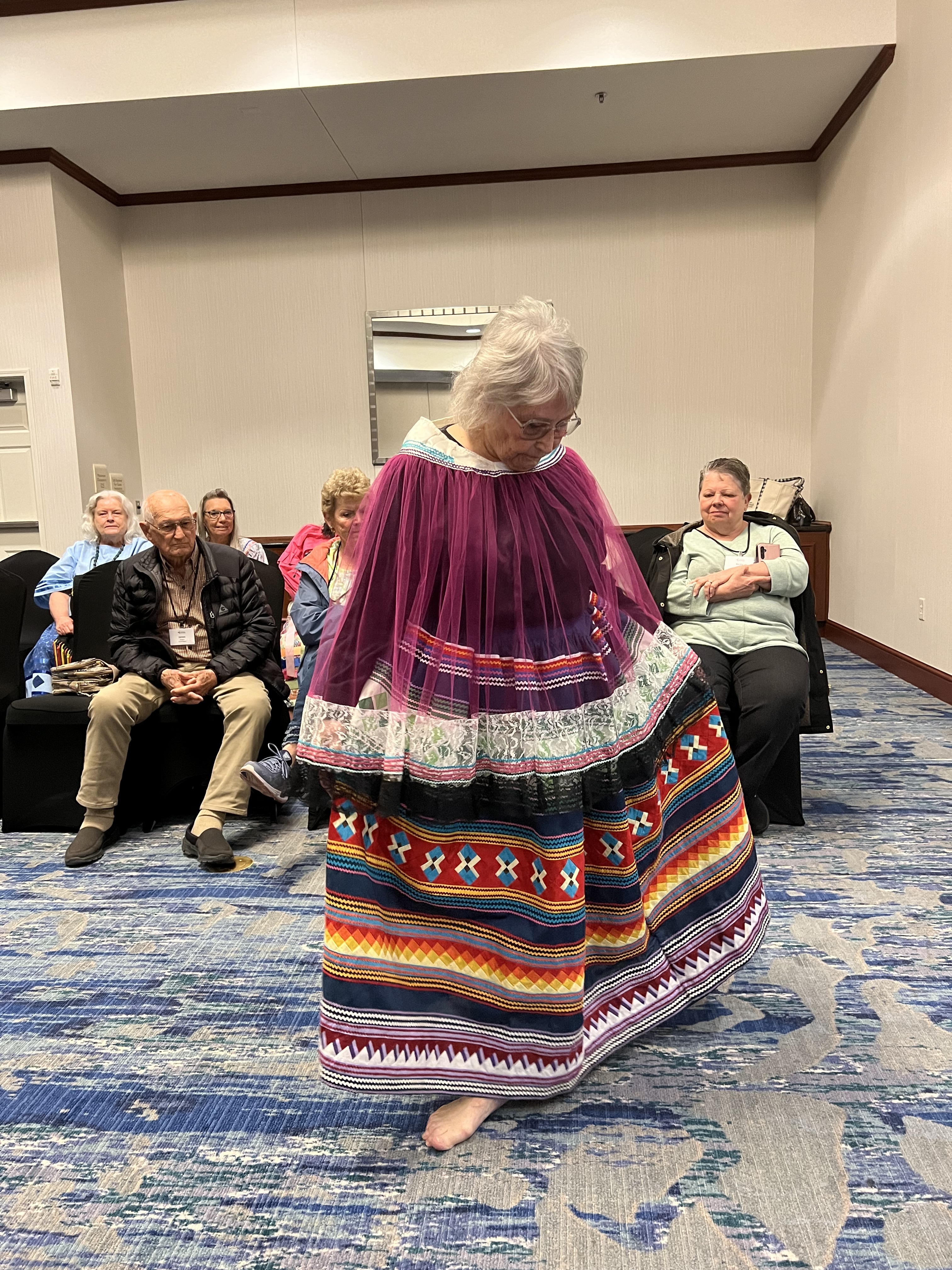 Although I enjoyed each and every stop on this tour, including the time spent between stops eating, laughing, and getting to know my fellow travelers, to me the most memorable stop on this tour had to be the Oklahoma City Memorial. People come from all over the world to visit this museum and honor and remember those who lost their lives during the horrific Oklahoma City bombing in 1995. We learned how closely this museum worked with the families of the victims to get this experience right and create a space that can inform the world and highlight how Oklahoma came together to support one another during an incredibly difficult time. Our group had a private speaker share with us her story of losing a relative during the Oklahoma bombing. We were all really appreciative of the speaker's bravery and strength, as she kept her relative's memory alive. This was an extremely moving experience that will stay with us all forever.
As I parted ways with the fascinating state of Oklahoma, I left with amazing memories of the time I spent learning from passionate locals, seeing incredible wildlife, and experiencing the best hidden spots in the state alongside a bus full of new friends.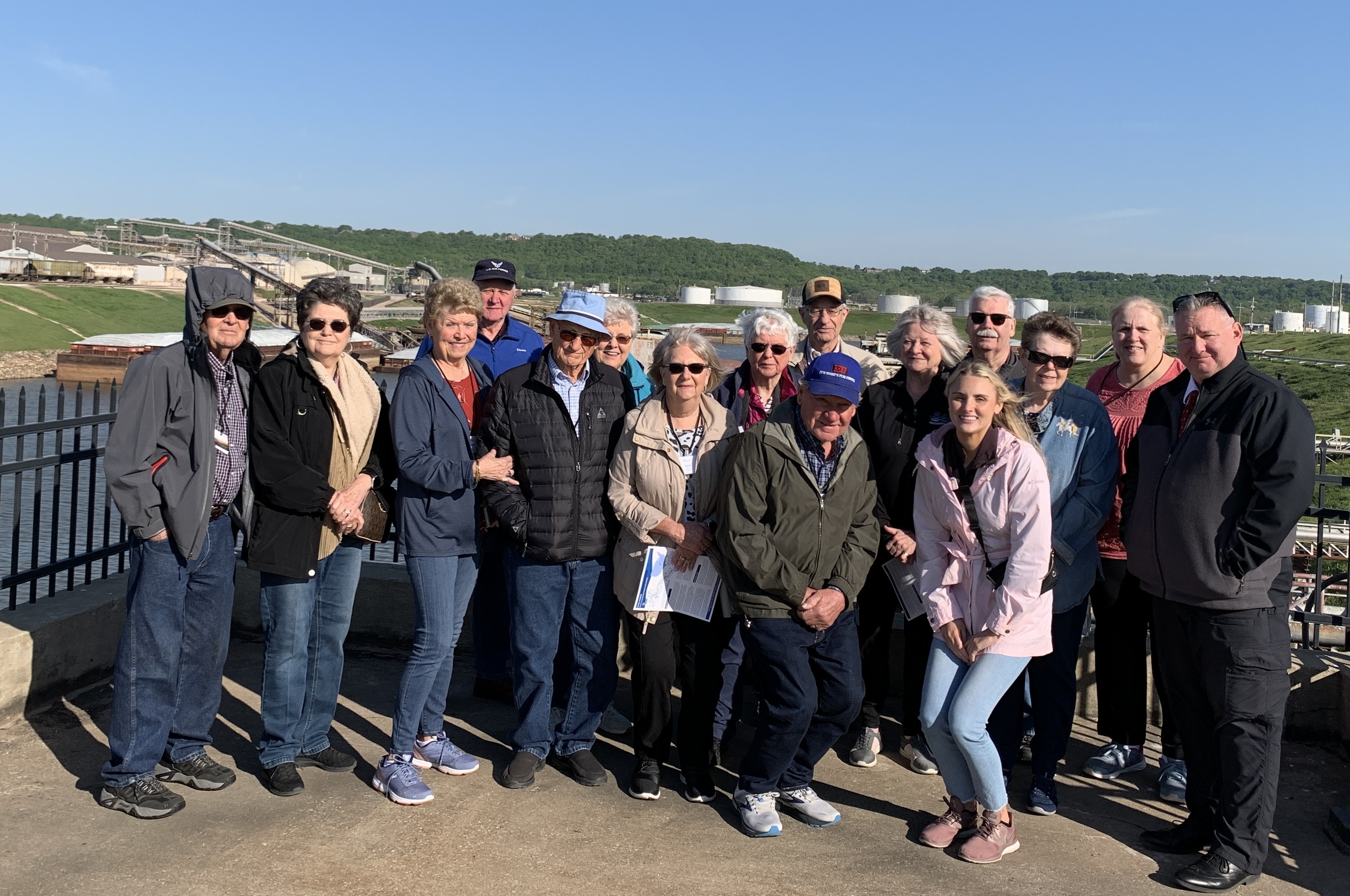 Back to Notes From The Road