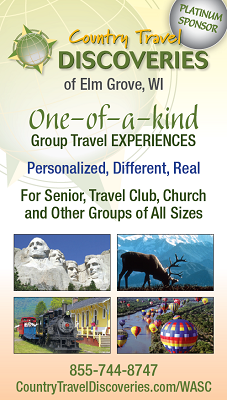 Thanks for your interest in Country Travel DISCOVERIES! On this page, you can learn about some of our partnership initiatives benefitting senior centers.
A proud Platinum Sponsor of WASC and its conference, we are an Elm Grove-based tour operator specializing in high-quality, off-the-beaten-path group tours to destinations across the U.S., Canada, Central America and Europe. Our staff has several decades' of experience hand-crafting unique travel programs that have earned us a 98% customer satisfaction rating. With roots in the former World Wide Country Tours, part of the Reiman Publishing network (Country, Country Woman, A Taste of Home, Reminisce), our tours emphasize scenic rural, natural and small town settings, nostalgic attractions, wholesome entertainment, and "locals-only favorite" stops.
How We Help WASC Members
We love to help group travel leaders from senior activity centers plan, promote and organize tours for groups of all sizes. Whether your center's travel activities are coordinated by a dedicated travel club leader, participant volunteers, or the center's director or admin staff, we make it easy to give your members/customers a great travel experience -- and even generate additional revenue for your center.
We offer special pricing for groups as small as 5-9 travelers joining our scheduled departures. For larger groups, we are your long-range planning and logistical partners in building, selling and running unique, private itineraries customized to your group's needs. We can also help with promotions, deliver a tour presentation, provide a free trip for the group leader, and help your travelers obtain travel insurance.
Current Specials for WASC Partners
CTD also offers a program that periodically opens up select departures to WASC members with special net pricing discounts and revenue-generation opportunities. Upon request, WASC Members can receive a unique code to provide these discounts, which may be applied entirely to the benefit of your travelers; as revenue to support your center activities; or split between your travelers and the organization...in the manner that best serves your mission and needs.

$200.00 per person for groups of 5-9 (currently honoring rate for 1-4 travelers as well)
$250.00 per person for groups of 10 or more
For more information, please call 855-744-TRIP (8747) or email us.
Stay Up-to-Date
To keep up with CTD news and specials for senior activity and community centers, please make sure the person in your organization most involved with travel activities is on our information list Group Travel Leaders.