Our Yukon: North of Ordinary tour is sold out for 2018. To receive notifications about our 2019 tour, please email us or call 855-744-8747.

CTD and the experts at
Yukon: North of Ordinary MagazineTM
are thrilled to introduce you to the wonders, natural beauty and rugged character of Canada's western-most territory. Starting in the capital of
Whitehorse
, travel through pristine landscapes by waterways and the scenic
White Pass & Yukon
rail routes, discover the First Nations roots of this diverse region, and meet people who thrive amid sometimes harsh conditions and living with nature. Local Yukonners/Yukonnais will share their knowledge of forestry, natural cooking, outdoors living, wildlife care, ancient indigenous cultures and much more. Also visit
Atlin BC
, "Beyond Belief". It's an adventurous trip in a "larger than life" place you won't soon forget!
Unpack for 6 nights in Whitehorse
Round-trip flight from Vancouver to Whitehorse included
Scenic ride and lunch on White Pass & Yukon RR to Lake Bennett
Forest-to-table dinner & guided forest walk by Boreal Chef Michele Genest
Visit world-renowned artisans in Atlin, BC
Meet expert musher, Michelle Phillips at Tutshi Sled Dogs
Learn about indigenous cultures at Kwäday Dän Kenji, an outdoor museum
Picnic in beautiful Kluane National Park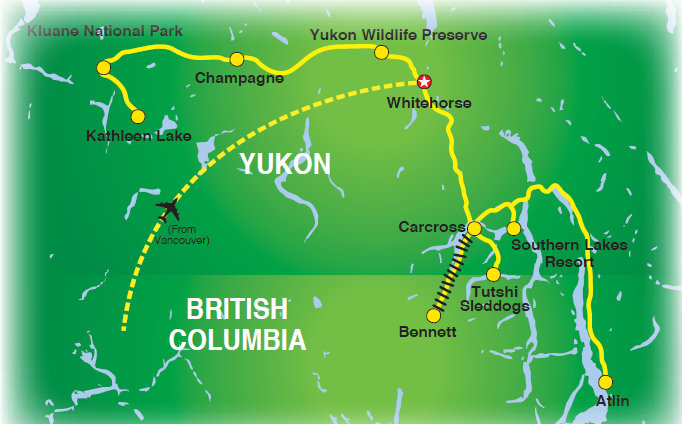 DAY 1—CANADA WELCOME

Welcome to Canada! Tonight, meet your Discovery Director and fellow passengers at a welcome reception in Vancouver, then rest up for our adventure "North of OrdinaryTM".
DAY 2—YUKON'S CAPITAL, WHITEHORSE/CITY TOUR
Today we'll fly together aboard Air North to the Yukon's territorial capital of Whitehorse—our home base for the next seven days. This afternoon starts with an overview tour of Whitehorse, including a visit aboard the docked SS Klondike—a classic sternwheeler ship, now a national historic site, and the Fish Ladders and Hatchery, where you'll view fish through the underwater window and learn more about the salmon and other species in the Yukon River. We'll kick things off with dinner overlooking the Yukon River. B, D
DAY 3—MACBRIDE MUSEUM/YUKON WILDLIFE PRESERVE/MICHELE GENEST
For a better sense of all-things-Yukon, the MacBride Museum provides an overview of the territory's—and Whitehorse's—natural, social, economic and industrial history. Then, we'll travel out of town to the Yukon Wildlife Preserve, a unique wildlife viewing property featuring 13 species of northern Canadian mammals in their natural environment. After lunch, join food columnist, author and cook Michele Genest for a woodland walk to share her passion for cooking with the wild and cultivated foods of Canada's boreal forest. Then, savor a wonderful dinner hosted by Michele and chef Karina Lapointe at Café Balzam. B, L, D
Option: Takinhi Hot Springs—Enjoy a relaxing soak in the mineral-rich natural hot springs (37°and 42° Celsius), as Yukonners have for centuries. Price Per Person: $30
DAY 4—KWÄDAY DÄN KENJI/HAINES JUNCTION/ KATHLEEN LAKE
Called Kwäday Dän Kenji in Southern Tutchone language, the "Long Ago Peoples Place" is an outdoor museum dedicated to authentically representing the culture of "pre-contact" aboriginal peoples from the region. We'll gain insight into how that society seasonally traveled, hunted, and built temporary shelters here, and enjoy tea and bannock, a traditional native biscuit. We continue on to Haines Junction and Kluane National Park for a picnic lunch and guided walk at picturesque Kathleen Lake. B, L
DAY 5— BOREAL HERB WALK/LUMEL STUDIOS/ OPTIONAL PADDLE
This morning, we'll learn about the properties and uses of local plants from Beverley Gray, expert author of Boreal Herbal: Wild Food and Medicine Plants of the North. Next, we're treated to a special presentation by the glassblowers at Lumel Studios, which produces such beautiful works of art as the Northern Lights and fireweed series…you may just want to take one home with you! Enjoy a leisurely afternoon in Whitehorse to stroll the town, shop or take an optional tour.
Option: Paddle the Yukon—Explore the Yukon River as the gold miners did over a century ago on a guided canoe ride. A guide will assist with paddling as you travel through portions of Miles Canyon and into Schwatka Lake. Price Per Person: $85
Later this evening, join the locals at the Fireweed Community Market to catch a bite, listen to music or talk with local artisans while shopping for a favorite souvenir. B
DAY 6—ATLIN, BC, "BEYOND BELIEF"
Experience spectacular scenery on your drive from Whitehorse to Atlin, British Columbia. This small town sits on the eastern shore of Atlin Lake, the largest natural lake in the province. You'll travel back in time to gain deeper insight into the region's gold rush history, and delight in a 1920s-style English tea aboard the MV Tarahne. Meet some world-renowned artisans who call this community home such as Manu Keggenhoff, Art Director of Yukon, North of OrdinaryTM and photographer, and coffee roasters, Philippe and Leandra Brient. We'll stop for dinner on our return to Whitehorse at Southern Lakes Resort nestled on Tagish Lake. B, L, D
DAY 7—WHITE PASS & YUKON RR/TUTSHI SLED DOGS
Animal and sports lovers alike will be thrilled by today's visit to Tagish Lake Kennel, where we'll meet Michelle Phillips along with her elite canine sledding team. Michelle will share what it takes to be a competitive musher, and the role of dog-sledding in Yukon history. Continue to Carcross for a bit of free time for shopping or getting your passport stamped. Then it's "All aboard!" the White Pass & Yukon for a nostalgic rail trip through beautiful mountain scenery and lakes to historic Lake Bennett, a gold rush town site and the end of the Chilkoot trail. You'll have time to visit the exhibits and hike along portions of the trail as so many miners did in search of their fortune. A photo opportunity at stunning Emerald Lake will be made on your way back to Whitehorse. B, L, D
DAY 8—FAREWELL
After a light breakfast we'll get an early start and fly together back to Vancouver with a new appreciation for the exciting life in a land "North of OrdinaryTM". B
Jul 22-29 SOLD OUT
Depart/Return: Vancouver, BC
Price Per Person: Double: $2,497; Single: $2,995
Pre/Post-Tour Hotel: $208/night inc. breakfast

DAY 3 Option - Takhini Hot Springs
Enjoy a relaxing soak in the mineral-rich natural hot springs (37°and 42° Celsius) of Takinhi Hot Springs, as Yukonners have for centuries. Price Per Person: $30
DAY 5 Option - Paddle the Yukon
Explore the Yukon River as the gold miners did over a century ago on a guided canoe ride. A guide will assist with paddling as you travel through portions of Miles Canyon and into Schwatka Lake. Price Per Person: $85
Average Temps

high upper-60s / low upper 40s (July)
Time Zone
Pacific in Vancouver/Mountain in Yukon
Arrival Time
Schedule your flight to arrive by 5:00 p.m. on Day 1.
Departure Time
Schedule your flight home any time after 12:45 p.m. on Day 8.
Airport-Hotel Transportation
Starting hotel offers 24-hour complimentary shuttle service.
Vehicle Parking
Parking at the starting hotel is at a rate of $85 Canadian/$70 US Dollar for the duration of the tour.

Walking Distance
Moderate walking is required to fully enjoy this tour. Some walking can be on uneven surfaces.
Currency
Canadian Dollar
Hotel Amenities
Hair dryers, irons, ironing boards, coffee makers.
Additional Information
Dress on tour is casual. Due to the rustic nature of the Canadian Yukon, restroom facilities found at rural stops may at times be of the port-o-let or pit toilet variety.
Further information is mailed upon receipt of your reservation. A total of three mailings are sent to assist you in preparing for your tour…Get Ready, Get Set and Go! Our "Get Ready" packet is sent confirming your reservation. Our "Get Set" packet provides further details approximately 90 days prior to departure with important details regarding making your travel arrangements. Finally, our "Go" packet arrives 2-3 weeks before departure containing all your final documents.
Updates
Updates to this document are available from our Discovery Reservations Team, and will be posted online at CountryTravelDiscoveries.com/YNoO.
Travel Protection Available?
Yes, see CountryTravelDiscoveries.com/TravelProtectionPlan.

Terms & Conditions
Tour reservations are subject to the terms and conditions on our website at CountryTravelDiscoveries.com/terms.
Groups
Have a group? We can make your group's vacation cost-effective and easy, with discounts for groups as small as five and other benefits. Learn more at CountryTravelDiscoveries.com/groups.
Share it
---