Explore magnificent geological wonders and a rainbow of colors in the land of fire and ice. See glistening icebergs, grand waterfalls, spouting geysers, and a unique interior landscape as mysterious as when Vikings first arrived here. Visit architectural landmarks while strolling the quaint, art-lined streets of Reykjavik, and refresh yourself in the mineral-rich, rejuvenating waters of the Blue Lagoon. 
Travel the unique landscapes, volcanoes, fjords and coasts around the entire perimeter of Iceland
Capital city tour in Reykjavik
Visit Thingvellir National Park, a UNESCO World Heritage site
Try the healthful, thermal mineral waters of the world-famous Blue Lagoon
Marvel at the original Geysir and the mighty falls at Gullfoss and Godafoss
Iceberg cruise on Jokulsarlon Glacier Lagoon
Fascinating exhibits at Petra's Museum of Minerals and the Museum of Agriculture
Experience some 21 hours of sun and brightly glowing nights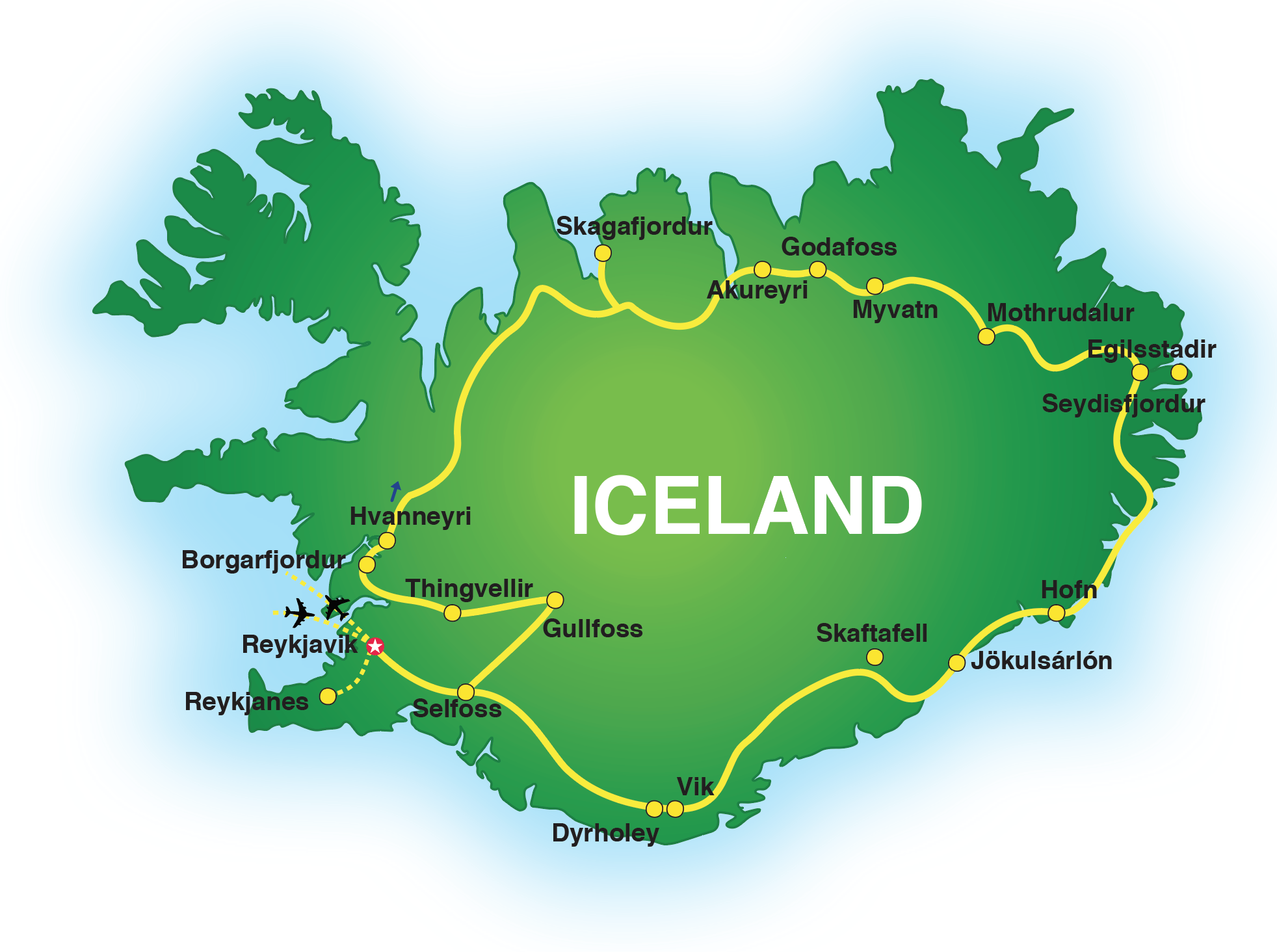 DAY 1-2–MINNEAPOLIS/BLUE LAGOON/REYKJAVIK CITY TOUR
Meet your friendly CTD representative at Minneapolis International Airport before your overnight flight to Iceland. Your adventure in the land of fire and ice begins with a visit to Viking World, home of the Viking Ship Islendingur (the Icelander). Then, take a relaxing, mineral-rich thermal bath at Reykjanes' famed Blue Lagoon. After a rejuvenating soak, delight in a guided tour of this lively capital city, with its unique blend of ancient geothermal features and modern architecture, including the immense Hallgrimskirkja church situated on top of a mountain of basaltic lava! Later, enjoy a welcome dinner at your hotel. D

DAY 3–ICELANDIC HORSES/THINGVELLIR NATIONAL PARK/ GULLFOSS/GEYSER
Today at Fridheimar horse center, see beautiful Icelandic horses, learn about their history and unique gait, and chat with show riders. We'll also learn about their geothermal greenhouse and get a taste of fresh vegetables. Later, thrill to the power and grandeur of Gullfoss, the most photographed waterfall in Iceland. You'll continue your exciting travels around the island with a trip to Thingvellir National Park, a geological wonderland and Iceland's most significant historical site. The world's oldest democratic parliament was founded here in 930 A.D. Down the road, visit Great Geyser and Strokkur (Butter Churn) Geyser, which faithfully spouts every five minutes. Our last stop of the day is a visit at the scenic Bjarteyjarsandur Sheep Farm, which also has many other animals such as Icelandic settlement hens and Border Collies. Overnight in the Borgarfjordur area. B, D
DAY 4–AGRICULTURE MUSEUM/WOOLCRAFTS/SPECIALTY DAIRY/AKUREYRI
Today visit Hvanneyri, a tiny village of just 300 people. See the Museum of Agriculture's antique tractors and farming tools, then step next door to the Wool Hut for a handicrafts workshop that will be opened just for our visit. Continue north to the Skagafjordur district, noted for its history of horse breeding. Upon arrival in Akureyri, take a guided walking tour of this lovely, artistic town. Then, visit Holtsel dairy farm, famous for its fruit-sweetened yogurt ice cream. You can sample some. Enjoy dinner on your own in one of Akureyri's many fine restaurants. B
DAY 5–WATERFALLS OF THE GODS/LAVA FORMATIONS/LAKE MYVATN
This morning we'll visit majestically cascading Godafoss, the "Waterfalls of the Gods!" Then, we'll continue to the pristine Lake Myvatn, a paradise for birdwatchers, geologists and other nature enthusiasts. You'll discover pseudo-craters at Skutustadir, the curious lava formations at Dimmuborgir, Krafla Volcano, and imagine that you have journeyed to the center of the earth as you travel past boiling mud pools and the flashing colors of Namaskard Pass. B, L
DAY 6–MOUNTAIN CAFE/EGILSSTADIR/SEYDISFJORDUR HARBOR
Today, visit Mothrudalur, the highest elevated farm in Iceland, and sample kleinur donuts and coffee. Next, visit Seydisfjordur, one of Iceland's most picturesque towns. Take a leisurely walk among the harbor's preserved wooden buildings and see an old hydroelectric power station before ending the day in the Egilsstadir area. B, D
DAY 7–EAST FJÖRDS/HÖFN
Today, we continue our journey with a drive along the rugged and varied coastline of the East Fjords. We'll drive along Fáskrúðsfjörður, which was for centuries the main port of French fishermen in Iceland. Next admire the rocks collection at Petra's mueseum of minerals and venture through the Alftarfjordue wilderness. Stop at Vestra Horn for a peek at the island's frolicsome seals and swans. You'll also marvel at the unspoiled natural beauty of Iceland's Eastern Fjords, narrow seaside inlets guarded by steep, jagged cliffs. Overnight in the Höfn area. B, D
DAY 8–ICEBERG CRUISE/SKAFTAFELL NATIONAL PARK/LAVA FIELDS

This morning visit Jokulsarlon Glacier Lagoon for a breathtaking boat ride among the icebergs. Later, tour Skaftafell National Park, situated below the edge of Vatna glacier and Iceland's highest peak. En route to Vik, cross the enormous Eldhraun Lava Field and black desert sands of Mýrdalssandur.
B, D


DAY 9–VIK/SOUTH SHORE/LAVA CENTER

Today, travel east along
Iceland's south shore and visit two magnificent waterfalls: Seljalandsfoss a tall thin beauty that you can walk behind and Skogafoss, a roaring giant which you can get as up close as you dare. There is also the beautiful black sand Reynisfjara Beach, Iceland's southernmost point with a few magnificent sea caves to explore. Basalt columns rocks are surrounding the beach with a stunning view of a sea stack (rumored to be one of Trolls playing in the sea that was caught in the rising sunlight which turned to stone). Also, be on the lookout for puffins, unique and very photogenic sea birds along the amazing rock formations at Dyrhólaey cliffs. Later visit the glacier snout of Solheimajökull, an ever changing and moving natural wonder. On our return to Reykjavík we will stop at the newly opened Lava Center where you will learn more about the volcanic activity in Iceland. Tonight, join your fellow travelers for a Farewell Dinner at a local restaurant.
B, D


DAY 10–BROTTFÖR (FAREWELL)

At last, we must say Brottfor, farewell. It's been a remarkable trip in the land of fire and ice!
B
Dates:
Jul 14-23, 2019
Aug 4-13, 2019 
Depart/Return: Minneapolis, MN
Price Per Person:
Double $5,197; Single $6,175
Pre/Post-Tour Hotel:
$168/night (Courtyard Bloomington by Mall of America)  
Average Temps
high low 60s-high 50s/lows low 50s-high40s
Time Zone
+5 hours from Central Time
Arrival Time
Schedule your arrival into Minneapolis/St. Paul Int'l. Airport to arrive by 4:30 p.m. on Day 1 for our 7:20 p.m. flight to Reykjavik.

Departure Time
Schedule your return flight home to depart Minneapolis/St. Paul Int'l. Airport any time after 9:00 p.m. on Day 10.

Airport Info
Courtyard Bloomington by Mall of America offers complimentary shuttle service for Pre/Post Hotel accommodations.
Vehicle Parking
Free parking is offered during the tour at the Courtyard Bloomington by Mall of America with Pre or Post tour night accommodations.
Walking Distance
Moderate to extensive walking is required to fully enjoy this tour. Some walking will be on uneven paths.
Currency
Icelandic Króna (Iceland)
Hotel Amenities
Hair dryers, TV/cable, telephone and Spa services available at hotels.
Additional Information
Iceland was ranked a Top Destination in 2016 by Conde Nast, CNN, USA Today and Lonely Planet.
Flight time from Minneapolis to Reykjavik is 6.0 hours, Reykjavik to Minneapolis is 6.5 hours. These flights are non-stop.
Land Tours begin one day later. Airport transfers not included with Land Only Tours. Air & Land Tours include government imposed taxes, fees and airline fuel surcharges at time of printing.
Dress on tour is casual.
Further information is mailed upon receipt of your reservation. A total of three mailings are sent to assist you in preparing for your tour…Get Ready, Get Set and Go! Our "Get Ready" packet is sent confirming your reservation. Our "Get Set" packet provides further information approximately 90 days prior to departure with important details regarding making your travel arrangements. Finally, our "Go" packet arrives 2-3 weeks before departure containing your final documents.
Updates
Updates to this document are available from our Discovery Reservations Team, and will be posted online at www.CountryTravelDiscoveries.com/ICE.
Travel Protection Available?
Yes, see CountryTravelDiscoveries.com/TravelProtectionPlan.
Terms & Conditions
Tour reservations are subject to the terms and conditions on our website at CountryTravelDiscoveries.com/terms.
Groups
Have a group? We can make your group's vacation cost-effective and easy, with discounts for groups as small as five and other benefits. Learn more at CountryTravelDiscoveries.com/groups.
Share it
---