Historic Milwaukee, Inc. and John Gurda are pleased to partner with Country Travel Discoveries on this extraordinary tour of Wisconsin Great Lake Michigan.

Meet John Gurda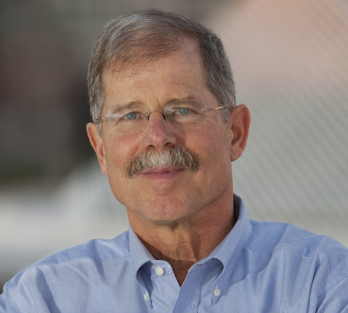 John Gurda is a Milwaukee-born writer and historian. An author of 22 books, his writings focus on Milwaukee-area neighborhoods, industries and places of worship. His most ambitious efforts include The Making of Milwaukee, an in-depth look at the city's past, and Milwaukee: City of Neighborhoods, a historical account of 37 of Cream City's neighborhoods. John has also shared his knowledge throughout nine seasons of Around the Corner with John McGivern™, which airs on Wisconsin PBS.
Unpack once in Two Rivers
Spend the day with historian John Gurda as he relays stories and lore of Milwaukee's rivers and Great Lake
Learn about maritime history at the Wisconsin Maritime Museum & Rodger's Street Fishing Village
Drive scenic Highway 42 for spectacular views of Lake Michigan
See Still Bend, a Frank Lloyd Wright designed home in Two Rivers
Climb the North Point Lighthouse
Enjoy a delicious Wisconsin Fish Fry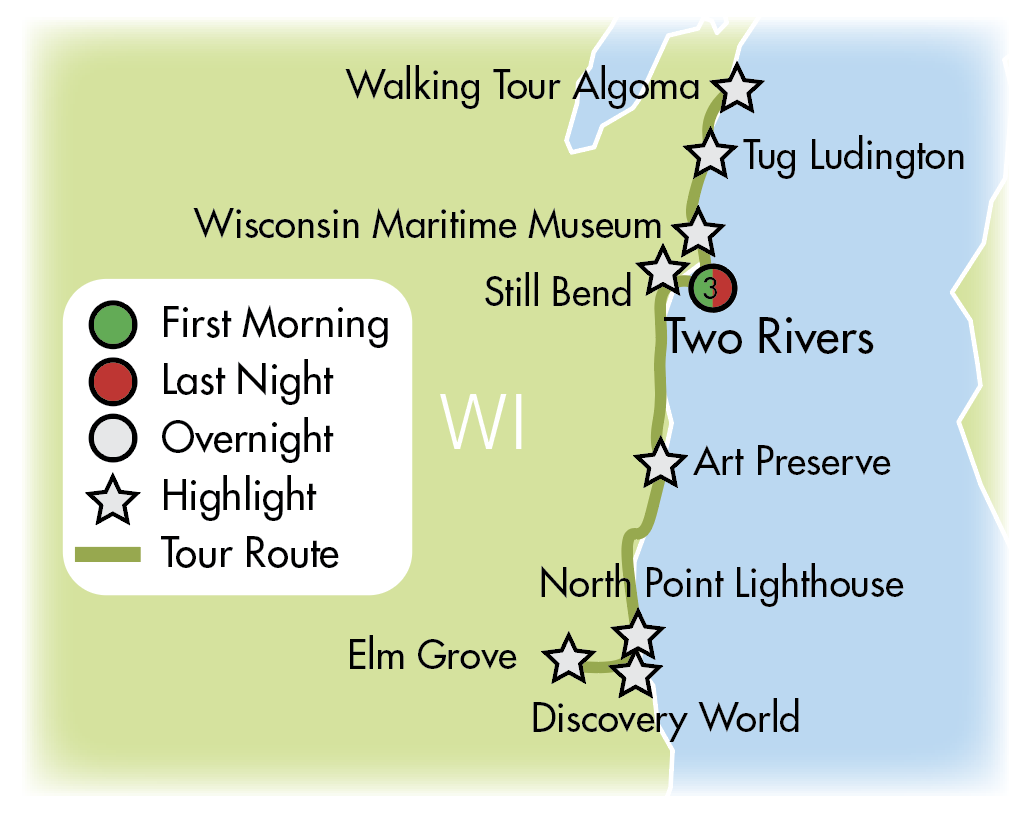 Day 1–A City Built on Water, a day with John Gurda
Welcome! Meet your Discoveries Director and fellow travelers for an informative and fun welcome breakfast. We'll start our tour at the office of Country Travel Discoveries in Elm Grove, located just west of Milwaukee. Today will be a highlight as we spend the day with local Milwaukee historian and author, John Gurda. A visit to Discovery World will allow John to highlight his book, "A City Built on Water". Here you'll learn about Milwaukee's history of the waters that have shaped and challenged the city – as well as made it famous! Following Discovery World, enjoy a luncheon cruise on the Milwaukee River and inner harbor of Lake Michigan. John will relay fascinating stories of the three rivers Milwaukee is built on as well as the great lake. A delightful visit to the North Point Lighthouse caps off the day. Climb to the top for spectacular views of Lake Michigan. We continue to Two Rivers, our home for the next three evenings. B, L
Day 2–Wisconsin Maritime Museum/Rodger's Street Fishing Village/Still Bend:
After breakfast, we'll drive along the Mariner Trail from Two Rivers to Manitowoc, a multi-use six-mile trail along the shores of Lake Michigan. In Manitowoc, we learn about Lake Michigan's Maritime history and heritage at the Wisconsin Maritime Museum. You will also have the chance to take a tour and walk through the WWII USS Cobia submarine. A visit to Rahr-West Art Museum & Mansion is next. This Queen Anne style was built by Joseph Vilas, the mayor of Manitowoc between 1891-1893. Stroll through the fabulous exhibits as you wander from room to room. After lunch, tour Still Bend/Bernard & Fern Schwartz House designed by Frank Lloyd Wright for the typical American family in 1937. Later, tour Rodgers Street Fishing Village. On display are relics of famous shipwrecks, a historic lighthouse and commercial fishing exhibits. Did you know that Two Rivers is the official home of the first Ice Cream Sundae? Visit the Washington House Museum and get a tasty sundae too. Tonight, we visit Machut's Supper Club for a delicious fish fry. B, L, D

Day 3–Tug Ludington/Pierhead Lighthouse/Walking tour of Historic Algoma
This morning we'll enjoy breakfast and continue north along scenic Highway 42 to Kewaunee. Our first visit of the day is Tug Ludington. Made for World War II, the tug participated in D-Day in Normandy and various other assignments throughout the war. Later, it was used in the construction and maintenance of many harbors on the Great Lakes. Then, visit the Historic Center to learn more about the original Fresnel lens of the Pierhead Lighthouse followed by a delicious lunch. This afternoon, we travel north on scenic Highway 42 to Algoma, a community that is very proud of its murals and historic buildings. Learn more about them on a historic walking tour of downtown. You'll have a bit of free time to browse the shops before returning to Two Rivers for our overnight and farewell dinner. B, D
Day 4– Woodland Dunes Nature Preserve/Point Beach State Forest/JM Kohler Art Preserve
This morning, we visit Woodland Dunes Nature Preserve to learn about the American White Pelican which has been in the area for decades. They spend time here feeding before their migration south. Keep your eyes open to these beautiful birds! Then step onto the sand at Point Beach State Forest which has 6 miles of beach as well as the Rawley Point Lighthouse, which has been operated and maintained by the Coast Guard since 1853. We're off to Sheboygan for lunch, followed by a visit to the John Michael Kohler Art Preserve, an experimental space designed to house the Arts Center's collection of over thirty-five artist-built environments. Take time to view the collections here from several Wisconsin artists. Alas, we must say farewell and return home taking with us new friends and incredible memories of the shores of Lake Michigan. B, L
QUALITY ACCOMMODATIONS
Nights 1-3: Cobblestone Hotel & Suites, Two Rivers, WI


Dates:
Sep 15-18, 2022

Price Per Person:
Double $1,377; Single $1,645

Pre/Post Hotel:
$148/night

Depart/Return:
Elm Grove, WI

Average Temps
high low 70s/lows low 50s
Time Zone
Central Time
Arrival Time
Please plan to arrive at the Country Travel Discoveries office located at 13416 Watertown Plank Rd, Suite 200, Elm Grove by 7:45 a.m. on Thursday, September 15. This will give you ample time for Breakfast and Send off. We will depart the CTD office at 9:00 a.m.
Departure Time
Travelers will be returned to Country Travel Discoveries on Sunday, September 18 at approximately 4:15 p.m.
Airport Info N/A
Vehicle Parking
Complimentary parking is offered during the tour at the Plaza Building, located at 13500 Watertown Plank Rd. which shares a parking lot with Country Travel Discoveries.
Walking Distance
Moderate walking at a leisurely pace is required to fully enjoy this tour.
Currency
US Dollar
Hotel Amenities
Hair dryers, TV/cable, iron/ironing boards available at hotels.
Additional Information
Dress on tour is casual.
Further information is mailed upon receipt of your reservation. A total of three mailings are sent to assist you in preparing for your tour…Get Ready, Get Set and Go! Our "Get Ready" packet is sent confirming your reservation. Our "Get Set" packet provides further information approximately 90 days prior to departure with important details regarding making your travel arrangements. Finally, our "Go" packet arrives 2-3 weeks before departure containing your final documents.
Updates
Updates to this document are available from our Discovery Reservations Team, and will be posted online at www.CountryTravelDiscoveries.com/HMI
Travel Protection Available?
Yes, see CountryTravelDiscoveries.com/TravelProtectionPlan.
Terms & Conditions
Tour reservations are subject to the terms and conditions on our website at CountryTravelDiscoveries.com/terms.
Groups
Have a group? We can make your group's vacation cost-effective and easy, with discounts for groups as small as five and other benefits. Learn more at CountryTravelDiscoveries.com/groups.

Share it
---