Ah, to experience the essence of the Northwoods. It's something every Wisconsinite longs for – and now we'll share it with you! Every Wisconsinite waits for those warmer summer months where they can head to a lake, enjoy a boat ride, and relive simpler times. That's what the Northwoods delivers – friendly people, quaint small towns, clean lakes, crisp air, the smell of pine trees, and wildlife from bear to bald eagles. This authentic Northwoods tour of the Badger State will enchant.
Sightseeing cruise on Chain of Lakes
Personal visits with working ginseng, cranberries and potato farmers
Behind-the-scenes tours of Mepp's Fishing Lures and Stormy Kromer
View gorgeous Bond Falls in the Upper Peninsula of Michigan
Enjoy a delicious homemade breakfast at an Amish home
Visit the geographic marker exactly halfway between the Equator and the North Pole
Experience the nostalgic Northwoods Petroleum Museum
Summer tours only: Attend a Snowshoe Baseball game in Lake Tomahawk
Free Airport shuttle or hotel parking
Bag handling (1 per person) at hotels
Fees/tips for included attractions and meals
Welcome reception, 24-hour emergency call service, free bottled water on coach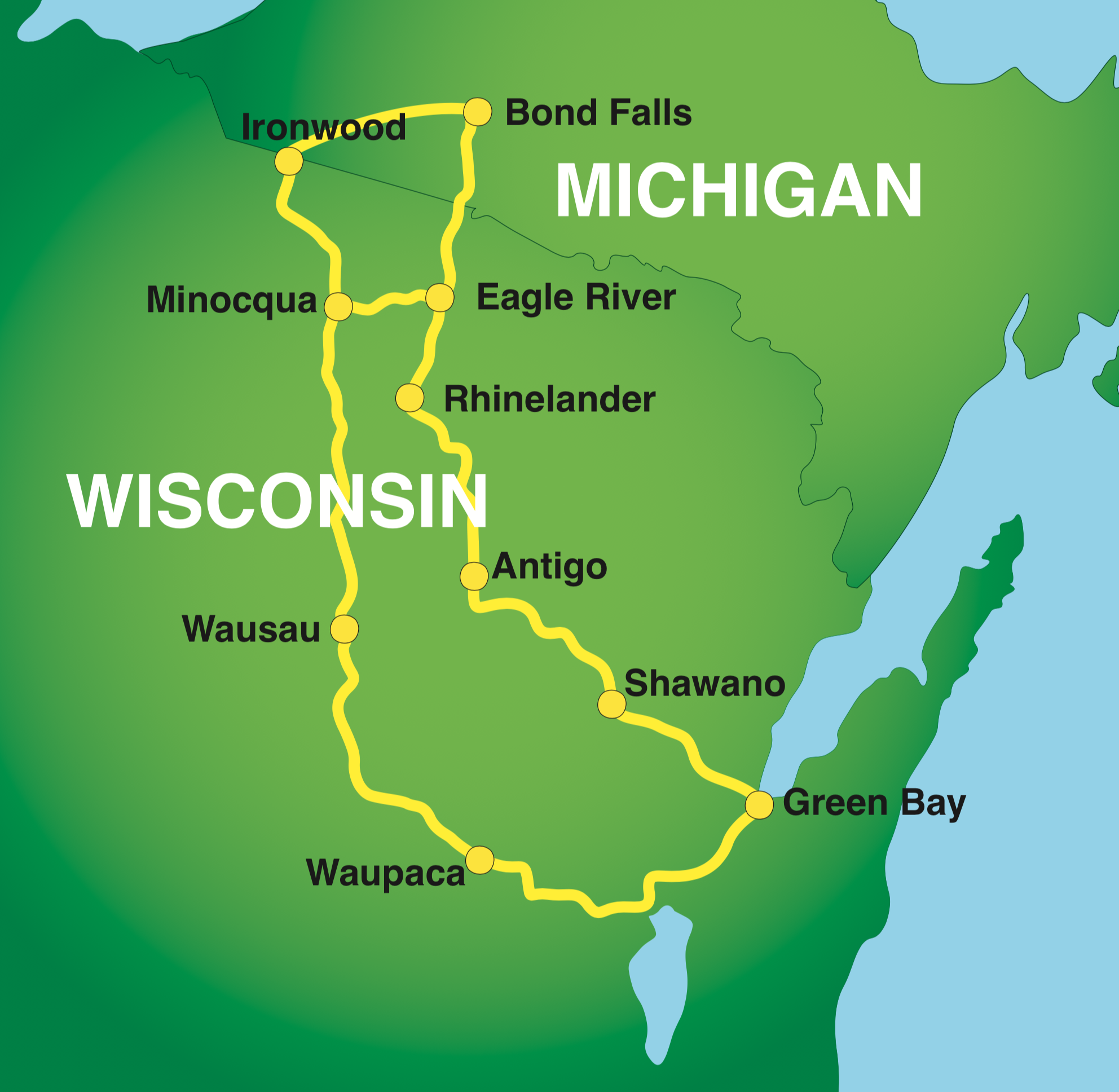 DAY 1–WELCOME TO WISCONSIN
Our Wisconsin Northwoods' exploration is ready to begin! Meet your fellow travelers and Discovery Director at tonight's welcome reception at our Green Bay area hotel.
DAY 2–CHAIN OF LAKES/ART MUSEUM/JIM HARRIS
After a scrumptious breakfast, we'll cruise on Waupaca's crystal-clear Chain of Lakes. This scenic lake excursion will pass many log cabin lake homes, provide breathtaking views and teach us about the history of the Chain of Lakes. Afterwards, we will enjoy a delicious lunch dockside at the Clear Water Harbor Boat House. Then, we'll visit the Internationally-acclaimed Leigh Yawkey Woodson Art Museum in Wausau. This museum features both an indoor art exhibit and an amazing outdoor sculpture garden. Later, we'll meet retired Wisconsin teacher Jim Harris. What he does during his free time will amaze – travelling to Laos, Cambodia, he works to dismantle bombs, land mines and other unexploded devices leftover from war. Jim will explain his experiences with the villagers in the Nakai District, Khammuan Province of Laos. Tonight we stay in the charming city of Wausau at the historic Jefferson Street Inn. B, L
DAY 3–RIB MOUNTAIN/GINSENG PRODUCTION/MINOCQUA
This morning we start our day at the top of hard-to-miss Rib Mountain, which peaks at 1,942 feet. This geological wonder, made of quartzite, holds Wisconsin's title for the greatest difference in height from peak to surrounding terrain. Local legend states that the "ribs" in this state park denoted the burial site of legendary Paul Bunyan. Later, we'll tour Hsu Ginseng, a highly-sought after ingredient used in Asian medicine. As one of the world's most successful ginseng growing operations, Hsu Ginseng cultivates this unique crop on more than 1,000 acres. Next, we join the 45 X 90 club at the precise center of the Northern half of the Western Hemisphere. You will stand exactly halfway between the equator and the North Pole, and a quarter of the way around earth from Greenwich, England. Enjoy the first of 3 nights in downtown Minocqua in the heart of the Northwoods Lake Country. You can shop at the many boutiques, dine at local restaurants, or take a scenic lakeside stroll. B, L, D
July departure—Snowshoe Baseball: On summer nights, locals grab their bats, gloves – and snowshoes! For more than 50 years, weekly snowshoe baseball games have entertained as players run the bases wearing full-size snowshoes. Travelers on the July departure will take in tonight's festive matchup!
DAY 4–CRANBERRY BOG/UPPER PENINSULA/STORMY KROMER/WATERFALLS
Today we take an up-close look at a family-run cranberry farm at Bartling's Manitowish Cranberries. Interestingly, Wisconsin produces more cranberries than any other state and more than half of the entire world's supply. From the bogs, we journey to Ironwood, MI, for a behind the- scenes tour of Stormy Kromer's factory. Stormy Kromer has been manufacturing their iconic railroad caps since 1903. We next traverse through the scenic Upper Peninsula of Michigan, or what locals call "The U.P.", to marvel at spectacular Bond Falls. Flowing out of the Ontonagon River, Bond Falls is one of the most picturesque waterfalls in all the Midwest. Relax as we make our way back to charming Minocqua for an evening at leisure. B, L
DAY 5–DR. KATE MUSEUM/CANOES/CHARMING EAGLE RIVER/SUPPER CLUB
After a satisfying breakfast, we learn about Dr. Kate, who in winter months traveled long distances via snow shoes to reach her patients. Then, David Osborne and Ferdy Goode show us why they are renown for their amazing handwork with restoring vintage canoes and boats to making handmade birch bark canoes. We enjoy lunch on our own today in downtown Eagle River, where Mom-and-Pop soda shops and delectable restaurants beckon. Don't forget to pay a visit to the melt-in-your-mouth fudge shops and local artisans too. After lunch, we discover the hidden gem known as the Northwoods Petroleum Museum. A homage to simpler times, the exquisitely-kept vintage petroleum equipment will spark fond memories. Next, take a tour of the beautiful Oneida County Courthouse in Rhinelander. Tonight, we're in for an authentic Wisconsin experience – dinner at a traditional supper club. The famous Little Bohemia is one of the locations where John Dillinger's gang had a shootout—bullet holes are still preserved in the walls. B, D
DAY 6–RHINELANDER/FISHING LURES/POTATO FARM
After a hearty breakfast at Paul Bunyan's Lumberjack Camp, we are on the lookout for a Hodag - a mythical, mischievous beast thought to be responsible for everything from lost golf balls to snatching fish off angler's lines. The Hodag has become the official symbol of the city of Rhinelander and lived in Northwoods' legend since 1896. Keeping a watch out, we visit the Pioneer Park Historical Complex in Rhinelander. Here we experience life in 1900's schoolhouse, logging museum and lumberjack camp, civilian corps museum and railroad depot. As we leave Hodag country, we take an exclusive tour of Mepp's Fishing Lures Factory. Mepp's will demonstrate the step-by-step hands on process of making world class fishing lures. Next we visit Schroeder Bros. Potato Farm. This award-winning family farm is a top level producer for Frito Lay. Tonight we spend the night in Shawano. B, L
DAY 7–AMISH COUNTRY/TWIG'S SODAS/GREEN BAY/HOME
This morning make sure you wake up hungry – we are guests at a local Amish home in Shawano for a homemade breakfast. Afterwards, we explore Twig's - producer of unique sodas and flavors, including the well-known Sundrop. We will view the bottling process, the vintage store, and of course sample some of their delicious sodas. We head back to Green Bay to return home with fond memories of our travels. B


Quality Accommodations
Night 1: Radisson Hotel, Green Bay
Night 2: Jefferson Street Inn, Wausau
Nights 3-5: Best Western Plus Concord Inn, Minocqua or similar
Night 6: Quality Inn, Shawano

Dates:
Jul 11-17, 2020 VERY LIMITED SPACE
Sep 12-18, 2020
Sep 19-25, 2020
Price Per Person:
Double $1597
Single $2075
Pre-/Post-Tour Hotel: $128/night
Average Temps
high 85°/low 55° (July)
high 70°/low 50° (September)
Time Zone
Central
Arrival Time
Schedule your flight to arrive by 5:00 p.m. on Day 1.
Departure Time
Schedule your flight home any time after 2:30 p.m. on Day 7.
Airport Info
Fly into the Green Bay Austin Straubel International Airport. Starting hotel offers 24-hour complimentary shuttle service.
Vehicle Parking
Complimentary for duration of tour.
Walking Distance
Moderate to moderately extensive walking is required to fully enjoy this tour. Some walking can be on uneven surfaces.
Currency
US Dollar
Hotel Amenities
Hair dryers, irons, ironing boards & coffee makers throughout tour. Exercise room and swimming pool available at most hotels.
Additional Information
No photography allowed at Amish stops, and conservative clothing requested at such stops.
Further information is mailed upon receipt of your reservation. A total of three mailings are sent to assist you in preparing for your tour…Get Ready, Get Set and Go! Our "Get Ready" packet is sent confirming your reservation. Our "Get Set" packet provides further details approximately 90 days prior to departure with important details regarding making your travel arrangements. Finally, our "Go" packet arrives 2-3 weeks before departure containing all your final documents.
Updates: Updates to this document are available from our Discovery Reservations Team, and will be posted online at CountryTravelDiscoveries.com/OWN
Travel Protection Available?
Yes, see CountryTravelDiscoveries.com/TravelProtectionPlan.
Terms & Conditions
Tour reservations are subject to the terms and conditions on our website at CountryTravelDiscoveries.com/terms.
Groups
Have a group? We can make your group's vacation cost-effective and easy, with discounts for groups as small as five and other benefits. Learn more at CountryTravelDiscoveries.com/groups.
Share it
---