Historic Milwaukee, Inc. and John Gurda are pleased to partner with Country Travel Discoveries on this special tour of Wisconsin's Brewing Heritage. You'll visit large breweries, modern microbreweries, and learn the process of beermaking that is a huge part of Wisconsin's culture and heritage. Join us for an insider look at Wisconsin's brewing heritage with plenty of tastings.

Spend the day with historian John Gurda as he relays stories and lore of Milwaukee's Brewing History
Visit Pabst Mansion, the home built for Captain Frederick Pabst
Tour and tastings at 6 Wisconsin breweries
Learn Wisconsin's brewing history at Old World Wisconsin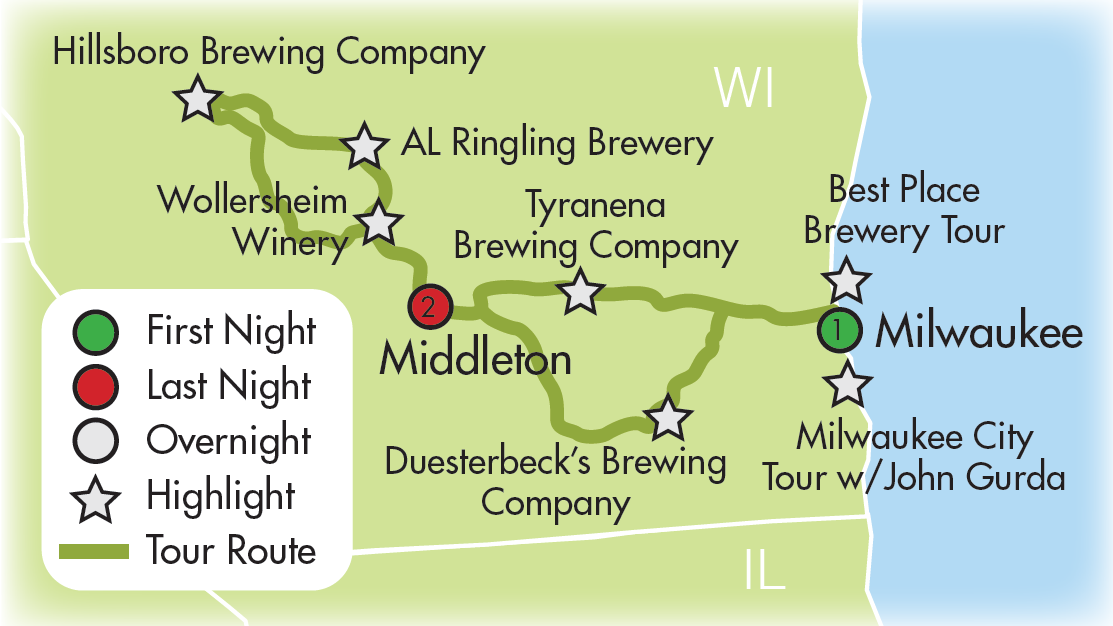 DAY 1—WELCOME TO MILWAUKEE!
Meet your Discoveries Director and fellow travelers for an informative and fun welcome breakfast. Then, spend the day with local Milwaukee historian and author, John Gurda. John will regale you with stories and tales of Milwaukee's proud brewing history along with its famous beer barons during his presentation at Best Place at the Historic Pabst Brewery followed by a private, guided tour! This afternoon, John takes us on a driving tour around Milwaukee to showcase several of the beers that made Milwaukee famous such as Schlitz, Blatz and Miller, along with brewer's corner at Forest Home Cemetery, plus much more. Later, we'll enjoy a guided tour of Miller Brewery followed by a stop at a local beer garden for a beer and pretzel before retiring for the evening at Brewhouse Inn & Suites. Be sure to check out the copper brewing kettles and Pabst brewing history located throughout the hotel. B, L
DAY 2—PABST MANSION/OLD WORLD WISCONSIN/DUERSTERBECK BREWING CO.:
After breakfast, tour Pabst Mansion, a Flemish Renaissance Revival-styled house built in 1892 for Captain Frederick Pabst, founder of the Pabst Brewing Company. Enjoy lunch at Delafield Brewhouse, then we visit Old World Wisconsin and their newest exhibit, The Brewhouse. Here you'll meet the Brewmaster, learn about the state's brewing history and have some tasty samples too. Then we travel to Duersterbeck's Brewing Company. This brewery is set on a 150-year-old farm near Elkhorn and is southern Wisconsin's premier farmhouse brewery. They specialize in creating small batch, hand crafted beers. Some delicious samples are also in store! We continue on to Middleton for the next two evenings. B, L
DAY 3—CARR VALLEY CHEESE/HILLSBORO BREWING/AL RINGLING BREWERY/WOLLERSHEIM WINERY
This morning, enjoy breakfast before we travel to Carr Valley Cheese for a tour and samples! Located in the central region of the state, Carr Valley Cheese Company is over one-hundred years old and remains one of Wisconsin's traditional cheese plants, famous for making cheese the old-fashioned way! Hillsboro Brewing Company brews their beer in a restored turn-of-the-century building located in the heart of the Driftless Region of Wisconsin. Enjoy a delicious lunch and a beer tasting. We continue on to Baraboo, home of the Circus World Museum and much more. We'll visit AL. Ringling Brewery, which is located inside the historic AL. Ringling Mansion. The brewery's goal is to honor the heritage of the Ringling Brothers and the German heritage of Wisconsin. We'll even get to taste the original Ringling family recipe! Then it's off to Wollersheim Winery and Distillery for a tour of one of Wisconsin's first wineries. The winery property had its first plantings going back to the 1840s by Hungarian nobleman Agoston Haraszthy, who later helped found the California wine industry. Our day is capped off by a farewell dinner at a traditional Wisconsin Supper Club. B, L, D
DAY 4—MUSTARD MUSEUM/TYRANENA BREWING
This morning, visit the eclectic and one-of-a-kind National Mustard Museum in Middleton. We promise you will never forget meeting Barry, the museum "Curator", nor forget his stories that will leave you in stitches. We'll satisfy our thirst one last time by visiting Tyranena Brewery. The legend of Tyranena tells of a foreign tribe that built a series of stone structures and effigy mounds on the edge of a lake they called Tyranena. Today, these structures lie preserved under the deep waters of Rock Lake in Lake Mills. Alas, we must say farewell and return home taking with us new friends and incredible memories of Brewtown and beyond! B, L

Quality Accommodations
Night 1: Brewhouse Inn & Suites, Milwaukee
Nights 2-3: Holiday Inn Express, Middleton, WI
Dates:
Sep 11-14, 2023
Price Per Person:
Double $1,397
Single $1,635

Pre/Post Tour Hotel:
$228/night
Depart/Return:
Elm Grove, WI
Inclusions:
Free airport shuttle or hotel parking
Welcome Dinner and meals as indicated (B=breakfast, L=lunch, D=dinner)
Fees and tips for included attractions and meals
Luggage handling of one suitcase per person at hotels
Free bottled water on coach
24-hour emergency call service
Arrival Time
Please plan to arrive at the Country Travel Discoveries office located at 13416 Watertown Plank Rd, Suite 200, Elm Grove by 7:45am on Monday, September 11. This will give you ample time for Breakfast and Send off. We will depart the CTD office at 9:00am.
Departure Time
Schedule your flight home to depart Milwaukee Mitchell Airport any time after 5:30pm on Day 4. Travelers that parked at our CTD office will be returned there at approximately 4:15pm.
Airport Transportation / Vehicle Parking
For travelers flying in the day before the tour, the hotel offers a complimentary shuttle service from the airport. The tour bus will bring you to our offices for the Welcome breakfast at approximately 7:15am. If you are driving to the starting location, we offer complimentary parking for the duration of the tour.
Walking Distance
Moderate walking is required to fully enjoy this tour. While walking canes are allowed, we are unable to accommodate travelers using other mobility devices, including walkers and wheelchairs.
Average Temps
September – high of 70°, low of 55°

Time Zone
Central
Hotel Amenities
Each hotel has a hair dryer, TV/Cable, iron, ironing boards, Wi-Fi, and Fitness Center. Holiday Inn Express also offers a swimming pool.
Additional Information
A total of three mailings are sent to assist you in preparing for your tour, including information sent upon receipt of your reservation.
Dress on tour is casual.
Travel Protection Available?
Yes, see CountryTravelDiscoveries.com/TravelProtectionPlan.
Share it
---