Celebrate the Nebraska sesquicentennial with CTD as we discover the back-roads treasures of its western panhandle, courtesy of the editorial experts at Nebraska Life Magazine. Walk in the footsteps of pioneers on the Oregon Trail and meet local artisans who craft high-quality boots and petrified wood objects. Visit the lush Nebraska National Forest, ancient fossil beds, the world's largest railyard, and such famous landmarks as Chimney Rock and Scotts Bluff National Monument. Catch the frontier spirit enjoying a Wild West dinner show, touring working cowboy and bison ranches, and learning about the lives and legends of Crazy Horse and Buffalo Bill through art and stories. You'll get a taste of "Nebraska Life," too, as friendly hosts welcome us to their big game steakhouse, winery, vinegar store, herb and spice farm, and more.
Visit famous Oregon Trail sites (Chimney Rock/Scotts Bluff)
Lake McConaughy Kingsley Dam tour
George Johnson, Vinegar Maker
Agate Fossil Beds National Monument
Nebraska National Forest
See Buffalo Bill's mansion
Museum of the Fur Trade
Visit the Golden Spike Tower overlooking the world's largest railyard
Travel on the Sandhills Journey Scenic Byway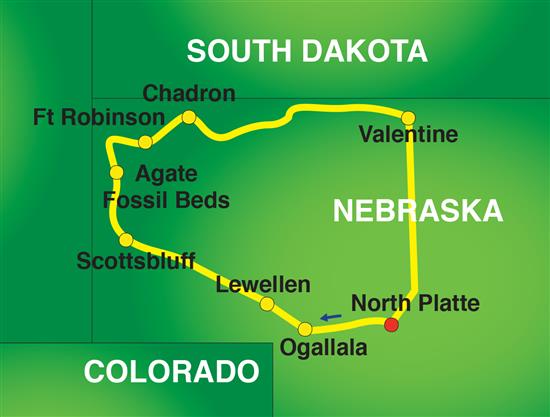 DAY 1—WELCOME TO NORTH PLATTE
Start your adventure with a welcome reception in North Platte, the city where Western Nebraska truly begins (Or, catch the convenient, optional shuttle from Denver airport to our hotel for just $52.)
DAY 2—BUFFALO BILL RANCH/RAILROAD TOWER/SMALL CHURCH/GALLERY
Begin today at Buffalo Bill State Historical Park (aka "Scout's Rest Ranch"), where famed showman William Cody built the 18-room mansion he called home for years. Next, marvel at the world's largest railroad yard from your bird's-eye view atop the eight story Golden Spike Tower. Over lunch at Ole's Big Game Steakhouse, learn about the café's unique décor. Afterwards, visit the Little Church at Keystone, and hear how this small community came together to build a house of worship serving two different faiths at the same time. In Ogallala, meet twins Howard and Harvey Kenfield, who spent 50 years making beautifully crafted art from petrified wood. B, L
DAY 3—KINGSLEY DAM/CATTLE RANCH LUNCH/ASH HOLLOW
Start today with sweeping views of Kingsley Dam and beautiful Lake McConaughy. You'll learn how the second largest hydraulic fill dam in the world keeps central Nebraska irrigated. Next, tour Haythorn Land & Cattle Company, a working ranch where cowpokes will serve up a specialty lunch; they prepare and ship mesquite-smoked meats and homemade butter fudge across the nation. Next, living history interpreters bring to life the history of Ash Hollow State Park, whose sweet spring water was important on the Overland Trail and for prehistoric Indians. Settle in for the next two nights in Scottsbluff, deep in the Nebraska Pandhandle.
B, L

DAY 4—CHIMNEY ROCK/HERB GARDENS/SODA FOUNTAIN/FARM-TO-TABLE DINNER
Chimney Rock was the most noted landmark for those heading westward on the Oregon Trail. After taking in the state museum, meet Gordon Howard, who has lived in the shadows of the 120-foot spire for over 80 years. His stories about the pioneers' hardships while traveling through Western Nebraska will captivate and inspire you. You'll also visit Terri and Dan Wolff, whose organic gardens offer up spices, dips, medicinal herbs, teas, coffees and pasta. We will stop off for a mid-afternoon treat at the Potter Sundry, where owner Maida Gotfrey tells you all about Nebraska's famous Tin Roof Sundae. Top off the day with a farm-to-table dinner at the Bee Haven. Here, the Rutherfords welcome you to their country store located on a historical farm. Before a hearty supper, you will be able to tour the gardens, meet farm animals, and enjoy local produce. B, L, D
DAY 5—SCOTTS BLUFF/LEGACY OF THE PLAINS/FOSSIL BEDS/FORT ROBINSON
Rising 800 feet above the valley floor, Scotts Bluff National Monument is sometimes mistaken for a small mountain. Marvel at the views of the changing landscape along Nebraska's oldest concrete highway, a scenic route ending at a stunning overlook with views 20 miles in every direction. At the Legacy of the Plains Museum, learn the history of the valley and the development of High Plains agriculture. At Agate Fossil Beds National Monument, walk among fossils of ancient animals, and see artifacts of 31 Native American tribes with ties to the area. The day ends with a step-on tour of Fort Robinson, the surrender location of Lakota warrior Crazy Horse and home to African-American "Buffalo Soldiers" in the segregated military of the day. B, L
DAY 6—FUR TRADE/CRAZY HORSE/BOOT & VINEGAR MAKERS
Chadron has a rollicking frontier history involving hardy fur traders, cowboys, Indians, ranchers, scholars, and railroaders. Learn about life during more "rough and tumble" times at the Museum of the Fur Trade. Next, visit Flying Heart Ranch near Hay Springs, where some believe Crazy Horse witnessed his last sun dance, took his last vision quest, and was buried in 1877. Owner David Kadlecek shares stories that were handed down to him about this special land. In Cody, a town of fewer than 300 but home to amazing artisans, stop by Sandhills Boot Company to meet Kyle Rosfeld, who shods such country stars as Willie Nelson. Across the street, prize-winning vinegar maker George Johnson will offer up a tasting of his delicious product. Enjoy a special farewell dinner in Valentine—the "heart" of Nebraska. B, L, D
DAY 7—NEBRASKA NATIONAL FOREST/RETURN TO NORTH PLATTE
Begin the day at the Bessey Ranger District in the Nebraska National Forest. Covering 90,000+ acres, it's the largest hand-planted forest in the world. Head back to North Platte via the Sandhills Journey Scenic Byway, rated in the top 10 scenic routes in the U.S. and listed in "1000 Places to See Before You Die". Enjoy a luncheon with fellow travelers before heading home. B, L
Jul 15-21 | Sep 9-15
Depart/Return: North Platte, NE*
(*Denver arrive/depart option: +$52)
Price Per Person: Double: $1,547; Single: $1,975
Pre/Post-Tour Hotel: $158/night
OPTION: Denver International Airport Shuttle
 All Tours:
The optional shuttle to/from the Denver Airport as described in our catalog will continue run as noted.
We are offering a Deluxe Motorcoach transfer from DIA (Denver Int'l Airport) on Day 1 with pick up at the airport at 12:00 p.m. People should schedule their flights into DIA to arrive by 10:30 a.m. (leaving some cushion in case of delays) and on Day 7 schedule flights out of DIA after 7:00 p.m. It is a 5 hour transfer, with a rest stop/stretch break. Price: $52/person
Average Temps
highs: upper 80s-low 90s/lows: low 70s (July)
highs: upper 70s/lows: upper 50s (September)
Time Zone
Central & Mountain
Arrival & Departure Times
All Tours:
The optional shuttle to/from the Denver Airport as described in our catalog will continue run as noted.
Schedule your flight to arrive into Denver Int'l Airport by 10:30 a.m. on Day 1. (Our shuttle from Denver Int'l Airport leaves at 12:00 p.m. on Day 1.)
Our motorcoach shuttle option from North Platte to Denver International Airport arrives at 5:00 p.m. Mountain Time on Day 7; we recommend travelers schedule their flight out of Denver after 7:00 p.m. Mountain Time on Day 7.
Airport Info
See above

Vehicle Parking
Our starting hotel offers complimentary parking for the duration of tour.
Walking Distance
Light to moderate walking is required to fully enjoy this tour.
Currency
US Dollar
Hotel Amenities
Hair dryers, irons, ironing boards & coffee makers are available at some hotels. Exercise room and swimming pool available at most hotels. Several hotels featured limited amenities due to the rural nature of this tour.
Additional Information
Elevations reach 5,000 feet on this tour, however much of it is below that.

Updates
Updates to this document are available from our Discovery Reservations Team, and will be posted online at www.CountryTravelDiscoveries.com/WNL.
Travel Protection Available?
Yes, see CountryTravelDiscoveries.com/TravelProtectionPlan.

Terms & Conditions
Tour reservations are subject to the terms and conditions on our website at CountryTravelDiscoveries.com/terms.
Share it
---