Back by popular demand, ride the rails back to the glory days when mighty steam-and diesel-powered trains were the fashionable way to travel. You'll journey on four rare, vintage trains past scenic countryside, rolling mountains, lazy rivers and impressive architectural sights including the New River Gorge Bridge! Relive the heydays of thriving coal and lumber towns, and reminisce about the days of horse-drawn vehicles and steam railroads.

Ride scenic routes on four vintage trains: Cass Scenic Railroad, New Tygart Flyer, The Potomac Eagle, and Western Maryland Scenic Railroad 
New River Gorge National River
Beckley Coal Mine tour and underground "man car" ride
Stay at Roanoke's magnificent 4-Diamond Stonewall Resort
Evening music performance at the Gandy Dancer Theater
Exclusive "Coal Camp Memories" show 
Appalachian Glass and Tamarack Arts Center
Authentic West Virginia Honey Tasting
Free airport shuttle or hotel parking
Bag handling (1 per person) at hotels
Fees/tips for included attractions/meals
Welcome reception, 24-hour emergency call service, free bottled water on coach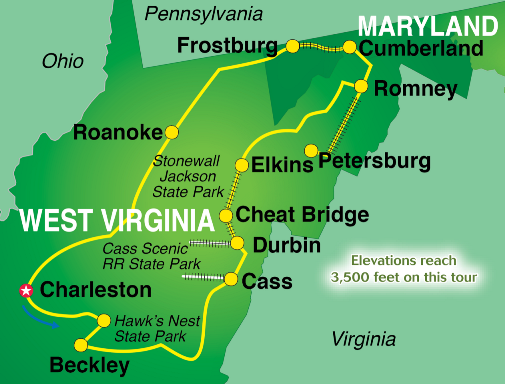 DAY 1–CAPITAL CITY WELCOME
Meet your fellow rail travelers for a welcome reception at our hotel in Charleston, the historic and friendly capital city of West Virginia.
DAY 2–NEW RIVER GORGE/COAL MINE
Board a modern motorcoach for a scenic mountain excursion. You'll see Kanawha Falls and Hawk's Nest overlook on our way to the New River Gorge, home to the world's second-largest and highest single-span, steel-arch bridge. At 876 feet high and 1,700 feet long, it offers an unparalleled view of the area's mountains and valleys. This afternoon, you'll tour the Beckley Exhibition Coal Mine, which boasts 1,500 feet of underground passages. It begins with a display of mining artifacts and portrayals of early life in the coal towns of southern West Virginia. The highlight of the day is a fascinating journey below ground with an experienced coal miner in authentic, track-riding "man cars." Later, visit Tamarack Arts Center, West Virginia's showcase for talented artists, musicians and chefs. Enjoy a private performance from actress Karen Vuranch about West Virginia Coal Camp Life. B, L, D
DAY 3–CASS SCENIC RAILROAD/BALD KNOB STEAM TRIP
It's "all aboard" today for your first unforgettable rail adventure. Cass Scenic Railroad State Park will transport you back to the heyday of steam locomotives and thriving logging towns. The highlight is a thrilling 4-1/2 hour long ride on an old-fashioned logging train—an awesome, steam-powered Shay locomotive—chugging up a logging line to Whittaker Station, an authentically recreated logging camp. The steam train will then continue to the top of Bald Knob. At an elevation of 4,842 feet, this is the third highest point in West Virginia. On a clear day, enjoy views that stretch into neighboring Virginia. B, D
DAY 4–WEST VIRGINIA HONEY/NEW TYGART FLYER/GANDY DANCER MUSIC SHOW
The morning begins with a stop at S & T's Bees in Downtown Elkins, where owner Stephanie Bender will teach you all there is to know about West Virginia honey-making. Enjoy a tasting at their "honey bar"... where you're guaranteed to find your favorite flavor. Today, experience a relaxed, 46 mile round-trip excursion aboard the vintage, diesel-powered New Tygart Flyer, featuring an "S" curve tunnel, a 1,500 feet deep canyon with densely forested slopes, and a high bridge over the meandering Shavers Fork of the Cheat River. After a hearty dinner, sit back and listen to the fabulous Mountain Memories Show Band as they serve up a Branson-style show with music from the 50's- today featuring Country, Pop, Motown, Gospel, and Patriotic along with family-friendly comedy and amazing dancers. The Gandy Dancer offers a show that's guaranteed to have you dancing in your seat, laughing 'til you cry, touch your heart and give you memories that will last a lifetime. B, D
DAY 5–THE POTOMAC EAGLE
Make sure your cameras are ready for one of America's most breathtaking train rides—the Potomac Eagle Scenic Railroad. Hauled by a combination of four 1950s-era diesel locomotives, you'll be treated to a narrated excursion past historic farms and lush mountain greenery including evergreens, hardwoods and wildflowers. In the spectacular narrow valley called "the Trough," you'll pass above the Potomac River, where the water is so clear you can see the fish! B, L
DAY 6–WESTERN MARYLAND SCENIC RAILROAD
Venture into Maryland for more railroading and history today. The Western Maryland Scenic Railroad excursion is an exciting mix of mountain top scenery and rich transportation history. Leaving Cumberland, the route travels west through a breach in the Allegheny Mountains over an iron truss bridge, around Helmstetter's Horseshoe Curve and through the 914 foot Brush Tunnel under Piney Mountain. Climbing grades up to 2.8% on the 16 mile trek, the route follows the former Western Maryland Railroad right-of-way, then joins the old Cumberland & Pennsylvania Railroad. Tonight relax at the magnificent Stonewall Resort in Stonewall Jackson Lake State Park. B, L
DAY 7–GLASS ARTISANS/MOUNTAIN MEMORIES
In your last stop, skilled artists at Appalachian Glass delight with their delicate "friendship balls" once common in 1800s West Virginia. Then head home with happy memories of rail adventure and mountain splendor. B, L

Quality Accommodations
Night 1
: Holiday Inn and Suites, Charleston

Night 2
: Country Inn & Suites, Beckley

Nights 3-4
: Holiday Inn Express, Elkins

Night 5
: South Branch Inn, Romney

Night 6
: Stonewall Resort, Roanoke
Dates:
Aug 11-17, 2020
Sept 15-21, 2020
Oct 6-12, 2020
Price Per Person:
Double $1,897;
Single $2,295
Pre-/Post-Tour Hotel
: $168/night
Average Temps
In our starting city of Charleston, high temperatures average around the mid-80's; low temperatures average in the mid-60's in August. High temperatures average around 80; low temperatures average around the upper 50's in September. High temperatures average around the upper 60's; low temperatures average around the mid-40's in October. Please note that cooler weather can prevail at higher elevations (such as at Bald Knob and Stonewall Resort). Elevations do reach up to 3,500 feet on this tour.
Time Zone
Eastern Time
Arrival Time
Schedule flights into Charleston, WV by 5:00 p.m. on Day 1.
Departure Time
Schedule flights to depart Charleston, WV after 3:15 p.m. on Day 7.
Airport Info
The Holiday Inn & Suites – Charleston West offers a complimentary shuttle between Charleston's Yeager Airport and the hotel, 24 hours a day.
Vehicle Parking
Free self-parking is offered at the Holiday Inn & Suites – Charleston West for all guest of Country Travel DISCOVERIES for the duration of the tour. Those driving to Charleston, WV should check with the front desk staff to see where the designated long-term parking is upon your arrival.
Walking Distance
Moderate walking at a leisurely pace is required to fully enjoy this tour.
Currency
U.S. Dollar
Hotel Amenities
Hair dryers, TV/cable, telephone, etc. are available at most hotels.
Additional Information
Further information is mailed upon receipt of your reservation. A total of three mailings are sent to assist you in preparing for your tour…Get Ready, Get Set and Go! Our "Get Ready" packet is sent confirming your reservation. Our "Get Set" packet provides further information approximately 90 days prior to departure with important details regarding making your travel arrangements. Finally, our "Go" packet arrives 2-3 weeks before departure containing your final documents.
Updates
Updates to this document are available from our Discovery Reservations Team, and will be posted online at CountryTravelDiscoveries.com/WWA.
Travel Protection Available?
Yes, see CountryTravelDiscoveries.com/TravelProtectionPlan.
Terms & Conditions
Tour reservations are subject to the terms and conditions on our website at CountryTravelDiscoveries.com/terms.
Groups
Have a group? We can make your group's vacation cost-effective and easy, with discounts for groups as small as five and other benefits. Learn more at CountryTravelDiscoveries.com/groups.
Share it
---