Route 66, Abraham Lincoln, and the Great River Road deliver a spectacular array of vintage visits. Abe will inspire in many ways, highlighted by a moving "lowering of the flag" ceremony at his grave. We travel back to the mid 1900's with retro stops along Route 66, including a chance to drink an old-fashioned Coca-Cola at Doc's Soda Fountain. Some of the most spectacular scenery along the Mississippi, Missouri and Illinois Rivers form our backdrop for several visits, including vintage towns and picturesque Pere Marquette State Park.

You'll love this journey back in time!
Get your kicks at Eight Historic Route 66 Stops
Take in Breathtaking Views of the Great River Road
Learn about the life of Honest Abe Lincoln
Visit Fourth Generation owned Kruta Bakery
Discover the largest prehistoric Native Civilization
Explore Pere Marquette State Park and enjoy a delicious lunch at the Lodge
Free airport shuttle or hotel parking
Bag handling (1 per person) at hotels
Fees/tips for included attractions/meals
Welcome reception, 24-hour emergency call service, free bottled water on coach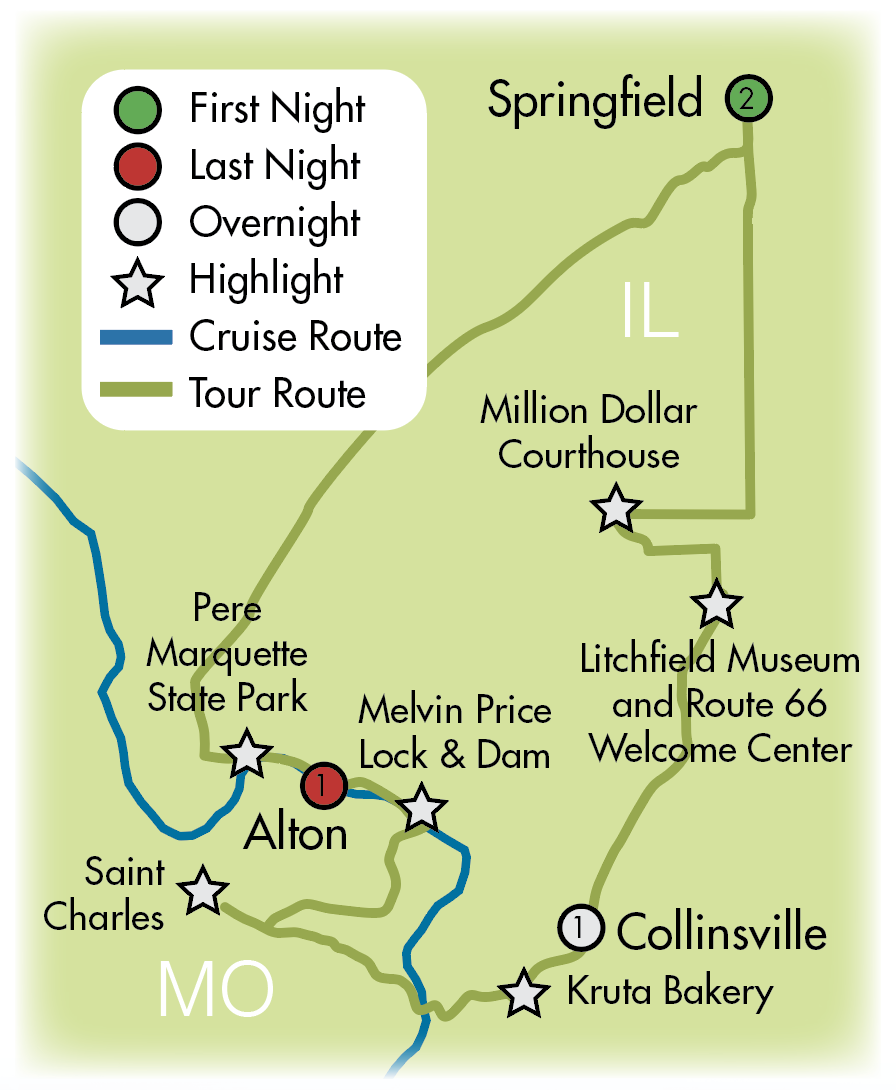 DAY 1 – WELCOME TO THE LAND OF LINCOLN
Join your fellow travelers and meet your Discovery Director this evening for a warm Welcome Reception!
DAY 2 – LINCOLN SHRINES
Abraham Lincoln's "hometown" of Springfield is where Honest Abe spent 30 years of his life. Today, we'll visit his Presidential Library & Museum, a state-of-the-art experience providing an immersive and emotional journey through his life. A highlight is a reproduction of the White House as it looked in 1861. We'll also visit the Lincoln Home National Historic Site, which reveals Abe as a husband, father and politician…along with Springfield's Old State Capital, where Lincoln argued cases before the Illinois Supreme Court, confronted Stephen Douglas, and delivered his famous "House Divided Speech". Honest Abe himself will visit us along the way, and we'll drop in on the Bunn family at Bunn Gourmet Chocolates and Nuts for an entertaining and delicious visit. Tonight, we pay our respects at Lincoln's Tomb at a moving flag lowering ceremony. B, L
DAY 3—ROUTE 66
Listed on the National Register of Historic Places, a vintage piece of hand-laid brick road is a segment of 66 completed in 1931…we'll stop for a quick look. In Carlinville, we'll walk through its Million Dollar Courthouse, see "Cannonball Jail", and the nine block neighborhood of mail order homes from Sears and Roebuck, ordered & completed in 1918 for the influx of Coal workers. Lunch is hosted at one of the oldest continual running cafes along Route 66, and we get our kicks across the street at the Route 66 Museum. We'll hear a stirring story at the Union Cemetery, and stop for a mouth-watering ice cream cone at Route 66's Twistee Treat. B, L
DAY 4—VINTAGE RIVER COLLECTIONS
Frank Kruta Sr. founded his family bakery in 1919—we'll start this morning with a visit to Kruta's Bakery – run by the fourth generation of this family. Locals line up for blocks on Christmas Eve for their old-world recipes…the Kruta's will share their story and a mouthwatering pastry. The most sophisticated prehistoric native civilization north of Mexico is preserved at Cahokia Mounds—around AD 1250 this was the largest city in North America, complete with suburbs and markets. We'll walk above the tallest mound—on a clear day the St. Louis Arch can be seen. We cross the Mississippi for a visit to the quaint, cobblestone streets of St. Charles, Missouri, once a thriving Missouri riverfront trading center. We'll have free time here for shopping and lunch. Next, it's a scenic stop at the Confluence of the Missouri and Mississippi Rivers. Our day is capped off at the site of the final Lincoln/Douglas Debate, and a statue dedicated to the tallest man in the world. B, D
DAY 5—GREAT RIVER ROAD
A spectacular view of the Mississippi's largest lock and dam sits eight stories high atop the Melvin Price Locks & Dam. As one of the largest locks on the Mississippi River, Dam No. 26 is central to river traffic for soybeans, corn, grain, asphalt and other commodities that are transported via the river…we'll take a close look. We then call on a hidden gem in the Village of Elsah. Its beautifully preserved buildings nestled between the limestone bluffs alongside the Great River Road are a unique treasure. Spectacular views of the Illinois River from atop bluffs are the pride of Pere Marquette State Park, where we'll have lunch inside its lodge (built by the Civilian Conservation Corps). The mammoth stone fireplace in the lobby soars to a roof height of 50 feet, and is said to weigh 700 tons. We'll then make our way back to Springfield, enriched by President Lincoln, Route 66, the Great River Road, and much more! B, L

QUALITY ACCOMMODATIONS

Nights 1 & 2: President Abraham Lincoln Springfield - a DoubleTree by Hilton, Springfield, IL
Night 3: Drury Inn & Suites, Collinsville, IL
Night 4: Best Western Premier, Alton, IL
Dates:
Sep 12-16, 2022

Price Per Person:
Double: $1,197
Single: $1,425
Pre/Post Hotel: $128/night

Depart/Return: Springfield, IL
Average Temps
Sept: Highs: High 70's – Lows: Mid 50's
Time Zone
Central Time
Arrival Time
Schedule flights into Springfield by 4:00 p.m. on Day 1.
Departure Time
Schedule flights to depart Springfield after 7:15 p.m. on Day 5.
Airport Info
President Abraham Lincoln Springfield Hotel offers a complimentary shuttle that runs from 5:00 a.m. to 11:00 p.m.
Vehicle Parking
Complimentary parking is offered during the tour at the starting hotel.
Walking Distance
Moderate walking at a leisurely pace is required to fully enjoy this tour. Some walking will be on uneven paths.
Hotel Amenities
Hair dryers, TV/cable and telephone services available at hotels.
Additional Information
Dress on tour is casual.

Further information is mailed upon receipt of your reservation. A total of three mailings are sent to assist you in preparing for your tour…Get Ready, Get Set and Go! Our "Get Ready" packet is sent confirming your reservation. Our "Get Set" packet provides further information approximately 90 days prior to departure with important details regarding making your travel arrangements. Finally, our "Go" packet arrives 2-3 weeks before departure containing your final documents.
Updates
Updates to this document are available from our Discovery Reservations Team, and will be posted online at www.CountryTravelDiscoveries.com/ILL
Travel Protection Available?
Yes, see CountryTravelDiscoveries.com/TravelProtectionPlan.
Terms & Conditions
Tour reservations are subject to the terms and conditions on our website at CountryTravelDiscoveries.com/terms.
Groups
Have a group? We can make your group's vacation cost-effective and easy, with discounts for groups as small as five and other benefits. Learn more at CountryTravelDiscoveries.com/groups.
Share it
---