Start your four-state adventure in Salt Lake City touring historic Temple Square, and experiencing a live, moving performance by the famed Mormon Tabernacle Choir. You'll also explore Antelope Island in the Great Salt Lake. Learn about Idaho's most famous crop from potato farmer Pat Rowe. View highlights of Yellowstone including Old Faithful, the most famous geyser in the world, the Upper and Lower Yellowstone Falls, and the Park's multicolored Grand Canyon. Have your camera ready to capture breathtaking views of the Grand Tetons and spend two nights in Jackson, WY. Learn of the brave pioneers that headed west on the Oregon and California Trails and much more on this exciting frontier journey.
Guided highlight tours of Yellowstone and Grand Tetons National Parks
Salt Lake City tour including Music and the Spoken Word performed by the Mormon Tabernacle Choir
Tour of Antelope Island State Park
National Oregon/California Trail Center
Cowboy cookout, entertainment and covered-wagon ride at Cache Creek Canyon
Meet orchard owners and potato farmers
Bag handling (1 per person) at hotels
Fees/tips for included attractions/meals
Welcome reception, 24-hour emergency call service and free bottled water on coach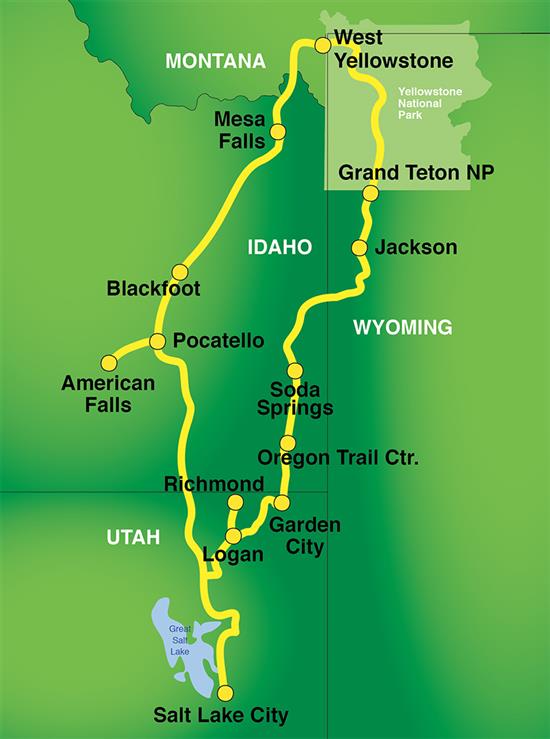 DAY 1—WELCOME TO SALT LAKE CITY
Welcome to SLC, capital of Utah, where you'll join your Discovery Director and fellow travelers for a welcome reception.
DAY 2—SLC TOUR/MORMON TABERNACLE CHOIR
Your morning starts with a live, moving performance of Music and the Spoken Word with the Mormon Tabernacle Choir. Next, a member of the Church of the Latter Day Saints will take you on a tour of historic Temple Square in Salt Lake City. After lunch, stroll amongst the blooms at the 100-acre Red Butte Gardens operated by the University of Utah. B, L
DAY 3—ANTELOPE ISLAND/POTATO FARM
Travel out to Antelope Island State Park in the middle of the Great Salt Lake, enjoy stunning views of the largest salt water lake in the Western Hemisphere and learn about the island's animals and history. Next, you'll learn about Idaho's most famous export…potatoes of course! Farmer Pat Rowe will show you his fields of robust spuds. Enjoy a tasty dinner this evening with your fellow travelers. B, L, D
DAY 4—POTATO MUSEUM/MESA FALLS
This morning starts with a stop at the Idaho Potato Museum, showcasing Idaho's famous potatoes. On the Mesa Falls Scenic Byway, you'll wind through rugged mountains and fertile valleys, past rivers and waterfalls en route to Montana's West Yellowstone. Enjoy free time to explore West Yellowstone and select one of many restaurants for dinner this evening. B, L
DAY 5—YELLOWSTONE TOUR/JACKSON
Today, visit America's first national park. At nearly 3,500 square miles, this vast wilderness set atop a volcanic hot spot extends across parts of three states, and is home to hundreds of species of plant and wildlife, from bears to bison to bald eagles. You'll view such famous sites as Old Faithful, the Paintpots, Upper and Lower Yellowstone Falls, and much more. After innumerable picture-perfect sights, you'll continue south on the John D Rockefeller Parkway into Grand Teton National Park. Enjoy the evening on your own to explore the famous streets of Jackson, WY. B, L
DAY 6—GRAND TETONS/COVERED WAGON COOKOUT
Get ready to explore the stunning Grand Tetons. A scenic cruise on Jenny Lake, narrated by a knowledgeable guide is sure to be one of the highlights of your visit to Grand Teton National Park. Enjoy a delicious lunch with sweeping views of the Teton Range, at the Mural Room at Jackson Lake Lodge. After lunch you'll continue to enjoy many other scenic vistas and a stop at the quaint Chapel of the Transfiguration before returning to Jackson. Tonight offers a fun western adventure on a horse-drawn covered wagon into beautiful Cache Creek Canyon. A savory, home-cooked dutch oven meal awaits you at our cowboy camp, followed by great western music and some cowboy humor from the Bar T 5 Band. B, L, D
DAY 7—NATIONAL MUSEUM OF WILDLIFE ART/SODA SPRINGS/OREGON TRAIL CENTER
Built into a hillside overlooking the National Elk Refuge, we begin our day with a visit to the National Museum of Wildlife Art, which features more than 5,000 artworks representing wild animals from around the world. The scenery changes on the way south through the Gros Ventre Wilderness and the high desert of Wyoming. Once a pioneer town known as the "Oregon Trail Oasis," Idaho's Soda Springs is named for the hundreds of sulfurous natural springs dotting the area, and is now famous for its "captive geyser" released hourly by a timer. Next, at the National Oregon/California Trail Center Museum in Montpelier, experience what it was like to be a pioneer on the trails that headed west in the 1800s. Tonight, overnight back in Utah. B, L, D
DAY 8—PETTINGILL'S ORCHARD/HOME
Heading back to Salt Lake, you'll pass through beautiful canyons. On the way, visit the festive Pettingill's Orchard and Fruit Stand to enjoy a tasty treat and some last beautiful Mountain West views before saying goodbye to new friends. B

Quality Accommodations:
Nights 1-2: Little America Inn, Salt Lake City, UT
Night 3: Best Western Pocatello Inn, Pocatello, ID
Night 4: Holiday Inn, West Yellowstone, MT
Nights 5-6: 49er Inn & Suites, Jackson, WY
Night 7: University Inn & Conference Center, Logan, UT
Dates:
Jun 15-22, 2019
Aug 24-31, 2019 SOLD OUT


Price Per Person:
Double: $2,147, Single: $2,895
Pre-/Post-Tour Hotel: $238/night
Average Temps
High upper 80s / low uppers 60s, evenings can be cooler in the mountain areas.
Time Zone
Mountain
Arrival Time
Schedule to arrive at our starting hotel by 5:00 p.m. on Day 1.
Departure Time
Schedule your flight home to depart the Salt Lake City International Airport any time after 1:30 p.m. on Day 8.
Airport Info
If you're flying into Salt Lake City International Airport, our hotel is located in downtown Salt Lake City there are a few options to get you from the airport to Little America Hotel.
Shared Shuttle Service is approximately $7.00 - $10.00 per person, not including gratuity.
Salt Lake Express: 800-356-9796, https://saltlakeexpress.com/
Super Shuttle: 800-258-3826, https://www.supershuttle.com/locations/saltlakecityslc/
Taxi rides are approximately $20.00, not including gratuity. Taxis and Shuttles are located outside of the baggage claim area of each terminal.
Vehicle Parking
If you plan to park your vehicle for the duration of the tour please call us at 262-923-8120 / 855-744-TRIP (8747) for further information on cost.
Walking Distance
Moderate standing and walking is required to fully enjoy this tour. Some walking can be on uneven surfaces.
Currency
US Dollar
Hotel Amenities
Hair dryers, irons, ironing boards & coffee makers throughout tour. WiFi, refrigerators, microwaves, fitness room and swimming pool available at most hotels.
Additional Information
Elevations reach 7,700 feet on this tour.
Sunscreen, sunglasses, hats, visors, bug spray and comfortable walking shoes will add to your enjoyment of this tour.
Dress on tour is casual.
Further information is mailed upon receipt of your reservation. A total of three mailings are sent to assist you in preparing for your tour…Get Ready, Get Set and Go! Our "Get Ready" packet is sent confirming your reservation. Our "Get Set" packet provides further information approximately 90 days prior to departure with important details regarding making your travel arrangements. Finally, our "Go" packet arrives 2-3 weeks before departure containing your final documents.
Updates
Updates to this document are available from our Discovery Reservations Team, and will be posted online at www.CountryTravelDiscoveries.com//TMW
Travel Protection Available?
Yes, see CountryTravelDiscoveries.com/TravelProtectionPlan.
Terms & Conditions
Tour reservations are subject to the terms and conditions on our website at CountryTravelDiscoveries.com/terms.
Groups
Have a group? We can make your group's vacation cost-effective and easy, with discounts for groups as small as five and other benefits. Learn more at CountryTravelDiscoveries.com/groups.

Share it
---