Travel to the South of France and encounter historic villages, delicious food, and some of the best wine in the world while cruising aboard our privately chartered ship. You'll see all the region's unique highlights and experience unique stops, including private wine tastings, UNESCO World Heritage Sites, and unforgettable lavender fields during the season's peak.
• Included sightseeing tours of Marseille, Aix-en-Provence, Lyon, Avignon and more
• Seven days aboard the luxury ship MS Amadeus Provence
• Two night stay in Aix-en-Provence exploring the village and lavender fields of Provence
• Gourmet dining with all meals included (buffet breakfast, lunch, dinner and midnight snack) in the elegant
Panorama-Restaurant, accommodating all guests in one seating
• Included quality red & white wines from Europe's wine regions with every dinner on board
• Cocktail Reception, Welcome Dinner and Captain's Gala Dinner
• Gratuities to crew, cruise director,and local guides included—over a $150.00 per person value (most European River Cruises do not include these)
• 24-hour emergency call service while en-route to/from our tour, round-trip airfare from U.S.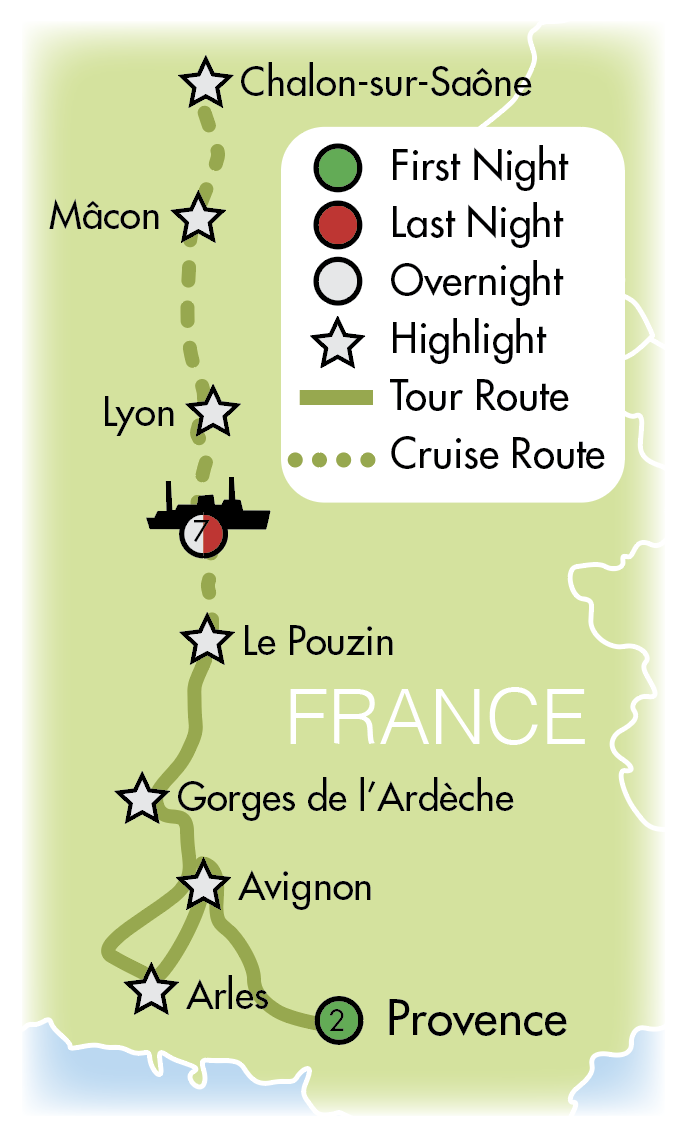 DAYS 1-2–CHICAGO/MARSEILLE
Bienvenue a France! Welcome to Marseille, France's 2nd largest city. We begin with a city tour of Marseille before traveling to the City of Fountains and gateway to the Provence region, Aix-en-Provence for a two-night stay at the gorgeous centrally located Renaissance Hotel. B, D

DAY 3–PROVENCE LAVENDER FIELDS
Full day exploring the area north of Aix. We will visit the quaint village of Sault and experience the surrounding lavender fields of Provence, which will be in full bloom during our visit, and stop for a private wine tasting near Carpentras. B, D

DAY 4–EMBARKATION
Embark on the world-class vessel in Lyon. The Amadeus Provence, a first-class vessel launched in 2017 operated by Luftner Cruises, a pioneer in European River Cruising for over 30 years. Enjoy a specially prepared cocktail and welcome dinner. B, L, D
DAY 5–MÂCON, BURGUNDY
Discover the famous wine-producing region of Burgundy with a visit to Mâcon, a city on the banks of the Saône River. Explore the ruins of Cluny Abbey, dedicated to St. Peter in 910 and known as the "spiritual heart of medieval Europe." B, L, D

DAY 6–CHARLON SUR SAÔNE
Dock in Chalon sur Saône where half-timbered houses overlook the charming square, art galleries, and local shops. Take a scenic drive along the famous Burgundy Wine Route and enjoy a guided tour of the gorgeous Hôtel-Dieu along with a wine tasting at one of the famous wine cellars in Beaune. B, L, D

DAY 7–LYON
Lyon is France's third largest city and considered the country's gastronomic capital. Enjoy a guided tour of the city's highlights, including the Basilica of Notre-Dame de Fourvière and the Palace of Justice, along with free time in the historic Old Town. B, L, D

DAY 8–AVIGNON
Known as the "City of the Popes", Avignon played in important role in the Roman Catholic Church during the 14th century as the Popes fled Rome to escape conspiracy and corruption. Enjoy a guided tour of the historic city including a tour of the world-famous Palais des Papes (Pope's Palace). B, L, D
DAY 9–ARLES
Founded by the Gauls, Arles has been declared a UNESCO World Heritage Site with many Roman sights and monuments to explore. Take a break in the café that served as the model for Vincent Van Gogh's "Cafe Terrace at Night". B, L, D
DAY 10–ARDÈCHE GORGE
Ardèche Gorge is referred to as the Grand Canyon of Europe, which features limestone cliffs towering 1,000 ft above the winding river below. Enter through the largest natural bridge in Europe and take a moderate walk on the Gorge Trail for beautiful viewpoints of the canyon and Ardèche river. B, L, D

DAY 11–LYON
Disembark at Lyon to fly home. CTD bids you adieu! Optional post-cruise excursion (more information below) B
Quality Accommodations

Nights 2-3: Renaissance Hotel, Aix-en-Provence
Nights 4-9: MS Amadeus Provence
Dates:
Jul 4-14, 2022

Price Per Person from:
Double $5,247*
Land Only Pricing Available
Depart/Return: Chicago, IL or Washington DC

Pre/Post Hotel: $188/night

*BOOK by May 31, 2022 to SAVE!

Reserve using code FRC22 by May 31, 2022 and take $250.00-750.00 OFF depending upon stateroom. Call us at 262-747-2089 for more details.


C Window, Haydn Deck - $5,247

B Drop-Down Panoramic Windows*, Stern, Strauss Deck - $6,077
B Drop-Down Panoramic Windows*, Mid, Strauss Deck - $6,177
B Drop-Down Panoramic Windows*, Forward, Strauss Deck - $6,277
A Drop-Down Panoramic Windows*, Stern, Mozart Deck - $6,477
A Drop-Down Panoramic Windows*, Mid, Mozart Deck - $6,477

Suite, Mid, Mozart Deck - $7, 277

Suite, Forward, Mozart Deck - $7,377

Post-Cruise Optional Tour
Jul 14-16, 2022

Price Per Person:
Double $757
Single $995
We are offering a special post-cruise excursion option, which includes an opportunity to be fully immersed in the famous Bastille Day celebrations, similar to America's 4th of July! Enjoy 2 nights in Annecy at the centrally located Hotel Splendid.

DAY 1—DEPART LYON
Depart Lyon and enjoy a guided walking tour of the lakeside village of Annecy, known for its beautiful old town, quaint canal and spectacular mountain views. Happy Bastille Day! D
DAY 2—CHOICE OF FREE DAY IN ANNECY
Spend today exploring more of Annecy. Shop, stroll along the lake or perhaps take a paddleboat ride, or an excursion to the French Alps and the charming village of Chamonix. B, D
DAY 3—ENJOY A FINAL BREAKFAST
Alas, we must say farewell and our return to the U.S. B
Average Temps
highs low to mid 60's/ lows low to mid 50's

Time Zone
+7 hours from Central Time
Arrival Time
Available 90 days prior to the tour.
Departure Time
Available 90 days prior to the tour.
Airport Info
Pre/Post Hotel offers complimentary shuttle service.
Vehicle Parking
Free parking is offered during the tour at our hotel in Chicago with a Pre- or Post-tour night booked, only.

Walking Distance
Moderate to extended walking is required to fully enjoy this tour. Some walking will be on uneven paths.
Currency
Euro

Hotel Amenities
Hair dryers, TV/cable, telephone, coffee makers, laundry available at hotels.
Ship Amenities Include
Sun Deck, Two Bars, Large Chess Board & Golf Putting Green on Sun Deck, Gourmet Dining, Fitness Room, Massage, Hairdresser, Lift (except to Sun Deck), Gift Shop. In all rooms: Flat screen TV, Safe, Hair Dryer. All rooms except Haydn Deck have French Balcony. Suites have balcony.
Additional Information
Land Tours begin one day later. Airport transfers not included with Land Only Tours. Air & Land Tours include government imposed taxes, fees and airline fuel surcharges at time of printing.
Further information is mailed upon receipt of your reservation. A total of three mailings are sent to assist you in preparing for your tour…Get Ready, Get Set and Go! Our "Get Ready" packet is sent confirming your reservation. Our "Get Set" packet provides further details approximately 150 days prior to departure with important details regarding making your travel arrangements. Finally, our "Go" packet arrives 2-3 weeks before departure containing all your final documents.
Updates
Updates to this document are available from our Discovery Reservations Team, and will be posted online at CountryTravelDiscoveries.com/FRC.
Travel Protection Available?
Yes, see CountryTravelDiscoveries.com/TravelProtectionPlan.
Terms & Conditions
Tour reservations are subject to the terms and conditions on our website at CountryTravelDiscoveries.com/terms.
Groups
Have a group? We can make your group's vacation cost-effective and easy, with discounts for groups as small as five and other benefits. Learn more at CountryTravelDiscoveries.com/groups.
Share it
---