Over 210 years ago, Lewis and Clark led a historic expedition to the American West that "fired the imagination of the American people and made them feel the full sweep of the continent on which they lived." Join Country Travel Discoveries & Sunrise Tours to retrace this epic journey from St. Louis to the Oregon coast. The tour will feature historian Lou Ritten on board for the duration of the tour.

Travel the route of Lewis & Clark
Visit the Akta Lakota Museum
Tour Fort Mandan where the expedition party met Charbonneau & his wife Sacagawea
Stand at "Decision Point", where the Missouri & Marias Rivers meet
Take a cruise on the Missouri River
Travel the Nez Perce Trail
Bag handling (1 per person) at hotels
Fees/tips for included attractions/meals
Free airport shuttle, air from Portland to St Louis
Welcome Reception, 24-hour emergency call service, free bottled water on coach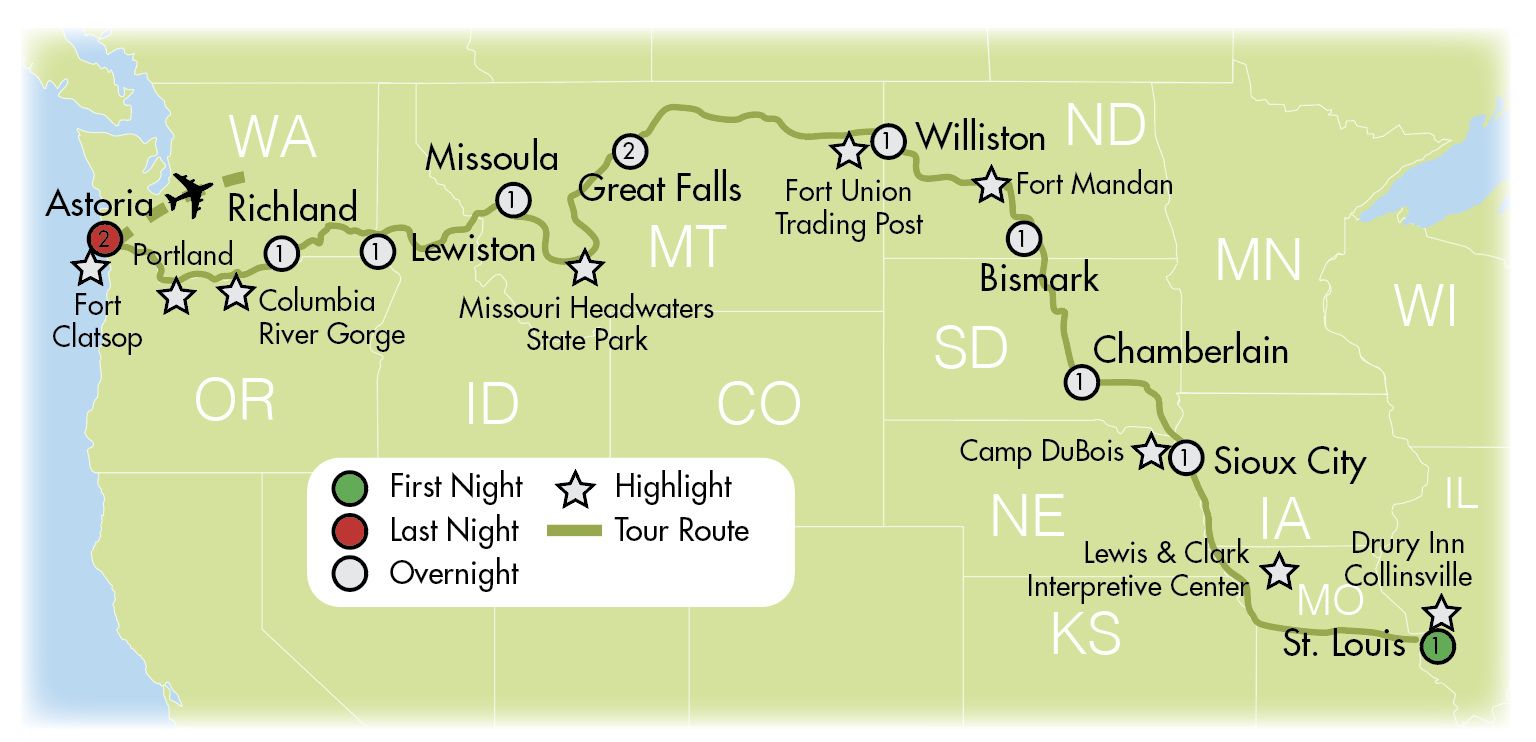 DAY 1—WELCOME TO ST. LOUIS, MO
Arrive in St. Louis to meet your Tour Manager, fellow explorers, and amateur historian Lou Ritten, on an unforgettable expedition to experience the epic journey that Lewis and Clark traveled that spans the continent. Welcome Reception
DAY 2—CAMP DUBOIS/ST. JOSEPH, MO
Meriwether Lewis wrote in his journal "The mouth of the River Dubois is to be considered as the point of departure." And just as the Lewis and Clark Expedition began, ours too will begin at Camp DuBois, the winter camp and launch point for the Lewis and Clark Expedition. We will continue westward and across Missouri for an overnight stay in St. Joseph, Missouri. B, D
DAY 3—LEWIS & CLARK INTERPRETIVE CENTER/SIOUX CITY, NE
Visit the Missouri River Basin Lewis and Clark Interpretive Center to get a glimpse of the more than 300 flora and fauna discoveries made by explorers. Continue north before an overnight in S. Sioux City, NE along the Missouri River. B, D

DAY 4—SPIRIT MOUND/AKTA LAKOTA MUSEUM/ CHAMBERLAIN, SD
Travel into South Dakota, capture views at Spirit Mound where Clark wrote about the beauty of the land before a visit to Akta Lakota Museum for more interesting stories of his meetings with the Native Americans. B, D

DAY 5—HERITAGE CENTER/BISMARCK, ND
Journey through the Lower Brule and Standing Rock Indian Reservations into North Dakota, visiting significant Lewis and Clark sites along the way. Enjoy a catered dinner in North Dakota's Heritage Center with time to browse its exhibits. Overnight in Bismarck. B, D

DAY 6—FORT MANDAN/WILLISTON, ND
Trekking west, visit Fort Mandan, where the expedition party spent a productive winter gathering information from the friendly natives and recruited Charbonneau and his wife Sacagawea as interpreters. At Knife River National Historic Site see the reconstructed winter quarters and earthen lodges of the Northern Plains Indians. Overnight in Williston, ND. B, D

DAY 7—DECISION POINT/FORT BENTON
Following the trail, cross Montana and stop at Fort Union where the Yellowstone and Missouri Rivers meet and see "Decision Point" where the Missouri and Marias Rivers meet (it took 9 days to determine the Marias was not the main branch of the Missouri River) and visit Fort Benton, the last stop for steamboats coming from St. Louis in the 1800's! Unpack for two nights in Great Falls, MT. B, D

DAY 8—LEWIS & CLARK INTERPRETIVE CENTER/CM RUSSELL MUSEUM
The Expedition took 32 days to portage equipment and canoes around five formidable falls in the area. Learn more about this challenge on our visit to the Lewis and Clark Interpretive Center and the portage sites, followed by a visit to American western artist C. M. Russell's Museum. B, D

DAY 9—BOAT CRUISE/CONFLUENCE
Take a boat ride between giant cliffs cut by the Missouri River and visit Missouri Headwaters State Park. Care to climb a cliff and stand where Lewis saw the confluence of the Jefferson, Madison and Gallatin Rivers? Continue through the mountains in Shoshone territory where Lewis and Clark secured horses to cross the Rocky Mountains.Overnight in Missoula, MT. B, D

DAY 10—NEZ PERCE TRAIL/THREE DEVILS
Travel along the Nez Perce Trail through the Bitterroot Range, the worst part of the journey for the expedition. Lunch and our personal expert guide at Three Devils bring history to life. Overnight in Lewiston, ID. B, L, D

DAY 11—NEZ PERCE HISTORICAL PARK/COLUMBIA RIVER
Running out of food in what seemed like an endless sea of rugged mountains, the expedition encountered the helpful Nez Perce tribe. Visit Nez Perce National Historical Park before continuing our journey toward the Columbia River. Overnight in Richland, WA one of the Tri-Cities. B, D

DAY 12—THE COLUMBIA RIVER GORGE AREA
Enter our final state, Oregon, and travel along the beautiful Columbia Gorge National Scenic Area while closely hugging the beautiful river. Unpack your bags for a two night stay in Astoria, OR. Enjoy dinner at Silver Salmon Grille in downtown Astoria. B, L

DAY 13—FORT CLATSOP
Enjoy the striking coastline of northern Oregon and visit a reconstruction of Fort Clatsop where the expedition spent the winter before returning home. B, L

DAY 14—RETURN ST LOUIS
Our return flight to St Louis takes a few hours, a distance that took Lewis and Clark 6 months to travel! B


Quality Accommodations:
Night 1: Best Western Premier, Alton, IL
Night 2: Drury Inn & Suites, St. Joseph, MO
Night 3: Stoney Creek Hotel, Sioux City, IA
Night 4: Howard Johnson's by Wyndam Oacoma Hotel & Suites, Chamberlain SD
Night 5: Hampton Inn, Bismarck, ND
Night 6: Best Western Plus, Williston, ND
Nights 7 & 8: Hilton Garden Inn or similar, Great Falls, MT
Night 9: Hilton Garden Inn or similar, Missoula, MT
Night 10: Hilton Garden Inn or similar, Lewiston, ID
Night 11: Holiday Inn Richland by the River, Richland WA
Nights 12-13: Best Western Plus Astoria Bayfront, Astoria, OR

Dates:
Aug 19-Sep 1, 2022 Sold Out
Price Per Person:
Double $3,397
Single $4,195
Depart/Return:
St. Louis, MO

Pre/Post Tour Hotel: $128/night


Average Temps
High upper 80s/low upper 60s, evenings can be cooler in the mountain areas
Time Zone
Central/Mountain/Pacific
Arrival Time
Schedule to arrive at our starting hotel by 5:00 p.m. on Day 1.
Departure Time
An included flight from Seattle to St. Louis is scheduled to arrive into St. Louis at 11:59 p.m. If you would like to fly directly from Seattle to your home city airport on Day 14, please schedule your flight home to depart Seattle anytime after 3:45 p.m. If you choose this option, an air credit of $200 per person applies.

Should you fly with the group from Seattle to St. Louis, please plan on spending the evening of Day 14 at the Best Western Premier before returning home.

Airport Info
Our starting hotel offers complimentary shuttle service from the St Louis/Lambert International Airport.
Vehicle Parking

Free parking is offered during the tour at the Best Western Premier for the duration of the tour.
Walking Distance
Moderate walking at a leisurely pace is required to fully enjoy this tour. Some walking will be on uneven paths.
Currency
US Dollar
Hotel Amenities
Hair dryers, irons, ironing boards & coffee makers throughout tour. Refrigerators, WiFi, exercise room and swimming pool available at most hotels.
Additional Information
Sunscreen, sunglasses, hat, visors and comfortable walking shoes will add to your enjoyment of this tour.
Dress on tour is casual.
Further information is mailed upon receipt of your reservation. A total of three mailings are sent to assist you in preparing for your tour…Get Ready, Get Set and Go! Our "Get Ready" packet is sent confirming your reservation. Our "Get Set" packet provides further information approximately 90 days prior to departure with important details regarding making your travel arrangements. Finally, our "Go" packet arrives 2-3 weeks before departure containing your final documents.
Updates
Updates to this document are available from our Discovery Reservations Team, and will be posted online at CountryTravelDiscoveries.com/LAC
Travel Protection Available?
Yes, see CountryTravelDiscoveries.com/TravelProtectionPlan.
Terms & Conditions
Tour reservations are subject to the terms and conditions on our website at CountryTravelDiscoveries.com/terms.
Groups
Have a group? We can make your group's vacation cost-effective and easy, with discounts for groups as small as five and other benefits. Learn more at CountryTravelDiscoveries.com/groups.
Share it
---