Texas Hill Country comes alive each spring with blankets of bluebonnets, Texas Indian paintbrush, pink evening primrose, and more. Explore the region's best wildflowers during season's peak, while getting a behind-the-scenes look at the trendy cities of Austin and San Antonio. You'll hop aboard a private boat for unique views of the San Antonio River before exploring the famed River Walk's tropical walkways, gourmet restaurants, and stunning boutiques. From a private wine tasting to a stop at the Alamo, we promise this vacation will be a memorable tour of "The Friendship State".

Experience Texas Wildflowers at season's peak
San Antonio Botanical Gardens, Lady Bird Johnson Wildflower Center, and more
Private cruise along the San Antonio River
LBJ Presidential Library
Private wine tasting at Signor Vineyards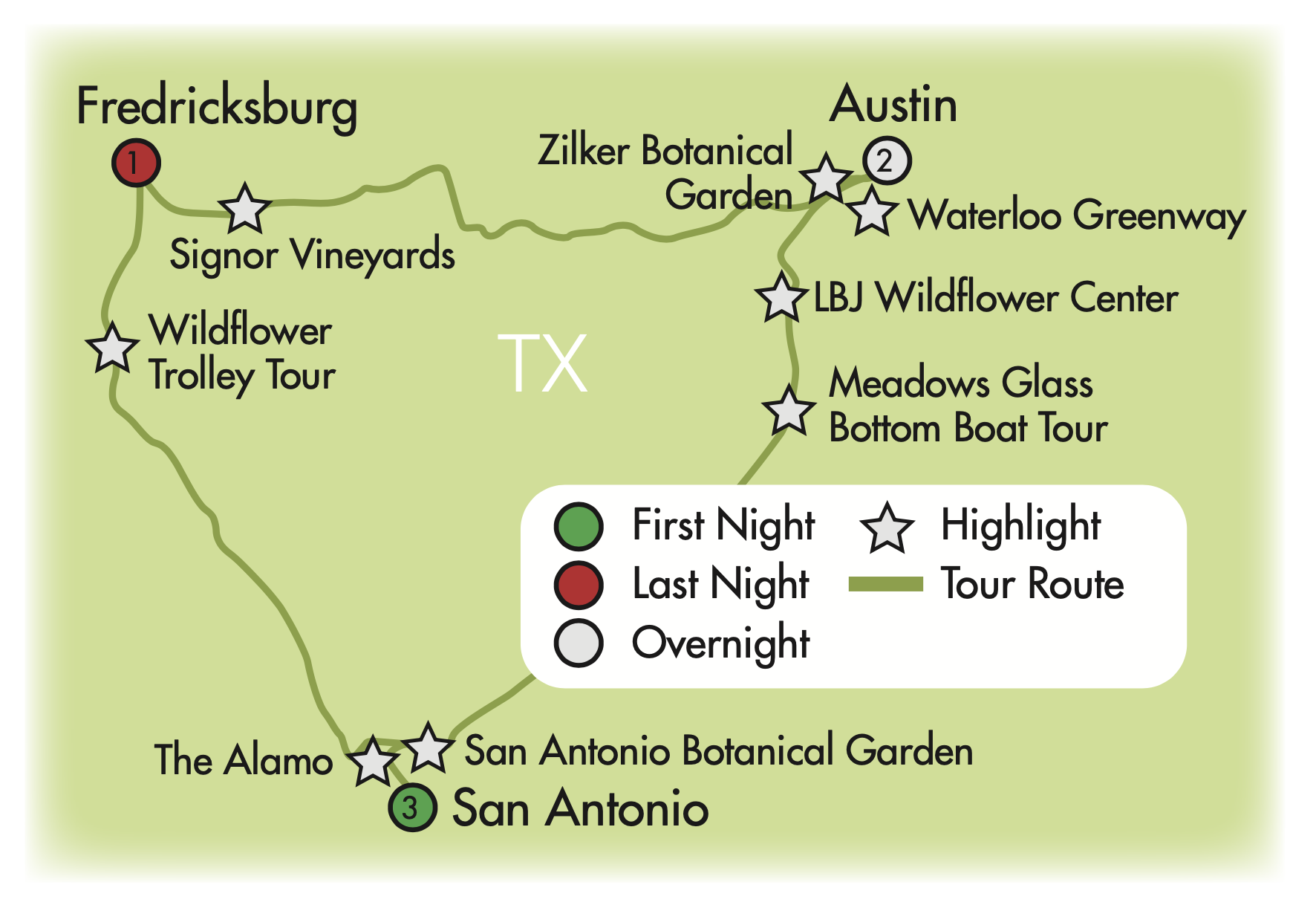 DAY 1—WELCOME TO SAN ANTONIO!
Upon arrival to the Lone Star State, we meet at our hotel that's conveniently located on the banks of the famous River Walk. Meet your fellow travelers for a welcome dinner as we make new friends! Later this evening, see the history of San Antonio come alive in a special Saga light show projected onto the San Fernando Cathedral. D
DAY 2—MISSIONS/BOTANICAL GARDENS
This morning, experience a guided tour of the iconic San Antonio Missions National Park, America's newest UNESCO World Heritage Site. Later in the morning, we stroll along San Antonio's first suburb, King Williams, settled in the 19th century by prosperous German merchants who displayed their wealth through extravagant homes. Following lunch in the early 1900's Guenther House, we explore the San Antonio Botanical Gardens that encompass 38 acres in the center of the city. The gardens feature formal and display gardens, a conservatory containing plants from around the world, and a water saver garden. B, L
DAY 3—REMEMBER THE ALAMO/PRIVATE GARDEN
A visit to San Antonio wouldn't be complete without a stop at the Alamo where we'll walk in the footsteps of Davy Crockett, Jim Bowie, and other valiant men. Next, a CTD exclusive: We'll go "beyond the fences" at one of San Antonio's spectacular private gardens. After lunch we will experience the River Walk from an entirely new perspective as we board our private boat for a relaxing and unique look at the San Antonio River. B
DAY 4—MEADOWS CENTER/GLASS BOTTOM BOAT/LADY BIRD WILDFLOWER CENTER
As we depart from San Antonio to Austin, you'll stop in San Marcos for a Glass Bottom Boat tour at the Meadows Center for Water and the Environment, where inspiring research and leadership helps ensure clean, abundant water. As we make our way into Austin, we will make a stop at a private residential garden featuring Texas native plants and a lush, naturalistic water feature. This afternoon, visit the Lady Bird Johnson Wildflower Center in Austin as it highlights its research, plant conservation, and landscape restoration. The 284 acres are a mix of native plant gardens, an arboretum, managed natural areas, and wildlands. Enjoy this evening at our Austin hotel. B, L
DAY 5—WATERLOO GREENWAY/ZILKER BOTANICAL GARDEN/LBJ LIBRARY
We start our morning with a visit to the Waterloo Greenway - a newly developed Urban Ecosystem in the heart of downtown Austin. Stroll through the 1.5-mile system of walkways and bridges to experience a wild array of impressive gardens and rolling pathways. Later this morning, explore Zilker Botanical Gardens to view their panoramic views of downtown and uniquely themed landscapes featuring thousands of native and cultivated plants. This afternoon, we take a tour of the LBJ Presidential Library to learn about the defining moments of Lyndon B. Johnson's life. Then within the library, we visit the very special exhibit about Lady Bird Johnson - "Beyond the Wildflowers". This comprehensive story of the First Lady's life features letters, photographs, clothing, and artifacts. B, D
DAY 6—LBJ RANCH/SIGNOR VINEYAD/FREDERICKSBURG
Today's itinerary includes a visit to the Lyndon B. Johnson Ranch for a ranger guided tour of the exterior of the "Texas White House". You'll love the rolling hills and pastureland that forms the backdrop where LBJ roamed before becoming President. Today's lunch is a special treat - the folks at family-run Signor Vineyards have invited us for lunch and wine tasting before strolling their beautifully manicured gardens. Later, continue to the quaint German town of Fredericksburg to explore Main Street and shop for that perfect souvenir. Enjoy a farewell dinner tonight at a local eatery. B, L
DAY 7—TEXAS WILDFLOWERS/TRAVEL HOME
Limestone cliffs, granite outcroppings, and hidden springs are a perfect habitat for wildflowers in Hill Country. You'll witness this wonderful area up close in the morning light as we take you on a trolly tour of the back roads to see the region's blooming flowers. Then, we're off to the San Antonio airport to travel home, taking with us memories of Texas' wildflowers. B

Quality Accommodations
Night 1-3: Drury Inn & Suites San Antonio Riverwalk
Nights 4-5: Best Western, Austin City Hotel
Night 6: Hampton Inn, Fredericksburg
Dates:
Apr 18-24, 2023
Price Per Person:
Double $1,977
Single $2,575

Pre/Post Tour Hotel:
$248/night

Depart/Return:
San Antonio, TX
Inclusions:
Free airport shuttle or hotel parking
Welcome Dinner and meals as indicated (B=breakfast, L=lunch, D=dinner)
Fees and tips for included attractions and meals
Luggage handling of one suitcase per person at hotels
Free bottled water on coach
24-hour emergency call service
Arrival Time
Our Welcome Dinner on Day 1 is at 6:30pm, at our hotel: Drury Inn and Suites, San Antonio Riverwalk. We recommend scheduling your flight to arrive by 4:00 pm.
Departure Time
Schedule your flight home to depart the San Antonio International Airport in San Antonio, any time after 3:00 pm on Day 7.
Airport Transportation / Vehicle Parking
A complimentary shuttle service will be offered to/from the San Antonio International airport. If you are driving to the starting hotel, complimentary parking at the hotel will also be offered.
Walking Distance
Moderate walking is required to fully enjoy this tour. Some walking will also be on uneven paths. While walking canes are allowed, we are unable to accommodate travelers using other mobility devices, including walkers and wheelchairs.
Average Temps
April – high of 85°, low of 55°

Time Zone
Central
Hotel Amenities
Each hotel has a hair dryer, iron/ironing boards, and a coffee maker. All hotels also offer a refrigerator, Wi-Fi, exercise room and a swimming pool.
Additional Information
A total of three mailings are sent to assist you in preparing for your tour, including information sent upon receipt of your reservation.
Dress on tour is casual. Sunscreen, sunglasses, hat, visors, and comfortable walking shoes will add to your enjoyment of this tour.
Temperatures can fluctuate in this region, so we recommend bringing a light jacket with you when out in the morning or evening.
Travel Protection Available?
Yes, see CountryTravelDiscoveries.com/TravelProtectionPlan.
Share it
---