Come travel with us as we walk in the steps of Martin Luther King Jr., explore the USS Alabama, see the famous To Kill a Mockingbird court room, visit the hometown of Jimmy Carter, and learn about the Tuskegee Airmen with a local guide on this inspiring journey along the Civil Rights Trail. This tour also includes a relaxing two-night stay on the Gulf of Mexico's white sugarsand beaches in Gulf Shores, AL. This Southern visit will be filled with friendly locals, delicious food, and treasured sights in the charming Heart of Dixie.

Learn the history of the civil rights movement in and around Montgomery, Birmingham, Selma and more
Two night stay in Gulf State Park with gulf view room
Lunch and tour at the beautiful Callaway Gardens
Walk in Jimmy Carter's footsteps in Plains, GA
Meet Gee's Bend Quilt makers

Tour the USS Alabama warship
Go inside a storybook castle in charming Fairhope
Spot wildlife on a scenic Nature Cruise near Gulf Shores
Explore Providence Canyon known as 'Georgia's Little Grand Canyon'
Free Airport shuttle and hotel parking
Bag handling (1 per person) at hotels
Fees/tips for included attractions and meals
Welcome reception, 24-hour emergency call service, free bottled water on coach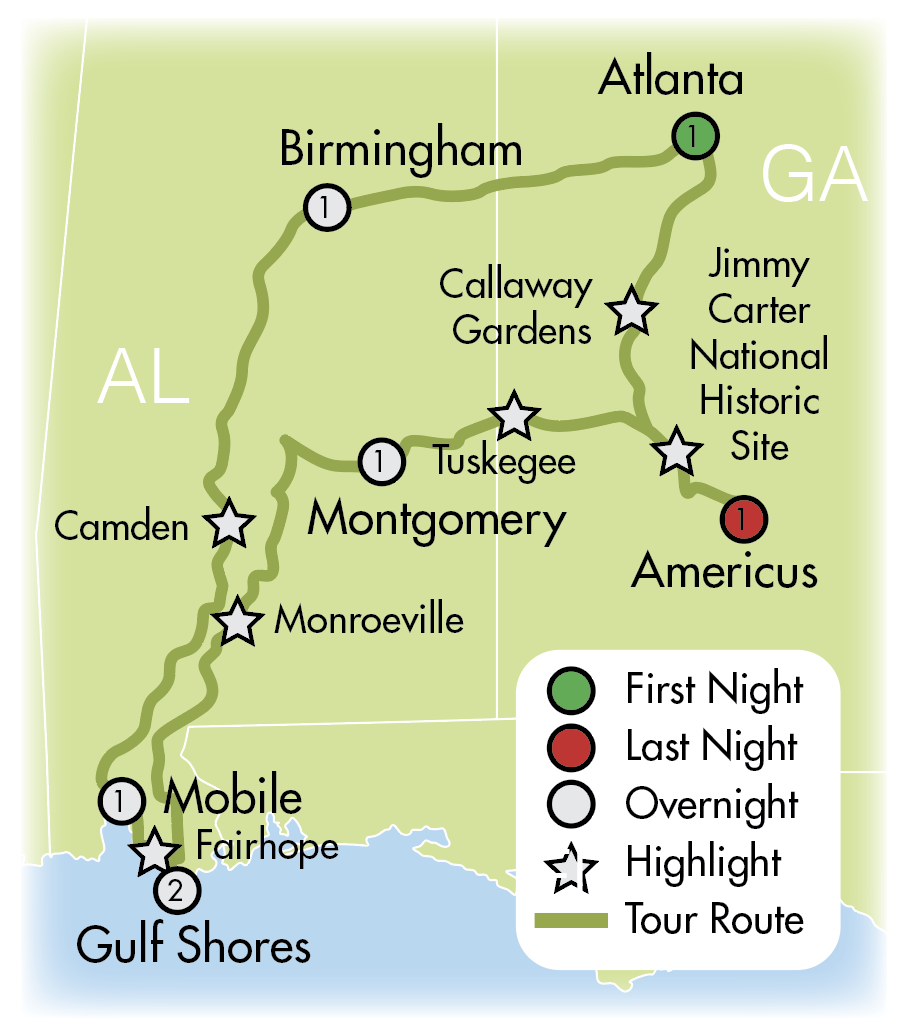 DAY 1-WELCOME TO GEORGIA!
Welcome to Atlanta, GA. Upon arrival, settle in at our comfortable hotel and meet our Discoveries Director and fellow travelers at this evening's welcome reception.
DAY 2–FREEDOM RIDERS/ARLINGTON HOME AND GARDEN/CIVIL RIGHTS INSTITUTE
After a satisfying breakfast we leave Georgia and travel to Anniston, AL. Here we meet with a historian at one of the country's newest National Parks to learn about the Freedom Riders fight for equality. Next, we will savor a delicious homemade southern lunch at Arlington Home and Garden. After lunch, we tour this beautiful and historic home that is on the National Register of Historic Places. The two-story frame structure was built in the mid-1800s and features antebellum-era Greek revival architecture. Then we are transported back to the 1950s and 1960s at the Birmingham Civil Rights Institute. As an interpretive museum and research center, this renowned museum depicts the struggles of the Civil Rights Movement. Tonight we relax in downtown Birmingham at the 100-year-old Tutwiler Hotel, a National Historic Landmark. B, L
DAY 3–SELMA/GEES BEND QUILTS/CAMDEN SHOE SHOPPE/LOCAL ARTISANS
This morning we travel to Selma to meet our local guide for a tour of Selma. See the Brown Chapel AME Church, the George Washington Carver Home, the First Baptist Church and the Jackson Home where Dr. King stayed when he came to Selma and much more. This afternoon we visit Camden for a delicious southern lunch and to learn about the internationally-acclaimed Gee's Bend Quilters. These women developed a distinctive, bold, and sophisticated quilting style reminiscent of Amish quilts and modern art, passing their skills down through at least six generations. After lunch we call on the local Betty Anderson's Camden Shoe Shoppe Museum and the Black Belt Cultural Center. Wilcox County born and raised, Betty Anderson grew up surrounded by heritage arts that were created out of necessity from her family making their own soap and clothing, to furniture and quilts. At the nearby Black Belt Cultural Center, local artisans display their talents and their own unique art. Tonight we enjoy a comfortable stay in Mobile. B, L
DAY 4-MARDI GRAS MUSEUM/USS ALABAMA/STORYBOOK CASTLE
Feel the excitement of Mardi Gras in the city that started it all at the Mobile Carnival Museum. Located inside the historic Bernstein-Bush mansion, learn about the rich history and traditions of 300 years of Mardi Gras celebrations. Next, we tour USS Alabama Battleship Memorial Park which features vintage aircraft, tanks and artillery, the USS drum submarine and more. As we head south toward Gulf Shores we will stop at the charming town of Fairhope and its antebellum homes, sprawling oak trees and quaint downtown with plenty of choices for lunch on your own. After lunch, Pagan and Dean Mosher will lead us on a private tour of their home. We'll be amazed by this storybook castle that was spotlighted on HGTV's "Extreme Homes". Tonight unpack for two nights and relax gulf side at The Lodge at Gulf State Park, A Hilton Hotel. B
DAY 5–GULF STATE PARK/NATURE CRUISE/GULF SHORES
Today a park naturalist will show you the extensive beaches and unique flora and fauna of Gulf State Park. At 6,150 acres, the park is world-renown for its size and diversity of preserved ecosystems. Gulf State Park is also home to two miles of white sugar-sand Gulf of Mexico beaches, which we can enjoy at our resort. After a delightful seaside lunch, take time to roam Gulf Shores' downtown shops or relax at our pool or beach. Later this afternoon, we embark on a nature cruise along the pristine waters of the Alabama Gulf Coast. Our vessel will allow us to experience up-close viewing of dolphins, seabirds, stingray, sea turtles, and a variety of other marine life. Tonight we enjoy another night on the shores of the Gulf of Mexico. B, L
DAY 6-ALLIGATORS/ALABAMA'S LITERARY CAPITAL
This morning, we depart Gulf Shores as we head back inland to visit Alligator Alley. Here we safely walk on elevated viewing platforms and walkways to view over 200 alligators from hatchlings to mature adults. The alligators thrive in this natural habitat along with turtles, ospreys, owls and bull frogs. This afternoon we'll visit the National Memorial of Peace and Justice. Next, visit Monroeville, home to Harper Lee, the Pulitzer-Prize winning Author of To Kill a Mockingbird. Here we visit the informative courthouse museum with its displays on Harper Lee and her childhood friend Truman Capote. Tonight we spend the night in Montgomery. B, L
DAY 7–TUSKEGEE AIRMEN/LITTLE GRAND CANYON/CARTER HOMETOWN
After breakfast, we travel to Tuskegee to learn about the famous Tuskegee Airmen, the men and women in the Army Air Corps who taught African Americans to fly and maintain combat aircraft at their National Historic Site. Next, we head over the border to visit Georgia's Providence Canyon, also known as the 'Little Grand Canyon'. Here a park naturalist will lead us on a tour around the rim of the canyon. Bring your camera for the amazing picture opportunities found here! Next, we discover there is nothing plain about Plains, GA home of the 39th President of The United States, Jimmy Carter. Carter was born, raised and still resides in Plains. Our local guide will give us a private tour of the small town where we will see everything from Jimmy Carter's Boyhood farm, to the train depot home of the 1976 Jimmy Carter Presidential Campaign Headquarters, to a giant Peanut Statue. Tonight we stay in the small historic town of Americus. B, L, D
DAY 8–CALLAWAY GARDENS/HOME SWEET HOME
After breakfast at the beautifully-restored Windsor hotel, we travel to Pine Mountain, GA to take in Mother Nature's beautiful landscapes and colorful blossoms at Callaway Gardens. An experienced guide will take us through their abundant and colorful gardens. Before heading back toward Atlanta and home, we savor a delightful lunch at Callaway Gardens. Reminisce on our amazing journey through Alabama and Georgia as we head back to Atlanta. B, L
Quality Accommodations:

Night 1: Hotel Indigo Atlanta Airport, Atlanta, GA
Night 2: The Tutwiler Hotel, Birmingham, AL
Night 3: Holiday Inn, Mobile, AL
Nights 4-5: The Lodge at Gulf State Park, A Hilton Hotel, Gulf Shores, AL
Night 6: Drury Inn, Montgomery, AL
Night 7: Best Western Plus Windsor Hotel, Americus, GA

Dates:
Oct 4-11, 2022

Price Per Person:
Double $1,997
Single $2,605
Pre-/Post-Tour Hotel: $148/night

Depart/Return: Atlanta, GA
Average Temps
Highs in the mid 70's /lows in the mid 50's (Mar)
Highs in the mid 80's /lows in the mid 60's (Oct)
Time Zone
Eastern (Georgia)/ Central (Alabama)
Arrival Time
Schedule your flight to arrive by 4:00 p.m. on Day 1.
Departure Time
Schedule your flight home anytime after 5:00 p.m. on Day 8.
Airport Info
Starting hotel offers 24-hour complimentary shuttle service.
Vehicle Parking
Complimentary for duration of tour.
Walking Distance
Moderate to moderately extensive walking is required to fully enjoy this tour. Some walking can be on uneven surfaces.
Currency
US Dollar
Hotel Amenities
Refrigerators, microwaves, hair dryers, irons, ironing boards, Coffee makers, swimming pools and exercise rooms throughout tour.
Additional Information
Further information is mailed upon receipt of your reservation. A total of three mailings are sent to assist you in preparing for your tour…Get Ready, Get Set and Go! Our "Get Ready" packet is sent confirming your reservation. Our "Get Set" packet provides further details approximately 90 days prior to departure with important details regarding making your travel arrangements. Finally, our "Go" packet arrives 2-3 weeks before departure containing all your final documents.
Updates: Updates to this document are available from our Discovery Reservations Team, and will be posted online at CountryTravelDiscoveries.com/GAL
Travel Protection Available?
Yes, see CountryTravelDiscoveries.com/TravelProtectionPlan.
Terms & Conditions
Tour reservations are subject to the terms and conditions on our website at CountryTravelDiscoveries.com/terms.
Groups
Have a group? We can make your group's vacation cost-effective and easy, with discounts for groups as small as five and other benefits. Learn more at CountryTravelDiscoveries.com/groups.

Share it
---