From the heavily forested summits of the Cascade Mountains, to the 'world's longest beach' along the Pacific Ocean, to the fertile agricultural fields of the Columbia River Valley, Western Washington is a delight for the senses. Explore ancient volcanoes and their stunning flower-filled alpine meadows – including a mile-high drive through Mount Rainier National Park. Local potato farmers, oyster ranchers, orchard owners, and more also welcome us with open arms as we discover the natural beauty of the Pacific Northwest.
Visits to local family-fun potato, lavender, fruit, and oyster farms
Tour the Bavarian-themed village of Leavenworth
Learn about the eruption of Mount St. Helens from a first-hand witness
Scenic drive through Mount Rainier National Park
Meet cranberry researchers and marine biologists
See real-time aircraftassembly at Boeing
Seattle overview city tour that hits the 'must-see' highlights
Visit the 'World's Longest Beach'
Free airport shuttle or hotel parking
Bag handling (1 per person) at hotels
Fees/tips for included attractions and meals
Welcome reception, 24-hour emergency call service, free bottled water on coach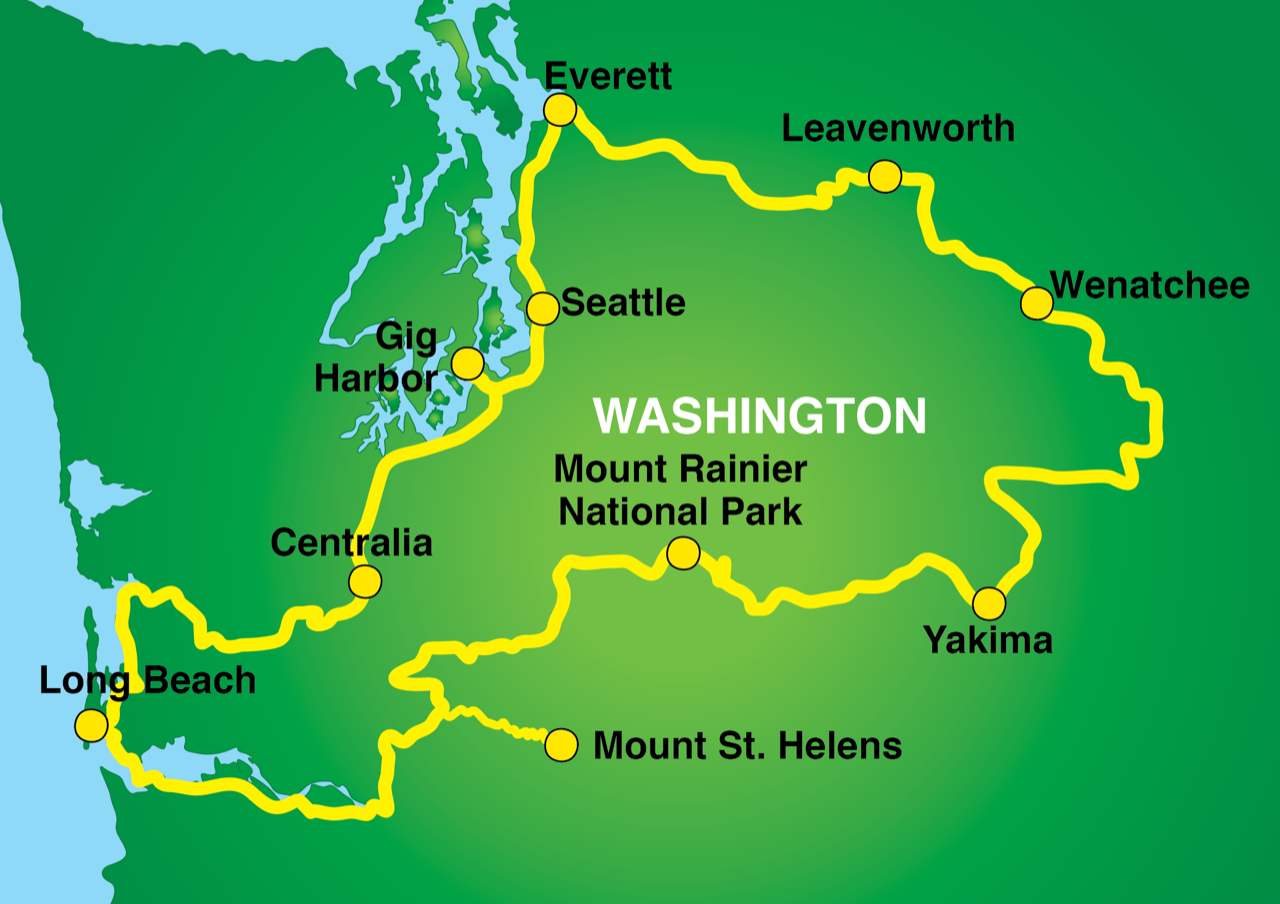 DAY 1—WELCOME TO WASHINGTON
Enjoy meeting your fellow travelers and Discovery Director at a welcome reception at our starting hotel conveniently located near Sea-Tac Airport.
DAY 2—SEATTLE CITY TOUR/BOEING FACTORY
Our week together begins with a guided tour of Seattle, the largest city in the Pacific Northwest, by an experienced step-on guide. We'll explore the city's colorful history in Pioneer Square, see the iconic Space Needle, and enjoy lunch on our own at the lively Pike Place Market. From there, we head north to suburban Everett and the massive Boeing Airplane Assembly Facility, which is also the largest building in the world. From the beginning nuts and bolts to the end of the assembly line, witness behind-the-scenes action of the facility's 30,000 employees hard at work on wide-body Boeing 747, 767, 777, and 787 airplanes. B, D
DAY 3—SKYKOMISH/LEAVENWORTH BAVARIAN VILLAGE
The morning begins with a stop in scenic Skykomish, the gateway to the Cascade Mountains. Mayor Henry Sladek will share plenty of railroad and logging stories over coffee and pastries. From there, we spend the rest of the day in Leavenworth, Washington State's famous Bavarian-themed village. Here we'll visit with 95-year-old Arlene Wagner who has amassed the world's largest collection of nutcrackers (more than 7,000!). Next Chuck and Lynn Reppas welcome us to their fruit stand to sample Washington-grown fruit and wine. Don't miss the Leavenworth Quilt Company, featured as a "Top Shop" in Quilt Sampler Magazine. We'll conclude our day with the Andersen Family for a private tour of their reindeer farm where if you so choose, you can feed Santa's four-legged helpers their favorite snack of willow leaves, fresh off the branch. B, D
DAY 4—POTATO FARM/AG MUSEUM/FRUIT ORCHARD
Ever wonder where a tasty bag of potato chips come from? The answer might be from the Thaemert Potato Farm just outside of Quincy. Todd, Jason, Ashley and the entire family will welcome us to see how potatoes are grown, harvested, and stored. Rumor has it we might even participate in the potato chip taste-testing process! From there, we are off to the Central Washington Agricultural Museum, home to more than 150 antique tractors, over 1,000 pieces of historic machinery, and acres of farm life exhibits. We'll wrap up at the day at family-run Barrett Orchards near Yakima, featuring fresh-grown cherries, peaches, and vegetables. As we'll soon discover, the gorgeous Columbia River Valley is one of most fertile areas in the country to grow our most popular fruits and crops. B, L
DAY 5—MOUNT RAINIER NATIONAL PARK/MOUNT ST. HELENS OBSERVATORY
Ascending to 14,410 feet above sea level, Mount Rainier stands as an icon in the Washington landscape. An active volcano, Mount Rainier is the most glaciated peak in the contiguous United States. Diann Sheldon, our step-on guide for the morning, helps us explore the wildflower meadows that ring the icy volcano and the ancient forests that cloak the mountain's lower slopes. This afternoon we head down to Mount St. Helens National Volcanic Monument to mark the 40th Anniversary of the 1980 eruption. Next, we meet Mark Smith at the Johnson Ridge Observatory, one of the closest points to Mount St. Helens. Mark not only witnessed the eruption, he and his family owned a lodge that remains buried beneath 500 feet of ash near Spirit Lake. His first-hand accounts of the events of March 1980 will leave us mesmerized. A home-cooked dinner by Mark and his wife Dawn conclude the unforgettable evening. B, D
DAY 6—OYSTER SEA FARM/CRANBERRY RESEARCH/PACIFIC COAST
Today we spend an entire day exploring the Pacific coast communities of Long Beach and Ilwaco. Here Dan Driscoll, a third-generation oysterman, will demonstrate oyster shucking and tell us how the ever-changing tides dictate the work day. Afterwards, we visit the Pacific Coast Cranberry Research Foundation to learn about local harvesting and sample sweet treats. Next, we head up to the Lewis and Clark Discovery Center at Cape Disappointment. Get your cameras ready for one of the best views on the entire West Coast! An observation deck overlooking the mouth of the Columbia River will allow us to take in the stunning Pacific Coast of Washington and Oregon. This evening, enjoy free time and shopping in Long Beach. Perhaps stroll the 'World's Longest Beach' just a few blocks away from our hotel. B, L
DAY 7—CARRIAGES/LAVENDER FARM/PUGET SOUND AREA
The morning begins with a stop at the 'must-see' Northwest Carriage Museum in Raymond, home to one of the finest collections of 19th century carriages, buggies, and wagons. Indulge in floral scents of the Willapa Bay Lavender Farm as owner Jeff Karnatz explains how they grow and care for thousands of lavender plants. After a farm-to-table lunch experience, join owner Kevin Regan for a glass-blowing demonstration at Central Glass Works. Regan's award-winning work is featured in art museums across the Pacific Northwest. Any tour to Washington wouldn't be complete without a visit to Puget Sound. Here we join a marine biologist in Gig Harbor to learn about the plants and animals that inhabit local waterways. The evening wraps up with a farewell dinner at Anthony's, one of Seattle's finest seafood restaurants with an unforgettable harbor view. B, L, D
DAY 8—WASHINGTON
This morning, enjoy breakfast before heading home exhilarated by our time in the Evergreen State. B


Quality Accommodations
Night 1:Radisson Sea-Tac Airport, Seattle
Night 2:Delta Hotels by Marriott, Everett
Night 3:Coast Wenatchee Center Hotel, Wenatchee
Night 4: Comfort Suites, Yakima
Night 5: Comfort Inn, Kelso
Night 6: Best Western, Long Beach
Night 7: Radisson Sea-Tac Airport, Seattle

Dates:
Aug 2-9, 2020
Sept 6-13, 2020
Price Per Person:
Double $2,097;
Single $2,725
Pre-/Post-Tour Hotel: $238/night
Average Temps
In Seattle, high temperatures average around 70 degrees; low temperatures average in the mid-50's. Please note that higher elevations (such as Mount Rainier National Park) and areas along the Pacific Coast (such as Long Beach) could be significantly cooler than this; elevations do reach 6,000 feet on this tour.
Time Zone
Pacific Time
Arrival Time
Schedule flights into Seattle by 5:00 p.m. on Day 1.
Departure Time
Schedule flights to depart as early as you wish on Day 8.
Airport Info
The Radisson Hotel Seattle Airport offers a complimentary shuttle between SeaTac International Airport and the hotel, 24 hours a day.
Vehicle Parking
Free self-parking is offered at the Radisson Hotel Seattle Airport for all guest of Country Travel DISCOVERIES for the duration of the tour. Those driving to Seattle should check with the front desk staff to see where the designated long-term parking is upon your arrival.
Walking Distance
Moderate walking at a leisurely pace is required to fully enjoy this tour.
Currency
U.S. Dollar
Hotel Amenities
Hair dryers, TV/cable, telephone, etc. are available at most hotels.
Additional Information
Further information is mailed upon receipt of your reservation. A total of three mailings are sent to assist you in preparing for your tour…Get Ready, Get Set and Go! Our "Get Ready" packet is sent confirming your reservation. Our "Get Set" packet provides further information approximately 90 days prior to departure with important details regarding making your travel arrangements. Finally, our "Go" packet arrives 2-3 weeks before departure containing your final documents.
Updates
Updates to this document are available from our Discovery Reservations Team, and will be posted online at CountryTravelDiscoveries.com/WWA
Travel Protection Available?
Yes, see CountryTravelDiscoveries.com/TravelProtectionPlan.
Terms & Conditions
Tour reservations are subject to the terms and conditions on our website at CountryTravelDiscoveries.com/terms.
Groups
Have a group? We can make your group's vacation cost-effective and easy, with discounts for groups as small as five and other benefits. Learn more at CountryTravelDiscoveries.com/groups.
Share it
---