Experience the pageantry of the world-famous Tournament of Roses, up close and personal! Let the music echo through your body, the fragrance swirl around you in a way that is palpable and exciting. You'll be astonished to discover how wholly different the real Rose Parade spectacle is from any televised event. Enjoy amazing street-level access for watching the floats go by and prizewinning bands perform, and even opt to arrive early and help decorate one of the floats yourself! Explore sunny Southern California, visit Hollywood and L.A. hotspots, dine on the Queen Mary and reminisce about a bygone era rich with history, elegance and grandeur.
Unpack once for all 4 nights right in Long Beach
Street-level reserved grandstand seating at the Tournament of Roses Parade
Float preview, presentation on past winners, and exclusive discussion with a parade judge
New Year's Eve Celebration Dinner and 9PM Champagne Toast
Dine aboard the famous Queen Mary
Highlights tour of Greater Los Angeles
Pre-tour option decorating a float and visiting Equestfest

Fees/tips for included attractions/meals

Welcome reception, 24-hour emergency call service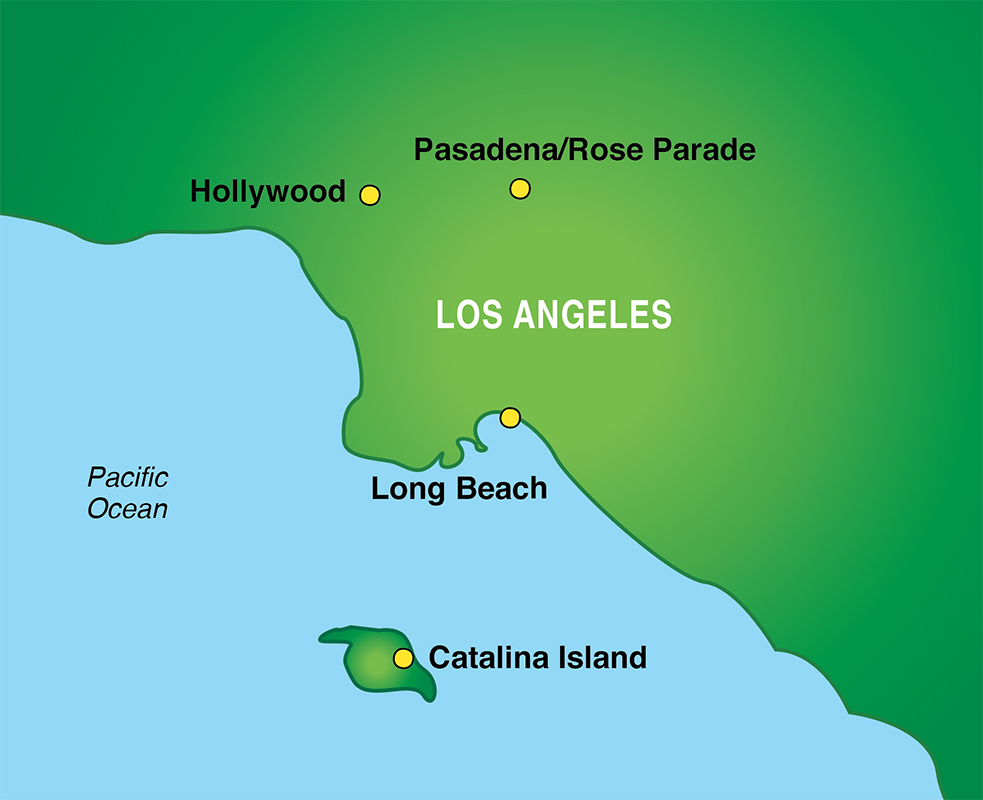 DAY 1–DEC 29, 2018–WELCOME TO LONG BEACH!
Your exciting Rose Parade Holiday begins the moment you arrive in Long Beach, which blends urban sophistication with the relaxed atmosphere of a beachside community. You'll meet with your Discoveries Director, settle into your California crafted guest room with all of the modern amenities and relax a bit before the festivities begin. We know you will enjoy the convenience of unpacking only once on this tour!
DAY 2–DEC 30, 2018–BANDFEST/A JUDGE'S VIEW/FLOATS PAST & PRESENT
Today in Pasadena, "march to the drumbeat" of the Rose Parade Bands at the highly entertaining Bandfest. The outstanding bands selected to participate in this year's Rose Parade will present their field shows, certain to be a memorable part of the entire Rose Parade Holiday. At lunch today, we're in for a real treat when we meet a Tournament of Roses Parade Judge. He will share his experiences judging the tournament floatsand what they look for when appointed this task for this world famous event. Then, we'll watch a presentation of past award-winning floats. This afternoon, the magic comes to life with an up-close preview of the parade's amazing floral floats. The Rose Parade's elaborate floats have come a long way since the Tournament's early days. Today, float construction begins almost immediately after the previous year's parade is concluded. Amazingly, each float is decorated with more flowers than the average florist will use in five years. This evening we return to Long Beach and you are free to explore the area. B, L
DAY 3–DEC 31, 2018–LOS ANGELES CITY TOUR/NEW YEAR'S EVE CELEBRATION
With the sun shining 80 percent of the year, Southern California's climate is often described as "perfect". Most days it's sunny and warm with gentle ocean breezes. Today we will get a birds eye view of the City of Angels as we go up to the top of the OUE Sky Space, California's tallest open-air observation deck. See everything from the Santa Monica Pier, the Hollywood sign to Catalina Island. Once back on the ground we will explore, people watch and enjoy lunch on your own at the Original Farmer's Market in Los Angeles. Keep your eyes peeled as you never know who you'll see! This afternoon, make sure you have your sunglasses as a local guide joins us for an in-depth tour of Los Angeles. We'll see such landmarks as Mann's Chinese Theater, the Walk of Fame and Rodeo Drive. Tonight join your fellow travelers at for a joyful New Year's Eve Celebration Dinner and champagne toast. B, D
DAY 4–JAN 1, 2019– TOURNAMENT OF ROSES/ QUEEN MARY
You've seen it on TV...Now feel all the electricity and excitement of the real thing! This New Year's Day, our travelers will experience the beauty of the floral floats along with spirited marching bands and high-stepping equestrian units along the 51⁄2-mile route down Colorado Boulevard. The grandstand seats we've reserved for you provide a spectacular street-side experience of the Tournament of Roses Parade. (Especially if you joined our Petal Pushers pre-tour, you'll know the thrill of seeing a float you helped decorate compete on TV!) Tonight at our farewell dinner, "cruise" back in time to the Golden Age of travel aboard the Queen Mary. B, D
DAY 5–JAN 2, 2019–HOME
Your energizing New Year's getaway comes to a close after a hot breakfast. It's been a wonderful winter escape creating great memories…filled with roses and cheer. B

Quality Accommodations
Nights 1-4: Courtyard Marriott Long Beach
December 29, 2018-January 2, 2019*


Price Per Person: Double: $1,577; Single: $1,855

Pre/Post-Tour Hotel: $158/night
3 Days/2 Nights - Rose Parade "Petal Pushers"/Equestfest Pre-tour Extension
Dec. 27-28, 2018
Price Per Person: $497 Double; $625 Single
Don't just watch the parade – be a part of it! Arrive early, roll up your sleeves, and help more than 4,000 Petal Pushers® volunteers decorate floats you can see featured in the Tournament of Roses Parade live and on television. The exhilaration of then watching your own beautiful creation glide through the procession cannot be described! Then, meet many of the Equestrians you will see in the 2018 Rose Parade at Equestfest! Beautiful horses and talented riders perform drills and dances, and demonstrate trick riding and roping at the Los Angeles Equestrian Center in Burbank. Attendees can shop in the vendor court, stroll through the stables, talk to the riders, learn about the various tack and the many different breeds. Great music as well as food and beverage concessions are also on site.
Average Temps
high 64°/low 48°
Time Zone
Pacific
Arrival Time
Schedule to arrive at our starting hotel by 5:00 p.m. on December 29. If you are taking the Pre-tour extension Float Decorating & Equestfest, you may schedule to arrive at our starting hotel by 4:30 p.m. on December 27.
Departure Time
Schedule your flight home to depart anytime after breakfast on January 2.  
Airport Info
 Complimentary shuttle service from Long Beach or LAX airports.
Vehicle Parking
Complimentary parking available for the duration of tour. 
Walking Distance
Moderate to moderately extensive walking is required to fully enjoy this tour. Some walking can be on uneven surfaces.
Currency
US Dollar
Hotel Amenities
Hair dryers, irons, ironing boards & coffee makers at the hotel. Laundry, exercise room and swimming pool available.
Additional Information
Hotel is an ocean-front property. 
Further information is mailed upon receipt of your reservation. A total of three mailings are sent to assist you in preparing for your tour…Get Ready, Get Set and Go! Our "Get Ready" packet is sent confirming your reservation. Our "Get Set" packet provides further information approximately 90 days prior to departure with important details regarding making your travel arrangements. Finally, our "Go" packet arrives 2-3 weeks before departure containing your final documents. 
Updates: Updates to this document are available from our Discovery Reservations Team, and will be posted online at CountryTravelDiscoveries.com/ROS
Travel Protection Available?
Yes, see CountryTravelDiscoveries.com/TravelProtectionPlan.
Terms & Conditions
Tour reservations are subject to the terms and conditions on our website at CountryTravelDiscoveries.com/terms.
Groups
Have a group? We can make your group's vacation cost-effective and easy, with discounts for groups as small as five and other benefits. Learn more at CountryTravelDiscoveries.com/groups.
Share it
---