Explore the Seine River on a fascinating journey into the past of the Impressionist masters such as Van Gogh, Cezanne and Gauguin as you cruise towards Normandy. Without a doubt, this region is one of the most beautiful and historic in all of France. Ports of call include idyllic Norman villages, the "museum town" of Rouen and the picturesque harbor town of Honfleur. See the landing beaches of the allies before returning to Paris, the City of Lights. Visit opulent Versailles, the home of Josephine and Napoleon Bonaparte.
• Included sightseeing tours of Paris, Conflans, Rouen, Le Havre, Normandy and more
• Seven days aboard the luxury ship MS Amadeus Diamond
• Gourmet dining with all meals included (buffet breakfast, lunch, dinner and midnight
snack) in the elegant Panorama-Restaurant, accommodating all guests in one seating
• Included quality red & white wines from Europe's wine regions with every dinner on board
• Cocktail Reception, Welcome Dinner and Captain's Gala Dinner
• Exclusive on board Chanson Singer performance
• Gratuities to crew, cruise director,and local guides included—over a $150.00 per person
value (most European River Cruises do not include these)
• 24-hour emergency call service while en-route to/from our tour, round-trip airfare from U.S.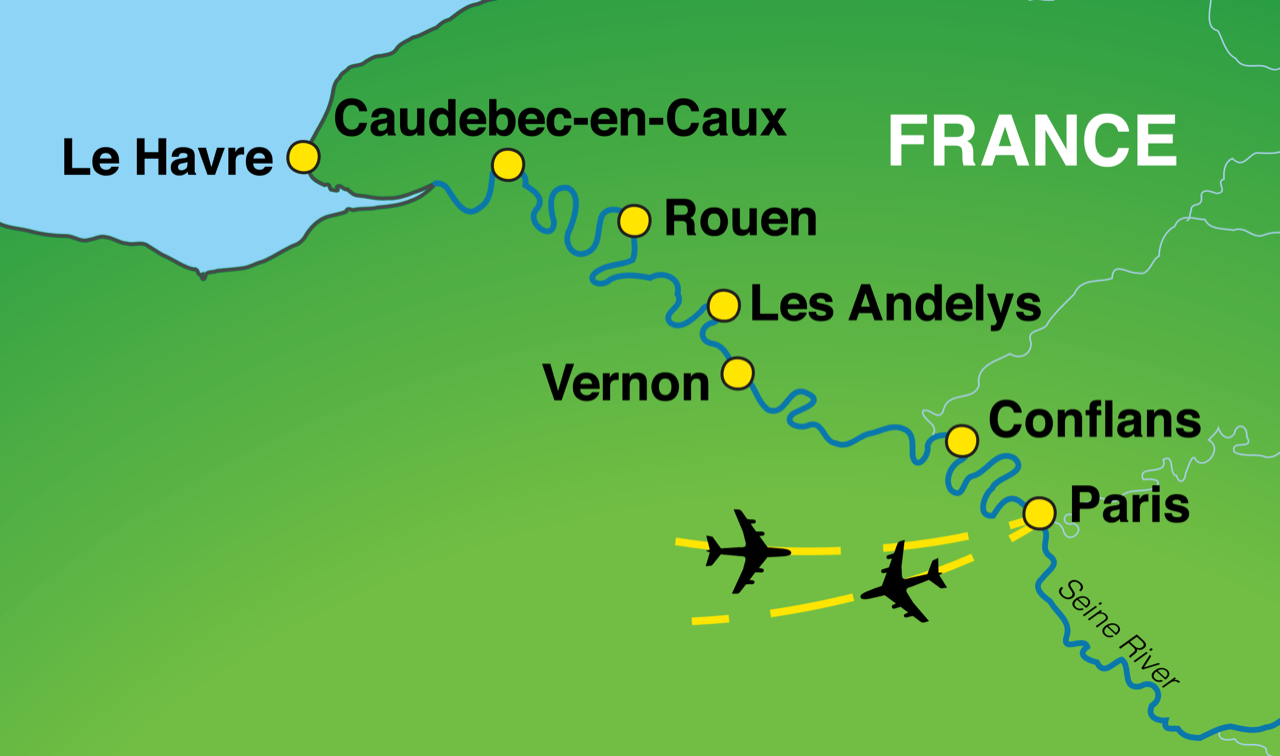 DAYS 1/2–OVERNIGHT FLIGHT/PARIS
After a mid-morning arrival in the City of Lights, board the MS Amadeus Diamond and get settled into your cabin. This evening, enjoy a welcome cocktail, followed by a specially prepared Welcome Dinner. D
DAY 3–CONFLANS
Arrive in Conflans, at the confluence of the Oise and the Seine. Visit the little town of Auvers-sur-Oise, an inspiration to many of the famous Impressionist masters, including Cézanne, Pissarro and Daubigny. The most famous of these artists is Vincent van Gogh, whose final resting place is located here. Visit Auberge Ravoux, where Van Gogh lived in a very simple and small room lit only by sky light. Inspired by the picturesque site with its inhabitants and surroundings, Van Gogh painted close to 80 canvases here, which come alive in the winding streets of the village. B, L, D
DAY 4–ROUEN
This morning we reach Rouen, often called the "Ville musée" (Museum Town) where you can visit one of the many art, history, and antiquities museums scattered throughout the city. Visit the cathedral that inspired Claude Monet and the modern Church of Joan of Arc with its magnificent 16th-century stained-glass windows. See the "Gros Horloge," the astronomical clock, the Parliament of Normandy, and the "Place du Vieux-Marché", the site where Joan of Arc was burnt at the stake. B, L, D

DAY 5–LE HAVRE/ÉTRETAT
Although the harbor of Le Havre was greatly destroyed in World War II, it was rebuilt and continues to be an important port city in Normandy. Explore the Normandy coastline with a walk along the Ètretat cliff-top paths for a view of steep chalk rocks with impressive needlelike formations, which have inspired many well-known artists. Nearby is the city of Honfleur, where the Seine meets the English Channel. This port town is regarded as a jewel on the Côte Fleurie and is a lovely place to spend an afternoon. B, L, D
DAY 6–LE HAVRE/CAUDEBEC-EN- CAUX/WWII HISTORY
Home to farmlands, beaches and towns, Normandy is a land with a rich culinary tradition, based on its fine local produce like world-famous cheeses and apples from which cider and the brandy Calvados are made. It also boasts many historic landmarks, such as the Normandy landing beaches and the city of Arromanches, the closest harbor linked with the liberation of Western Europe after D-Day. See the enormous concrete blocks remaining from Mulberry Harbor, an artificial harbor created for the Allied operations, and the impressive Longues-sur-Mer, the German coastal defense battery classified as a historic monument of the D-Day landing beaches. At the end of this excursion, rejoin the ship in Caudebecen- Caux. B, L, D

DAY 7–LES ANDELYS/VERNON
Today, your vessel anchors in the little town of Les Andelys in the shadow of Chateau Gaillard, the onetime home of Richard the Lionheart. Relax in town or venture farther afield to nearby Giverny, home to Impressionist artist Claude Monet, until his death in 1926. The beautiful surroundings and vivid flora were inspiration for some of his most famous works. Return to the ship in Vernon for lunch. Onboard, the Captain's Gala Dinner is a wonderful finish to a fantastic day. B, L, D

DAY 8–PARIS CITY TOUR/VERSAILLES
In the early morning, it is once more "Bienvenue" to the French capital. Explore the sights of the Eiffel Tower and the bustling Champs-Élysées. Or join an excursion to the Palace of Versailles, the sumptuous, grandiose and opulent palace of Louis XIV, which became the architectural manifestation of absolute monarchy in France. B, L, D
DAY 9–AU REVOIR
We must say Au Revoir as we travel home enriched by the sights of Paris, Normandy and the lovely people of France. B
Quality Accommodations

Nights 2-8: MS Amadeus Diamond
October 19-27, 2021

Depart/Return: Chicago, IL

BOOK by Jul 30, 2021 to SAVE!

Reserve using code PNC21A by Jul 30, 2021 and take $250.00-750.00 OFF depending upon stateroom. Call us at 262-923-8120 for more details.

Price Per Person from:
Double $4,249**
**Prices vary based on stateroom category. See detailed pricing info ship map below. Land-Only pricing also available -- PLEASE CALL TO RESERVE. This tour is NOT eligible for Travel More, Save More discount pricing. Mandatory port taxes (per person): $160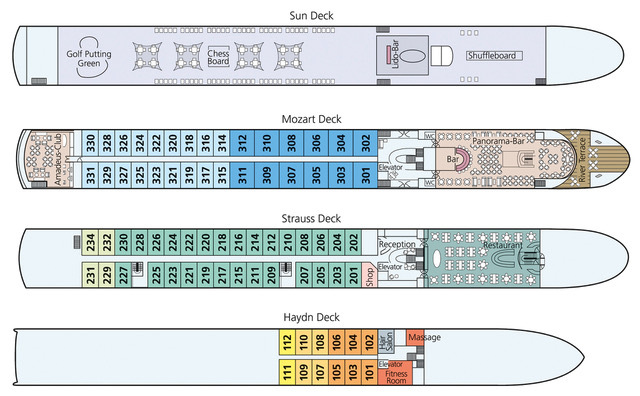 C Window, Haydn Deck - $4,249

B Drop-Down Panoramic Windows*, Stern, Strauss Deck - $4,899
B Drop-Down Panoramic Windows*, Mid, Strauss Deck - $4,999
B Drop-Down Panoramic Windows*, Forward, Strauss Deck - $5,099
A Drop-Down Panoramic Windows*, Stern, Mozart Deck - $5,299
A Drop-Down Panoramic Windows*, Mid, Mozart Deck - $5,399
Suite, Forward, Mozart Deck - $6,249
Paris & Historic Normandy Pre-cruise Option
OCT 16-20, 2021
5 DAYS • 6 MEALS
$1,899 double occupancy; $2,499 single occupancy

Fly to Paris three days before embarkation to explore the "city of light", including a three-night stay at 5-star Hotel Banke and guided visits to the Louvre, Montmartre and more. The pre-cruise option allows a more leisurely exploration of Paris and will leave you refreshed and ready to board the Amadeus Diamond for our cruise to Normandy.
DAYS 1-2—HIGHLIGHTS OF PARIS/ FRENCH CUISINE
After an overnight flight, arrive in Paris and meet your local guide for a sightseeing highlight tour along the banks of the Seine River to the Eiffel Tower. Enjoy lunch at Bouillon Racine, featuring stunning Art Nouveau décor and seasonal favorites, the restaurant is listed as a historical monument. Check into the Hyatt Paris Madeleine and familiarize yourself with the amenities of the hotel and the vibrant Opera neighborhood. But don't take a long afternoon nap! The best way to prolong the effects of jet-lag are to sleep during the day upon arrival in Europe. Enjoy dinner at nearby Au Petit Riche, offering the finest repertoire of Loire Valley wines and traditional French cuisine. L, D
DAY 3—EIFFEL TOWER/LOUVRE
A full day of Parisian experiences await! Visit the Eiffel Tower (including ticket to 2nd floor observation deck located 377 ft above ground), a guided tour of the Louvre, and a "glass boat" dinner cruise with live entertainment on the Seine River cap a quintessential day in Paris. B, D
DAY 4—FREE DAY IN PARIS
This is your free day to explore as you like. With plenty of shopping and a metro station for the 7 and 9 subway trains just steps away, the ideal location of Hotel Banke enables easy access to the best of Paris. B
DAY 5—MONTMARTRE DISTRICT/AMADEUS DIAMOND
Join our local guide for a visit to the charming hilltop Montmartre district, a former artists' village once inhabited by Picasso and Dalí, and home to the domed Sacré-Coeur basilica and Moulin Rouge cabaret. Enjoy sweeping views of the city from its steep, winding streets for a different view of Paris. Board the Amadeus Diamond this afternoon and meet your fellow cruisers before a delicious welcome dinner. B
Options during the Cruise:
Day 4 Jumièges Option— Join a local expert for a journey along the Abbey Trail, a route of churches, castles and abbeys of the region, including Jumièges which author Victor Hugo described as one of the most beautiful ruins in France. Price: $100 per person

Day 7 Chateau Gaillard Option— Take a short drive to get up close to the white stones of the King's stronghold, Chateau Gaillard, and continue to Giverny for entrance to Monet's House and Garden. Price: $125 per person
Average Temps
highs low to mid 60's/ lows low to mid 50's

Time Zone
+7 hours from Central Time
Arrival Time
Available 90 days prior to the tour.
Departure Time
Available 90 days prior to the tour.
Airport Info
Pre/Post Hotel offers complimentary shuttle service.
Vehicle Parking
Free parking is offered during the tour at our hotel in Chicago with a Pre- or Post-tour night booked, only.

Walking Distance
Moderate to extended walking is required to fully enjoy this tour. Some walking will be on uneven paths.
Currency
Euro

Hotel Amenities
Hair dryers, TV/cable, telephone, coffee makers, laundry available at hotels.
Ship Amenities Include
Sun Deck, Two Bars, Large Chess Board & Golf Putting Green on Sun Deck, Gourmet Dining, Fitness Room, Massage, Hairdresser, Lift (except to Sun Deck), Gift Shop. In all rooms: Flat screen TV, Safe, Hair Dryer. All rooms except Haydn Deck have French Balcony. Suites have balcony.
Additional Information
Land Tours begin one day later. Airport transfers not included with Land Only Tours. Air & Land Tours include government imposed taxes, fees and airline fuel surcharges at time of printing.
Further information is mailed upon receipt of your reservation. A total of three mailings are sent to assist you in preparing for your tour…Get Ready, Get Set and Go! Our "Get Ready" packet is sent confirming your reservation. Our "Get Set" packet provides further details approximately 150 days prior to departure with important details regarding making your travel arrangements. Finally, our "Go" packet arrives 2-3 weeks before departure containing all your final documents.
Updates
Updates to this document are available from our Discovery Reservations Team, and will be posted online at CountryTravelDiscoveries.com/PNC.
Travel Protection Available?
Yes, see CountryTravelDiscoveries.com/TravelProtectionPlan.
Terms & Conditions
Tour reservations are subject to the terms and conditions on our website at CountryTravelDiscoveries.com/terms.
Groups
Have a group? We can make your group's vacation cost-effective and easy, with discounts for groups as small as five and other benefits. Learn more at CountryTravelDiscoveries.com/groups.
Share it
---