Country Travel DISCOVERIES and the experts at Our Wisconsin Magazine present an all-new exploration of our home state! Beginning in the capital of Madison, head off the beaten path to visit hand-picked small town highlights, unique attractions, and local stops across the western part of our state. You'll tour incredibly scenic landscapes along the Mississippi River Valley and in the distinctive "Driftless Region" untouched by glaciers, as well as unusual glacial formations of the Upper Dells. Along the way, meet hard-working family farmers, take an exclusive tour of Ft. McCoy's military training center, and enjoy such quintessentially Wisconsin experiences as dinner at a traditional supper club and visit to a museum entirely dedicated to…mustard.
Tour Gov. Dodge State Park and enjoy three-state views from Granddad Bluff
Exclusive lunch and behind the scenes tour of Ft. McCoy
Scenic overnights by the Mississippi River
Sightseeing cruise of Upper Dells cliffs, river narrows and iconic stone formations
Visit a mustard museum and Victorian villa
Traditional supper club dinner
Personal visits with working cattle, dairy, fruit and sheep farmers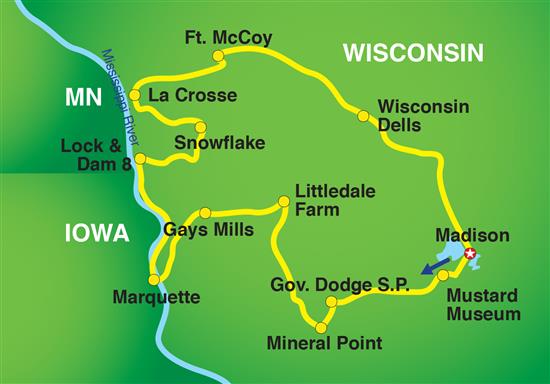 DAY 1 – WELCOME TO THE BADGER STATE
Meet your fellow travelers and Discovery Director at tonight's welcome reception at our Madison hotel.
DAY 2 –MUSTARD/ANGUS HERD/GOV. DODGE PARK
A mustard museum? Absolutely! Featured on The Oprah Winfrey Show, this improbably popular attraction houses over 5,000 types of the spicy condiment. Next, we meet Scott and Val Gaffney on their thriving cattle farm boasting a 180 angus beef herd picturesquely situated amongst rolling farmland. Later, we'll meet a unique Wisconsin lumberman, then take a leisurely drive through scenic Governor Dodge State Park, noted for its varied landscapes and outdoor activities. Tonight, unpack in the former lead and zinc mining center of Mineral Point. B, L, D
DAY 3—SHEEP FARM/STEVENSON/"TOWN THAT MOVED"
The rolling hills of Graham and Margaret Phillipson's Littledale Sheep Farm are ideal for raising purebred sheep. You'll meet them and see their Border Collie herding dogs imported from England. The fictional Town of Stevenson, built from scratch by owners Steve and Carol Stevenson, features restored antique vehicles as well as recreations of an old-time police station, firehouse, barber shop, general store, and more. Then, learn the amazing story of how residents of Soldiers Grove worked with FEMA to move their town after repeated flooding from the Kickapoo River. Finally, cross the Mighty Mississippi for an overnight in the charming riverside town of Marquette. B, L
DAY 4—VICTORIAN VILLA/LOCK AND DAM/BEKKUM DAIRY FARM
Today, return to Victorian life at Villa Louis, restored to its 19th century splendor as the estate of the prominent Dousman family. Continuing up the scenic Great River Road, stop at Lock and Dam No. 8 on the Upper Mississippi River near Genoa—keep an eye out for bald eagles, and perhaps a powerful barge locking through. This afternoon, meet award-winning cheese-and butter-maker Al Bekkum on the farmstead his family's operated since moving from Norway in 1917. Later, marvel at the Snowflake Ski Jumping Complex, used by world-class ski jumpers for competitions. After enjoying a spectacular, three-state view Granddad Bluff, settle in for the night at La Crosse, just steps from its popular riverfront. B, L
DAY 5—FRIENDSHIP GARDENS/FT. MCCOY/SUPPER CLUB
The La Crosse International Friendship Gardens showcases gardens typical of La Crosse's sister cities in France, Russia, China and Germany. Stella Jones Corporation–Bangor Division is a manufacturer of treated railroad ties. Situated on 140 acres, the plant trims, grades, air dries and treats 1 to 1.5 million ties each year. Today's special lunch is at Fort McCoy, a Total Force Training Center for all branches of America's armed forces, followed by an exclusive tour. Later dine at Ishnala, a traditional supper club by Mirror Lake State Park. Overnight in the resort town of Wisconsin Dells. B, L, D
DAY 6—UPPER DELLS CRUISE/PAUL BUNYAN'S COOK SHANTY/MADISON
Start today with a visit to the studio of the man who made Wisconsin Dells famous. After, enjoy a real Wisconsin tradition—the Upper Dells boat cruise past towering pine-crowned cliffs, winding rivers, and such iconic, glacier-cut formations as Chimney Rock and Blackhawk's Profile. Shore landings let you experience fascinating woodland walks. After lunch at Paul Bunyan's Cook Shanty, you'll return to Madison with fond memories of the fascinating sites, spectacular scenery, delicious foods, and captivating locals across the Badger State. B, L
Sep 23-28, 2018 LIMITED SPACE
Sep 30-Oct 5, 2018 VERY LIMITED SPACE
Oct 7-12 SOLD OUT
Price Per Person

Double $1,477; Single $1,795*
Pre-/Post-Tour Hotel: $138/night
Average Temp

Highs: Upper 70s to mid 80s/Lows: Mid 60s (Sep) 
Highs: Mid 60s/Lows 50s (Oct) 
Time Zone
Central
Arrival Time
Schedule your flight to arrive by 5:00 PM on Day 1.
Departure Time
Schedule your flight home any time after 4:30 PM on Day 6.
Airport Info
Our starting hotel offers complimentary shuttle service to/from Dane County Regional Airport in Madison.
Vehicle Parking
Our starting hotel offers complimentary parking for the duration of tour.
Walking Distance
Moderate walking and standing is required to fully enjoy this tour. Some walking can be on uneven surfaces.
Currency
US Dollar
Hotel Amenities
Hair dryers, coffee makers, iron & ironing board throughout tour. Exercise room and swimming pool available at most hotels.
Additional Information
A Government issued photo ID will be needed on tour to access Ft. McCoy Army Base on Day 5.
Updates
Updates to this document are available from our Discovery Reservations Team, and will be posted online at CountryTravelDiscoveries.com/OWI.
Travel Protection Available?
Yes, see CountryTravelDiscoveries.com/TravelProtectionPlan.

Terms & Conditions
Tour reservations are subject to the terms and conditions on our website at CountryTravelDiscoveries.com/terms.
Groups
Have a group? We can make your group's vacation cost-effective and easy, with discounts for groups as small as five and other benefits. Learn more at CountryTravelDiscoveries.com/groups.
Share it
---