The Sioux got it right when they named our uniquely blessed state Iowa…meaning "beautiful land". You'll agree as you explore the idyllic rolling hills of southeast Iowa, the mighty and majestic Mississippi, scenic "Little Switzerland" of northeast Iowa, and some of the world's most fertile farmland or our vast prairies. Plus, you'll get acquainted with people you'd never meet on your own—including an Amish family and their Percheron horses, a dairy farmer who will explain how milk goes from cows to your table, and the agricultural workers at the Midwest Old Thresher.

Meet an Amish family and their Percheron Horse teams
Enjoy a delicious lunch and tour of the Midwest Old Thresher's Museum
Go behind-the-scenes at the John Deere Harvester Works and Isabel Bloom Factory
Visit the National Mississippi River Museum & Aquarium, affiliated with the Smithsonian Institute
Take in gorgeous views at Pikes Peak State Park
Personal visits with dairy and heirloom seed farms
Free airport shuttle or hotel parking
Bag handling (1 per person) at hotels
Fee/tips for included attractions/meals
Welcome reception, 24-hour emergency call service, free bottled water on coach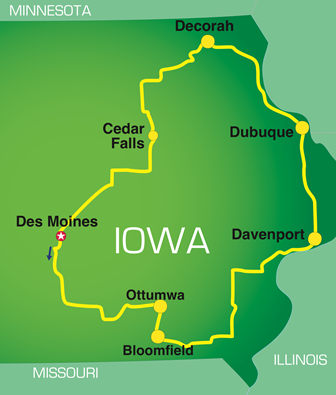 DAY 1–WELCOME TO DES MOINES
Welcome to Des Moines, Iowa. This evening, you'll meet your fellow travelers and Discoveries Director at our welcome reception.
DAY 2–CANDY MAKING/HY-VEE BANANA MAN/AMISH VISIT
We'll start out with a visit to an old-time candy making demonstration at Piper's Grocery Store in Chariton. Next, we learn about the nationally-known "Hy-Vee Grocery Banana Guy". His meticulous method of preparing bananas for shipment helps to preserve their shelf life. Then it's off to meet members of the Moravia Historic Society at the Wabash Depot Museum. Here we'll sit down to a delicious picnic lunch with a few historic society members. Later this afternoon, we'll head to Davis County and tour the beautiful and historic Davis County Court House. Finally, we visit a fascinating Amish family, and tonight, we enjoy a special homemade dinner in Bloomfield. B, L, D
DAY 3–OLD THRESHER'S MUSEUM/QUAD CITIES EXPLORATION
This morning we will have a tasty breakfast and then we'll head over to the Midwest Old Thresher's Museum for a fascinating step back into our agricultural heritage...a surprise ride that's sure to make you reminisce. We'll make a stop amongst the rolling hills of eastern Iowa on the way to Davenport. You will get a chance to take some amazing pictures of the Mississippi River and Norbert F. Beckey Bridge at Riverside Park in Muscatine. Tonight we'll stay within easy walking distance of the Mississippi River front in Davenport. This vibrant city was declared "The Most Livable Small City in America". You will have free time to explore the city on your own tonight. B, L
DAY 4–JOHN DEERE FACTORY/ISABEL BLOOM/MISSISSIPPI RIVER MUSEUM
A captivating behind-the-scenes tour at John Deere Harvester Works along the Mississippi begins the day. Here we'll see the step-by-step process of making the famous tractors and farm equipment in one of the most modern and efficient factories in the world. Then we'll call on Isabelle Bloom for a behind-the-scenes visit to see how their world-famous figurines are handcrafted. We'll enjoy lunch in Maquoketa...then explore the National Mississippi River Museum & Aquarium in Dubuque, so distinguished that it's been chosen as an affiliate of the Smithsonian Institute. We stay overnight at the elegant Hotel Julien Dubuque—some may wish to join on an optional trip up the world's shortest and steepest elevator known as the Felon Place Elevator or 4th Street Elevator. At the top, one can see three different states. B, L
DAY 5–LOCK AND DAM/PIKES PEAK STATE PARK/SEED SAVERS EXCHANGE
This morning wake up ready for a mouth-watering breakfast at Breitbach's Country Dining in Balltown, Iowa's oldest continuously operating restaurant. Scenery abounds as we head north along the Mississippi River valley to Guttenberg and its Lock and Dam for a "see-how-it-works" visit. Have your cameras out—Pikes Peak State Park offers one of the most stunning views in the Midwest. We'll stand high above the Mississippi across from where the Wisconsin River empties into our nation's longest waterway. Then, we'll stop by the Seed Savers Exchange—its members have been passing on garden heritage by collecting and distributing thousands of samples of rare garden seeds. Gardeners will surely want to stock up on their favorite seeds. Tonight we will end the night in Decorah with a memorable dinner. You will have the chance to talk about all the exciting places we visited so far with your fellow travelers. B, D
DAY 6–FISH HATCHERY/BILLY CLOCKS/LITTLE BROWN CHURCH/GRAIN FARM
Off to see the world-famous Decorah eagle nest (Mother Nature permitting), and Decorah Fish Hatchery. We will then head to Spilville to take a tour of St. Wenceslaus, the oldest Czech Catholic church in the United States. During your visit you will have the chance to try Kolche, a Czech Republic pastry. Before leaving Spillville we will stop at Bily Clocks. These unique woodcrafted clocks are so astounding that The Smithsonian has tried to secure several. After a tasty lunch in New Hampton, we'll visit the Little Brown Church in Nashua where the Pastor will host us for a very extraordinary stop...and heartwarming hymn. We will cap off the day with a visit to Mark and Jerilyn Mueller's grain farm. B, L, D
DAY 7–HANSEN'S DAIRY/MATCHSTICK MARVELS/DES MOINES
This morning starts with an impressive tour of Hansen's Dairy in Hudson. On a trolley ride around the farm, we'll see calves, cows, wallabies and kangaroos as well as their milking and processing facilities. The tour will end with a scoop of delicious, creamy homemade ice cream. Then we head to Gladbrook to Matchstick Marvels where Patrick Acton crafts towering sculptures made out of matchsticks. You'll be fascinated by models such as the U.S. Capitol, Space Shuttle, and Notre Dame in Paris. Following lunch in Marshalltown, we return to Des Moines enriched by our 29th state. B
QUALITY ACCOMMODATIONS

Night 1: Holiday Inn Des Moines Airport and Conference Center
Night 2: Ottumwa Hotel TBD
Night 3: Radisson Quad City Plaza Hotel Davenport
Night 4: Hotel Julien Dubuque
Night 5: Country Inn & Suites Decorah
Night 6: Hilton Garden Inn Cedar Falls
Average Temps
high 82°/low 60° (July)
high 72°/low 50° (September)
Time Zone
Central
Arrival Time
Schedule your flight to arrive by 5:00 p.m. on Day 1.
Departure Time
Schedule your flight home any time after 4:30 p.m. on Day 7.
Airport Info
Starting hotel offers 24-hour complimentary shuttle service.
Vehicle Parking
Complimentary for duration of tour. 
Walking Distance
Light to moderate walking is required to fully enjoy this tour. Some walking can be on uneven surfaces.
Currency
US Dollar
Hotel Amenities
Hair dryers, irons, ironing boards & coffee makers throughout tour. Exercise room and swimming pool available at most hotels.
Additional Information
No photography allowed at Amish and Mennonite stops, and conservative clothing requested at such stops.  
Further information is mailed upon receipt of your reservation. A total of three mailings are sent to assist you in preparing for your tour…Get Ready, Get Set and Go! Our "Get Ready" packet is sent confirming your reservation. Our "Get Set" packet provides further details approximately 90 days prior to departure with important details regarding making your travel arrangements. Finally, our "Go" packet arrives 2-3 weeks before departure containing all your final documents. 
Updates: Updates to this document are available from our Discovery Reservations Team, and will be posted online at CountryTravelDiscoveries.com/OIA
Travel Protection Available?
Yes, see CountryTravelDiscoveries.com/TravelProtectionPlan.
Terms & Conditions
Tour reservations are subject to the terms and conditions on our website at CountryTravelDiscoveries.com/terms.
Groups
Have a group? We can make your group's vacation cost-effective and easy, with discounts for groups as small as five and other benefits. Learn more at CountryTravelDiscoveries.com/groups.

Share it
---