Along with our friends at Our Iowa magazine, we're excited to bring back this exciting tour of our 29th state, freshly packed with can't-miss stops. Relax for a day aboard the Celebration Belle cruising along the Mississippi's scenic shores, historic river towns, towering bluffs, powerful barges and lock & dams. Experience communal life at the Amana Colonies...meet an Austrian immigrant who escaped Russian persecution...visit Trappist monks who craft world-renowned caskets...and see the "Field of Dreams" brought to life. A century-old penitentiary, tasty homemade meals, and vintage and modern farms cap off this Midwest treasure.
Full day scenic Mississippi River Cruise (Oct 3 departure concludes at Savannah rather than Moline)
2 nights in historic downtown Dubuque
Explore Iowa's unique Amana Colonies

Experience the real "Field of Dreams"
Glimpse of life inside a Trappist monastery

Visit impressive and historic Iowa farms
Cross the Mississippi and ride atop the scenic bluffs for a traditional supper club dinner
Free airport shuttle or hotel parking
Bag handling (1 per person) at hotels
Fee/tips for included attractions/meals
Welcome reception, 24-hour emergency call service, free bottled water on coach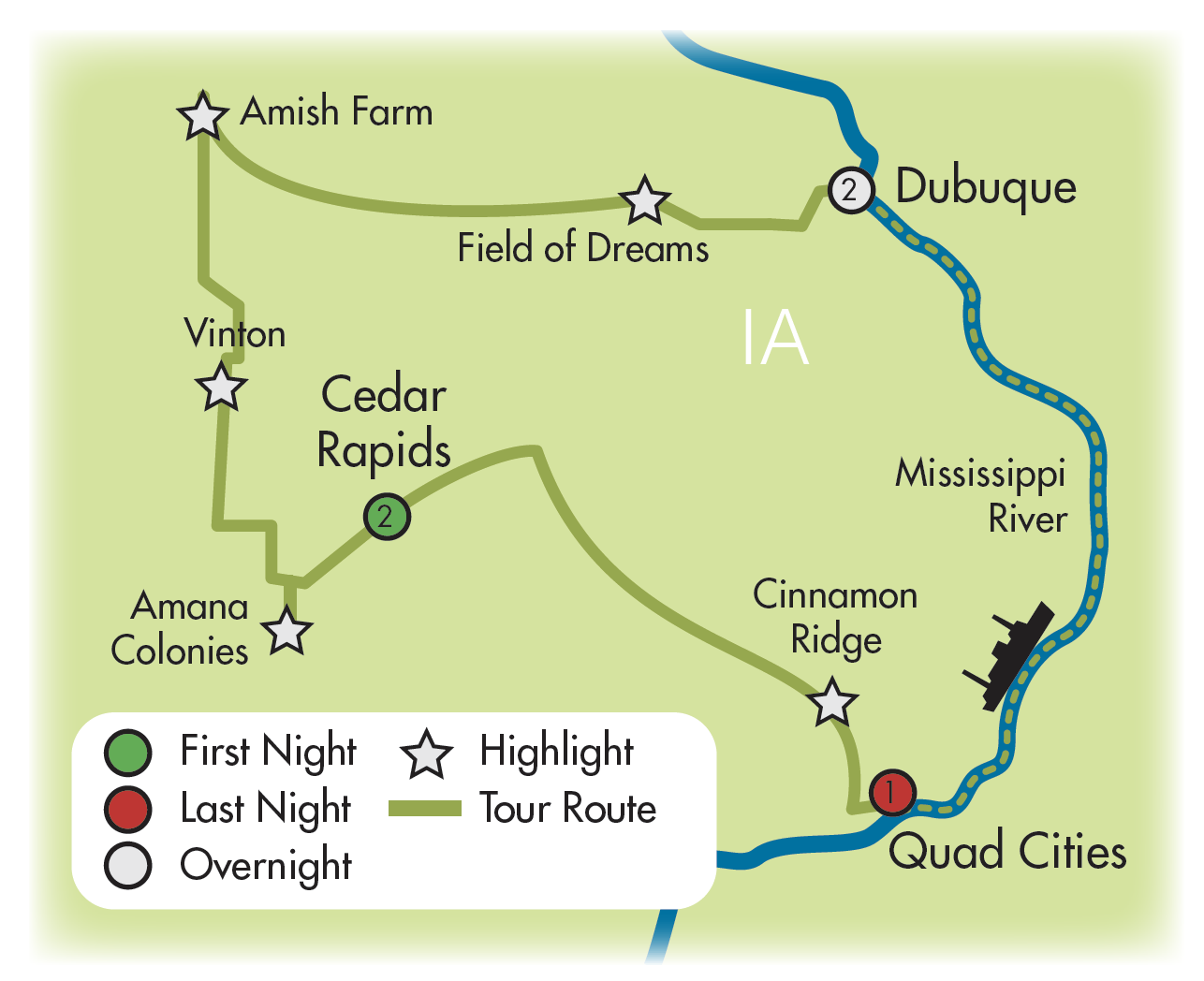 DAY 1—WELCOME TO IOWA
Meet your fellow travelers in a welcome reception in Cedar Rapids.
DAY 2—AMANA COLONIES/AMERICORPS/STORIED WWII IMMIGRANT
This morning, starts out with a walk through Cedar Rapids finest mansion, the Brucemore. Dating back to the 1800's, the estate symbolized the development of Cedar Rapids as an industrial center, and once was home to a...lion. Then, discover the unique heritage of Iowa's Amana Colonies, settled by German Pietists who maintained a communal, agrarian life separate from the mainstream. A highlight is our traditional communal lunch at the Ox Yoke Inn that brings you back to the 1800s. Tonight near Shellsburg, dinner is hosted by Inge Schminke, who relates the riveting story of her family's flight from Austria after Hitler's rise. B, L, D
DAY 3—AMISH COUNTRY/TOY MUSEUM/FIELD OF DREAMS
Start today with a mouth-watering, country small-town breakfast in Jessup, followed by a visit to the Amish home and harness shop of John Hershberger. At the National Farm Toy Museum in Dyersville, thousands of toys memorialize John Deere, Case IH, Massey Ferguson and Allis Chalmers. After viewing the 64 stunning stained glass windows at the town's Basilica of St. Francis, experience the amazing Field of Dreams story. (Yes, a baseball player will walk out from the cornfield!) Unpack for two nights in the heart of the oldest town in Iowa—Dubuque. B, L
DAY 4—MONASTERY/CASKETS/CHOCOLATES/ARBORETUM
Visit a pristine monastery where Trappist Monks live, praying seven times each day…and manufacturing some of the finest wooden caskets in the world. Experience a mouth-watering visit to Betty Jane Candies in Dubuque that showcases their handmade chocolates. Then enjoy lunch and a leisurely stroll at Dubuque Arboretum, home to the largest Hosta gardens in the country. High above the Mississippi at Eagle Point Park, take in spectacular panoramic views of the river and three states. B, L
DAY 5—CELEBRATION ON THE MISSISSIPPI!
Relax today aboard the Celebration Belle paddle-wheeler and take in some of the Mississippi's most scenic stretches from Dubuque down to the Quad Cities (Oct 3 departure concludes in Savannah). You'll hear about the river's wildlife, lock and dams (we'll lock through three), bluff-side towns, and tales of Old Man River. Nature's backdrop is magnificent on this full-day cruise—as are the ship's vantage points from all three decks, and its renowned entertainment. B, L, D
DAY 6—ROBOTIC DAIRY/PENITENTIARY MUSEUM/IOWA'S PRETTIEST FARM
The day begins hosted by John and Joan Maxwell, owners of Cinnamon Ridge Farms, a robotic dairy operation where we'll watch robots milk the cows! Then, discover the fascinating story of Weber Stone Quarry as we ride down into one of the deepest quarries in the Midwest. After a delicious home cooked Iowa lunch at the General Store in Stone City, we return to Cedar Rapids and home. B, L

Quality Accommodations
Nights 1-2: Hilton Garden Inn, Cedar Rapids, IA
Nights 3-4: Hotel Julian or Holiday Inn, Dubuque, IA
Night 5: Radisson on John Deere Commons, Moline, IL

Dates:
Aug 14-19, 2022 Call for Availability
Sep 11-16, 2022 Call for Availability
Oct 1-6, 2022 Call for Availability
Oct 3-8, 2022 Call for Availability


Price Per Person:
Double $1,577; Single $1,935
Depart/Return: Cedar Rapids, IA
Pre-/Post-Tour Hotel: $168/night
Average Temps
high 82°/low 60° (August)
high 72°/low 50° (September)

high 64°/low 42° (October)
Time Zone
Central
Arrival Time
Schedule your flight to arrive by 5:00 p.m. on Day 1.
Departure Time
Schedule your flight home any time after 5:00 p.m. on Day 6.
Airport Info
Starting hotel offers 24-hour complimentary shuttle service.
Vehicle Parking
Complimentary for duration of tour.
Walking Distance
Light to moderate walking is required to fully enjoy this tour. Some walking can be on uneven surfaces.
Currency
US Dollar
Hotel Amenities
Hair dryers, irons, ironing boards & coffee makers throughout tour. Exercise room and swimming pool available at most hotels.
Additional Information
Further information is mailed upon receipt of your reservation. A total of three mailings are sent to assist you in preparing for your tour…Get Ready, Get Set and Go! Our "Get Ready" packet is sent confirming your reservation. Our "Get Set" packet provides further details approximately 90 days prior to departure with important details regarding making your travel arrangements. Finally, our "Go" packet arrives 2-3 weeks before departure containing all your final documents.
Updates: Updates to this document are available from our Discovery Reservations Team, and will be posted online at CountryTravelDiscoveries.com/OIM
Travel Protection Available?
Yes, see CountryTravelDiscoveries.com/TravelProtectionPlan.
Terms & Conditions
Tour reservations are subject to the terms and conditions on our website at CountryTravelDiscoveries.com/terms.
Groups
Have a group? We can make your group's vacation cost-effective and easy, with discounts for groups as small as five and other benefits. Learn more at CountryTravelDiscoveries.com/groups.

Share it
---