We invite you to explore the wide open spaces of Oklahoma's Frontier Country. From visits to the shop of Food Network star Ree Drummond (the Pioneer Woman), to the birthplace of Will Rogers, to learning about Citizen Potawatomi history and visiting the memorial in Oklahoma City to honor the lives lost at the Alfred P. Murrah Federal Building, this tour is sure to be memorable. Saddle up and get ready for an adventure to the Sooner State!

Shop at Ree Drummond's Pioneer Woman Mercantile
Tour the National Cowboy Museum
Visit the Oklahoma City Memorial and hear a first hand account from a survivor
Cruise through the historic Bricktown waterway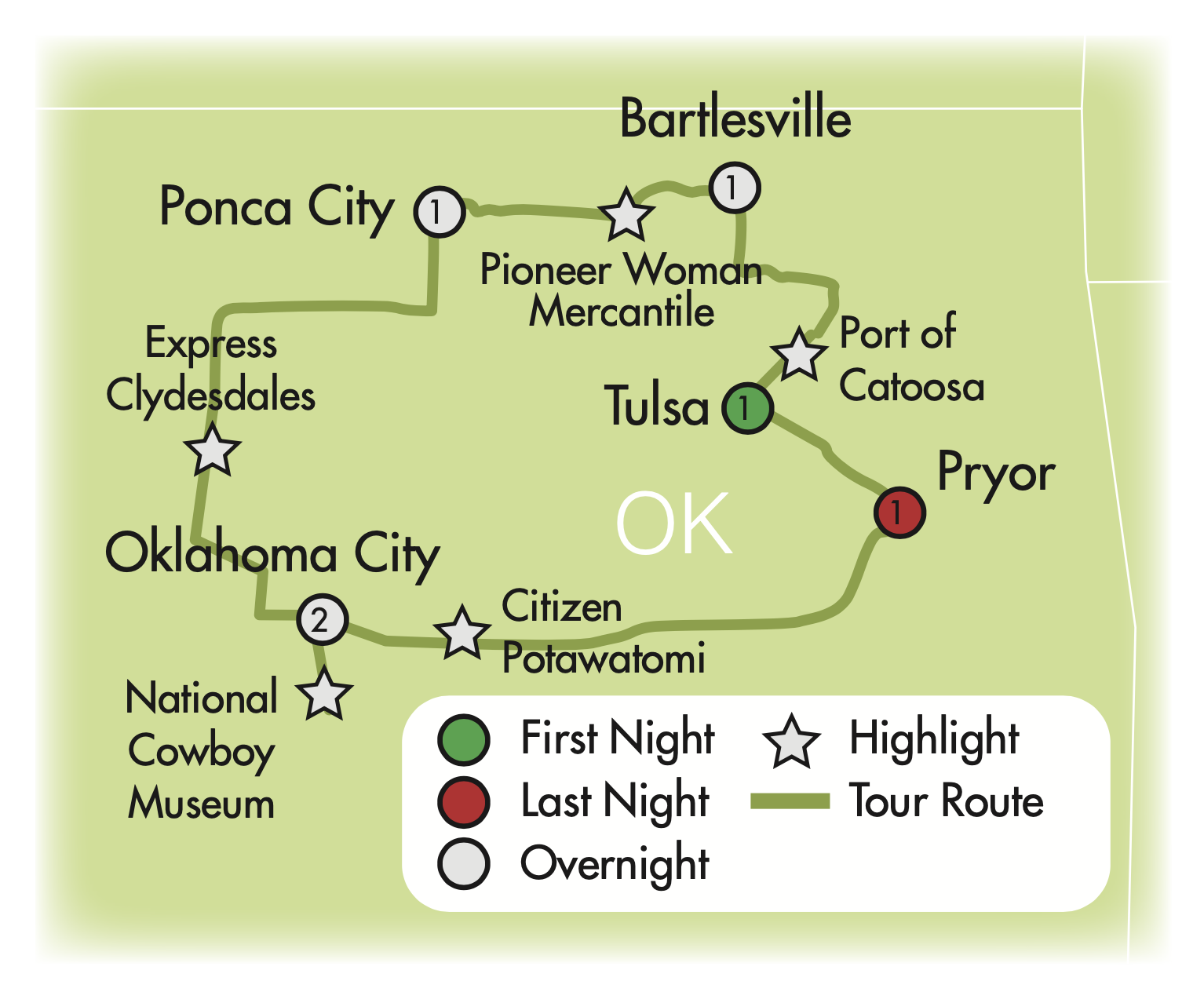 DAY 1—WELCOME TO THE SOONER STATE!
Welcome to Oklahoma, the home of Will Rogers, Garth Brooks and Mickey Mantle. Join your fellow travelers and meet your Discovery Director this evening for a warm welcome dinner! D
DAY 2—PORT OF CATOOSA/CITIZEN POTAWATOMI HISTORY
Oklahoma lies virtually in the center of the US and has a fascinating mix of Western history, Native American culture and genuine Southern charm. We set out this morning to start our exploration of the state with a visit to the most inland river port in the U.S. Run by the Army Corps of Engineers, we'll see barges loaded with products such as grains, oil and gas and much more. The goods eventually connect to the Mississippi River and down through the Gulf of Mexico. Next, we head to Shawnee to experience the history of the Citizen Potawatomi Nation and gain a better understanding of the Citizen Potawatomi people. Learn about their beginnings in Northeastern U.S. and how they came to Oklahoma. Tonight, unpack for two nights in an area of Oklahoma City called Bricktown, known for its lively entertainment and repurposed warehouses turned into restaurants, wine lounges and specialty shops. B, L
DAY 3—NATIONAL COWBOY & WESTERN HERITAGE MUSEUM/OKLAHOMA NATIONAL STOCKYARDS/WATER TAXI
Howdy Partner! Saddle up as we head to the home to the largest stocker/feeder cattle market in the world, Oklahoma National Stockyards. Then we visit the National Cowboy & Western Heritage Museum to explore the collection of over 28,000 American Indian and Western works of art and artifacts. The museum houses both classic and contemporary Western art, including works by Frederic Remington and Charles M. Russell, as well as sculptor James Earle Fraser's magnificent work, The End of the Trail. Return to Bricktown for a late afternoon water taxi ride through Bricktown's waterway. B, L
DAY 4—OKLAHOMA CITY/CLYDESDALES/SCULPTURE ARTIST
This morning, we remember Wednesday, April 19, 1995 at 9:02 a.m. as we visit the Oklahoma City Memorial and Museum. Explore the memorial grounds and head into the museum to walk through the events of that day to hear a firsthand account from a survivor. Next, travel to Express Clydesdales for an up close look at their magnificent draft horses. These Clydesdales have traveled all over the country and have even been featured in the Tournament of Roses Parade. Then we are off to Enid to meet Harold T. Holden or H to his friends and family, a local sculpture artist. H and his wife, Edna Mae, will show us some of his sculptures around town along with his gallery. B, L
DAY 5—CITY TOUR/E.W. MARLAND MANSION/PIONEER WOMAN
This morning we enjoy a tour of Ponca City before continuing to the Palace on the Prairie, a 55-room estate built for E.W. Marland of the Marland Oil Company. Explore portions of the 43,000 square foot living space and learn about the life of the family that lived in the mansion. Get ready to learn all about Buffalo, as we head to the Old West Buffalo Company for a BBQ lunch and a chance to hand feed the Bison. Off to Pawhuska, home of Food Network star, Ree Drummond, to visit her store "The Mercantile" for a some shopping and free time in downtown Pawhuska. Next, we head into Bartlesville to tour Price Tower, a 19-story building completed in 1956 and listed as a National Historic Landmark. It's the only fully realized skyscraper designed by famous architect Frank Lloyd Wright. B, L
DAY 6—WOOLAROC/WILL ROGERS/LOCAL DINNER
We start the day off with an Indian Style Show featuring five of the local tribes in their traditional attire. Bison, Elk, and Longhorns, it's off to Woolaroc we go! Hidden away in the rugged Osage Hills, Woolaroc was the ranch retreat of oilman Frank Phillips and now is a 3,700 acre wildlife preserve and world-class museum. Come and see why Will Rogers called it "the most unique place in this country". Later, visit the museum dedicated to Will Rogers' life and entertainment career. Learn about his life as a cowboy, a performer, movie star and family man. Tonight, we're in for a real treat! Locals Earl and Lisa Miller welcome us for a tasty home cooked farewell dinner. B, L, D
DAY 7—BOB DYLAN CENTER/TRAVEL HOME
"Like a Rolling Stone," we roll into Tulsa this morning to learn about one of the greatest songwriters of all time, Bob Dylan, at the recently opened Bob Dylan Center. After our visit, head home with memories of the amazing time we had in Oklahoma. B


Quality Accommodations
Night 1: Embassy Suites, Tulsa
Nights 2-3: Hampton Inn & Suites, Oklahoma City
Night 4: Holiday Inn Express, Ponca City
Night 5: Hilton Garden Inn, Bartlesville
Night 6: Holiday Inn Express, Pryor, OK
Dates:
Apr 23-29, 2023
Oct 15-21, 2023
Price Per Person:
Double $1,897
Single $2,315

Pre/Post Tour Hotel:
$148/night

Depart/Return:
Tulsa, OK
Inclusions:
Free airport shuttle or hotel parking
Welcome Dinner and meals as indicated (B=breakfast, L=lunch, D=dinner)
Fees and tips for included attractions and meals
Luggage handling of one suitcase per person at hotels
Free bottled water on coach
24-hour emergency call service
Arrival Time
Our Welcome Dinner on Day 1 is at our hotel, Embassy Suites in Tulsa, starting at 6:30 pm. We recommend scheduling your flight to arrive by 4:00 pm.
Departure Time
Schedule your flight home to depart the Tulsa Airport any time after 2:00 pm on Day 7.
Airport Transportation / Vehicle Parking
Our starting hotel offers a complimentary shuttle service to/from the Tulsa Airport. If you are driving to the starting location, they also offer complimentary parking for the duration of the tour.
Walking Distance
Moderate walking is required to fully enjoy this tour. Some walking will also be on uneven paths. While walking canes are allowed, we are unable to accommodate travelers using other mobility devices, including walkers and wheelchairs.
Average Temps
April – high of 78°, low of 58°
October – high of 75°, low of 50°
Time Zone
Central
Hotel Amenities
Each hotel has a hair dryer, iron, ironing boards, and a coffee maker. All hotels on this tour offer complimentary Wi-Fi, exercise room, and swimming pool.
Additional Information
A total of three mailings are sent to assist you in preparing for your tour, including information sent upon receipt of your reservation.
Dress on tour is casual.
Travel Protection Available?
Yes, see CountryTravelDiscoveries.com/TravelProtectionPlan.
Share it
---