Hitch a ride to the world's largest Amish settlement. We'll visit Amish farms, businesses and marketplaces, enjoy traditional, farm-fresh, home-cooked meals and share experiences with welcoming families. Settle in at the comfortable Berlin Grande Hotel in the heart of Amish country. Meet local artisans for exclusive demonstrations in handcrafting quilts, baskets, brooms and buggies. Learn about the culture and history of diverse Anabaptist communities, witness wedding traditions, and walk through the Mt. Hope Auction—simply experience the pace of life at horse-and-buggy speed.
Meet local Amish craftspeople at their home and businesses
Visit the Amish and Mennonite Heritage Center
Enjoy tasty meals in Amish homes
Stroll through the Mt. Hope Auction
Take part in an Amish wedding reenactment meal
Relax and laugh at "Hee-Haw" show
Learn about Amish and Mennonite cultures
Free airport shuttle or hotel parking for duration of tour
Bag handling (1 per person) at hotels
Fees/tips for included attractions/meals
Welcome reception, 24-hour emergency call service, free bottled water on coach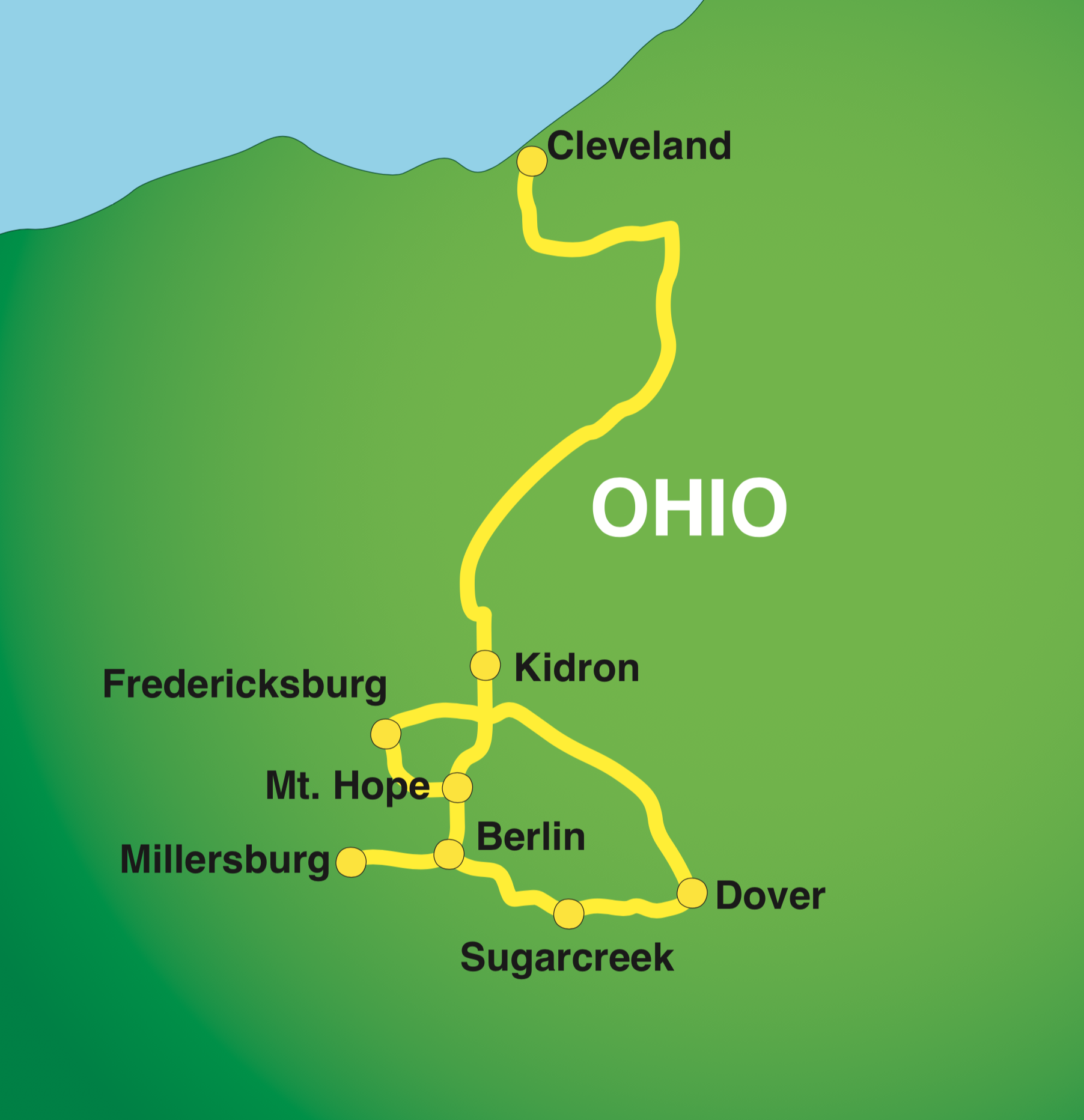 DAY 1—WELCOME TO CLEVELAND
Welcome to Cleveland, an effervescent city on the shores of Lake Erie. Tonight we'll enjoy a friendly welcome gathering.
DAY 2—CHEESE MAKER/SOAP MAKER/BASKET MAKER
We travel this morning to Rothenbühler Cheese Chalet. Founder Hans Rothenbühler grew up in Switzerland, becoming certified as a Master Cheesemaker in his home country. He later brought his passion for excellence to America—today's third-family generation are committed to making the very best cheese. Next, we'll visit Mary Miller's Amish home where she will teach us how to make homemade goat soap—you'll even be able to take some with you. We'll also enjoy a tasty lunch here and tour Mary's house, barn, and beautiful yard. Later, we'll walk through Lehman's in Kidron, which began as a hardware store for the Amish in 1955. Known for its endless supply of non-electric goods, the store bills itself as "Simple Products for a Simpler Life." There is something for everyone from over 70 varieties of root beer to gas lanterns, cookware and candy. Traveling the scenic Amish Country back roads will take us to Anna—an Amish Basket maker - who is part of the most conservative Order, the Swartzentruber Amish. Anna will demonstrate basket weaving and share her latest quilting creations. We then reach our hotel for the next three evenings, the Berlin Grande Hotel, in the heart of Amish country. For dinner, we walk next door to The Farmstead for a delicious Amish buffet. B, L, D
DAY 3—HERITAGE CENTER/BUGGY MAKER/AMISH COUNTRY THEATER
Today begins at Behalt—a heritage center where we'll learn how the Amish and Mennonite groups formed—aided by a spectacular Cyclorama, one of only six in North America. We will visit Amish Buggy Maker Mark Weaver to see how buggies are made—just like autos, there are all kinds of different models. Next, we stop at the Ray Yoder's place of business—he is a well-respected Amish casket and furniture maker. Then off to the Ashery, an Amish Bulk Food Store where you can find almost everything for sale in clear baggies. Samples are plentiful. We will enjoy a homemade lunch in the Amish home of Amanda Hershberger. Her mother, Maudie Raber, will be on hand to entertain with lively stories. The menu will include homemade bread, peanut butter spread, plus a chance to make your own "Haystack" - a dish similar to taco salad. Amish Haystack benefits are sometimes held to raise money for those in need. We return to the Berlin Grande Hotel where you can relax or walk to shopping for antiques, home goods, crafts, quilting, and other exciting shops. In fact, Helping Hands Quilt Shop stocks 3,000 bolts of fabric, notions, rulers and other quilting tools conducive to straighter seams, better corners and faster production. Enjoy dinner at your leisure at one of the several restaurants close by. Tonight, get ready to laugh along with the cast of the Amish Country Theater. This festive show is likened to that of Hee-Haw and includes entertainment from a bluegrass band, audience participation, skits, and a world-renowned ventriloquist. B, L
DAY 4—QUILT MAKER/AUCTION DAY/OHIO'S SWITZERLAND
Our first stop this morning will be an Amish Quilting Demonstration with Ada at her Dan Order 1890 Amish Home - the second most conservative Amish Order. Today is also Auction Day in Mt. Hope - the heartbeat of the local community - where livestock, hay, eggs, baked goods, flowers, etc. are sold. Next, enjoy a Hobo Lunch in the gazebo by the railroad tracks. After lunch, we'll learn about Ernest "Mooney" Warther, a master carver of steam locomotives. You'll also see his wife Frieda's 73,000 Swiss buttons collection that includes a button from the second inaugural dress of Mary Todd Lincoln. We then travel towards Sugarcreek—Ohio's Little Switzerland—to see the World's Largest Cuckoo Clock, once featured on the front cover of the Guinness Book of World Records. Then, we visit Walnut Creek Broom & Gift, where Ada will demonstrate her antique broom-making machine. In Millersburg, you'll have time to stroll the town. Some shops you may encounter include Heini's, which makes over 60 varieties of cheese using only milk from small Amish farms. Or visit Kaufman's Bakery—the oldest in Holmes County. There's also an Amish furniture store showcasing amazing local craftsmanship. Tonight we experience an Amish Wedding Re-enactment Dinner Feast in an Amish home! B, L, D
DAY 5—ORGANIC FARMER/WAGON RIDE/HOME
This morning we'll meet David, a local Amish Minister & Farmer who has an organic dairy, crop, and chicken farm. We tour his farm followed by a wagon ride down the beautiful Amish backroads. In June, we will meet four sisters who own Lamp & Light Candle - an Amish candle store. They will demonstrate hand-dipping and designing an artisan candle. In Autumn, a "once-in-a-lifetime experience" caps off our visit to Amish country at an Amish schoolhouse. We will meet the children and hear a special song just for our group. We return to Cleveland with delightful Amish memories. B


Quality Accommodations
Night 1:Courtyard Cleveland Airport North, North Olmstead
Nights 2-4:Berlin Grande Hotel, Berlin
Dates:
Oct 3-7, 2021 Limited Availability

Price Per Person:
Double $1,447
Single $1,765

Pre-/Post-Tour Hotel: $158/night
Depart/Return: Cleveland, OH
Average Temps
Oct – high 72/low 50
Time Zone
Eastern
Arrival Time
Schedule your flight to arrive by 5:00 p.m. on Day 1.
Departure Time
Schedule your flight home to depart the Cleveland Hopkins International Airport any time after 3:30 p.m. on Day 5.
Airport Info
Our starting hotel offers complimentary shuttle service to/from the Cleveland Hopkins International Airport
Vehicle Parking
Our starting hotels offers complimentary parking for the duration of the tour.
Walking Distance
Moderate walking at a leisurely pace is required to fully enjoy this tour. Some walking will be on uneven paths.
Currency
US Dollar
Hotel Amenities
Hair dryers, irons, ironing boards & coffee makers throughout tour. Refrigerators, exercise room and swimming pool available at most hotels.
Additional Information
Sunscreen, sunglasses, hats, visors and comfortable walking shoes will add to your enjoyment of this tour.
Dress on tour is casual.
Further information is mailed upon receipt of your reservation. A total of three mailings are sent to assist you in preparing for your tour…Get Ready, Get Set and Go! Our "Get Ready" packet is sent confirming your reservation. Our "Get Set" packet provides further information approximately 90 days prior to departure with important details regarding making your travel arrangements. Finally, our "Go" packet arrives 2-3 weeks before departure containing your final documents.
Updates
Updates to this document are available from our Discovery Reservations Team, and will be posted online at CountryTravelDiscoveries.com/AO
Travel Protection Available?
Yes, see CountryTravelDiscoveries.com/TravelProtectionPlan.
Terms & Conditions
Tour reservations are subject to the terms and conditions on our website at CountryTravelDiscoveries.com/terms.
Groups
Have a group? We can make your group's vacation cost-effective and easy, with discounts for groups as small as five and other benefits. Learn more at CountryTravelDiscoveries.com/groups.
Share it
---