Nearly 400 years ago the history of the Passion Play, considered one of the most important religious and cultural events in Germany, began. The plague raged in many parts of Europe, including Oberammergau. In 1633, the Oberammergau villagers promised to perform the suffering, death and resurrection of Christ every tenth year. In return, no one was to die of the plague any longer. The villagers were divinely answered by God, and soon after the first Passion Play took place. Their promise has been kept through today. In 2022, the 42nd Passion Play will take place in the beautiful Bavarian village of Oberammergau. Join us for a once-in-a-lifetime experience as we tour through scenic Germany and beautiful Austria, culminating with the Passion Play.
Oberammergau's Passion Play**, including the official program
Spectacular glacial cable car ride up to the Kitzbühler Alps
Meet local farmers at their Alpine homes and farms
Salzburg—city of the Sound of Music and the Von Trapp Family
Innsbruck—scenically nestled at the foot of the Northern Chain Mountain
Ride the original Achenseebahn cog railway powered by steam engines
Experience "Tyrolean Show" with traditional music and dance

**Note: The Passion Play, as is traditional, is performed in German. English worded programs are provided.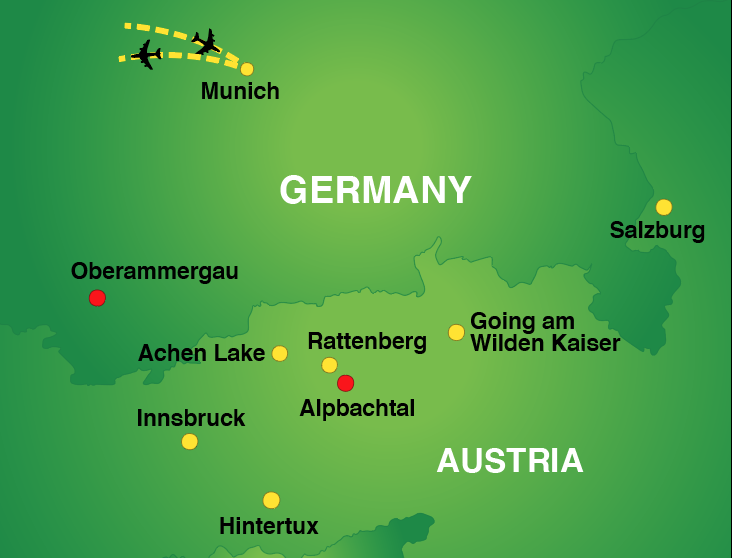 DAYS 1-2—WILLKOMMEN TO REITH IM ALPBACHTAL
After our overnight flight from the U.S., we arrive at Munich's airport. Our European Tour Guide, Patricia Hechenblaikner, meets us here as we transfer to the charming Hotel Stockerwirt at Reith im Alpbachtal. We'll stay seven nights at this family-owned hotel in the center of this enchanting village. After a light lunch, take a short stroll around the village, enjoying the idyllic lake and beautiful church. L, D
DAY 3—ACHEN LAKE/GRAMAI ALM
Travel down the Inn Valley to Jenbach and ride the original Achenseebahn cog railway, which dates back to 1889. These are some of the oldest steam engines in the world still used for public transport. The train winds its way up above the Inn Valley to the shores of the largest alpine lake in Tyrol, Lake Achen. Here we'll enjoy a short boat trip to Pertisau. We then travel by coach along the mountain range of the Karwendel Alps to visit the Gramai Alm, where cheese is made in the summer months. B, D
DAY 4—SALZBURG AND THE SOUND OF MUSIC
After breakfast drive to Salzburg – the city made famous by the Sound of Music. Today we start with a guided tour of one of the most beautiful cities in Austria. The life of the Von Trapp Family is entwined with that of Salzburg, as is Mozart's. On your way home we will savor dinner in Going, located at the foot of the Wilder Kaiser Mountains. This meal is hosted by the Hotel Stanglwirt, well known for its special foods prepared from their own farm. B, D
DAY 5—FARM VISIT/RATTENBERG
Bring your appetite along this morning as we are treated to a delicious farmhouse breakfast high above Reith im Alpbachtal. Later we visit a local farm in the village to experience a farmer's way of life in Europe. This afternoon we will stop in the middle-aged town of Rattenberg, Tyrol's smallest town, where we can watch glass being blown and engraved at the Kisslinger glass factory. We will return to our hotel for dinner followed by a traditional "Tyrolean Show" with music and dance. B, D
DAY 6—GLACIAL MOUNTAIN
Today we'll partake in a full day excursion around the Ziller Valley. In Fügen, we'll learn about the cheese production at the dairy. From Fügen we drive to Hintertux for a memorable glacial cable car ride. This journey takes us to Austria's only all year-round ski resort with fantastic views over the Kitzbühler Alps. On our way home we'll make a stop in the well-known ski resort of Mayrhofen. B, D
DAY 7—INNSBRUCK/SWAROVSKI
This morning we begin at the Crystal World of Swarovski for some souvenir shopping. Then we'll head to Innsbruck, the capital of Tyrol, nestled below the Northern Chain Mountains. Innsbruck twice hosted the Winter Olympics. We'll see highlights including the Hofkirche or court church and the iconic Golden Roof. We continue on to the Bergisel, historically important as the location of four 1809 freedom battles against Napoleon's troops. It is also home to the imposing Bergisel ski jump. Be sure to savor the breath-taking views of the Northern Chain Mountains. B, D
DAY 8—ALPBACH
Today we visit the neighboring village of Alpbach, known for its yearly "Forum" and consistently voted as the most beautiful village in Europe. We'll ride the cable car up to the Wiedersbergerhorn to enjoy the view of the Alps. A special farewell dinner awaits at the hotel this evening. B, D
DAY 9—THE PASSION PLAY
The unforgettable Passion Play at Oberammergau awaits us! The play's fascinating history begins in 1633, when the town's residents swore an oath to perform the "play of the suffering, death and resurrection of our Lord Jesus Christ" every decade if their town was spared by the Plague. First performed in 1634, this play has been faithfully reenacted every decade since. Today, some 2,000 residents of Oberammergau—actors, singers, musicians and technicians— rehearse for 10 months to bring the five hour production to life. From our reserved seats in the impressive outdoor theater, we'll enjoy a prime view of the moving and inspiring story. B, L, D
DAY 10-LINDEROF/STARNBERGER LAKE

Our journey this morning takes us to southern Bavaria. The last king of this country, Ludwig II, built several fairytale castles in the 19th Century. We visit the most luxurious, Linderhof and make a stop at the monastery of Ettal before arriving at our hotel located in the Starnberger Lake area. B, D
DAY 11—AUF WIEDERSEHEN
At last, we must say Auf Wiedersehen, as we travel home fulfilled by our new Austrian and German friends, scenic vistas and the incredible Passion Play! B
PASSION PLAY 2022
Over 2,000 local participants present the story of Jesus of Nazareth in a visually spectacular five-hour performance on an open-air stage. The theater where the play is held is known as the world's largest open-air stage with a covered auditorium. Since 1634, the Oberammergauers' have performed this story of Jesus with great devotion. Over 2,000 years, the Passion Play's message remains the same: to provide inspiration, hope and strength. This performance covers the period of Jesus entering Jerusalem and continues up to his death on the Cross and his resurrection. Oberammergau is located at the scenic edge of the Bavarian Alps and expects approximately 450,000 visitors for the passion play, over half of which will be international guests.


QUALITY ACCOMMODATIONS
Nights 2-8: Hotel Stockerwirt, Reith in Alpbach
Night 9: Vicinity of Oberammergau
Night 10: Seehotel Leoni, Starnberger Lake

Dates:
Aug 20-30, 2022 Call for Availability

Price Per Person:
Double $4,797;
Single $5,285

Land only pricing also available.

Pre-/Post-Tour Hotel: $188/night
Depart/Return: Chicago, IL

Average Temps
high low 70s/low mid 50s
Time Zone
+7 hours from Central Time
Arrival Time
Flights available 90 days prior to departure.
Departure Time
Flights available 90 days prior to departure.
Airport Info
Hilton Garden Inn Chicago O'Hare Airport offers complimentary shuttle service for Pre/Post Hotel accommodations.
Vehicle Parking
Free parking is offered during the tour at the Hilton Garden Inn Chicago O'Hare Airport with Pre or Post tour night accommodations.
Walking Distance
Moderate walking at a leisurely pace is required to fully enjoy this tour. Some walking will be on uneven paths.
Currency
Euro
Hotel Amenities
Hair dryers, TV/cable, telephone and Spa services available at hotels.
Additional Information
Flight time from O'Hare to Munich is 8.5 hours, Munich to O'Hare is 9.5 hours. These flights are non-stop.
Land Tours begin one day later. Airport transfers not included with Land Only Tours. Air & Land Tours include government imposed taxes, fees and airline fuel surcharges at time of printing.
Theater tickets are in Category 2 for May departure and Category 1 for August departure.
Dress on tour is casual.
Further information is mailed upon receipt of your reservation. A total of three mailings are sent to assist you in preparing for your tour…Get Ready, Get Set and Go! Our "Get Ready" packet is sent confirming your reservation. Our "Get Set" packet provides further information approximately 90 days prior to departure with important details regarding making your travel arrangements. Finally, our "Go" packet arrives 2-3 weeks before departure containing your final documents.
Updates
Updates to this document are available from our Discovery Reservations Team, and will be posted online at www.CountryTravelDiscoveries.com/OBR

Travel Protection Available?
Yes, see CountryTravelDiscoveries.com/TravelProtectionPlan.
Terms & Conditions
Tour reservations are subject to the terms and conditions on our website at CountryTravelDiscoveries.com/terms.
Groups
Have a group? We can make your group's vacation cost-effective and easy, with discounts for groups as small as five and other benefits. Learn more at CountryTravelDiscoveries.com/groups.
Share it
---