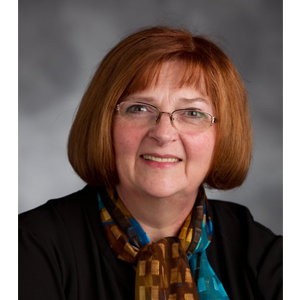 "Come with me on a quilter's dream getaway. Visit beautiful and historical Nova Scotia and make a special pillow I've specially designed for the trip. See spectacular scenery, enjoy the countryside, visit several local quilt shops, and taste the unique foods of Nova Scotia." --Carolyn Vagts, retired Editor Quilter's World
Travel with retired editor Carolyn Vagts of Quilter's World magazine

Visit 4 local quilt shops and the Northumberland Quilt Guild Show
Attend a Stained Glass Lighthouse Pillow Class with Carolyn Vagts. Learn to make a pictorial pillow using stained glass applique techniques. The class will consist of two 2-hour sessions along the tour route.
Visit two Canadian Provinces
Tour the Anne of Green Gables home
See Point Prim lighthouse
Tour the lush island of Cape Breton with a coastal drive along Cabot Trail
Explore the Alexander Graham Bell Museum
Meet skilled craftspeople, a lobsterman and a preserves merchant
Bag handling (1 per person) at hotels
Fees/tips for included attractions/meals
Welcome reception, 24-hour emergency call service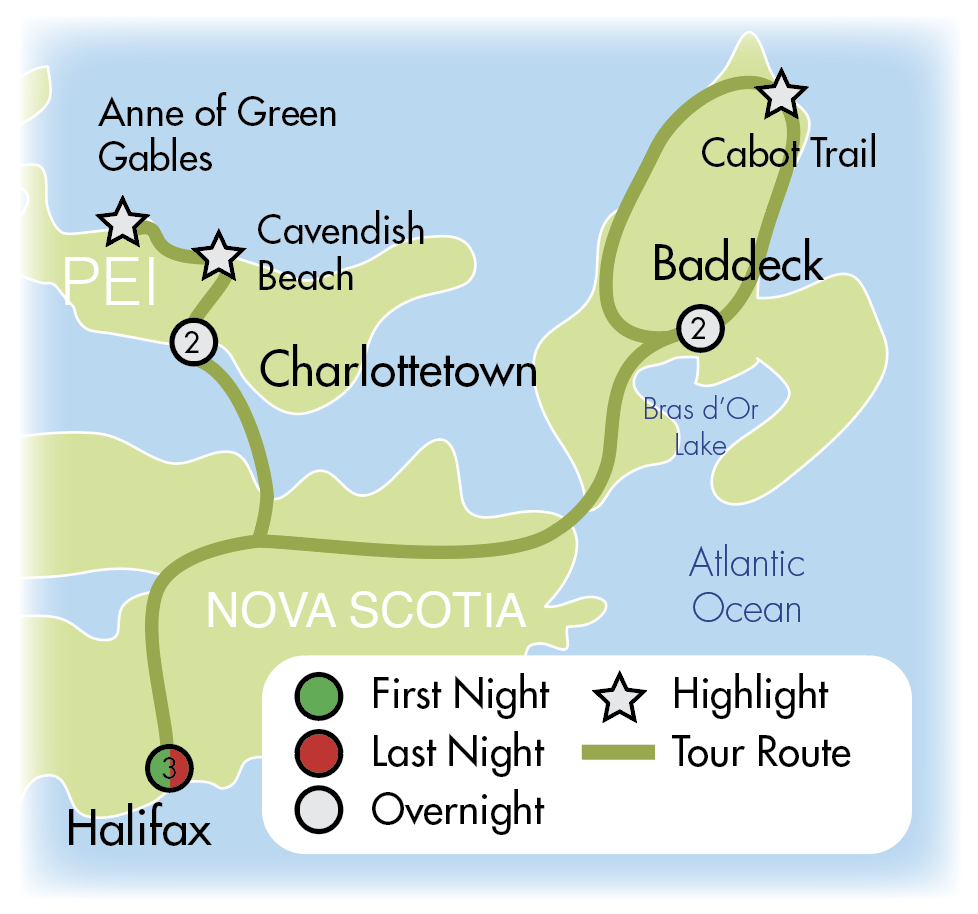 DAY 1 — WELCOME TO NOVA SCOTIA!
Start your trip with a delightful welcome reception with your Discovery Director and fellow guests. A get-together is scheduled for 7:00 p.m. Ask the friendly front desk clerk for directions to our meeting room. Welcome Reception
DAY 2 — FOSSIL CLIFFS/PUGSLEY'S EMPORIUM/GATEWAY VILLAGE/CHARLOTTETOWN
This morning we travel to charming Prince Edward Island. Our first stop is at Joggins Fossil Cliffs - preserved in nature, uncovered by force. Explore one of nature's most inspiring creations, where the highest tides in the world reveal the most complete fossil record of the Coal Age, 100 million years before the dinosaurs. Every rock holds the possibility of discovery, and the guided tours may hold a missing piece of time's puzzle. Joggins backyard may be 300 million years old but every day is different! The swamp forests produced massive quantities of organic matter that, over millions of years, created the coal deposits for which this period of history is named. After lunch, visit Mrs. Pugsley's Emporium, a unique shop where you can find fabric, notions and everything in between to enhance your quilting. Next up, a visit to Gateway Village, which portrays a turn-of-the-century PEI streetscape encompassing an exposition pavilion, food and retail services, visitor information center and the Festivals at Gateway. B, L
DAY 3 — ANNE OF GREEN GABLES/LOBSTER LUNCH/SEW BLESSED QUILTERS
Following breakfast, travel to the North Shore, PEI National Park and Cavendish Beach area, noted for its sandy shoreline and red bluffs. After a stop at the beach, travel to Anne's land and the Anne of Green Gables National Historic Site. Once the farm of author L.M. Montgomery's uncle, the site has been transformed to reflect what Anne of Green Gables would have experienced in her book. Then it's off to the Fisherman's Wharf Restaurant for a delicious fresh lobster-in-the-shell lunch. Help yourselves to a "no limit" 50-foot salad bar and enjoy the restaurant's famous Seafood Chowder, not to mention the fresh rolls, biscuits & desserts from the bakery right on the premises. This afternoon, meet Bruce McNaughton, owner of PEI Preserves, to gain insights about his life and business. Later visit Sew Blessed Quilters, a store full of colorful fabrics, supplies and sewing services. Browse the aisles to find that perfect pattern or material for your next project. B, L
DAY 4 — POINT PRIM LIGHTHOUSE/PORT HASTINGS/CAPE BRETON ISLAND
This morning, visit Point Prim Lighthouse, lit for the first time on December 4, 1845 by John Ings, its first keeper. The lighthouse stands over 60 feet tall from foundation to weathervane and is one of only two circular, brick lighthouses in Canada. Later, say goodbye to the famous red soil of Canada's smallest province as you cross the Northumberland Strait and continue on to Cape Breton Island. Upon arrival back onto Nova Scotia, visit Port Hasting Historical Museum where history comes alive in this modern museum overlooking the Strait of Canso: model ship display, local history, early 20th-century lifestyle, railroads, ferries. See displays on the construction of the Canso Causeway and its impact on the people and communities in the area. There is also a Quilts Craft Shop for you to browse. Unpack for two nights in Baddeck. Later, join the group for an optional evening sail. B

DAY 5 — CABOT TRAIL
Bring your camera for the Cabot Trail, among the world's most scenic drives. The route begins in the Margaree Valley, famed for salmon fishing. Traveling along the shore of the Gulf of St. Lawrence, notice the area's Acadian culture and heritage. A stop to see the traditional fine hooked tapestries at the Flora's craft shop is a must. Continuing on, visit Les Trois Pignons which houses the Museum of the Hooked Rug and Home Life, an Acadian, cultural, genealogical and visitor information center. Located in Chéticamp, the museum features masterpieces by world renowned wool artist Elizabeth LeFort. After traveling through part of Cape Breton Highlands National Park and taking in some photo opportunities, a stop will be made at MacIntosh Brook to enjoy a picnic lunch. Later visit Arts North Gallery….no craft shop on Cape Breton's Cabot Trail brings together the work of as many juried Cape Breton craft artists as does Arts North, at the northern tip of the island. At Arts North, juried local crafts in media such as pottery, jewelry, wood, fiber, quilts, weaving, prints and glass are retailed on behalf of the member artists. Meandering further along the trail, we'll make a rest stop at the historic Keltic Lodge of the Highlands before returning to Baddeck for the evening. B, L, D

DAY 6 — ALEXANDER GRAHAM BELL/QUILT GUILD SHOW/HALIFAX
At the Alexander Graham Bell National Historic Site, explore the life and inspiration that drove this pioneer of invention—and of deaf education. Later, enjoy a tasty lunch in Antigonish before attending the Northumberland Quilt Guild Show. The 2020 show theme is Gateway to Adventure! The Canadian Quilter's Association's mission is to promote and celebrate quilting and Canadian quilters by preserving the traditions of those who have come before us while looking to new and creative ways to enhance quilting for the present and future. The creativity of quilting in Canada continues to evolve as new techniques combine with the traditional. The Canadian Quilter's Association's is dedicated to provide a forum for Canadian quilters of all ages and levels to share and learn about the Canadian quilting scene. Various demonstrations of machine & embroidery quilting along with hand quilting demonstrations by Quilt Guild members will be featured at this one-of-a-kind show as well. B, L
DAY 7 —HALIFAX CITY TOUR/AVONDALE/WINERY
Today enjoy a city tour highlighting Fairview Lawn Cemetery – grave site of 121 victims of the Titanic, a walk through the Halifax Public Gardens, the oldest Victorian style gardens in North America and a drive around Citadel Hill for a photo stop. Lunch on your own will be at Halifax Seaport Market… the oldest, continuously-operating farmers' market in North America. It was established by royal decree in 1750, just one year after the establishment of Halifax itself. To mark this significant milestone, the Halifax Seaport Farmers' Market will hold its 270th anniversary in 2020. We may have saved the best for last when we make a stop at Avonport Discount Fabric Centre which carries over 5000 bolts of Grade A 100% cotton fabrics! It has lots of notions to make your quilt making/sewing project fast and fun. This shop has everything a quilter needs! The fabrics, books and patterns are fabulous with reasonable prices. Later, learn about grape growing and winemaking at Domaine de Grand Pré. Here we'll taste the added diversity and depth to the style of wine made in Nova Scotia. They continually challenge themselves to raise the bar on quality, while remaining committed to making wine that embodies the land and climate of the Annapolis Valley. Their wines have also received considerable attention for their quality, winning numerous awards around the world. This evening join your fellow travelers for a Farewell Dinner reliving the week in Nova Scotia & Prince Edward Island. B, D

DAY 8 — FAREWELL
This morning we say farewell to our new friends as me make our way to the Halifax Airport and begin the journey home. B


QUALITY ACCOMMODATIONS
Night 1: Holiday Inn Express Halifax Airport
Nights 2-3: Rodd Royalty Hotel, Charlottetown, PEI
Nights 4-5: Lynnwood Inn, Baddeck
Nights 6-7: Barrington Hotel, Halifax

Dates:
Jul 24-31, 2022 Sold Out
Aug 1-8, 2022

Price Per Person*:
Double: $3,297
Single: $3,845

Pre/Post Hotel: $168/night Holiday Inn Express Airport;
Post Hotel $188/night Barrington Hotel Downtown Halifax

Depart/Return: Halifax, NS

FREE Air To Halifax, NS
Up to $500.00 per person when you book by April 30, 2022!
(air booking assistance available)

*Due to special group pricing, no additional discounts are available on this tour.

July 24 Departure Day 2-Anne & Gilbert, A Play The story begins in the beautiful countryside of Prince Edward Island. Anne is now an independent-minded young woman about to begin her first job teaching at a one-room schoolhouse. Romantic complications unfold when childhood sweetheart Gilbert Blythe proposes marriage-- and he's not her only suitor. Price: $65 per person

August 1 Departure Day 2-Anne, The Musical: Now in its Guinness Record-setting 52nd season, this musical adaptation of L.M. Montgomery's beloved novel tells the timeless story of an imaginative red-haired orphan searching for belonging—guaranteed to touch your heart and tickle funny bones. Price: $65 per person
Day 4 Option—Sail the Bras d'Or Lakes We have just been advised, that the boat operator will not be offering this excursion in 2022. We are sorry for the inconvenience.



Average Temp
high 71°/low 56° July
Time Zone
Atlantic
Arrival Time
Schedule to arrive at our starting hotel by 5:00 p.m. on Day 1.
Departure Time
Schedule your flight home to depart after 10:00 a.m. on Day 8.

Returning to the United States: Halifax Int'l Airport allows US Residents to clear Passport Control/Customs in Canada rather than upon your first point of entry into the US. This allows for a convenient and quick entry at your returning U.S. airport, similar to arrival on a domestic flight.
Airport-Hotel Transportation
Our starting hotel offers complimentary shuttle service.
Vehicle Parking
Complimentary parking is available for the week at our starting hotel.
Walking Distance
Moderate walking is required to enjoy this tour to its fullest.
Currency
Canadian Dollar
Hotel Amenities
Hair Dryers, iron & ironing board, TV/Cable and coffee makers. Exercise room & swimming pool at most hotels.
Additional Information
Dress on tour is casual.
For the Lobster Bake Day 3 you can request Chicken as an alternative for Lobster.
On Day 8, the tour ends after breakfast. Should guests want to stay in Halifax to enjoy additional sites, it is recommended to stay at the Barrington Hotel (in downtown Halifax) rather than the Holiday Inn Express Halifax Airport so that you are able to easily walk to points of interest in the downtown/harbor area. A transfer to the airport for your return flight home would be on your own if you choose to stay additional nights. Please contact CTD for information on shuttle service.

Supply list needed for Stain Glass Lighthouse Pillow-black thread, applique needles, straight pins, small applique scissors, water soluble marker. (these supplies should be placed in your checked piece of luggage rather than your carry-on luggage, some items may be confiscated by TSA if in carry-on luggage). All other supplies are included in your package, fabric, fusibles and patterns.

Further information is mailed upon receipt of your reservation. A total of three mailings are sent to assist you in preparing for your tour…Get Ready, Get Set and Go! Our "Get Ready" packet is sent confirming your reservation. Our "Get Set" packet provides further information approximately 90 days prior to departure with important details regarding making your travel arrangements. Finally, our "Go" packet arrives 2-3 weeks before departure containing your final documents.
Updates
Updates to this document are available from our Discovery Reservations Team, and will be posted online at www.CountryTravelDiscoveries.com/NVQ.
Travel Protection Available?
Yes, see CountryTravelDiscoveries.com/TravelProtectionPlan.
Terms & Conditions
Tour reservations are subject to the terms and conditions on our website at CountryTravelDiscoveries.com/terms.
Groups
Have a group? We can make your group's vacation cost-effective and easy, with discounts for groups as small as five and other benefits. Learn more at CountryTravelDiscoveries.com/groups.
Share it
---