"Join me on this fascinating garden tour of Nova Scotia and Prince Edward Island. We'll visit the oldest Victorian-style garden in North America, the enchanting Tangled Garden and the impressive Veseys Seeds. This Canadian horticultural exploration is not to be missed!"
— Jeff Epping, Director of Horticulture, Olbrich Botanical Gardens, Madison, Wisconsin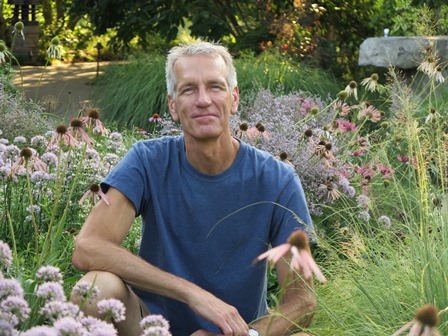 Travel with Jeff Epping, Olbrich Botanical Gardens Horticulturist
See Halifax Public Garden, Tangled Gardens & Vesey Seeds

Tour the Anne of Green Gables home
See Peggy's Cove lighthouse
Tour the lush island of Cape Breton with a coastal drive along Cabot Trail
Meet skilled craftspeople, a lobsterman and a preserves merchant
Visit Alexander Graham Bell Museum
See Hopewell Rocks on Bay of Fundy
Tour & tasting at Grand Pre Winery
Welcome reception, 24-hour emergency call service, free bottled water on coach

DAY 1—HALIFAX
Welcome to Halifax, Nova Scotia! Start your trip with a delightful welcome reception with your Discoveries Director and fellow travelers.

DAY 2—HALIFAX PUBLIC GARDENS/CITY TOUR/DALHOUSIE AGRICULTURAL CAMPUS
This morning, visit the Halifax Public Gardens. Meet a member of the "friends of the Public Gardens" for a guided tour of the oldest Victorian style gardens in North America. View the beautiful flowers, trees, water fountains and band stand. Afterwards, we continue exploring Halifax, including the Maritime Museum of the Atlantic and Fairview Lawn Cemetery, the resting place to 121 victims of the Titanic. Continue this afternoon to Dalhousie University Agricultural Campus. Discover a living laboratory where trees, shrubs, herbaceous plants, and farm crops are displayed and interpreted in both functional and natural settings as part of the landscape horticulture program at the University. After our visit, we travel onto Cape Breton Island, en- route finding excellent photo opportunities by the Canso Straight and Porcupine Mountain. B, D

DAY 3—CABOT TRAIL/BIT OF SCOTLAND/PARK WILDLIFE
Bring your camera for the Cabot Trail, among the world's most scenic drives. The route begins in the Margaree Valley, famed for salmon fishing. Traveling along the shore of the Gulf of St. Lawrence, notice the area's Acadian culture and heritage. On the way, we stop to see the traditional fine hooked tapestries at Flora's Gift Shop. Continuing just past Cheticamp, you'll visit Cape Breton Highlands National Park to witness colorful tapestries of woodlands, tundra, and bogs. Be on the lookout for moose, black bear, and bald eagles, too! Later, if you'd like, enjoy an entertaining narrated cruise on Bras d'Or Lakes or stroll the charming streets of Baddeck. B, L
DAY 4—ALEXANDER GRAHAM BELL/CHARLOTTETOWN, PEI
At the Alexander Graham Bell National Historic Site, explore the life and inspiration that drove this pioneer of invention, as well as deaf education. Later, enjoy a tasty lunch in Antigonish before heading to Caribou to catch the ferry to Prince Edward Island. Crossing the Northumberland Strait, we will see the famous red soil of Canada's smallest province come into view. Settle in for two nights in Charlottetown, the "Birthplace of Confederation". B, L

DAY 5—PEI NATIONAL PARK/ANNE OF GREEN GABLES HOME
Following breakfast, we visit Vesey's Seeds. Established in 1939, Vesey Seeds has become a well-known supplier of seeds for flower and vegetable gardens. Upon arrival staff will take us on a tour of the trail beds explaining the varieties of flowers and vegetables as well as their mail order business. Then, we travel to Cavendish and the beloved site of the Anne of Green Gables National Historic Site. Next up, we'll savor a delicious lobster lunch at Fisherman's Wharf Restaurant, followed by a talk with a local fisherman who will discuss the fishing industry on the Island. Later meet Bruce McNaughton, owner of PEI Preserves, to learn about his life and business. B, L

DAY 6—CONFEDERATION BRIDGE/HOPEWELL ROCKS
This morning, travel to the community of Borden-Carlton for a photo stop near the Confederation Bridge and Gateway Village. After crossing over the bridge to New Brunswick, we visit one of Canada's most stunning natural wonders – Hopewell Rocks. Located on the Bay of Fundy, Hopewell Rocks experiences the highest tides in the world -- on average 39 feet. At low tide, visitors have a chance to walk on the ocean floor and learn about the site from park interpreters, and then enjoy lunch at the Interpretation Centre before we return to Halifax. B, L

DAY 7—TANGLED GARDENS/GRAND PRE WINERY/PEGGY'S COVE
Both a garden of delight and a working farm, Tangled Garden produces fresh herbs and fruits for the jellies, liqueurs, vinegar's, and cordials made on site. Covering four acres of sculpted land, classic garden-rooms hedged in box, yew, and beech encounter a dry stream bed planted with statuesque grasses and rambunctious perennials. A hillside labyrinth offers sweeping views of the Minas Basin. Next, we visit the Harriet Irving Botanical Gardens, where the gardens on the campus of Acadia University showcase native plants from the nine habitats within the Eastern region of Canada. A formal Walled Garden and classic Herbaceous Bank are also featured. After lunch, enjoy a wine tasting session at one of Nova Scotia's best wineries, Grand Pre Wines. The rugged fishing community of Peggy's Cove is set on a narrow, coastal inlet characterized by wave-worn granite boulders and crashing surf. This charming little village is perhaps Canada's most photographed site. A Nova Scotia icon, the lighthouse still serves as a beacon to fishermen. Enjoy dinner here as you watch the sun set. B, D

DAY 8—FAREWELL
Head home with fond memories of your time in three truly stunning Canadian provinces. B


Quality Accommodations
Night 1: Holiday Inn Express Halifax Airport
Nights 2-3: Lynwood Inn, Baddeck
Nights 4-5: Hotel on Pownal, Charlottetown, PEI
Nights 6-7: Barrington Hotel, Halifax
Date:
Aug 14-21, 2022 Sold Out

Price Per Person:
Double $3,197
Single $3,745

Pre-/Post-Tour Hotel: $168/night Holiday Inn Express Airport;
$188/night Barrington Hotel Downtown Halifax

Depart/Return: Halifax, NS

*Due to special group pricing, no additional discounts are available on this tour.


Day 5 Option—Anne & Gilbert, A Play The story begins in the beautiful countryside of Prince Edward Island. Anne is now an independent-minded young woman about to begin her first job teaching at a one-room schoolhouse. Romantic complications unfold when childhood sweetheart Gilbert Blythe proposes marriage-- and he's not her only suitor. Price: $65 per person
Average Temps
Highs in the mid-70s to mid-80s / Lows in the mid-60s
Time Zone
+2 hours ahead of Central Time
Arrival Time
Schedule to arrive at our starting hotel by 5 PM on Day 1.

Departure Time
Schedule your flight home to depart after 10 AM on Day 8.

Returning to the United States: Halifax Int'l Airport allows US Residents to clear Passport Control/Customs in Canada rather than upon your first point of entry into the US. This allows for a convenient and quick entry at your returning U.S. airport, similar to arrival on a domestic flight.
Airport Info
Holiday Inn Express Halifax Airport offers complimentary shuttle service for Pre/Post Hotel accommodations.
Vehicle Parking
Free parking is offered during the tour at the Holiday Inn Express Halifax Airport with Pre or Post tour night accommodations.
Walking Distance
Moderate to Extensive walking on uneven pavement and pathways is required to fully enjoy this tour.
Currency
Canadian Dollar, although U.S. Dollars are readily accepted for most purchases.
Hotel Amenities
Hair dryers, TV/cable, and telephone available at hotels.
Additional Information
Dress on tour is casual.
Further information is mailed upon receipt of your reservation. A total of three mailings are sent to assist you in preparing for your tour…Get Ready, Get Set and Go! Our "Get Ready" packet is sent confirming your reservation. Our "Get Set" packet provides further information approximately 90 days prior to departure with important details regarding making your travel arrangements. Finally, our "Go" packet arrives 2-3 weeks before departure containing your final documents.
Updates
Updates to this document are available from our Discovery Reservations Team, and will be posted online at www.CountryTravelDiscoveries.com/NVG
Travel Protection Available?
Yes, see CountryTravelDiscoveries.com/TravelProtectionPlan.
Terms & Conditions
Tour reservations are subject to the terms and conditions on our website at CountryTravelDiscoveries.com/terms.
Groups
Have a group? We can make your group's vacation cost-effective and easy, with discounts for groups as small as five and other benefits. Learn more at CountryTravelDiscoveries.com/groups.
Share it
---