From rugged cliffs and sandy beaches to wildlife-filled bays and peaceful coves, Nova Scotia's beauty beckons. Travel the Cabot Trail, among the world's most scenic drives; see picturesque Peggy's Cove Lighthouse, and experience Halifax, Atlantic Canada's largest city. In New Brunswick, discover the dynamic tides of Hopewell Rocks. You'll also roam gorgeous Prince Edward Island, home of Anne of Green Gables and "Birthplace of the Confederation". A truly stunning coastal discovery!
Visit three Canadian Provinces
Tour the Anne of Green Gables home
Coastal drive along Cabot Trail
See the famous Peggy's Cove lighthouse
Tour the lush island of Cape Breton, reminiscent of Scotland
Visit Halifax's Public Gardens and historic Citadel
Alexander Graham Bell Museum
See Hopewell Rocks on Bay of Fundy
See Titanic artifacts at Halifax Maritime Museum
Meet skilled craftspeople, a lobsterman and a preserves merchant
Bag handling (1 per person) at hotels
Fees/tips for included attractions/meals
Welcome reception, 24-hour emergency call service, free bottled water on coach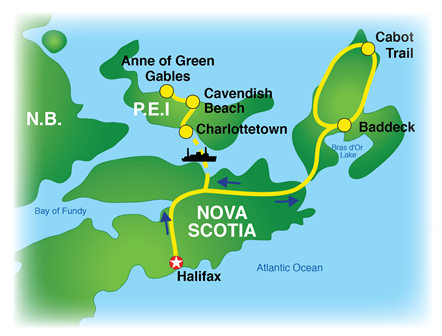 DAY 1—WELCOME TO NOVA SCOTIA!
Start your trip with a delightful welcome reception with your Discovery Director and fellow guests.
DAY 2—HALIFAX CITY TOUR/ CAPE BRETON ISLAND
This morning enjoy a city tour of beautiful Halifax. Highlights include the Maritime Museum of the Atlantic, and Fairview Lawn Cemetery, resting place to 121 victims of the Titanic. After time on your own, you'll continue on to Cape Breton Island, en route finding excellent photo opportunities by the Canso Strait and Porcupine Mountain. Unpack for two nights in Baddeck. B, D
DAY 3—CABOT TRAIL/PARK WILDLIFE
Bring your camera for the Cabot Trail, among the world's most scenic drives. The route begins in the Margaree Valley, famed for salmon fishing. Traveling along the shore of the Gulf of St. Lawrence, notice the area's Acadian culture and heritage. A stop to see the traditional fine hooked tapestries at the Flora's craft shop is a must. Continuing on just past Cheticamp, you'll visit Cape Breton Highlands National Park to witness colorful tapestries of woodlands, tundra, and bogs. Be on the lookout for moose, black bear and bald eagles, too! Enjoy a relaxed evening in Baddeck. B, L
DAY 4—ALEXANDER GRAHAM BELL/CHARLOTTETOWN, PEI
At the Alexander Graham Bell National Historic Site, explore the life and inspiration that drove this pioneer of invention—and of deaf education. Later, enjoy a tasty lunch in Antigonish before heading to Caribou to catch the ferry to Prince Edward Island. Crossing the Northumberland Strait, we will see the famous red soil of Canada's smallest province come into view. Settle in for two nights in Charlottetown, the "Birthplace of Confederation". B, L
DAY 5—PEI NATIONAL PARK/ANNE OF GREEN GABLES HOME
Following breakfast, travel to the North Shore and PEI National Park and Cavendish Beach area, noted for its sandy shoreline. After a stop at the beach and the Anne of Green Gables National Historic Site, it's off to the Fisherman's Wharf Restaurant for a delicious lobster lunch. Then, meet Bruce McNaughton, owner of PEI Preserves, to learn about his life and business. Returning to Charlottetown, tour highlights of the city, then enjoy free time for the rest of the day. B, L
DAY 6—CONFEDERATION BRIDGE/HOPEWELL ROCKS
This morning, travel to the community of Borden-Carlton, for a photo stop near the Confederation Bridge and Gateway Village, before crossing over the bridge to New Brunswick. Located on the Bay of Fundy, Hopewell Rocks experiences the highest tides in the world— on average 39 feet. At low tide, visitors have a chance to walk on the ocean floor and learn about the site from park interpreters, and then enjoy lunch at the Interpretation Centre. The last two evenings are in Halifax. B, L
DAY 7—PEGGY'S COVE/PUBLIC GARDENS/CITADEL
Today's scenic drive along Nova Scotia's beautiful Lighthouse Route takes you past picturesque coastal villages and inlets to the rugged fishing community of Peggy's Cove. Set on a narrow, coastal inlet characterized by wave-worn granite boulders and crashing surf, this charming little village is perhaps Canada's most photographed site. A Nova Scotia icon, the lighthouse still serves as a beacon to fishermen. Return to Halifax where you'll stroll the city's Public Gardens, established in 1867, followed by a tour of the Citadel, sitting high on the hill protecting its people dating back to 1749. B, L
DAY 8—FAREWELL
Head home with fond memories of your time in three truly stunning Canadian Provinces. B

Quality Accommodations
Night 1: Holiday Inn Express Halifax Airport
Nights 2-3: Lynwood Inn or Silver Dart, Baddeck
Nights 4-5: Hotel on Pownal, Charlottetown
Nights 6-7: The Barrington Hotel, Halifax

Dates:
Jul 13-20, 2020
Aug 24-31, 2020 LIMITED SPACE
Price Per Person: Double $2,797;
Single $3,295
Pre-/Post-Tour Hotel: $168/night
Free Air To Halifax, NS:
Up to $500.00 per person when you book by April 30, 2020.


Option—Sail the Bras d'Or Lakes Enjoy an entertaining narrated cruise on all of the Bras d'Or Lakes, observing majestic Bald Eagles overhead, Alexander Graham Bell's mansion Beinn Bhreagh, and the beautiful Baddeck shoreline. Price: $35 per person.
Option—Anne & Gilbert The story begins in the beautiful countryside of Prince Edward Island. Anne is now an independent-minded young woman about to begin her first job teaching at a one-room schoolhouse. Romantic complications unfold when childhood sweetheart Gilbert Blythe proposes marriage-- and he's not her only suitor. Price: $65 per person.
Average Temps
Highs in the mid-70s to mid-80s / Lows in the mid-60s
Time Zone
+2 hours ahead of Central Time
Arrival Time

Schedule to arrive at our starting hotel in Halifax by 5:00 p.m. on Day 1.

Departure Time

Schedule your flight to depart anytime after 10:00 a.m. on Day 8. 
Returning to the United States: Halifax Int'l Airport allows US Residents to clear Passport Control/Customs in Canada rather than upon your first point of entry into the US. This allows for a convenient and quick entry at your returning U.S. airport, similar to arrival on a domestic flight. 
Airport Info
Holiday Inn Express Halifax Airport offers complimentary shuttle service for Pre/Post Hotel accommodations.
Vehicle Parking
Free parking is offered during the tour at the Holiday Inn Express Halifax Airport with Pre or Post tour night accommodations.
Walking Distance
Moderate to Extensive walking on uneven pavement and pathways is required to fully enjoy this tour.
Currency
Canadian Dollar, although U.S. Dollars are readily accepted for most purchases.
Hotel Amenities
Hair dryers, TV/cable, and telephone available at hotels.
Additional Information
Dress on tour is casual.
Further information is mailed upon receipt of your reservation. A total of three mailings are sent to assist you in preparing for your tour…Get Ready, Get Set and Go! Our "Get Ready" packet is sent confirming your reservation. Our "Get Set" packet provides further information approximately 90 days prior to departure with important details regarding making your travel arrangements. Finally, our "Go" packet arrives 2-3 weeks before departure containing your final documents.
Updates
Updates to this document are available from our Discovery Reservations Team, and will be posted online at www.CountryTravelDiscoveries.com/NVS.
Travel Protection Available?
Yes, see CountryTravelDiscoveries.com/TravelProtectionPlan.
Terms & Conditions
Tour reservations are subject to the terms and conditions on our website at CountryTravelDiscoveries.com/terms.
Groups
Have a group? We can make your group's vacation cost-effective and easy, with discounts for groups as small as five and other benefits. Learn more at CountryTravelDiscoveries.com/groups.

Share it
---