Gold Rush lore, ancient redwood forests, majestic mountains and volcanoes, and friendly farmers beckon on our brand new tour of Northern California. Along the way, you'll walk on top of and inside towering Shasta Dam (including a ride from top to bottom); meet mandarin orange, rice, and prune farmers; and spend a day in majestic Lassen Volcanic National Park one of our country's off-the-beaten-path secrets. Plus, see immaculately restored engines and railroad cars of the Gold Rush era...and spend a day and a half surrounded by California's famed coastal Redwoods! 
Experience majestic Lassen Volcanic National Park
Explore Shasta Dam, vital to California's water supply
Stroll inside Weaverville Joss House, the oldest continuously used Chinese temple in the U.S.
Travel the Pacific coast amongst towering scenic Redwoods
Visit California State Railroad Museum
Marvel at the drive-thru trees at the Avenue of the Giants
Explore the Trappist monastery at Vina's Abbey of New Clairvaux
Enjoy a lumber camp breakfast at Samoa Cookhouse
Meet working farmers and vintners at Six Sigma Winery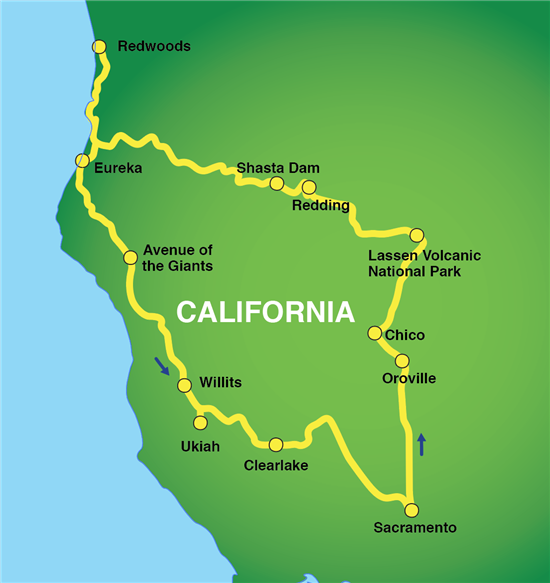 DAY 1–SACRAMENTO
An exciting week filled with awesome sights begins in California's capital city,Sacramento. We'll welcome you with a dessert reception at the hotel.
DAY 2–MANDARIN RANCH/OLIVE FARM/OROVILLE DAM/SOHNREYFAMILY FOODS
Our first day on the road features miles of fertile California farm fields that produce just about every crop imaginable. At the Tri-L Mandarin Ranch, Lou and Lola Lodigiani explain how their family-owned farm evolved from a small local mandarin stand to a nationwide holiday shipping business. Next, savor an olive oil tasting and lunch at Lodestar Olive Farms. Later, visit Oroville Dam, which was recently damaged and forced nearly 180,000 local residents to evacuate their homes. The afternoon wraps up with a visit to Derek Sohnrey's family farm, which grows everything from rice to almonds and walnuts. B, L
DAY 3–NEW CLAIRVAUX ABBEY/LASSEN VOLCANIC NATIONAL PARK
This morning we'll visit the Abbey of New Clairvaux, a rural Trappist monastery located in the small town of Vina. With the ancient Rule of Saint Benedict as their guide, they offer hospitality to guests, serve in mutual charity, and live out their contemplative witness of silence, stillness and solitude. The rest of the day is spent in picturesque Lassen Volcanic National Park. Local step-on guide Carol Horn takes you deep into the land of steaming fumaroles, meadows freckled with wildflowers, clear mountain lakes, and numerous volcanoes. Jagged peaks tell the story of its eruptive past while hot water continues to shape the land. Enjoy a free evening in Redding at the brand new Sheraton Sundial Bridge, the area's first four-star hotel. B, Picnic Box L
DAY 4–SHASTA DAM/CASCADES SCENIC DRIVE/WEAVERVILLE JOSS HOUSE
Exhilaration is what you'll feel when you visit the mammoth Shasta Dam, one of the ten tallest dams in the country, before our scenic drive through the southern Cascade Mountains and the Whiskeytown-Shasta-Trinity National Recreation Area. This area is home to bears, mountain lion, bald eagles, and other wildlife. After a guided tour of the Joss House, the oldest Chinese temple in California, we'll head to the Eureka-Arcata area, located on the Pacific coast, where we'll unpack for the next two nights. B, L
DAY 5–REDWOODS NATIONAL PARK/SAMOA COOKHOUSE
Spend a leisurely day enjoying the beauty of Redwoods National and State Parks, home of the tallest trees on Earth. Local expert Raymond Hillman provides insight into why these gentle giants only grow in this small area of the country, and what is being done to preserve their shrinking habitat. Enjoy a memorable beachside picnic lunch featuring fresh-made California products right in the park. Dinner is at the Samoa Cookhouse outside of Eureka; the last surviving cookhouse in the West features loads of good food—lumber camp style! B, L, D
DAY 6–AVENUE OF THE GIANTS/BENBOW HISTORIC INN/DRIVE-THRU TREE PARK
Today we drive along the eye-popping Avenue of the Giants, where 200 to 300-foot-tall trees shoot into the sky. For perspective, we'll see the Chandelier Drive-Thru Tree—so huge, cars can drive right through it! Lunch is at the Benbow Historic Inn, a stately 1920's restaurant off of scenic U.S. Highway 101. At the Mendocino County Museum, go behind the scenes with Roots of Motive Power, a group that restores historic California steam locomotives. B, L
DAY 7–RANCH & WINERY/RAILROAD MUSEUM/SACRAMENTO
No Northern California trip would be complete without a stop at a local winery. Family-owned Six Sigma Winery is a working ranch, too! You'll enjoy a special tasting and mouth-watering farm-to-table lunch designed just for our group that features beef and pork products from the ranch. We return to Sacramento to spend time exploring the must-see California State Railroad Museum. Learn about Gold Rush lore and the role of the "iron horse" in connecting California to the rest of the nation. B, L
DAY 8–FOND FAREWELL
After breakfast, we depart with fond memories of the less-traveled northern backroads of the Golden State. B
Sep 5-12 SOLD OUT
Depart/Return: Sacramento, CA
Price Per Person: Double: $1,977; Single: $2,695
Pre/Post-Tour Hotel: $238
Average Temps
During your tour, temperatures will vary depending upon location and elevation. High temperatures can reach near upwards of 100 degrees in July, and even 90 degrees in September, in Central Valley communities such as Oroville/Redding. Low temperatures can drop into the 50's, even during the summer, in coastal areas such as Eureka and Redwood National & State Park. Snow (on the ground) is common even during the summer in places like Lassen Volcanic National Park.
Time Zone 
Pacific
Arrival Time 
Schedule your flight to arrive by 5:00 p.m. on Day 1.
Departure Time 
Schedule your flight home anytime on Day 8.
Airport Info 
Starting hotel offers complimentary shuttle service.
Vehicle Parking 
Free parking is available during the tour at our starting hotel.
Walking Distance 
Light to moderate walking is required to fully enjoy this tour. May not be available at all hotels due to rural nature of this tour.
Currency 
US Dollar
Hotel Amenities 
Hair dryers, coffee makers, iron & ironing board at some locations.
Additional Information 
Travelers with medical conditions such as heart issues or diabetes should consult with their physician prior to signing up for this tour. Elevations range from Sea Level (at Redwood National & State Parks) to near 8,500 feet at Lassen Volcanic National Park.
Further information is mailed upon receipt of your reservation. A total of three mailings are sent to assist you in preparing for your tour…Get Ready, Get Set and Go! Our "Get Ready" packet is sent confirming your reservation. Our "Get Set" packet provides further details approximately 90 days prior to departure with important details regarding making your travel arrangements. Finally, our "Go" packet arrives 2-3 weeks before departure containing all your final documents.
Updates 
Updates to this document are available from our Discovery Reservations Team, and will be posted online at CountryTravelDiscoveries.com/NCA
Travel Protection Available?
Yes, see CountryTravelDiscoveries.com/TravelProtectionPlan.

Terms & Conditions
Tour reservations are subject to the terms and conditions on our website at CountryTravelDiscoveries.com/terms
Groups
Have a group? We can make your group's vacation cost-effective and easy, with discounts for groups as small as five and other benefits. Learn more at CountryTravelDiscoveries.com/groups.
Share it
---