This thrilling rail adventure travels incredibly scenic routes up the Atlantic coast and through forests and mountains of northern New England. Whether in summer or fall foliage, you'll find stunning views and local color everywhere as you ride six different trains through Massachusetts, New Hampshire, and Maine—from an oceanside narrow-gauge train route and charming trolley ride to the world's first mountain-climbing cog rail that takes you more than a mile high. You'll also head into the White Mountain National Forest with an experienced moose-spotter, sail out onto the Atlantic with a working lobster boat captain, and enjoy classic mountain and waterfront resorts.

Experience several of the region's most scenic mountain and coastal rail routes
Ride the world's first mountain-climbing cog railway at Mt. Washington
Autumn tours experience peak foliage colors across 3 New England states
Cruise the Kennebunk River
Quality accommodations throughout including waterfront resort
Traditional lobster feast and a lunch at the famed Mt. Washington Hotel
Meet local seafarers and fishermen
Free airport shuttle or hotel parking
Bag handling (1 per person) at hotels
Fees/tips for included attractions/meals
Welcome reception, 24-hour emergency call service, free bottled water on coach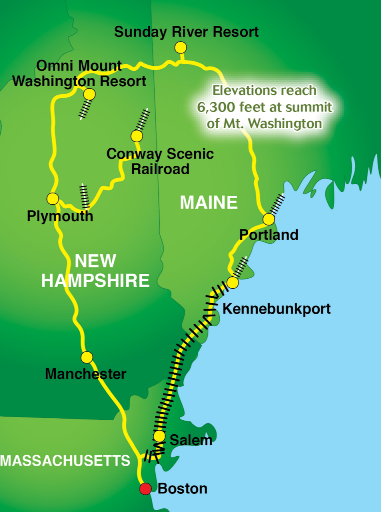 DAY 1–WELCOME TO NEW ENGLAND
Meet your Discovery Director and fellow travelers at a welcome reception in Boston, the historic capital city of Massachusetts.
DAY 2–DOWNEASTER/LOBSTER BOAT/SEASHORE TROLLEY MUSEUM
It's "all aboard" today for your first rail adventure, as Amtrak's modern Downeaster train transports you through three states, from suburban Boston to Wells, Maine. There, you'll be whisked away to lunch at Kennebunkport's historic Nonantum Resort. Then, board a fully restored 1963 oak-planked lobster-style boat for a tour of the Kennebunk River and the beautiful Atlantic coastline. Captain Bob will share the regulations, techniques, lore and art of catching lobster. Cap the day off with a trolley ride at the Seashore Trolley Museum, the world's oldest and largest museum of mass transit vehicles. B, L
DAY 3–MAINE NARROW GAUGE/FLOATING RESTAURANT/MOOSE WATCHING
Start today with a relaxed ride on the panoramic Maine Narrow Gauge RR, which preserves a unique coastal stretch of two foot gauge track. Have a camera ready as the route runs just feet from the Atlantic and Portland's scenic park system. Enjoy a lobster lunch at DiMillo's, a former car ferry turned floating restaurant, known for outstanding food and harbor views. Next, we head north into the picturesque Appalachian Mountains to enjoy free time at the stunning Sunday River Resort, before a sunset trek through the woods to see a covered bridge, waterfall, and wildlife—an expert moose-spotter will help us try to spot this magnificent animal in its natural setting. B, L
DAY 4–MT WASHINGTON HOTEL/ MOUNTAIN COG RAIL
The morning begins with a scenic drive through New Hampshire's quaint northern lakes region. Next, explore the grand Mt. Washington Hotel, followed by a delicious luncheon in its elegant dining room. The day's highlight is a 3.5-hour round-trip ride on the historic Mt. Washington Cog Railroad, the world's first mountain-climbing cog train. In just three miles, you will ride the second steepest rack railway in the world up more than 3,500 vertical feet to reach the second highest point in the eastern U.S. On a clear day, those at the top can see from New York State to Maine...and even up into Quebec, Canada. And new for 2019: unpack and enjoy two nights at the picturesque Indian Head Resort in Lincoln, New Hampshire ... it's situated on 180 acres of scenic splendor in the heart of the White Mountains. There is plenty to do here, including a walk up to the top of an observation tower...and easy-to-navigate trails around the beautiful mill pond. Indian Head has been entertaining travelers for nearly a century! B, L, D
DAY 5–WINNIPESAUKEE RR/SUMMER CRUISE
August travelers' all-day adventure includes a 2-hour ride aboard the Winnipesaukee Scenic Railroad, a 2.5-hour scenic cruise aboard the m/s Mount Washington, plus an opportunity to visit and shop in the lakeside village of Weirs Beach. September and October's departures features a 5-hour, round-trip "Fall Foliage Special" excursion on the Winnipesaukee Scenic Railroad. You will simply be amazed at the brilliant yellows and reds as the train passes small lakes and streams, while crossing over Ashland Summit. B, D
DAY 6–"THE KANC"/CONWAY SCENIC RR
This morning, explore New Hampshire's famed White Mountains and the Kancamagus Highway, renowned among New Englanders as one of the region's most pristine scenic drives. Witness the splendor of the National Forest as you cross the 2,800-foot Kancamagus Pass, aka "The Kanc", before dropping into a stunning, deep valley. The rest of the day is spent aboard a round-trip ride on the Conway Scenic Railroad; we've upgraded your seats to the scenic panorama First Class dome car! Enjoy some of the most dramatic natural scenery in the East as you travel through spectacular Crawford Notch—past sheer bluffs, steep ravines, cascading brooks and streams, panoramic mountain vistas, across Frankenstein Trestle and Willey Brook Bridge—en route to Crawford station. You will also enjoy a special meal in the train's historic dining car. B, L
DAY 7–HISTORIC SALEM/BACK TO BOSTON
Today, we experience a tour of Salem with local step-on guide Karen Scalia. You may know Salem for being the quaint Massachusetts seaport town infamous for its "witch trials". You'll learn about its illustrious spice trade (with a tasting) and many riches; and sit for a "farewell" lunch with fresh local fare before heading back to Boston and home. B, L

Quality Accommodations
Night 1: Four Points by Sheraton, Revere, MA
Night 2: Best Western Merry Manor Inn, Portland, ME
Night 3: Sunday River Resort, Newry, ME
Nights 4-5: Indian Head Resort,Lincoln, NH
Night 6: Holiday Inn Express, North Conway, NH

Dates:
Aug 18-24, 2020
Sept 22-28, 2020
Sept 23-29, 2020
Sept 30-Oct 6, 2020 SOLD OUT

Price Per Person:
Double $1,997;
Single $2,475
Pre-/Post-Tour Hotel: $228/night

Average Temps
In our starting city of Boston, high temperatures average around the low 80's; low temperatures average in the mid-60's in August. High temperatures average around the low 70's; low temperatures average around the mid-50's in late September and early October. Please note that cooler weather can prevail at higher elevations (such as at Mount Washington). Elevations do reach up to 6,300 feet on this tour.
Time Zone
Eastern Time
Arrival Time
Schedule flights into Boston Logan International Airport by 5:00 p.m. on Day 1.
Departure Time
Schedule flights to depart Boston Logan International Airport after 5:15 p.m. on Day 7.
Airport Info
The Four Points by Sheraton offers a complimentary shuttle between Boston's Logan International Airport and the hotel, 24 hours a day.
Vehicle Parking
Free self-parking is offered at the Four Points by Sheraton – Boston Airport (Revere) for all guest of Country Travel DISCOVERIES for the duration of the tour. Those driving to Boston/Revere should check with the front desk staff to see where the designated long-term parking is upon your arrival.
Walking Distance
Moderate walking at a leisurely pace is required to fully enjoy this tour.
Currency
U.S. Dollar
Hotel Amenities
Hair dryers, TV/cable, telephone, etc. are available at most hotels.
Additional Information
Further information is mailed upon receipt of your reservation. A total of three mailings are sent to assist you in preparing for your tour…Get Ready, Get Set and Go! Our "Get Ready" packet is sent confirming your reservation. Our "Get Set" packet provides further information approximately 90 days prior to departure with important details regarding making your travel arrangements. Finally, our "Go" packet arrives 2-3 weeks before departure containing your final documents.
Updates
Updates to this document are available from our Discovery Reservations Team, and will be posted online at CountryTravelDiscoveries.com/NER.
Travel Protection Available?
Yes, see CountryTravelDiscoveries.com/TravelProtectionPlan.
Terms & Conditions
Tour reservations are subject to the terms and conditions on our website at CountryTravelDiscoveries.com/terms.
Groups
Have a group? We can make your group's vacation cost-effective and easy, with discounts for groups as small as five and other benefits. Learn more at CountryTravelDiscoveries.com/groups.
Share it
---