For 'Great Faces, Great Places'…it has to be South Dakota! We'll visit all the must-see attractions such as Mount Rushmore, Badlands, Deadwood, Wall Drug, and even cross the Wyoming border to gaze in awe at Devils Tower. All the while we discover the 'backroads' stops that make our tours so memorable. From a working cattle ranch to a honey harvester deep in the Black Hills, the "Mount Rushmore State" awaits.
Visit working cattle ranchers, beekeepers, and vegetable farmer
Attend a patriotic evening lighting show at Mount Rushmore National Memorial
See four units of the National Park Service: Minuteman Missile, Badlands, Devils Tower, and Mount Rushmore
Savor delicious farm-to-table meal experiences
Visit the geographic center of the United States
Experience both a chuckwagon supper and morning Jeep Safari in legendary Custer State Park
'Unpack and stay' for two nights at each hotel on this tour
Free airport shuttle or hotel parking
Bag handling (1 per person) at hotels

Fees/tips for included attractions and meals
Welcome reception, 24-hour emergency call service, free bottled water on coach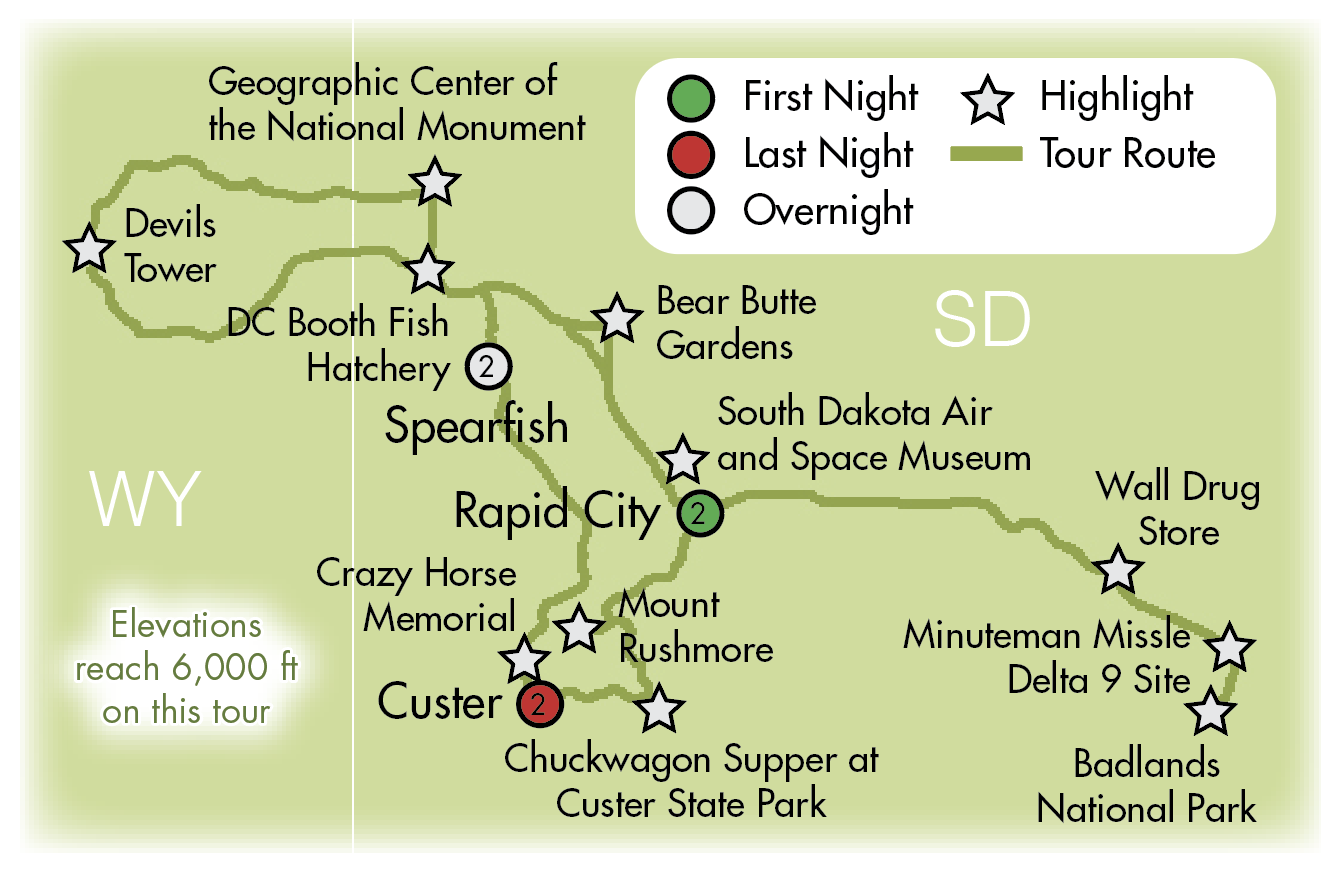 DAY 1 - WELCOME TO SOUTH DAKOTA
Enjoy meeting your fellow travelers and Discoveries Director at a welcome reception in Rapid City, the gateway to South Dakota's Black Hills and Badlands region.
DAY 2 - WALL DRUG/MINUTEMAN MISSILE/BADLANDS
The morning begins with a stop at Wall Drug, voted one of America's most popular roadside attractions. Sarah Hustead, whose great-grandfather started the business in 1931 as a humble pharmacy, will greet us. Over some homemade donuts and coffee, Sarah will explain how the location transformed into a shopping mall full of any kind of souvenir imaginable. Next, we're off to Minuteman Missile National Historic Site to learn how the Cold War impacted the Great Plains. Peer deep down into Delta-09 Missile Silo, which once contained a 1.2 megaton nuclear warhead. Get your camera ready as we spend the rest of the day in South Dakota's iconic Badlands National Park. The striking geological deposits seem to change color almost every minute in the shifting afternoon sun. Here we'll enjoy lunch in the park and stop at multiple scenic overlooks for photo opportunities before returning for a second night in Rapid City. B, L
DAY 3 - BEAR BUTTE GARDENS/HONEY FARM/FISH HATCHERY
Today, we are hosted by Rick and Michelle Grosek, owners of Bear Butte Gardens --- a 120-acre homestead near Sturgis. Learn what it takes to grow many different kinds of vegetables as well as the ins-and-outs of raising lamb and chicken in the dry Black Hills climate. Our tastebuds will savor their farm-to-table lunch featuring their latest harvest and fresh meats. Then, we are off to learn about the business that has kept Mitch & Lisa Irion 'buzzing' since 2001. Sold in shops across South Dakota, Black Hills Honey Farm focuses on the health of honey bees and how they can be sustainably harvested. We won't leave without tasting some of their sweet honey! Next, the D.C. Booth Historic National Fish Hatchery is one of the oldest operating hatcheries in the country. Established in 1896, we'll learn from one of the biologists who will explain how their hatchery manages the trout population in South Dakota and surrounding states. You'll be mesmerized with their underwater fish viewing area, too. B, L
DAY 4 - DEVILS TOWER/ CATTLE RANCH/CENTER OF THE NATION
We start our day at Devils Tower, America's first National Monument. This astounding geographic feature towers over 1,000 feet above the Belle Fourche River, creating one of the most striking naturally formed landscapes in the country. Here we will enjoy the views from the park visitor center and even take a short hike on one of the trails. From there, we head to Diamond 7 Bar Ranch located off the beaten path. We will meet with owner Beth Reilly and hear her stories of growing up on the ranch and how ranch life keeps you on your toes every day. We cap off our day at the literal heart of the nation, Belle Fourche, and the Center of the Nation monument which marks the geographical center of the United States. We return to Spearfish for the night. B, L
DAY 5 - DEADWOOD/BLACK HILLS/CHUCK WAGON SUPPER
This morning we begin our day where the Wild West still lives. Local historians Mike & Lisa Kitzmiller bring the legends of infamous Deadwood to life. We will also head up to Mt. Moriah Cemetery where Wild Bill Hickok, Calamity Jane and more notorious figures are buried. After a scenic drive through the spectacular Black Hills National Forest, the day wraps up at Custer State Park with an old-fashioned hayride. Relax and take in the scenery on a 45-minute wildlife tour to a mountain meadow canyon for our chuckwagon feast. B, L, D
DAY 6—BUFFALO ROUNDUP/MOUNT RUSHMORE NIGHT LIGHTING*
This morning, saddle up and feel the earth tremble as we experience Custer State Park Buffalo Roundup. Take in the sights as herdsman on horseback roundup 1,300 American Buffalo into the corrals for sorting, branding, testing and treatments. And, of course, our visit to South Dakota wouldn't be complete without time at one the nation's most famous landmarks, Mount Rushmore National Memorial. This evening we'll also attend the 'must experience' patriotic evening night lightning ceremony conducted by the National Park Service. B, L *Crazy Horse Memorial will be visited on Day 5.
DAY 7 - AIR FORCE BASE/FAREWELL
After a delicious breakfast, we venture to the South Dakota Air and Space Museum to view their collection of planes. Afterwards, we return back to Rapid City and look back fondly at our travels through the "Land of Infinite Variety", South Dakota. B
Quality Accommodations
Nights 1-2: The Rushmore Hotel & Suites, BW Premier Collection, Rapid City
Nights 3-4: Holiday Inn Spearfish Convention Center, Spearfish
Nights 5-6: Holiday Inn Express, Custer
Dates:

Sep 25-Oct 1, 2022 w/Buffalo Roundup*
*See tour itinerary tab for details

Price Per Person:
Double $1,797
Single $2,215

Pre-/Post-Tour Hotel: $208/night

Depart/Return: Rapid City, SD
Average Temps

Highs in the mid 70's /lows in the mid 50's (September)
Time Zone
Mountain
Arrival Time
Schedule your flight to arrive by 4:00 p.m. on Day 1.
Departure Time
Schedule your flight to depart after 1:30 p.m. on Day 7 for the Buffalo Round up, Sep 25-Oct 1, 2022.
Airport Info
Starting hotel offers complimentary shuttle service between 5:00 a.m. and 10:00 p.m. For post tour stays, shuttles are available on the top of the hour to return guests to the airport beginning at 5:00 a.m.
Vehicle Parking
Complimentary for duration of tour.
Walking Distance
Moderate walking is required to fully enjoy this tour. Some walking can be on uneven surfaces.
Currency
US Dollar
Hotel Amenities
Refrigerators, microwaves, hair dryers, irons, ironing boards, Coffee makers, swimming pools and exercise rooms are available at most hotels on this tour.
Additional Information
*A Real ID or enhanced driver's license, or a valid US Passport is required to enter Ellsworth Air Force Base.
Further information is mailed upon receipt of your reservation. A total of three mailings are sent to assist you in preparing for your tour…Get Ready, Get Set and Go! Our "Get Ready" packet is sent confirming your reservation. Our "Get Set" packet provides further details approximately 90 days prior to departure with important details regarding making your travel arrangements. Finally, our "Go" packet arrives 2-3 weeks before departure containing all your final documents.
Updates: Updates to this document are available from our Discovery Reservations Team, and will be posted online at CountryTravelDiscoveries.com/SDA
Travel Protection Available?
Yes, see CountryTravelDiscoveries.com/TravelProtectionPlan.
Terms & Conditions
Tour reservations are subject to the terms and conditions on our website at CountryTravelDiscoveries.com/terms.
Groups
Have a group? We can make your group's vacation cost-effective and easy, with discounts for groups as small as five and other benefits. Learn more at CountryTravelDiscoveries.com/groups.
Share it
---