CTD and the experts at Missouri Life Magazine are thrilled to introduce a brand new tour of the "Show Me State" – which shows off the best scenery, farms, people, places, and off-the-beaten path attractions across the Southeast corner of the state. Traveling from the highest elevations of the Missouri Ozarks down the fertile Mississippi River Delta Region and everywhere in-between, see the sites like no one has been able to show off before. Local Missourians will demonstrate their knowledge about artisan soap making, cotton and peach farming, as well as their German heritage. We will even have the chance to stand right on the New Madrid Earthquake Fault andsee one of the biggest natural springs in the world. It all makes for an exciting week together exploring Southeast Missouri life.
Visit family-run peach and cotton farms to explore Missouri agriculture at its finest
Meet local artisans, including an Ozarks soap maker and pewter designers
Explore two National Park Service units, including Ozarks National Scenic Riverways and the newly-designated Ste. Genevieve National Historical Park
Go behind-the-scenes and talk with a keeper of rescued tigers
Stand on the New Madrid Fault Line
Explore St. Louis' best off-the-beaten path city attractions
Spend an entire day exploring quaint Hermann, Missouri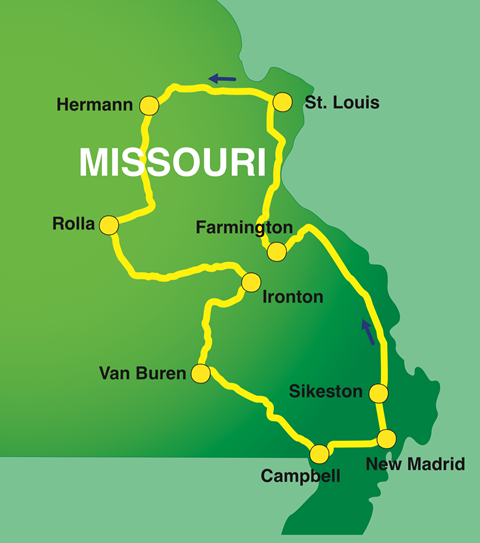 DAY 1–WELCOME TO ST. LOUIS
Welcome to St. Louis, the "Gateway to the West"! The adventure begins with a private dessert reception where we will get to know our fellow travelers and Discoveries Director.
DAY 2–BOTANICAL GARDENS/TRANSPORTATION MUSEUM/BREWERY TOUR
The morning begins with a private tram tour at Missouri Botanical Garden, a National Historic Landmark considered one of the top three botanical gardens in the world. The center features 79 acres of horticultural displays, indoor conservatories, formal and international gardens. From there, we are off to the National Museum of Transportation. Workers restore, preserve, and display a wide variety of vehicles spanning 15 decades of American history: cars, boats, aircraft, and in particular, locomotives and railroad equipment. Any stop to Saint Louis wouldn't be complete without a visit to the legendary Anheuser-Busch Brewery. Nestled in the historic Soulard neighborhood, the St. Louis brewery is the company's largest and oldest site. With easy access to the Mississippi River, this site was selected for both the large presence of German immigrants in the 1800's and the natural caves to store beer prior to artificial refrigeration. You might even see one of the Clydesdales on this tour! B, L
DAY 3–A DAY TO REMEMBER IN HISTORIC HERMANN
With so much to see, we will spend an entire day exploring Hermann, Missouri. This traditional German town is nestled along the southern bank of the Missouri River in Gasconade County. Our day begins at the Deutschheim State Historic Site, which preserves historic farm houses and barns used by German immigrants in the middle 19th Century. Be sure to check out the grapes planted in one of the original vineyards and the site of a printing press. Then, Mike will tempt our taste buds at Hermann Wurst Haus. Mike is an inductee at the Cured Meat Hall of Fame (yes, there is such a thing!) and recently won the National Grand Champion Award for his German-style bologna. After a bratwurst-making demonstration, Mike invites us to stay for a specially prepared group lunch. Our final stop is Stone Hill Winery, one of the oldest and most awarded wineries in the country. Enjoy some samples while exploring the wineries' cool dark cellars. B, L, D
DAY 4–VACUUM CLEANERS/HISTORIC CAVE/ELEPHANT ROCKS
Our adventure through Missouri's Ozark Country begins with a stop at the Vacuum Cleaner Museum. They promise we'll get "sucked in" to looking at the 600 historic vacuum cleaners that make up what might be the "cleanest" museum in the country. Next, our tour rolls into Meramec Cavern, a Route 66 "must see" attraction. Enjoy the easy step-free tour or the more challenging path to gaze at spectacular stalactites and stalagmites in Missouri's largest commercial cave. From there, it's off to one of the Ozarks' most stunning attractions – Elephant Rocks State Park. The elephant-shaped granite boulders are the stars of this unusual parks. High up in the Ozarks is Ironton – it's here we meet Debra Hendron, an artisan soap maker who enjoys sharing her craft with travelers passing through. Step inside her historic 1899 red granite shop and see how soap is made from scratch, small-town style. We overnight at Rosecliff Lodge in Van Buren, where we will enjoy spectacular views of the Current River from the property's deck. B, L
DAY 5–OZARK RIVERWAYS/PEACH FARM/NEW MADRID QUAKE ZONE
Wake up in the heart of the Ozarks – and explore one of the largest natural springs in the world. Retired National Park Service Ranger Bill O'Donnell is our special guide through the inspiring Ozarks National Scenic Riverways. After lunch in Poplar Bluff, we're off to Campbell, the Peach Capital of Missouri, to meet Bill Bader and his family. The Bader's have been growing peaches and other delicious fruit in the Bootheel Region of Southeast Missouri for generations. Next, get "all shook up" as we visit New Madrid to discover the most significant seismic zone in the Midwest. Stand on the actual fault itself…if you dare…as you gaze out at where the Mississippi River reversed course in 1812. B, L

DAY 6–COTTON COUNTRY/CAPE GIRARDEAU/TIGER SANCTUARY
The morning is all about exploring Missouri's Delta Cotton Country. Our first stop is meeting Laura Hunter Collins, who works hard alongside her brother on several cotton farms outside of Sikeston. Cotton crops may be dwindling in the major cotton states, but planting is on the rise in Missouri. Our next stop will be in the town of Vanduser, whose claim to fame is having the furthest northern cotton gin in the United States. We will enjoy a special guided tour to learn how cotton is processed and turned into some of our favorite products. After lunch in the Mississippi River town of Cape Girardeau, we are in for a memorable visit as VIP's at the Crown Ridge Tiger Sanctuary, home to three rescued tigers. We go behind the scenes and talk with an actual tiger keeper, and put our creative skills to the test by making "treat boxes" for the big cats to enjoy. Don't fear, we will watch them safely from the observation deck. B, L
DAY 7–HISTORIC STE. GENEVIEVE
Before heading back to St. Louis, we spend time to explore Ste. Genevieve – Missouri's oldest town, which contains the largest concentration of French Colonial architecture anywhere in North America. A step-on guide shows us the Felix Valle House State Historic Site and many other buildings around town – some of which date back to the 1790's. A highlight will be a stop at the ASL Pewter Foundry, where local craftspeople explain the process of making their high quality, lead-free pewter products. We head home remembering the people, places, and sites that make both the Ozarks and Delta Regions of the "Show Me State" so special. B

Quality Accommodations

Nights 1 & 2- Hilton St. Louis Airport, St. Louis
Night 3 – Hampton Inn, Rolla
Night 4 – Rosecliff Lodge, Van Buren
Night 5 – Holiday Inn Express, Sikeston
Night 6 – Holiday Inn Express, Farmington
May 12-18, 2019
Oct 13-19, 2019

Price Per Person:
Double $1,597, Single $1,865
Pre-/Post-Tour Hotel: $148/night
Average Temps
Highs in the mid-70's, Lows in the mid-50's
Time Zone
Central Time
Arrival Time
Schedule flights that arrive into St. Louis by 5:00 p.m. on Day 1.
Departure Time
Schedule flights that depart St. Louis after 2:45 p.m. on Day 7.
Airport Info
Complimentary shuttle service is offered for travelers between St. Louis Lambert International Airport and our starting hotel, the Hilton – St. Louis Airport.
Vehicle Parking
Free parking is offered during the tour at the Hilton – St. Louis Airport.
Walking Distance
Moderate walking at a leisurely pace is required to fully enjoy this tour.
Currency
United States Dollar.
Hotel Amenities
Hair dryers, TV/cable, telephone services available at most hotels.
Additional Information
Further information is mailed upon receipt of your reservation. A total of three mailings are sent to assist you in preparing for your tour…Get Ready, Get Set and Go! Our "Get Ready" packet is sent confirming your reservation. Our "Get Set" packet provides further information approximately 90 days prior to departure with important details regarding making your travel arrangements. Finally, our "Go" packet arrives 2-3 weeks before departure containing your final documents.
Updates
Updates to this document are available from our Discovery Reservations Team, and will be posted online at www.CountryTravelDiscoveries.com/SMO.
Travel Protection Available?
Yes, see CountryTravelDiscoveries.com/TravelProtectionPlan.
Terms & Conditions
Tour reservations are subject to the terms and conditions on our website at CountryTravelDiscoveries.com/terms.
Groups
Have a group? We can make your group's vacation cost-effective and easy, with discounts for groups as small as five and other benefits. Learn more at CountryTravelDiscoveries.com/groups.
Share it
---