"Southern Hospitality" is just what you'll find in this exploration of the Gulf region's diverse cultural, culinary and natural attractions. Savor delectable meals in the Big Easy, including a cooking demonstration and meal at the New Orleans School of Cooking. Explore historical life in towns and plantations along the Mississippi, meet bayou country locals who earn a living from land and sea, and laissez les bons temps rouler in a thrilling excursion into the heart of Cajun country!

2 nights in New Orleans' historic French Quarter, with city tour
New Orleans School of Cooking demo and meal
Lunch and tour of Nottoway Plantation
Carriage ride through Natchez
Hear stories about life on Frogmore Plantation from Lynette Tanner
Learn about Zydeco, cajun and creole music traditions at Martin Accordions
Tour Tabasco Pepper Sauce factory on Avery Island
Meet warm, welcoming locals who live and work in bayou country
Swamp boat ride in search of alligators, birds, flora and fauna
Free parking at starting hotel
Bag handling (1 per person) at hotels
Fees/tips for included attractions/meals
Welcome reception, 24-hour emergency call service, free bottled water on coach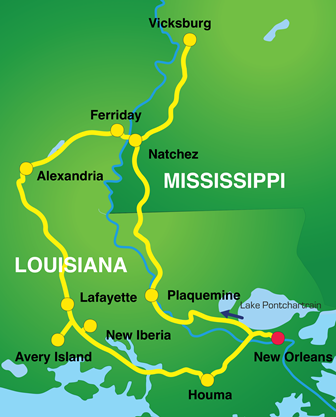 DAY 1–NEW ORLEANS FRENCH QUARTER
Welcome to The Big Easy! Get acquainted with your fellow travelers and meet your Discovery Director at tonight's welcome reception. Relax and enjoy the first of two nights at our hotel, perfectly situated in the heart of the French Quarter.

DAY 2–VIEUX CARRÉ/CREOLE CUISINE/WWII MUSEUM
Enjoy a day in fabulous, multicultural New Orleans. Visit the famous French Quarter, see the stately homes of the Garden District and view some of New Orleans' well-known cemeteries, with elaborate sculptures and decorative artwork. Enjoy a delectable lunch and cooking demonstration at the world-famous New Orleans School of Cooking. Next, explore the lives of American men and women who took part in WWII through letters, recruitment posters, weapons, models and film at the National WWII Museum. B, L

DAY 3–PLAQUEMINE LOCK/ROSEDOWN PLANTATION
Start the day learning about the historic lock at Bayou Plaquemine, an important artery into the heartland of Louisiana until 1952. After lunch we tour the impressive Nottoway Plantation, the largest antebellum mansion in the South. Known as "White Castle", this Greek and Italianate style home sits on an 1850's Sugarcane estate. Settle in for two nights at our hotel just steps from the Mighty Mississippi. B, L
DAY 4–NATCHEZ CARRIAGE TOUR/VICKSBURG CIVIL WAR LEGACY
An unforgettable experience awaits you after breakfast today at Vicksburg, MS, known as the "Red Carpet of the South." Explore the city's fascinating history and tour Vicksburg National Military Park—one of the most renowned Civil War sites in the country! After lunch, tour Natchez and experience "life along the Mississippi" with a horse-drawn carriage ride through the oldest city on the river. B, L

DAY 5–PLANTATION LIFE/GOSPEL & CAJUN MUSIC/LAFAYETTE
Find your seat in the original pews of an 1800s plantation church for an unforgettable musical adventure! Our Delta Music Tour of Frogmore Plantation features outstanding vocalists and historical narration that will give you a glimpse of plantation life. Next, we're off to Cajun country to visit Martin Accordions. The Martin family demonstrates the fine art of crafting accordions, and some rousing creole, Cajun and zydeco music too! B, L

DAY 6–AVERY ISLAND/HOT STUFF/CONRAD RICE
Start today at Conrad Rice Mill—the oldest operating rice mill in the U.S.—and learn about its importance in Cajun cooking. Then, things "heat up" at the one-and-only TABASCOR Pepper Sauce factory. Take a tour of the factory and see how this famous sauce was made back in 1868 and how it is made, packaged and delivered all around the world today. After lunch, explore Avery Island Jungle Gardens and Bird Sanctuary, home to countless varieties of exotic plants and wildlife. Gorgeous herons and egrets nest here...you may also catch a glimpse of alligators! Unpack for two nights in Houma, gateway to bayou country. B, L

DAY 7–MARDI GRAS CREW/CAJUN LIFE
Today starts with a visit to the Hercules Krewe; you'll learn about Mardi Gras and even be able to climb aboard a float. Next, a local guide shares the culture of Cajun country. We'll hear about life aboard a shrimping boat and local sugar cane farming. This evening, enjoy a wonderful farewell dinner with your traveling companions. B, L, D

DAY 8–SWAMP TOUR/HOME
Before heading back toward New Orleans and home, visit a working alligator farm and venture into swamps filled with Spanish moss, Cypress trees and many wildlife species. B

QUALITY ACCOMMODATIONS

Nights 1-2: Crowne Plaza New Orleans French Quarter
Nights 3-4: Natchez Grand Hotel, Natchez
Night 5: Doubletree Lafayette, Lafayette
Nights 6-7: Holiday Inn, Houma
Dates:
Mar 24-31, 2019
Oct 6-13, 2019

Price Per Person:
Double: $1,877; Single: $2,355
Pre/Post Hotel: $198/night
Depart/Return: New Orleans, LA
Dunleith Historic Inn Tour and Dinner
Visit a National Historic Landmark built in the heart of charming Natchez. Go on a behind the scenes tour of the gorgeous Inn. Following the tour enjoy a 3 course meal. D.

Price Per Person:
$60
Average Temp
high 71°/low 46° March
high 82°/low 65° October
Time Zone
Central
Arrival Time
Schedule to arrive at our starting hotel by 5:00 p.m. on Day 1.
Departure Time
Schedule your flight home to depart after 2:00 p.m. on Day 8.
Airport-Hotel Shuttle
If you're flying into Louis Armstrong International Airport, shuttle service is available from the airport to the hotel for $24.00 (per person, one-way) or $44.00 (per person, round-trip). At the conclusion of the tour on Day 8, the motorcoach will make a stop at the airport for those guests flying out and also make a stop at the starting hotel to drop guests if you drove or are staying post tour. Should you stay post-tour, shuttle service return to the airport is on your own. You will want to purchase a roundtrip shuttle transfer. For more details or to make a reservation on-line, go to www.airportshuttleneworleans.com.
Vehicle Parking
Self-Parking is complimentary at the starting hotel.
Walking Distance
Moderate walking is required to fully enjoy this tour.
Currency
US Dollar
Hotel Amenities
Hair dryers, irons, ironing boards & coffee makers throughout tour. Exercise room and swimming pool available at most hotels.
Additional Information
Further information is mailed upon receipt of your reservation. A total of three mailings are sent to assist you in preparing for your tour…Get Ready, Get Set and Go! Our "Get Ready" packet is sent confirming your reservation. Our "Get Set" packet provides further information approximately 90 days prior to departure with important details regarding making your travel arrangements. Finally, our "Go" packet arrives 2-3 weeks before departure containing your final documents.
Updates
Updates to this document are available from our Discovery Reservations Team, and will be posted online at CountryTravelDiscoveries.com/LMS.
Travel Protection Available?
Yes, see CountryTravelDiscoveries.com/TravelProtectionPlan.
Terms & Conditions
Tour reservations are subject to the terms and conditions on our website at CountryTravelDiscoveries.com/terms.
Groups
Have a group? We can make your group's vacation cost-effective and easy, with discounts for groups as small as five and other benefits. Learn more at CountryTravelDiscoveries.com/groups.

Share it
---