Manitoba, Canada's 'off-the-beaten path' prairie province, is located just across the border. We'll start our journey in Manitoba's world-class capital city of Winnipeg touring memorable attractions such as The Forks, the Canadian Museum for Human Rights, and the stunning gardens of Assiniboine Park. Later, the incredibly scenic and rugged Riding Mountain National Park will give us the opportunity to spot black bear, bison, and other wildlife. Our travels also take us to a grain farm to learn about canola oil, a hard-working family-run dairy farm, and meet a woman who lives in a home that once served as a country church. It all makes for a memorable time exploring Canada's Prairie Province.

Two full days to explore the world-class city of Winnipeg
Guided Tour of Royal Canadian Mint, which makes coins for over 70 countries around the world
"Bison Trek" and Boat Ride on Clear Lake in scenic Riding Mountain National Park
Personal visits with a working dairy farm, canola farm, and more
Visit the farm of Gunter Jochum, the current President of the Western Canadian Wheat Growers Association
Visit a historic Mennonite Village and Canada's largest collection of historic farm machinery
Free airport shuttle or hotel parking
Bag handling (1 per person) at hotels
Fees/tips for included attractions and meals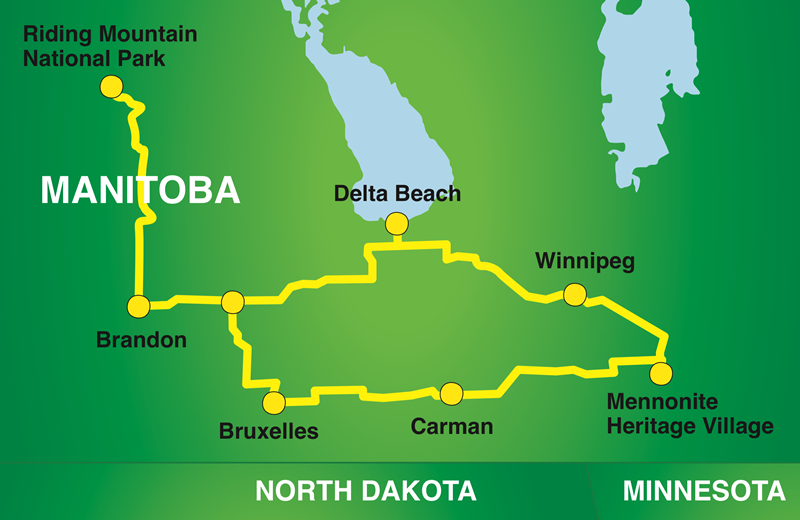 DAY 1—WELCOME TO WINNIPEG
Enjoy meeting your fellow travelers and Discovery Director at a welcome reception in Winnipeg, Manitoba's Capital City.
DAY 2—WINNIPEG CITY TOUR/MANITOBA MUSEUM
The morning begins with a guided city tour to give you an excellent overview of Winnipeg. From the gardens of Assiniboine Park, to the hidden meanings built into the Manitoba Legislative Building, and the stunning Red River of the North, we will see it all this morning. We'll enjoy lunch and views at the Promenade Café, located in the very heart of Winnipeg's French Quarter. In the afternoon, we'll take a guided tour of the Manitoba Museum, an award-winning heritage and edutainment center. Winner of the Michelin Green Guide's top award, the museum features an ever-changing variety of touring and specialty exhibits. We will call the historic Fort Garry Hotel home for the next two nights. Built in 1913, it is recognized as one of Canada's grand railway hotels. B, L
DAY 3—HUMAN RIGHTS MUSEUM/BAKERY/ROYAL MINT/CHOCOLATES
Our second day in Winnipeg begins with a visit to the Canadian Museum for Human Rights, the first museum solely dedicated to the evolution, celebration, and future of human rights. Afterwards, enjoy an included lunch and free time at The Forks. With its unique boutiques, market, and shops – The Forks has become the most visited site in Manitoba with over four million visitors each year. Later, at the Tall Grass Prairie Bakery, Tabitha Langel will share the story of how she left a Hutterite colony to start up one of the most popular bakeries in Winnipeg. In the afternoon, enjoy a guided tour of the Royal Canadian Mint, the only place in Canada where coins are made. Peer through the windows to see what's involved in making money for over 70 countries! From there, satisfy your sweet-tooth as chocolatier Constance Popp welcomes us. Get a behind-the-scenes look (and taste!) of how Popp makes premium artisan chocolates using mostly Manitoba-produced ingredients. B, L
DAY 4—MENNONITE VILLAGE/HISTORIC CHURCH/FAMILY DAIRY FARM
The first stop of the day puts us at the "heart of it all" - the longitudinal center of Canada. This location is equidistant to the Atlantic and Pacific along the historic Trans-Canada Highway. Next, travel back in time exploring Manitoba's authentic Mennonite Heritage Village. View Russian Mennonite housebarns, churches, and other structures, many of which date back to the 1800s. The museum is also famous for its still-operating Dutch windmill. Lunch includes traditional ethnic European fare at the Livery Barn Restaurant. Save room for snacks though as we stop in Carman to visit Barbara Alarie. Barbara will share her home that once served as the town's St. Anthony's Presbyterian Church, circa 1898. The final stop of the day is at Lakeshore Holsteins, a family-run dairy farm near Bruxelles. Arrive just in time to watch Ryan and Lisa DeRuyck and their four boys do the afternoon milking. B, L
DAY 5—RIDING MOUNTAIN NATIONAL PARK
Kick back and relax as we spend an entire day enjoying Manitoba's immensely scenic Riding Mountain National Park, a true 'off-the-beaten path' gem. This unique park is an island of wilderness surrounded by miles of farm land. Black bear, elk, moose, and lynx all call the park home. Our visit begins with a two-hour guided trek aboard our motorcoach deep into the heart of the park to view a bison herd near the shores of Lake Audy. In the afternoon, enjoy a cruise on Clear Lake. Our boat's captain will teach us about Riding Mountain National Park's cultural and geological history as well as the region's wildlife and vegetation. There will also be plenty of free time to enjoy picturesque Wasagaming, one of just five Canadian national parks that have a resort town site located in the park. Enjoy the shops, charm, and small-town character before heading back to Brandon for a second night. B, L
DAY 6—AG MUSEUM/ LAKE MANITOBA/BLUE DIAMOND GRAIN FARM
The Manitoba Agricultural Museum is dedicated to collecting vintage farm machinery and buildings from the 1900s and beyond. Enjoy viewing over 500 pieces of machinery located on 320 acres, making it Canada's largest collection of vintage agricultural equipment. Volunteers will be on-hand to demonstrate some of the working collection pieces. After lunch, we'll make a photo stop in Delta Beach on the shores of Lake Manitoba, one of the largest freshwater lakes in Canada. In the afternoon, Gunter Jochum, President of the Western Canadian Wheat Growers Association, invites us out to his family-run farm near St. Francois Xavier. Gunter, his wife Crystal, and daughter Fiona, will explain the process used to grow wheat and canola in such a cold climate. Here we'll discover how Canadian farming methods compare and contrast to those of the United States. We return to the capital city of Winnipeg tonight. B, L
DAY 7—AURORA FARM/FAREWELL BREAKFAST
Our final day together begins with a special home-cooked breakfast on Aurora Farm. Louise May invites us to enjoy fresh-baked breads and other pastries, eggs from the heritage chicken coop, and much more. Situated on hundreds of scenic acres just outside of Winnipeg, Aurora Farm was recently used as the setting for films promoting Canada's Royal Winnipeg Ballet. Besides learning about Manitoba crops and farm animals, they even have a special prairie province craft project planned for you to take home! Return to Winnipeg Airport in time for early afternoon flights. B

Quality Accommodations
Night 1: Hilton Winnipeg Airport Suites, Winnipeg
Nights 2-3: The Fort Garry Hotel, Winnipeg
Nights 4-5: Victoria Inn Hotel & Convention Centre, Brandon
Night 6: Best Western Plus –Winnipeg West, Winnipeg

Dates:
Aug 16-22, 2020
Sept 6-12, 2020
Price Per Person:
Double $1,577;
Single $1,945
Pre-/Post-Tour Hotel
: $138/night
Average Temps
High temperatures average around the mid-70's; low temperatures average in the mid-50's.
Time Zone
Central Time
Arrival Time
Schedule flights into Winnipeg by 5:00 p.m. on Day 1.
Departure Time
Schedule flights to depart Winnipeg after 1:30 p.m. on Day 7.

Returning to the United States: Winnipeg Int'l Airport allows US Residents to clear Passport Control/Customs in Canada rather than upon your first point of entry into the US. This allows for a convenient and quick entry at your returning U.S. airport, similar to arrival on a domestic flight.
Airport Info
The Hilton Winnipeg Airport Suites offers a complimentary shuttle between Winnipeg International Airport and the hotel, 24 hours a day.
Vehicle Parking
Free self-parking is offered at the Hilton Winnipeg Airport Suites for all guest of Country Travel DISCOVERIES for the duration of the tour. Those driving to Winnipeg should check with the front desk staff to see where the designated long-term parking is upon your arrival.
Walking Distance
Moderate walking at a leisurely pace is required to fully enjoy this tour.
Currency
Canadian Dollar
Hotel Amenities
Hair dryers, TV/cable, telephone, etc. are available at most hotels.
Additional Information
Further information is mailed upon receipt of your reservation. A total of three mailings are sent to assist you in preparing for your tour…Get Ready, Get Set and Go! Our "Get Ready" packet is sent confirming your reservation. Our "Get Set" packet provides further information approximately 90 days prior to departure with important details regarding making your travel arrangements. Finally, our "Go" packet arrives 2-3 weeks before departure containing your final documents.
Updates
Updates to this document are available from our Discovery Reservations Team, and will be posted online at www.CountryTravelDiscoveries.com/MAN.
Travel Protection Available?
Yes, see CountryTravelDiscoveries.com/TravelProtectionPlan.
Terms & Conditions
Tour reservations are subject to the terms and conditions on our website at CountryTravelDiscoveries.com/terms.
Groups
Have a group? We can make your group's vacation cost-effective and easy, with discounts for groups as small as five and other benefits. Learn more at CountryTravelDiscoveries.com/groups.

Share it
---