Join CTD President Steve Uelner on this luxurious, modern, and privately chartered ship! Your tour will discover five countries (Germany, Czech Republic, Austria, Slovakia and Hungary), several UNESCO World Heritage Sites, and other scenic, cultural, and culinary experiences too numerous to count. Spend your days marveling at Europe's most beautiful landscapes, and evenings docked so you can take in the nightlife of its magnificent cities - including two nights in Budapest. This is a Sunrise and Country Travel Discoveries exclusive!

Visit four capital cities in five countries - Germany, Czech Republic, Austria, Slovakia and Hungary
Join CTD President Steve Uelner on this luxurious, modern, and privately chartered ship!
Included sightseeing tours of: Budapest, Vienna, Bratislava, Esztergom-Szentendre, Passau, and Prague
Two nights in Prague with a tour of Old Town, a UNESCO World Heritage Site
Visit the the beautiful Wachau wine-growing region, another UNESCO World Heritage Site, with an optional tour of the Benedictine Abbey of Melk
Onboard folklore, culinary demonstrations, and cultural entertainment - including an exclusive Viennese Quartet recital
Gourmet dining with all meals (breakfast, lunch, dinner and evening snack)
Included quality red and white wines from Europe's top wineries
Cocktail Reception, Welcome Dinner, and Captain's Gala Dinner
Gratuities to crew, cruise director, and local guided included – over a $150 per person value
24-hour emergency call service while en-route to/from our tour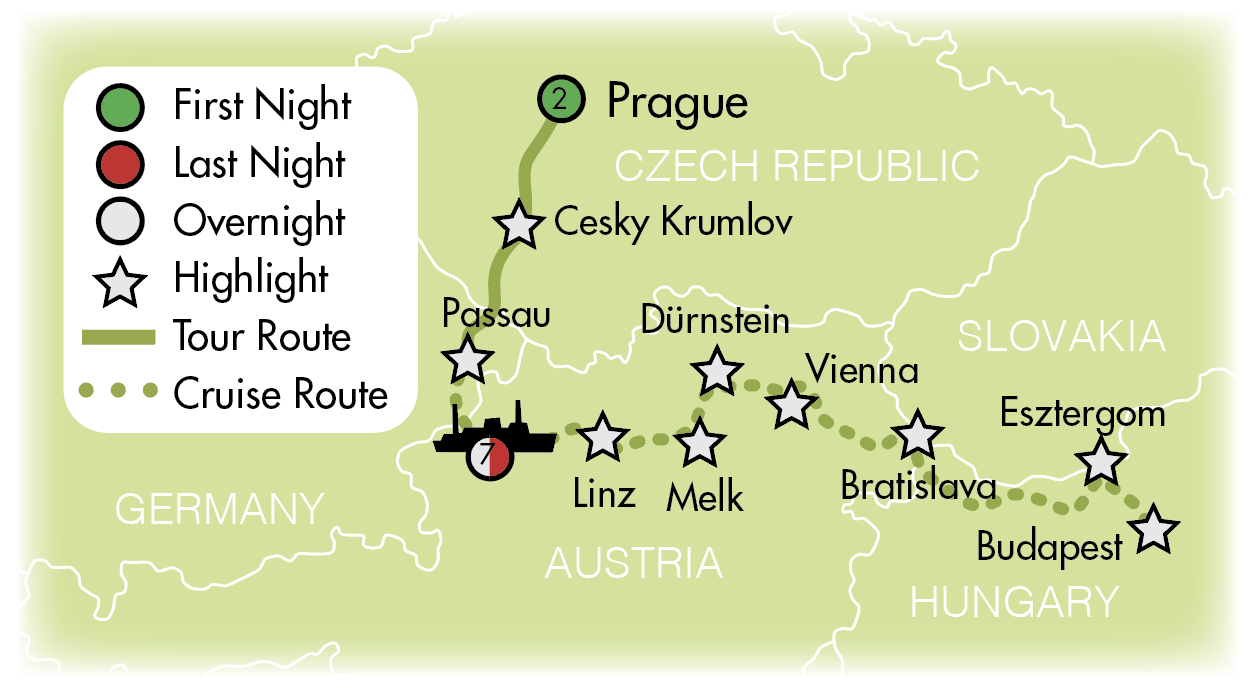 DAYS 1-2–UNITED STATES/WELCOME TO PRAGUE
Upon arriving in the Czech Republic, we'll be greeted by our professional, English-speaking Tour Director. Then enjoy an orientation tour of Prague, our home for the next two evenings. D

DAY 3–PRAGUE CASTLE DISTRICT
With our local guide narrating through wireless headsets, we explore Prague today by foot, starting from the Strahov Monastery, offering a gorgeous view of Prague castle and the river. We'll see St. Vitus Cathedral, St. George's Basilica, the Old Royal Palace, Old Town, Town Hall and the famous Astronomical Clock. Tonight's dinner is in one of Prague's historical beer halls, featuring delicious local fare. B, D

DAY 4–PRAGUE/CESKE BUDEJOVICE/AMADEUS SILVER III
Today you'll experience the unique medieval flavor of Cesky dating back to 1266. Later, our scenic drive into Germany's Passau ends in a real "wow" moment as we board our home for the next 7 nights: the Amadeus Silver III. Your week-long cruise on the blue Danube is underway! B, L, D

DAY 5–LINZ
Today, we dock at Linz and drive into the countryside to visit the family farm of Norbert Pankratzhofer, cultivator of Simmental cattle and producer of award winning must, a type of fruit cider, as well as juices, cuvees, sparkling wines and liqueurs. You can also enjoy free time to explore the city of Linz, a cultural hub in the region. Some will take the Pöstlingberg railway, which rises 255 meters in 20 minutes to the landmark mountain of Linz. B, L, D
DAY 6–MELK/WACHAU VALLEY/VIENNA
This morning, we coach through the beautiful Wachau wine-growing region to the Benedictine Abbey of Melk. Then, on to picturesque Dürnstein, noted for its breathtaking scenery, traditional architecture, superb wines, and storied places. It was in the Kuenringer Castle here that English King Richard the Lionheart was imprisoned. This afternoon, sit back deckside and watch the vibrant Wachau valley drift by as we continue toward Vienna. Onboard this evening, enjoy an Apple Strudel and Viennese Coffee demonstration. Later this evening in Vienna, a classic Viennese Quartet comes aboard to perform a recital exclusively for us. B, L, D
DAY 7–VIENNA
Ah! – the city of music and joie de vivre, St. Stephen's Cathedral, and the Imperial Palace! After being introduced to its most important sites by our local guide, you can explore this historic city on your own or join our optional tour to Schönbrunn Palace - the former imperial 1,441-room Rococo Summer residence. B, L, D
DAY 8–VIENNA/BRATISLAVA
This morning brings excellent views en route to Bratislava, the capital of Slovakia. We'll tour sites including the Presidential Palace, Eurovea (the modern city center), the National Theatre, and many others. We'll end at Bratislava Castle, overlooking the countryside where the frontiers of Austria, Hungary, and Slovakia meet. B, L, D
DAY 9–ESZTERGOM-SZENTENDRE/BUDAPEST
After breakfast, we port just shy of Hungary's Esztergom. We'll start your day ashore at the charming small artists' village of Szentendre. Next, visit the imposing ruins of Visegrad, with magnificent views of the "knee" of the Danube. Then, see one of Hungary's oldest cities, Esztergom. Our next stop is the capital city of Budapest, made up of two parts – Buda and Pest – on opposite banks of the Danube. With its cobbled streets and medieval architecture, Buda is the older and more graceful city, while Pest, with its wide avenues and impressive 19th century public buildings, is the administrative and commercial center. B, L, D

DAY 10–BUDAPEST/HORSE FARM/FOLKLORE SHOW
This morning, we tour the fascinating city of Budapest, seeing where East meets West. This afternoon is free to explore, perhaps for a visit to the Central Market Hall, one of the largest and most vibrant shopping centers in Eastern Europe. B, L, D
DAY 11–HOME
After breakfast, we disembark in Budapest and head to the airport for your flight back home, filled with lasting memories of our journey along the magical Danube! B
Dates:
Oct 4-14, 2022

Price Per Person from:
Double $5,247*
Land only pricing available.

Depart/Return: Chicago, IL or Washington DC

Pre-/Post-Tour Hotel: $188/night
**Prices vary based on stateroom category. See detailed pricing info and clickable ship map below. This tour is NOT eligible for Travel More, Save More discount pricing. Mandatory port taxes (per person): $165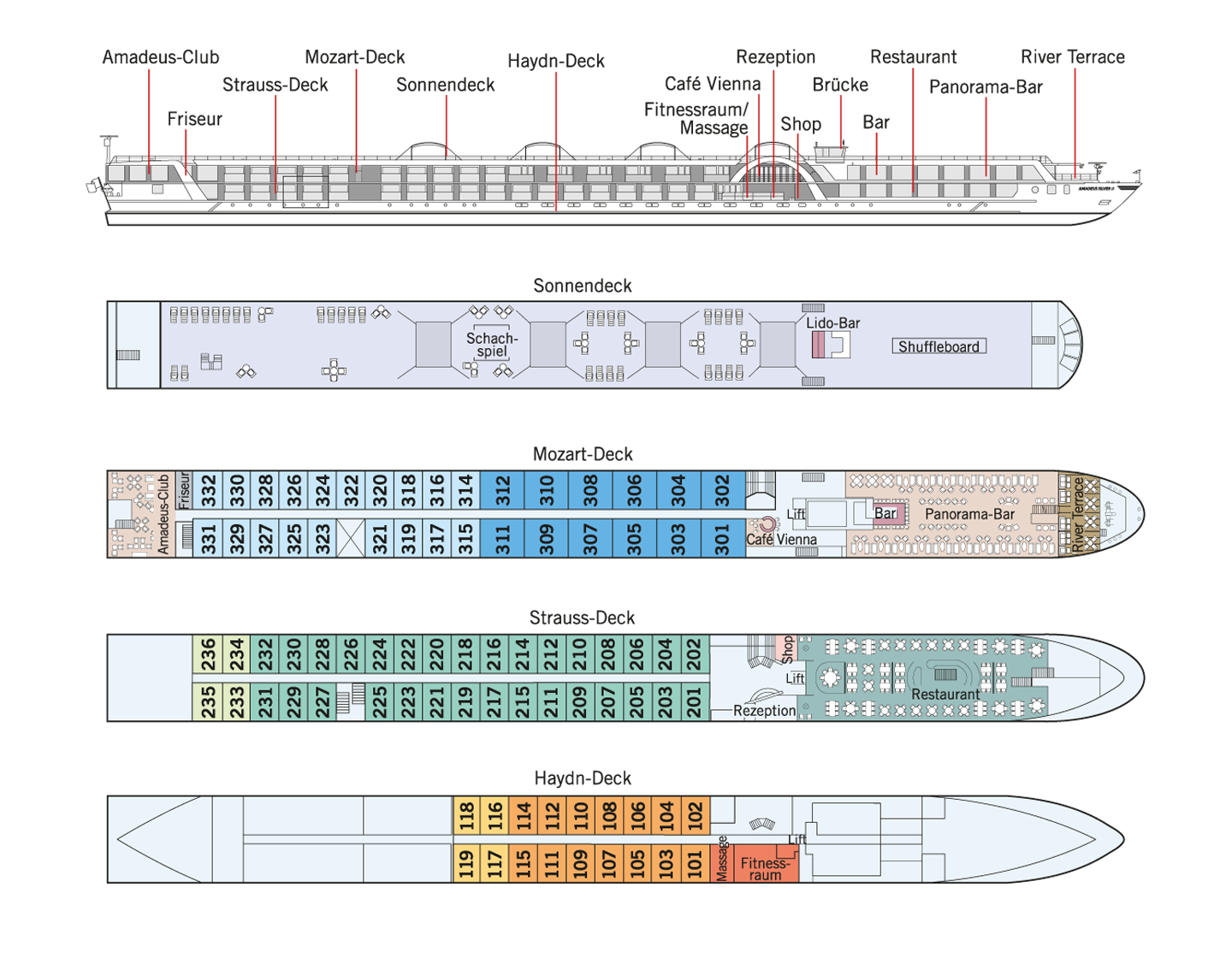 C Window, Stern, Haydn Deck - $5,247
C Window, Forward, Haydn Deck - $5,347

B Drop-Down Panoramic Windows*, Stern, Strauss Deck - $6,077

B Drop-Down Panoramic Windows*, Mid, Strauss Deck - $6,177
B Drop-Down Panoramic Windows*, Forward, Strauss Deck - $6,277
A Drop-Down Panoramic Windows*, Stern, Mozart Deck - $6,477
A Drop-Down Panoramic Windows*, Mid, Mozart Deck - $6,577
Suite, Mid, Mozart Deck - $7,277
Suite, Forward, Mozart Deck - $7,377
Singles, Haydn Deck - $6,247

DAY 7—Schönbrunn Palace

With its glorious parklands and gardens, Maria Theresa's former imperial residence is a UNESCO World Heritage Site, and one of Vienna's most beautiful sites. Price: $70

DAY 7—Sound of Vienna Concert
Music lovers—don't miss this evening's excursion to hear a Viennese Concert, with traditional waltzes and Mozart pieces. Price: $79
Average Temps
high 61°/ low 45° (Budapest)
high 55°/ low 40° (Prague)
Time Zone
+7 hours from Central Time
Arrival Time
Available 90 days prior to the tour.
Departure Time
Available 90 days prior to the tour.
Airport Info
Pre/Post Hotel offers complimentary shuttle service.
Vehicle Parking
Free parking is offered during the tour at our hotel in Chicago with a Pre- or Post-tour night booked, only. East coast hotels will be booked on an individual basis.
Walking Distance
Moderate to extended walking is required to fully enjoy this tour. Some walking will be on uneven paths.
Currency
Euro (Germany, Austria and Slovakia), Koruna (Prague) Forint (Hungary)
Hotel Amenities
Hair dryers, TV/cable, telephone, coffee makers, laundry available at hotels.
Ship Amenities Include
Sun Deck, Two Bars, Large Chess Board on Sun Deck, Gourmet Dining, Fitness Room, Massage, Hairdresser, Lift (except to Sun Deck), Gift Shop. In all rooms: Flat screen TV, Safe, Hair Dryer. All rooms except Haydn Deck have French Balcony. Suites have balcony.
Additional Information

Land Tours begin one day later. Airport transfers not included with Land Only Tours. Air & Land Tours include government imposed taxes, fees and airline fuel surcharges at time of printing.
Further information is mailed upon receipt of your reservation. A total of three mailings are sent to assist you in preparing for your tour…Get Ready, Get Set and Go! Our "Get Ready" packet is sent confirming your reservation. Our "Get Set" packet provides further details approximately 90 days prior to departure with important details regarding making your travel arrangements. Finally, our "Go" packet arrives 2-3 weeks before departure containing all your final documents.
Updates
Updates to this document are available from our Discovery Reservations Team, and will be posted online at CountryTravelDiscoveries.com/DRC.
Travel Protection Available?
Yes, see CountryTravelDiscoveries.com/TravelProtectionPlan.
Terms & Conditions
Tour reservations are subject to the terms and conditions on our website at CountryTravelDiscoveries.com/terms.
Groups
Have a group? We can make your group's vacation cost-effective and easy, with discounts for groups as small as five and other benefits. Learn more at CountryTravelDiscoveries.com/groups.
Share it
---