Embark on a once-in-a-lifetime scenic adventure of Yellowstone National Park as we celebrate the 150th Anniversary of the park. Witness amazing animal sightings including beavers, moose, bison, and a horse drawn sleigh ride on the glistening snow. A free day is featured to satisfy your spirit on a snowmobile tour or see a wolf pack at the Grizzly and Wolf Discovery Center. Famous for its geysers and hot springs, Yellowstone will live up to its reputation.

Spend 2 full days in America's 1st National park during the 150th Anniversary year of the park
Enjoy a delicious lunch at Old Faithful Snow Lodge and see an eruption of Old Faithful

Take an optional snowmobile tour into the park
A winter wonderland awaits on a sleigh ride through the heart of Paradise Valley

Cowboy cookout, entertainment and covered-wagon ride at Cache Creek Canyon
Spend 2 nights at Chico Hot Springs Resort & Spa
Bag handling (1 per person) at hotels
Fees/tips for included attractions/meals
Free airport shuttle or hotel parking
Welcome reception, 24-hour emergency call service, free bottled water on coach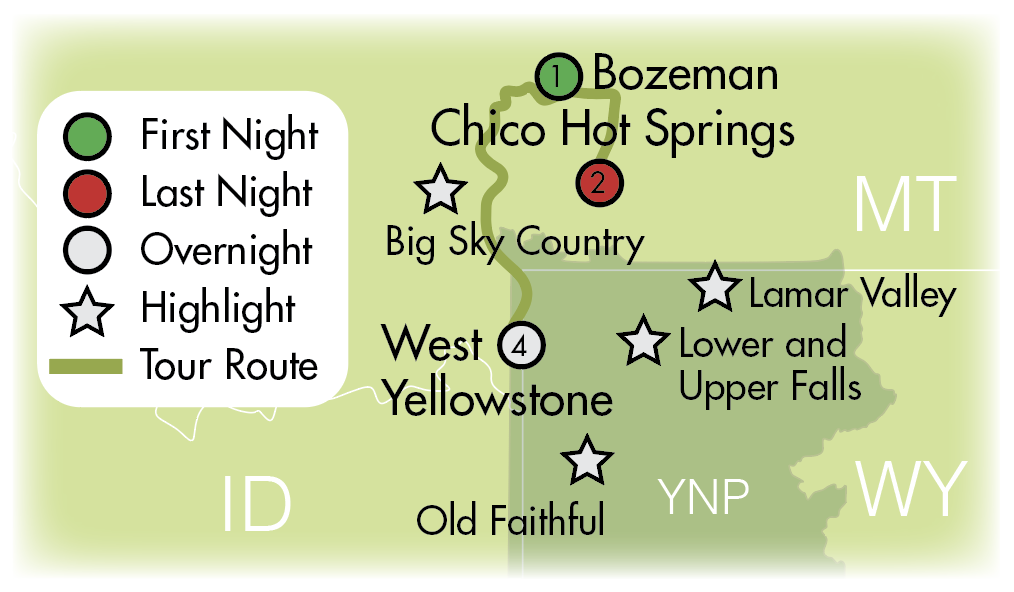 DAY 1—BOZEMAN
Arrive in Bozeman to meet your fellow travelers and Discoveries Director for a welcome dinner and overnight stay. D

DAY 2—WEST YELLOWSTONE
Start the day at the Museum of the Rockies for a detailed history of the area dating all the way back to the time of the dinosaurs. Depart Bozeman and enjoy a delicious Montana lunch in Big Sky before continuing to West Yellowstone and unpacking for four nights at the Holiday Inn. B, L
DAY 3—YELLOWSTONE NATIONAL PARK AND OLD FAITHFUL
Board our private heated snow coaches for an incredible excursion through Yellowstone Park to Old Faithful. Ride along groomed snow packed roads as our knowledgeable guide narrates a visit through the world's most concentrated geothermal and wildlife areas. Did you spot a shaggy herd of bison? The scenery is stunning at Fountain Paint Pots, Biscuit Basin and Madison Junction. Arrive Old Faithful Snow Lodge for lunch and free time to see an eruption of Old Faithful. B, L
DAY 4—WINTER WONDERLAND, AS YOU PLEASE
Today is your day at leisure to choose the activities that most interest you. Your tour manager will be available to help you make arrangements. There are many ways to sightsee the area including but not limited to: visit the Grizzly & Wolf Discovery Center to experience an awe-inspiring wolf pack and watch the intriguing behavior of grizzly bears; relax and explore the Gallatin Forest for more photos; or satisfy your spirit for mild adventure and book a snowmobile tour into Yellowstone. They say if you can steer a lawnmower you can pilot a snowmobile! B
DAY 5—YELLOWSTONE NATIONAL PARK'S GRAND CANYON
Gather your camera and board heated snow coaches and trek on a guided tour with a local park expert deep into Yellowstone. See the famous sights without the crowds and with more animal sightings than in summer. Who will be first to spot a Trumpeter Swan? The scenery is stunning as we see steam and hot plumes of water mix with freezing temperatures at Beryl Springs, Gibbons Falls and the splendor of the Yellowstone's Grand Canyon's Lower and Upper Falls. B, L, D
DAY 6—BIG SKY SLEIGH RIDE
Travel north to Big Sky and a 111-year-old homestead, the 320 Guest Ranch, for a cowboy inspired lunch. Enjoy a sleigh ride pulled by horses. What a treat! Arrive at the heart of Paradise Valley in the foothills of the Absaroka Mountains and unpack for two nights at the rustic Chico Hot Springs Resort & Day Spa. Perhaps you will want to take a plunge in the natural mineral hot springs pool or enjoy a warm beverage in the western Chico Saloon. B, L
DAY 7—LAMAR VALLEY
In 1995, wolves were reintroduced into Yellowstone and many have made Lamar Valley their home. Travel to this "American Serengeti" and see abundant wildlife, easier to spot against the white background of snow. Especially in the winter, wolves, bighorn sheep, bison, elk and river otters frequent this area because the lower elevation affords thinner ice to break through to vegetation below. B, D
DAY 8—FAREWELL
This morning we say farewell to our new friends as we make our way to Bozeman and begin the journey home. B
Quality Accommodations:
Night 1: Best Western Plus Grantree Inn, Bozeman, MT
Nights 2-5: Holiday Inn, West Yellowstone, MT
Nights 6-7: Chico Hot Springs Resort & Day Spa, Pray, MT
Dates:
Jan 12-19, 2022

Price Per Person:
Double $2,517
Single $2,875
Depart/Return: Bozeman, MT

Pre-/Post-Tour Hotel: $128/night
Average Temps
Highs upper 20's to mid 30's/lows teens in the evenings
Time Zone
Mountain
Arrival Time
Schedule to arrive at our starting hotel by 5:00 p.m. on Day 1.
Departure Time
Schedule your flight home to depart the Bozeman/Yellowstone Int'l Airport any time after breakfast on Day 8.
Airport Info
Our starting hotel offers complimentary shuttle service to/from the Bozeman/Yellowstone Int'l Airport.
Vehicle Parking
Our starting hotel offers complimentary parking for the duration of the tour.
Walking Distance
Moderate walking at a leisurely pace is required to fully enjoy this tour. Some walking will be on uneven paths.
Currency
US Dollar
Hotel Amenities
Hair dryers, irons, ironing boards & coffee makers throughout tour. Refrigerators, WiFi, exercise room and swimming pool available at most hotels.
Additional Information
Elevations reach 7,700 feet on this tour.
Dress on tour is casual. Plan for winter outerwear, heavy winter coat, hat, mittens or gloves, winter boots.
Further information is mailed upon receipt of your reservation. A total of three mailings are sent to assist you in preparing for your tour…Get Ready, Get Set and Go! Our "Get Ready" packet is sent confirming your reservation. Our "Get Set" packet provides further information approximately 90 days prior to departure with important details regarding making your travel arrangements. Finally, our "Go" packet arrives 2-3 weeks before departure containing your final documents.
Updates
Updates to this document are available from our Discovery Reservations Team, and will be posted online at www.CountryTravelDiscoveries.com/WIY
Travel Protection Available?
Yes, see CountryTravelDiscoveries.com/TravelProtectionPlan.
Terms & Conditions
Tour reservations are subject to the terms and conditions on our website at CountryTravelDiscoveries.com/terms.
Groups
Have a group? We can make your group's vacation cost-effective and easy, with discounts for groups as small as five and other benefits. Learn more at CountryTravelDiscoveries.com/groups.
Share it
---