Discover the most picturesque town in Kentucky, see the largest collection of White Christmas memorabilia, gaze in awe at the ARK Encounter and the Creation Museum – and we're just getting started! A visit to Kentucky would not be complete without a stop at Churchill Downs, home of the Kentucky Derby. We'll also visit artisans in Berea where we will watch them hone their craft. Get ready for a taste of the Bluegrass State as we travel its hilly backroads on a journey you'll always cherish.
Tour the most authentic full-size replica of Noah's Ark in the world at ARK Encounter
Learn about the strength and spirit of the horse at the Kentucky Horse Park
Visit Berea, the Arts & Crafts capital of the Bluegrass State
Guided tour of one of the most iconic 19th-century homes in America, My Old Kentucky Home
Backstretch breakfast & historic walking tour at Churchill Downs
See Biblical History come to life at the world-class Creation Museum
Bag handling (1 per person) at hotels
Fees/tips for included attractions/meals
Free airport shuttle or hotel parking
Welcome reception, 24-hour emergency call service, free bottled water on coach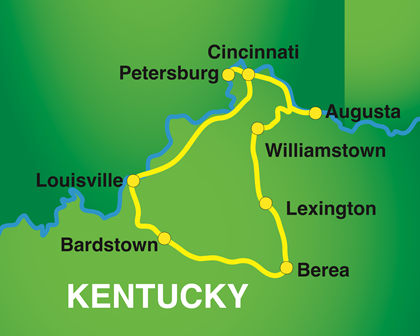 DAY 1–WELCOME TO THE BLUEGRASS STATE
Enjoy meeting your fellow travelers and Discovery Director at a welcome reception.
DAY 2–AUGUSTA/ROSEMARY CLOONEY MUSEUM/ARK ENCOUNTER
Awarded "Most Picturesque Town in Kentucky" by USA Today, located on the southern bank of the Ohio River, we visit the charming little town of Augusta. As the home of entertainment icon Rosemary Clooney for more than 20 years, the Rosemary Clooney House/Museum displays the largest collection of White Christmas memorabilia in the world, plus artifacts from her career and private life. After lunch, possibly our biggest highlight of the day is literally huge in size and stature – the ARK Encounter! The ARK Encounter features a full-size Noah's Ark, built according to the dimensions given in the Bible. Spanning 510 feet long, 85 feet wide, and 51 feet high, this modern engineering marvel amazes visitors young and old. B, L
DAY 3–KY HORSE PARK/KY ARTISAN CENTER/BOONE TAVERN
We start our day at the Kentucky Horse Park and Museum in Lexington where we will be enchanted by the beauty, strength and spirit of the horse. Our stop includes a visit to the world-renowned International Museum of the Horse, an affiliate of the Smithsonian Institution. Next, we travel to Berea, located at the foothills of the Appalachian Mountains. As the home of Berea College, students are required to work at least 10-15 hours per week in exchange for free tuition. Generous donors support the College to provide a high quality education for students from Appalachia with high academic potential and limited financial resources. Berea is also known as the Folk Arts and Crafts Capital of Kentucky. We'll make a stop the Kentucky Artisan Center where everything is Made in the Bluegrass State. Learn about the heritage, craft and time-honored traditions of Kentucky's people. No trip to Berea is complete without visiting and enjoying a meal from the Historic Boone Tavern Hotel & Restaurant. Built in 1909 on the old "Dixie Highway," this establishment was named after Kentucky explorer Daniel Boone. The tavern is delightfully furnished with handcrafted wooden furniture made by Berea College students. We'll start off our meal with tasty spoonbread and enjoy locally grown items from the Berea College Farm followed by a local father/daughter team performing traditional Appalachian music. B, D
DAY 4–SHAKER VILLAGE/MY OLD KY HOME PARK/LOUISVILLE
Today we begin our journeys with a visit to Shaker Village. Following a guided tour we have time to explore this 19th-century village, home to the third largest Shaker community in the United States between 1805 and 1920. Before departing we'll enjoy a traditional Kentucky lunch prepared with straight from the-garden ingredients at Shaker Village. This afternoon, we will visit the homestead that inspired Stephen Foster's famous "My Old Kentucky Home". Commissioned by Scotch-Irish immigrant John Rowan Sr., the main building is a Federal-style mansion and the centerpiece of this 1,300 acre plantation. Interestingly, in 1923, "My Old Kentucky Home" became Kentucky's first state-owned park. A few years later, the song "My Old Kentucky Home" officially was designated as the state song of the Bluegrass State. This 200 year old mansion is filled with many of the original Rowan Family belongings. Here, take a step back in time as you watch, learn and taste the secrets of making the perfect southern biscuits. Continue on to Louisville for the next two evenings. B, L
DAY 5–CHURCHILL DOWNS/EVAN WILLIAMS BOURBON
There's no experience quite like a private, behindthe- scenes tour of Churchill Downs Racetrack. Enjoy breakfast in the Horsemen's Track Kitchen with the jockeys and trainers, see the horses training rail side and learn about everyday life at the track. Be sure to bring your cameras—you will get an up close and personal view of the horses, jockeys and trainers. Next, we cruise the mighty Ohio River and enjoy a delectable Southern-style lunch. As we soak up the history of Louisville this afternoon, we soon savor the city's "Whiskey Row" with a visit to the Evan Williams Urban Bourbon Experience. Afterwards, enjoy some free time in the very walkable downtown area, where you could visit the Slugger Museum, Frazier History Museum or the Muhammad Ali Center. B, L
DAY 6–CREATION MUSEUM/HOME
Our travel together concludes in Petersburg, where Biblical history comes to life at the Creation Museum. This state-of-the-art museum allows you to venture through religious history, stunning exhibits, botanical gardens, a fascinating planetarium, Zoo and more. Head home amazed by the sights and good people of "The Bluegrass State". B, L

Quality Accommodations
Night 1:Hyatt Place, Cincinnati Airport
Night 2:Fairfield Inn & Suites, Lexington
Night 3:Historic Boone Tavern Hotel, Berea
Nights 4-5: The Galt House Hotel, Louisville

Dates:
Sep 19-24, 2020
Oct 24-29, 2020
Price Per Person:
Double $1,497;
Single $1,885
Pre-/Post-Tour Hotel: $158/night
Average Temps
September/October – high 76/low 55
Time Zone
Eastern
Arrival Time
Schedule to arrive at our starting hotel by 5:00 p.m. on Day 1.
Departure Time
Schedule your flight home to depart the Cincinnati/Northern Kentucky International Airport (CVG) any time after 4:30 p.m. on Day 6.
Airport Info
Our starting hotel offers complimentary shuttle service to/from the Cincinnati/Northern Kentucky International Airport (CVG)
Vehicle Parking
Our starting hotel offers complimentary parking for the duration of the tour.
Walking Distance
Moderate walking at a leisurely pace is required to fully enjoy this tour. Some walking will be on uneven paths.
Currency
US Dollar
Hotel Amenities
Hair dryers, irons, ironing boards & coffee makers throughout tour. Refrigerators, WiFi, exercise room and swimming pool available at most hotels.
Additional Information
Sunscreen, sunglasses, hat, visors and comfortable walking shoes will add to your enjoyment of this tour.
Dress on tour is casual.
Further information is mailed upon receipt of your reservation. A total of three mailings are sent to assist you in preparing for your tour…Get Ready, Get Set and Go! Our "Get Ready" packet is sent confirming your reservation. Our "Get Set" packet provides further information approximately 90 days prior to departure with important details regarding making your travel arrangements. Finally, our "Go" packet arrives 2-3 weeks before departure containing your final documents.
Updates
Updates to this document are available from our Discovery Reservations Team, and will be posted online at CountryTravelDiscoveries.com/ARK
Travel Protection Available?
Yes, see CountryTravelDiscoveries.com/TravelProtectionPlan.
Terms & Conditions
Tour reservations are subject to the terms and conditions on our website at CountryTravelDiscoveries.com/terms.
Groups
Have a group? We can make your group's vacation cost-effective and easy, with discounts for groups as small as five and other benefits. Learn more at CountryTravelDiscoveries.com/groups.

Share it
---