What's there to see in Kansas? Only a picturesque Swedish town adorned with custom made wooden "Dala" horses, an abundance of sunflower and wheat fields, an underground salt mine and so much more! Kansas is a slice of classic America with its rugged cowboy culture and sweeping prairies. We'll meet all kinds of people from a Cowboy Poet to a National Geographic Photographer who will regale you with stories of his travels. Walk with us through the tallgrass prairies and experience Kansas like you've never seen it before.

Visit the expansive Tallgrass Prairie National Preserve
Explore the quaint Swedish town of Lindsborg
Travel 650 feet underground to an active salt mine
Meet working sunflower, wheat and pecan farmers
Tour the Dwight D. Eisenhower Presidential Library & Museum and Boyhood Home
Bag handling (1 per person) at hotels
Fees/tips for included attractions/meals
Free airport shuttle or hotel parking
Welcome reception, 24-hour emergency call service, free bottled water on coach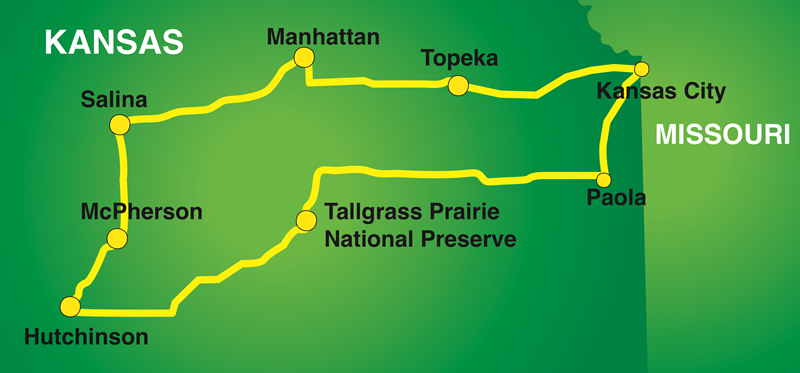 DAY 1—WELCOME TO THE HEART OF AMERICA
Welcome to the "Sunflower State"! This evening, meet your fellow travelers and Discovery Director at our welcome reception at our Kansas City area hotel.
DAY 2—SUBTROPOLIS /HALLMARK/CARGILL
Start today with a guided tour of Subtropolis, the world's largest underground business complex. Sprawling over 6,000,000 square feet, this state of the art business center is home to over 55 companies and 2,000 employees! Then, head over to the Hallmark Visitors Center where we see the beginnings of this billion-dollar company and meet the minds behind those iconic holiday cards. After lunch, Lawrence's own "Waxman" Bob & Deborah Werts shows us all we need to know about the fine art of candle making at Waxman Candles. The final visit of the day will take you to the massive Cargill Grain Elevator in Topeka. Here we will go behind-the-scenes to explore the elevator and learn how the grains are stored here for later shipment. B, L
DAY 3—TRAIN DEPOT/EVEL KNIEVEL/FLINT HILLS DISCOVERY CENTER
Step back in time this morning at Topeka's Overland Park Train Depot. In period dress, Fred Harvey Girls will serve a one of a kind breakfast followed by a tour of the depot. Then, we speed things up as we head to the state-of-the-art Evel Knievel Museum showcasing an impressive collection of artifacts that belonged to the daredevil. Later, we will travel to the "Little Apple" also known as Manhattan, Kansas for a stop at the newly opened Dream Car Collection. Rev up your engines for a look at pristine classic cars including Sonny and Cher's matching 1966 Mustangs! Finally, we visit the Flint Hills Discovery Center that celebrates the history and culture of the surrounding Flint Hills and Tallgrass Prairie. B, L
DAY 4—EISENHOWER PRESIDENTIAL LIBRARY/LINDSBORG/DALA HORSES
Today we visit President Dwight D. Eisenhower's Presidential Library & Museum at his boyhood home in Abeline. Then, ¡Ja! it's off to the quaint Swedish town, Lindsborg. This charming town offers an outstanding selection of Scandinavian arts and crafts. Next is Coronado Heights, where it's rumored that Francisco Válasquez de Coronado gave up his search for the seven cities of gold and returned home. We'll stay for a bit longer to admire the beauty of the Smoky Valley. After taking in the sights, we'll visit the Hemsjold to watch craftsmen create the town's signature Dala Horses. Later this afternoon, Jim Richardson will tell us about his life as a National Geographic photographer for 35 years. Being around the world five times from the Artic to Antarctica and many places in between, Jim will discuss the spectacular places and people he has met along the way. B, L
DAY 5—MAXWELL WILDLIFE REFUGE/SUNFLOWER & WHEAT FARMER
After breakfast, take a short ride to the Maxwell Wildlife Refuge. Here, we'll see how the prairie existed hundreds of years ago with herds of Buffalo and Elk living off the range. On our prairie adventure, buffalo are up close and personal in their natural habitat. After our close encounter, we'll visit the Amish community of Yoder to enjoy a family style meal including freshly baked pie. Then, get ready to descend 650 feet into a state-of-the-art active salt mine. View the raw mine as it was left more than 50 years ago, as well as where a majority of the Midwest's road salt is mined. After you return "top-side" we'll learn about what Kansas is best known for, sunflowers and wheat. Farmer Cameron Peirce will show you his fields golden wheat (June tour) and blooming sunflowers (September tour). Our October travelers will get a taste of both sunflowers and wheat. B, L
DAY 6—TALLGRASS PRAIRIE NATIONAL PRESERVE/GYPSY HORSES
You've heard about it throughout Kansas, but now it is time to see the Tallgrass Prairie National Preserve. Be swept away by the tallgrass that once covered 170 million acres of North America. Next, we travel to Council Grove, one of the last stops on the Santa Fe Trail by the pioneers. For lunch today, we dine at the oldest continuously-operating restaurant west of the Mississippi River, the Hays House. From its humble beginnings as a log structure, to a general store and even a barbershop at one point, the Hays House could tell many stories. Afterwards, we trot over to Flynt Hylls Gypsy Horses to meet some gentle giants. We'll have a behind-the-scenes look at what it takes to raise these beautiful animals, watch demonstrations and even visit the foaling barn to meet some new arrivals. Tonight, enjoy a special farewell dinner with your fellow travelers. B, L, D
DAY 7—PECAN FARM/FAREWELL
This morning, Lila and Brad Carter invite us to their sprawling Pecan Farm. Starting in 1994 with only 200 saplings, their pecan operation has grown to over 1,900 trees with 600 of them bearing USDA-improved variety pecans. They will share their insights in growing Pecans and— for October travelers—demonstrate the harvesting of the tree! We head back to the City of Fountains, Kansas City with fond memories of the rolling Flint Hills, and our hospitable hosts from the 'Sunflower State'. B

Quality Accommodations
Night 1: Four Points by Sheraton, Kansas City, MO
Night 2: Topeka Courtyard Marriott, Topeka, KS
Night 3: Fairfield Inn & Suites, Manhattan, KS
Night 4: Hampton Inn & Suites, McPherson, KS
Night 5: Holiday Inn Express, Hutchinson, KS
Night 6: Paola Inn & Suites, Paola, KS
Dates:
Jun 13-19, 2021 Limited Space
Aug 29-Sep 4, 2021
Oct 17-23, 2021
Price Per Person:
Double $1,547;
Single $1,895
Pre-/Post-Tour Hotel: $138/night
Depart/Return:
Kansas City, MO
Average Temps
June – high mid 80's, lows mid 60's
September/October – high upper 80's, lows mid 60's
Time Zone
Central
Arrival Time
Schedule your flight to arrive by 5:00 p.m. on Day 1.
Departure Time
Schedule your flight home to depart the Kansas City International Airport any time after 2:00 p.m. on Day 7.
Airport Info
Our starting hotel offers complimentary shuttle service to/from the Kansas City International Airport.
Vehicle Parking
Our starting hotel offers complimentary parking for the duration of the tour.
Walking Distance
Moderate walking at a leisurely pace is required to fully enjoy this tour. Some walking will be on uneven paths.
Currency
US Dollar
Hotel Amenities
Hair dryers, irons, ironing boards & coffee makers throughout tour. Refrigerators, WiFi, exercise room and swimming pool available at most hotels.
Additional Information
Sunscreen, sunglasses, hat, visors and comfortable walking shoes will add to your enjoyment of this tour.
Dress on tour is casual.
Further information is mailed upon receipt of your reservation. A total of three mailings are sent to assist you in preparing for your tour…Get Ready, Get Set and Go! Our "Get Ready" packet is sent confirming your reservation. Our "Get Set" packet provides further information approximately 90 days prior to departure with important details regarding making your travel arrangements. Finally, our "Go" packet arrives 2-3 weeks before departure containing your final documents.
Updates
Updates to this document are available from our Discovery Reservations Team, and will be posted online at www.CountryTravelDiscoveries.com/KAN
Travel Protection Available?
Yes, see CountryTravelDiscoveries.com/TravelProtectionPlan.
Terms & Conditions
Tour reservations are subject to the terms and conditions on our website at CountryTravelDiscoveries.com/terms.
Groups
Have a group? We can make your group's vacation cost-effective and easy, with discounts for groups as small as five and other benefits. Learn more at CountryTravelDiscoveries.com/groups.

Share it
---