Tour beautiful Midwest Main Streets as seen on John McGivern's Main Streets TV Show. This tour's unique itinerary includes a visit to Antique Archeology from the History Channel's American Pickers, a stop at the Buffalo Bill Museum, and a special performance by John just for our group. This tour also provides an opportunity for travelers to go behind the scenes with John as he films a new episode for John McGivern's Main StreetsTM.
Experience several stops featured on "John McGivern's Main Streets™
Tag along as the crew shoots an episode of John McGivern's Main Streets™
Private evening performance with John McGivern — stories you won't hear anywhere else!
Learn about the Mississippi River at the Buffalo Bill Museum and National Mississippi River Museum.
Go goat trekking and meet the Trolls of Mt. Horeb.
Tour the Grant Home and enjoy free time in Galena, IL on historic Main Street.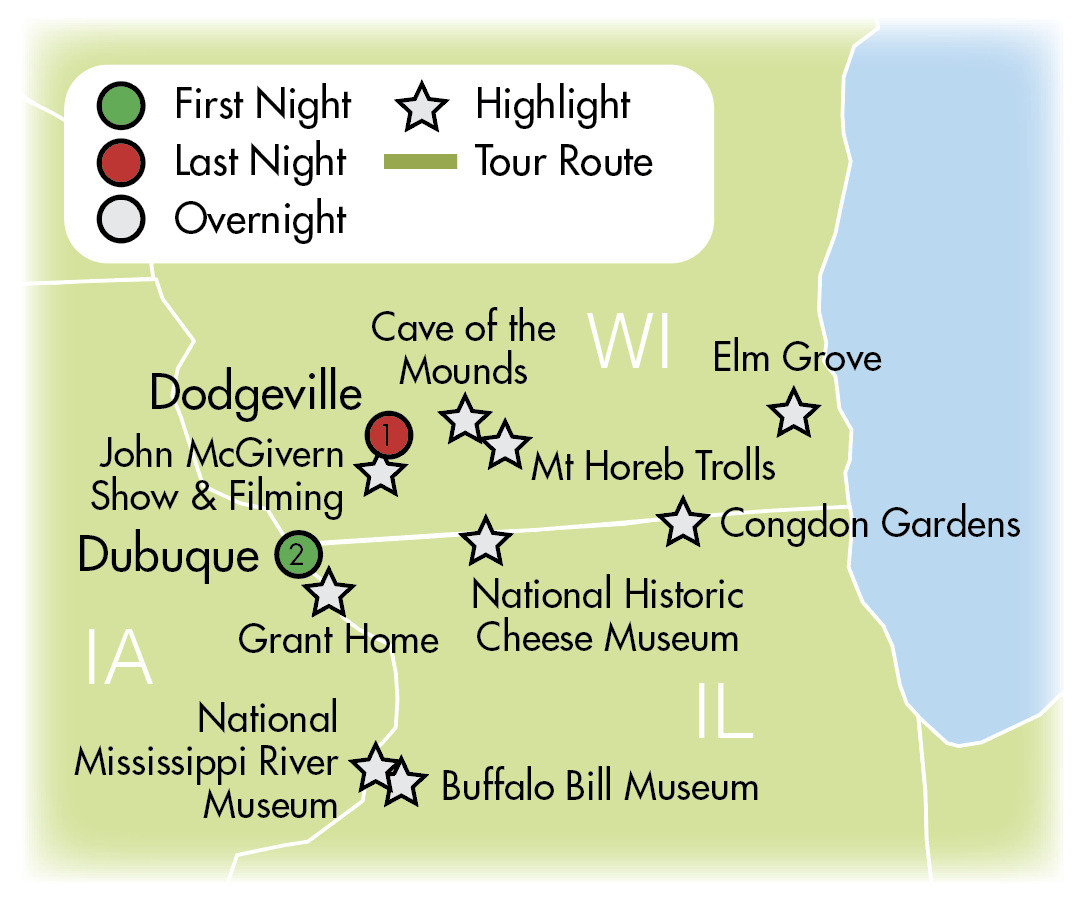 DAY 1—WELCOME BREAKFAST/GARDEN/CHEESE MAKING/TOY TRAINS
Welcome! Today we'll meet your Discoveries Director and fellow travelers for breakfast in Elm Grove, WI. Board our deluxe motorcoach and travel to Congdon Gardens in Delevan for a guided tour to enjoy the display of flowers, shrubs and trees that surround a serene pond. After lunch, we'll visit the National Historic Cheesemaking Center for a tour from retired cheesemakers and knowledgeable docents. You'll hear stories of cheese making from the late 1800's to current times, along with a variety of other interesting dairy facts! Next we'll visit the Toy Train Museum to see an amazing collection of toy and model trains by local Wisconsinite Buck Gutherie. Tonight we stay overnight at the elegant Hotel Julien in Dubuque. B, L
DAY 2—LECLAIRE, IA/MISSISSIPPI RIVER
Today we will be all about the great Mississippi River! After a delicious breakfast at our hotel we will head to the historic Mississippi river town of LeClaire, IA – the birthplace of Buffalo Bill. First we will visit the Buffalo Bill Museum. This museum was established in 1957 and features life along the Mississippi River and local history of LeClaire. The museum is also home to the Lone-Star, a wooden paddlewheel towboat powered by steam. Next, we will head to Antique Archeology where the American Pickers Show on History Channel is filmed. Here you will get the chance to look around at some of the best picks. After lunch we will learn about the Mississippi River Distilling Company that was started by two brothers back in 2010 and participate in a tasting of their craft spirits. This afternoon we will make our way back to Dubuque and explore the National Mississippi River Museum and Aquarium, an affiliate of the Smithsonian Institute. We stay for another overnight at the Hotel Julien in Dubuque. Some may wish to join an optional excursion up the world's shortest and steepest scenic railway, known as the Fenelon Place Elevator or 4th Street Elevator. At the top marvel at the spectacular views of Iowa, Wisconsin, and Illinois. B, L
DAY 3—GRANT HOME/GALENA, IL/GOATS/JOHN MCGIVERN PRIVATE SHOW
This morning we head over to Galena, IL where history will come alive as we have a guided tour of Ulysses S. Grant's Home. This residence was given to Grant and his family in 1865 when he returned to Galena as a Civil War hero. The house is now listed on the National Register of Historic Places and is fully furnished as it was back in the 1800's. Today you will have some free time to explore Galena historic Main Street with over 125 shops and restaurants. Grab a bite to eat or an ice cream cone while you stroll down this 1800's downtown with original buildings and fascinating shops. This afternoon we visit a family farm that's been in the family for four generations. This unique farm experience will be one to remember as we take a guided walk through the families' native forest and prairies as friendly baby goats follow along. We'll say goodbye to our new friends and head to Dodgeville, WI where we will meet John McGivern for dinner and a special performance given by John just for our group. Get ready to laugh as you experience John McGivern Main Streets™ in person — a joyous, once-in-a-lifetime experience. B, D
DAY 4—MAIN STREETS FILMING/CAVE OF THE MOUNDS /MOUNT HOREB/HOME
After breakfast at our hotel, we stop to see John McGivern in action as he films part of the Dodgeville episode of John McGivern's Main Streets™. This will be a unique, behind-the scenes view of how the cast and crew create this new television show! When shooting wraps up we will enjoy a delicious lunch and head to Blue Mounds, WI. In Blue Mounds we will enjoy a guided tour of the magnificent natural limestone cave at Cave of the Mounds. Next, Velkommen to Mount Horeb where the trolls play and Norwegian heritage delight. A troll expert will board our bus and give us a guided tour of the over 35 trolls wandering around the town. We then will make our way back to Elm Grove with new friends and incredible memories! B, D


QUALITY ACCOMMODATIONS

Nights 1-2: Hotel Julien, Dubuque, IA
Night 3: AmericInn by Wyndham, Dodgeville, WI
Dates:
Sep 26-29, 2022
Price Per Person*:
Double: $1,197; Single: $1,415
Pre/Post Hotel:
$148/night

Depart/Return:
Elm Grove, WI

*Due to special group pricing, this tour is not eligible for any discounts.

Average Temp
September- high mid 70's/low 50's

Time Zone
Central
Arrival Time
Schedule to arrive at our breakfast meeting by 7:45 a.m. on Day 1.
Departure Time
Schedule flights to depart after 8:00 p.m. on Day 4. If you are driving to the tour, we will arrive to our office at 6:00 p.m.
Vehicle Parking
Complimentary parking is offered during the tour at the Plaza Building, located at 13500 Watertown Plank Rd. which shares a parking lot with Country Travel Discoveries.
Walking Distance
Moderate walking is required to fully enjoy this tour.
Currency
US Dollar
Hotel Amenities
Hair dryers, irons, ironing boards & coffee makers throughout tour. Exercise room and swimming pool available at most hotels.
Additional Information
Further information is mailed upon receipt of your reservation. A total of three mailings are sent to assist you in preparing for your tour…Get Ready, Get Set and Go! Our "Get Ready" packet is sent confirming your reservation. Our "Get Set" packet provides further details approximately 90 days prior to departure with important information regarding making your travel arrangements. Finally, our "Go" packet arrives 2-3 weeks before departure containing your final documents.
Updates
Updates to this document are available from our Discovery Reservations Team, and will be posted online at CountryTravelDiscoveries.com/JMS.
Travel Protection Available?
Yes, see CountryTravelDiscoveries.com/TravelProtectionPlan.
Terms & Conditions
Tour reservations are subject to the terms and conditions on our website at CountryTravelDiscoveries.com/terms.

Share it
---