From the traditional food, music and dancing to the breathtaking scenery and bustling cities, this route through Ireland and Northern Ireland is nothing short of magical. Travel along the dramatic Cliffs of Moher and the 60-million-year-old "lunar" landscape of the Giant's Causeway, often called the "Eighth Wonder of the World". Take a historical tour of Belfast, the capital of Northern Ireland, offering awe-inspiring views of the Lagan River Valley, and the famous Falls and Shankill Road regions. Relive the days of colorful chieftains and kings at world-renowned Blarney Castle. Equally wonderful are the authentic encounters with local craftsmen and farmers.


Capital city tours in Dublin and Belfast
Stunning landscapes at Cliffs of Moher, The Burren, Killarney National Park and Giant's Causeway
Blarney Castle, Carrick-a-Rede Rope Bridge, Trinity College, Titanic Belfast
Traditional dinner and Irish folkloric show at historic Kate Kearney's Cottage

Old Jameson Distillery & Guinness Storehouse tours
Visit Muckross House & Gardens
Bag handling (1 per person) at hotels
Entrance fees for included attractions and gratuities for included meals
Welcome dinner, 24-hour emergency call service, round-trip air from U.S.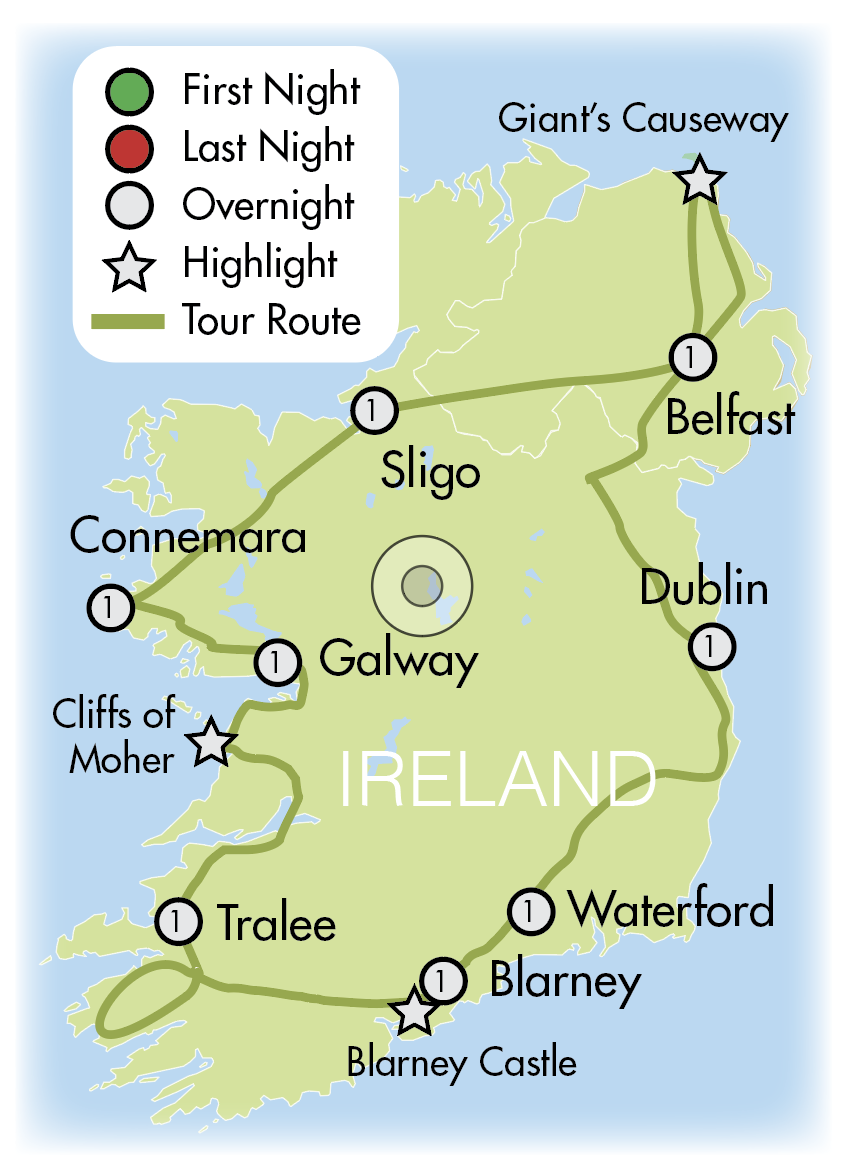 DAYS 1-2–CHICAGO/DUBLIN/IRISH NATIONAL STUD AND GARDENS
Welcome to Ireland! You'll meet up with your tour director at the Dublin airport. Board your motor coach for a scenic ride to the Irish National Stud Horse Farm and Japanese Gardens. Enjoy a delicious lunch and see both the extraordinary horses and the elaborate gardens, planted back in the early 1900s. Continue to Waterford and check-in at your hotel. Then, we will have a welcome reception and traditional Irish dinner to round out the first full day. L, D

DAY 3–WATERFORD/WOOLLEN MILLS/BLARNEY STONE
Begin the day at Waterford Crystal. A unique highlight of a visit is the factory tour, which provides up-close insight into the centuries-old tradition of Waterford Crystal making. Feel the heat of the furnace and marvel at the skills of the craftsmen. After the tour, browse the world's most famous crystal store, which houses the largest collection of Waterford Crystal found anywhere in the world. Continue the journey to Blarney to visit historic Blarney Castle, famous for its Blarney Stone. Then, on to Blarney Woollen Mills, where the presence of the mills during the Irish famine shielded Blarney from the worst effects of the blight due to its employment of local workers. The mill continues to operate today; we'll hear the historic story and perhaps find a unique souvenir or two. Onward to Tralee for the next two nights. B
DAY 4–MUCKROSS HOUSE AND GARDENS/RING OF KERRY/KATE KEARNEY'S COTTAGE
This morning visit Muckross House & Gardens, a 19th Century Victorian mansion set among the beauty of Killarney National Park. Today, the rooms are furnished in period style and portray the elegant lifestyle of the nineteenth century landowning class. In the basement, one can imagine the busy bustle of the servants as they went about their daily chores. After the tour of the home, stroll through the magnificent gardens. Then, stop at the Salmon Smokery in Kenmare, where you will learn the traditional fish smoking method and enjoy a tasting. Following lunch, you'll be mesmerized by breathtaking scenery along the famous Ring of Kerry, including Ladies View, Molls Gap, and the magnificent Kerry Mountains. Conclude the day at Kate Kearney's Cottage for a folkloric evening of food, song, and dance. B, D
DAY 5–BURREN NATIONAL PARK/CLIFFS OF MOHER/RATHBAUN FARM
This morning, explore Burren National Park, which features magnificent rocky scenery and amazing flora and fauna in its diverse ecosystem. Of Ireland's 900 native plant species, the Burren is home to 70% of them. The highlight of our day is a stop at the majestic Cliffs of Moher, one of Ireland's most spectacular sights! Situated on the Atlantic Ocean and bordering the Burren region, the Cliffs of Moher are one of Ireland's most spectacular sights. Standing 750 feet above the ocean at their highest point and 5 miles long, the Cliffs boast one of the most amazing views in Ireland. On a clear day, the Aran Islands are visible in Galway Bay as well as the valleys and hills of Connemara. The cliffs reach their highest point just north of O' Brien's Tower built by Cornelius O' Brien, a descendant of Brian Boru, to entertain his lady friends. The sweeping view across the Atlantic has recently been ranked the best 'cliff-view' on the planet by Conde Nast Traveler magazine. Next, visit Rathbaun Farm, situated in a rural area of Southwest County Galway near Ardrahan. The Burke and Connolly family have been farming the 80 acres of land for more than 200 years and Fintan Connolly continues this tradition today. The main livestock are sheep along with some cows and horses. Visitors to Rathbaun Farm will become enchanted by its thatched cottage home, turf fire, stone walls, and an array of animals. The land is limestone, free-draining soil currently in permanent pasture and in organic conversion. Time spent here gives a glimpse into the daily workings of a sheep-farm with plenty of time to see the animals, feed the lambs in season, talk to the family and explore the farmyard. Tonight, call Galway "home." B, D

DAY 6–KYLEMORE ABBEY/QUIET MAN MUSEUM
In the morning, visit Kylemore Abbey, a monastery of Irish Benedictine nuns, founded in 1920 on the grounds of Kylemore Castle. It is famous for its miniature cathedral and Victorian walled gardens. Visit the village of Cong, where the Quiet Man Museum is located. Enjoy a walking tour, seeing the film locations, including an exact replica of the White O'Morn cottage from the movie. Painstaking effort has ensured that the furnishings, artifacts, and costumes are authentic reproductions. The four poster bed, the tables and chairs which Mary Kate cherished, the thatched roof, emerald green half door, and white washed front combine to charm all those who visit it. This afternoon, continue north to Sligo through gorgeous pastoral Irish scenery including rolling hills, crystal-clear streams, and lake-lapped valleys. B, D
DAY 7–ATLANTIC SHEEPDOG FARM/BELEEK POTTERY FACTORY
This morning, visit the Atlantic Sheepdog Farm overlooking Streedagh Beach and the Benbulben Mountains. Experience life on an Irish sheep farm and watch a sheep-herding demonstration. Travel to the Beleek Pottery Factory to discover how world-renowned Parian China is molded, fired, and decorated by artists. You might take home a souvenir from the excellent retail shop. Then, it's time for a pub lunch before heading to Belfast, Northern Ireland later this afternoon. B, L
DAY 8–GIANT'S CAUSEWAY/CARRICK-A-REDE ROPE BRIDGE
After a delicious breakfast, we'll travel to the Antrim Coast to see majestic cliffs and the Giant's Causeway, often called the "Eighth Wonder of the World." Marvel at the outstanding beauty of the area famous for its local history and legends. We'll then visit Carrick-a-Rede Rope Bridge, which spans a chasm some eighty feet deep. Primarily a seasonal working bridge for fishermen, it connects a small island to the mainland. Return to the vibrant city of Belfast for dinner at your hotel. B, D
DAY 9–BELFAST CITY TOUR/TITANIC EXPERIENCE
Belfast, the capital of Northern Ireland, is a fascinating city. Our tour will offer awe-inspiring views of the Lagan River Valley, the historic City Hall, and the famous Falls and Shankill Road regions. We'll be offered insights into the turbulent history of the city and the reconciliation of its people. Then, visit the Titanic Experience Belfast, which recreates the story of the world's most famous ship in a new, iconic, six-floor building located next to the historic site of the ship's construction. Return to the Republic of Ireland and on to Dublin, making a lunch stop along the way. B
DAY 10–DUBLIN CITY TOUR/JAMESON DISTILLERY/GUINNESS STOREHOUSE
Begin your last full day in Dublin with a city tour, seeing the highlights, including: lush Phoenix Park, Europe's largest and most impressive park; Trinity College, Ireland's oldest university and home to the famous Book of Kells; Jameson Distillery for a guided tour; and finally the Guinness Brewery, Europe's largest stout producing brewery and home to the Guinness Storehouse. Opened in 1904, the Storehouse was an operational plant for fermenting and storing Guinness. Today, it houses a very fine exhibition dedicated to the Guinness story. You will discover what goes into the making a pint of Guinness - the ingredients, the brewing process, the time, the craft, and the passion. Later, enjoy a farewell dinner at your hotel in Dublin. B, D
DAY 11–DUBLIN/CHICAGO
Enjoy your final Irish breakfast before heading to the Dublin airport. You'll take home marvelous memories of the Emerald Isle. B
Quality Accommodations
Night 2: Granville Hotel, Waterford
Nights 3-4: Rose Hotel, Tralee
Night 5: Hardiman Hotel, Galway
Night 6: Clayton Hotel, Sligo
Nights 7-8: Grand Central Hotel, Belfast
Nights 9-10: Camden Court Hotel, Dublin
Dates:
Jul 11-21, 2022

Price Per Person:
Double $4,197; Single $4,875

Pre-/Post-Tour Hotel: $188/night

Depart/Return: Chicago, IL

Land only pricing available
Average Temps
Highs 60-66 / Lows 50-54
Time Zone
+6 hours ahead of Central Time
Arrival Time
Please schedule your flight into Chicago so that you arrive at the airport by 8:00 p.m. on Day 1. We will be using American Airlines Flight 208 departing at 10:15 p.m. on Day 1 from Chicago O'Hare International Airport. You will arrive in Dublin at 11:40 a.m. the next day.
Departure Time
Your return to Chicago O'Hare International Airport on Day 11 is American Airlines Flight 209, departing Dublin at 9:30 a.m. and arriving at 11:40 a.m. So, you may schedule your flight home from Chicago after 1:30 p.m. on Day 11.

Returning to the United States:

Dublin Int'l Airport allows US Residents to clear Passport Control/Customs in Ireland rather than upon your first point of entry into the US. This allows for a convenient and quick entry at your returning U.S. airport, similar to arrival on a domestic flight.
Airport Info

Hilton Garden Inn Chicago O'Hare offers complimentary shuttle service for Pre/Post Hotel accommodations.
Vehicle Parking
Free parking is offered during the tour at the Hilton Garden Inn Chicago O'Hare with Pre or Post tour night accommodations.
Walking Distance
Moderate to Extensive walking on uneven pavement and pathways is required to fully enjoy this tour.
Currency
Euro (Ireland); British Pound Sterling (Northern Ireland)
Hotel Amenities
Hair dryers, TV/cable, telephone, and Spa services available at hotels.
Additional Information
Flight time from Chicago to Dublin is 7 hours 20 minutes, Dublin to Chicago is 8 hours 20 minutes. These flights are non-stop.
Land Tours begin one day later. Airport transfers not included with Land Only Tours. Air & Land Tours include government imposed taxes, fees and airline fuel surcharges at time of printing.
Dress on tour is casual.
Further information is mailed upon receipt of your reservation. A total of three mailings are sent to assist you in preparing for your tour…Get Ready, Get Set and Go! Our "Get Ready" packet is sent confirming your reservation. Our "Get Set" packet provides further information approximately 90 days prior to departure with important details regarding making your travel arrangements. Finally, our "Go" packet arrives 2-3 weeks before departure containing your final documents.
Updates
Updates to this document are available from our Discovery Reservations Team, and will be posted online at www.CountryTravelDiscoveries.com/IRC.
Travel Protection Available?
Yes, see CountryTravelDiscoveries.com/TravelProtectionPlan.
Terms & Conditions
Tour reservations are subject to the terms and conditions on our website at CountryTravelDiscoveries.com/terms.
Groups
Have a group? We can make your group's vacation cost-effective and easy, with discounts for groups as small as five and other benefits. Learn more at CountryTravelDiscoveries.com/groups.

Share it
---