Feel like you are in the Netherlands without having to travel abroad – right in the heart of America! Named America's Best Small Town Festival by Reader's Digest, the Holland Tulip Festival has been held every May in Holland, Michigan since 1929. Experience the culture of the town at the Volksparade, enjoy Klompen dancing, America's only authentic working Dutch windmill, tasty Dutch food and of course thousands of colorful tulips.

Reserved grandstand seating for the Volksparade 'People's Parade'
Enjoy the Dazzle Tulip Time Showcases with over 25 brilliant acts of talented local singers, show choir and orchestral performances
Memorable Saugatuck Dune Ride with local guide
See America's only working Dutch windmill and one of the nation's most photographed lighthouses, 'Big Red'
Tour of Tulip City and Ottawa Beach with a step-on guide
View over 100,000 Tulips in and around Holland
Experience authentic Dutch culture at Neli's Dutch Village
See local artist beautiful quilts and tulip paintings on display
Free airport shuttle or hotel parking for duration of tour
Bag handling (1 per person) at hotels
Fees/tips included for attractions/meals
Welcome reception, 24-hour emergency call service, free bottled water on motor coach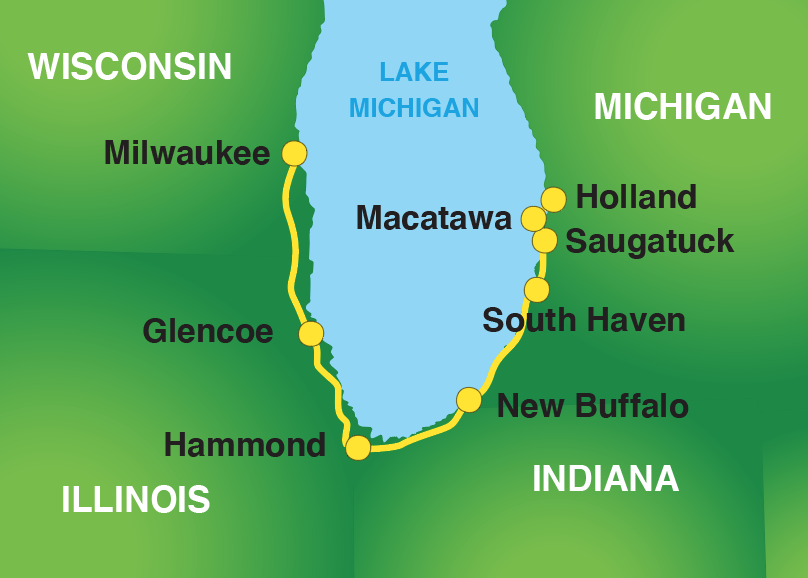 DAY 1 – WELCOME TO MILWAUKEE, WI
Welcome to Milwaukee, Wisconsin. This evening you'll meet your fellow travelers and Discoveries Director at our evening welcome reception at your chosen starting city. Tomorrow we will be off to Holland, Michigan for Tulip Fest!
DAY 2 – WELCOME TO MICHIGAN/SAUGATUCK SAND DUNES
We'll begin our travels to Holland after a delicious breakfast. This morning, we head south through Illinois to enjoy a tasty lunch in Indiana. Next, we journey to charming Saugatuck to hop aboard a comfortable Dune Buggy. We'll take a ride on the unique sand dunes that line Lake Michigan's eastern shore. Our guide will discuss the history of the town, how the sand dunes formed over the years and of course provide an exciting (but safe!) ride. Tonight we arrive in Holland, where we will unpack our bags for the next few days and partake in a memorable dinner. B, L, D
DAY 3 – WINDMILL ISLAND GARDENS/HOLLAND BOWL MILL/TULIP CITY TOUR
This morning we tour America's only authentic working Dutch windmill known as 'De Zwaan', or 'The Swan', which was brought over from the Netherlands in 1964. Here and in the surrounding Windmill Island Gardens, we view over 100,000 tulips and also visit the little Netherlands village display and gift shops. After lunch, a guide in full Dutch attire will lead us through the vibrant tulip lanes, Holland's historic district, city parks and award-winning downtown. Next, we visit the Holland Bowl Mill to learn how their beautiful wooden bowls are handcrafted. Tonight we see stunning panoramic views of Lake Macatawa while we savor a delectable dinner. B, L, D

Special Evening Show: We're sure to be amazed by the Dazzle Tulip Time Showcases, featuring over 25 local acts of talented singers, show choir and orchestral performances.
DAY 4 – NELI'S DUTCH VILLAGE/QUILT SHOW/VOLKSPARADE/BIG RED LIGHTHOUSE
After breakfast we visit an authentic Dutch village to see live wooden shoe carving and have the opportunity to have a pair personalized as an authentic keepsake. We will also admire Dutch dancers and explore the Frisian farmhouse with cheese- and chocolate-making demonstrations. The renown blue-and-white ceramic Delft Pottery, or Delftware, will be demonstrated. These hand-painted creations are crafted by experienced Dutch artists and glazed in a centuries-old process. After experiencing these fascinating aspects of Dutch life, we head to the Art in Bloom display and Quilt show. Here we see exquisite handmade bed quilts, wall hangings and art quilts as well as gorgeous tulip paintings by local artists. After lunch, we enjoy reserved grand stand seating to watch the Volksparade 'People's Parade'. Following the white glove inspection and street scrubbing, the marching bands, amazing floats and entertaining specialty entries will parade their way down the freshly scrubbed streets. Don't miss Holland's talented high school marching band as they dance in authentic wooden shoes while playing their instruments. This afternoon we welcome a guide onto our motorcoach to tour Ottawa Beach on Lake Michigan. We will also have a chance to see one of the Great Lakes' most famous lighthouses, affectionately known as 'Big Red'. Tonight, enjoy our last night in Holland exploring the unique shops, restaurants, and colorful tulips throughout downtown Holland's historic district. B, L
DAY 5- HOME TO MILWAUKEE/DEGRANDGRAMPS BLUEBERRY FARM/CHICAGO BOTANICAL GARDEN
After breakfast we say good bye to Holland and head to DeGrandchamps Blueberry Farm in South Haven. Visit with Mike DeGrandeChamp owner of 200 acres of Blueberries, 40 acres of Cranberries and approximately seven acres of container grown nursery stock and greenhouses. See the packing and shipping facility along with their farm market. You'll even enjoy a delicious, freshly-made blueberry muffin! Next we'll have a tasty lunch in New Buffalo before heading to the expansive Chicago Botanical Garden. We will ride on a comfortable tram through the 385-acre outdoor garden to learn about their colorful variety of plants and flowers. Then, we travel back to Milwaukee with fond memories of the Dutch culture and new found friends. B, L
Quality Accommodations
Night 1: Hampton Inn & Suites Milwaukee/Franklin, WI
Nights 2-4: DoubleTree, Holland, MI

Dates:
May 2-6, 2021

Price Per Person:
Double $1,427; Single $1,755

Pre-/Post-Tour Hotel: $168/night
Depart/Return: Milwaukee, WI
Average Temps
Highs in the low 60's /lows in the low 40's
Time Zone
Eastern
Arrival Time

Schedule your flight to arrive into Milwaukee by 4:00 p.m.

Departure Time
Schedule your flight to depart Milwaukee anytime after 7:00 p.m.
Airport Info

Starting hotel offers 24-hour complimentary shuttle service.
Vehicle Parking
Complimentary for duration of tour.
Walking Distance
Moderate to moderately extensive walking is required to fully enjoy this tour. Some walking can be on uneven surfaces.
Currency
US Dollar
Hotel Amenities
Refrigerators, microwaves, hair dryers, irons, ironing boards, Coffee makers, swimming pools and exercise rooms throughout tour.
Additional Information
Further information is mailed upon receipt of your reservation. A total of three mailings are sent to assist you in preparing for your tour…Get Ready, Get Set and Go! Our "Get Ready" packet is sent confirming your reservation. Our "Get Set" packet provides further details approximately 90 days prior to departure with important details regarding making your travel arrangements. Finally, our "Go" packet arrives 2-3 weeks before departure containing all your final documents.
Updates: Updates to this document are available from our Discovery Reservations Team, and will be posted online at CountryTravelDiscoveries.com/HTF
Travel Protection Available?
Yes, see CountryTravelDiscoveries.com/TravelProtectionPlan.
Terms & Conditions
Tour reservations are subject to the terms and conditions on our website at CountryTravelDiscoveries.com/terms.
Groups
Have a group? We can make your group's vacation cost-effective and easy, with discounts for groups as small as five and other benefits. Learn more at CountryTravelDiscoveries.com/groups.
Share it
---