Each of Hawaii's islands has its own allure, but like gems in a precious jewelry setting, their collective brilliance is all the more dazzling. This artfully paced, island-hopping adventure is designed to showcase the diverse natural, cultural, and culinary wonders of three islands—Oahu, Kauai and Maui. Marvel at rainbow-studded waterfalls, rainforest lagoons, and the most stunning natural and resort settings on earth. Savor scents and tastes only found in Paradise, from your morning coffee to blooms of fragrant flowers. Our balanced itinerary allows for both guided discoveries and abundant free time to enjoy our deluxe resort hotels and experience the islands your way: ride a helicopter, play golf, snorkel, or set sail to see whales. Thrilling Native drums, hula and "fire knife" dances, and an authentic tropical luau make a perfect "Aloha!" to a winter escape you'll never forget.

Overnight at deluxe, ocean-view resorts throughout
USS Arizona Memorial at Pearl Harbor
Visit the amazing Haleakala National Park
Tour Dole pineapple plantation, Mauna Loa Macadamia factory, and a working
coffee farm
Botanical garden and cultural tour with a Polynesian Chief
Festive Luau feast and farm-to-table gourmet rainforest lunch
See Waimea Canyon and enjoy a river cruise
Explore Fern Grotto, a geological wonder located in a rainforest

Sunset cocktail cruise off Maui, Lanai and Molokai
Inter-island flights and airport transfers
Balanced touring and free-time on each island
Bag handling (1 per person) at hotels and inter-island flights
Fees/tips for included attractions/meals
Welcome reception, 24-hour emergency call service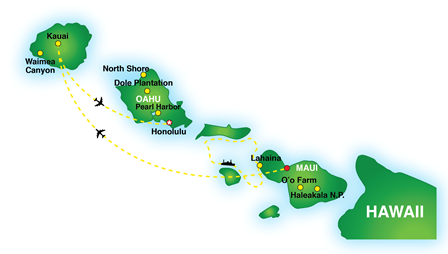 DAY 1—HONOLULU, OAHU
A warm Aloha and traditional fresh flower lei greet you in Honolulu, Oahu before your transfer to Waikiki, known as "The Gathering Place". It is the 3rd largest island and home to the majority of Hawaii's population. Relax by the warm tropical beach until tonight's Welcome Reception.
DAY 2 —PEARL HARBOR/WAIKIKI BEACH/NUTRIDGE ESTATE
Wake up in paradise to a tasty breakfast, then we'll head to the State Capital for a short walk thru the Capital, then over for a tour of 'Iolani Palace—the only royal palace on American soil, also see the majestic King Kamehameha Statue. The tour will continue past Honolulu Hale, Kawaihao Church, Mission Houses and through China Town. Later a fascinating and moving trip to the U.S.S. Arizona Memorial Visitor Center at Pearl Harbor, where you'll witness the actual sunken hull where over 1,000 servicemen were entombed on Dec. 7, 1941. This evening, you'll be dazzled at the Nutridge House, located inside of the Pu'u 'Ualaka'a Wayside Park, in the heart of Tantalus. In Hawaiian language, the name of the state park refers to a crop that was once grown here. "Pu'u Ualaka'a'' literally means "rolling sweet potato hill.'' Under King Kamehameha I, Maliki-Tantalus forest was cleared and planted with sweet potato, giving its name. Enjoy a delicious buffet while learning about Hawaii's beautiful culture and history. B, D
DAY 3—GRAND ALII/NORTH SHORE/DOLE PLANTATION TOUR
This morning starts with a narrated drive across the Koolau Mountains to visit the Nuuanu Pali, site of the bloody battle in which Kamehameha I conquered Oahu. You'll find stunning panoramic views of Oahu's windward side. Next, a Polynesian Chief shares some customs and tales of the native islanders. While strolling through botanical gardens, you'll learn to make fire from sticks, open a coconut and more! On Oahu's North Shore, see where competitive daredevil surfers gather to ride monster waves often taller than most buildings. En route, stop at the surfer haunt, Haleiwa Town, which retains much of old-style Hawaii. Next, discover Oahu's pineapple heritage at the Dole Plantation, with exhibits tracing the history of the pineapple empire started by James Dole over a century ago. B

DAY 4—FLY TO THE GARDEN ISLE OF KAUAI
One of Hawaii's most peaceful islands, Kauai is nicknamed the "Garden Island" for its rich tropical beauty, flowing rivers and white sandy beaches that have been featured in a variety of Hollywood movies over the years. We'll explore this garden paradise for the next 3 days. B, D

DAY 5—WAIMEA CANYON/KOLOA COFFEE ESTATE/NATIONAL TROPICAL BOTANICAL GARDEN
After a hearty breakfast, leave for a tour to Waimea Canyon, on Kauai's West Side, described as "The Grand Canyon of the Pacific." Although not as big or as old as its Arizona cousin, you won't encounter anything like this geological wonder in Hawaii. Stretching 14 miles long, one mile wide and more than 3,600 feet deep, the Waimea Canyon Lookout provides panoramic views of crested buttes, rugged crags and deep valley gorges. We will stop at the Koloa Coffee Estate, the largest coffee farm in the U.S. for a tour. After lunch, we will head to the Allerton Gardens of The National Tropical Gardens, located on the South Shore of Kaua'i between the Pacific Ocean and NTBG's McBryde Garden. Tour the garden to see towering rainforest trees, beautiful sculptures, a grove of swaying golden bamboo, a cut-flower garden, and tropical fruit trees. B, L

DAY 6—WAILUA RIVER CRUISE/KAPAA TOUR
The Wailua River is known as "the only navigable river" in all Hawaii. The river's fresh water pours down from Mt. Wai'ale'ale, one of the wettest spots on the planet. Lands along the river were the sacred capital of ancient Kauai and the birthplace of the island's ali'i, or royalty. This morning, journey along the river, hear songs and stories of ancient Hawaii — like the King's Highway, sacred Mount Kapu, and the First Hau Tree. We'll also learn the hula during a lesson onboard the river cruise! A stop is made along the way at Fern Grotto, where we'll enjoy a short nature walk through the rainforest. The Fern Grotto is a geological wonder of Kauai. Ferns grow upside down from the roof of the grotto, which was formed millions of years ago. Native Hawaiian plants and colorful exotic tropical plants provide a rain-forest atmosphere. We will continue our tour to Opaeka'a Falls and thru the charming town of Kapaa, then back to our hotel for a relaxing afternoon. Later, meet poolside for a cocktail reception with pupus (appetizers) and music. B
DAY 7—MAGICAL MAUI
Landing in Maui, you'll quickly learn that the island offers more than just the best beaches around. First, you'll take in the lush Iao Valley and its famous Needle, a vegetation-covered lava tower. Learn how King Kamehameha's defeat of Maui's army dramatically altered Hawaiian history. Continue on to tour Lahaina Town, once a bustling 19th century whaling village, now known for popular restaurants, boutiques, and galleries. Unpack for the next three nights at the beautiful resort on fashionable Ka'anapali Beach. B, D

DAY 8—MORNING AT LEISURE/SUNSET COCKTAIL CRUISE After a leisurely breakfast, enjoy a full day to hit the beach, souvenir shop, golf or pamper yourself at the resort—even opt for a scenic helicopter ride or Snorkel Adventure. Your Tour Director will assist in discovering other excursions. Late afternoon, it's time for fun and relaxation aboard a cocktail cruise, sailing into Maui's breathtaking sunset. Find stunning views of Maui, Lanai and Molokai from a luxury catamaran at the "magic hour". B
DAY 9—HALEAKALA/O'O FARMS/ ALOHA HAWAIIAN LUAU DINNER AND POLYNESIAN SPECTACULAR
The day starts gloriously at Haleakala, the now-sleeping volcano that gave birth to the island. Rising 10,023 feet, a mile deep, her crater seven miles across, "the House of the Sun" is truly awesome! Hear the legend about demigod Maui, the volcano and the sun. This Park is home to more endangered species than any other in the National Park Service, and we may even spot a Nene (Hawaiian goose) or a blooming silver sword plant. (Summit view is Subject to Weather conditions and Park opening). Next, in the misting forest of Waipoli, the flourishing, sustainable O'o Farms provides a true farm-to table gourmet lunch experience. Tonight's Luau invites you to join their Ohana (family) for spectacular traditional celebrations, dancing, feasts and fun! The evening includes dinner, drinks and an unforgettable Polynesian Revue. B, L, D

DAY 10—ALOHA O'E (FAREWELL) This morning say "Aloha O'e" to your fellow travelers over breakfast, then head home with tranquil island memories. B
QUALITY ACCOMMODATIONS

Nights 1-3: Outrigger Reef Waikiki Beach Resort, Honolulu
Nights 4-6: Kauai Beach Resort, Lihue
Nights 7-9: Royal Lahaina Resort, Lahaina
Mar 7-16, 2019

Price Per Person From:
Double: $4,997; Single: $5,975

Pre/Post Hotel: $378 Pre-Tour/$398 Post-Tour/night

Depart/Return: Honolulu/Maui, HI


Book by Nov 30, 2018 to receive free air up to $700.00 per person! Call us for details at 855-744-TRIP (8747).

Day 8: Snorkel Adventure & BBQ: Get ready for an incredible underwater adventure, be sure to watch for turtles, dolphins and other marine life. L

Price: $150 per person

Average Temps
high 80°/ low 69°
Time Zone
Hawaii Standard Time
Arrival Time
Schedule to arrive at our starting hotel in Honolulu (Oahu) by 5:00 PM on Day 1.
Departure Time
Schedule your flight home to depart Kahului Airport (Maui) by any time after Noon on Day 10.
Airport-Hotel Shuttle
Lei greeting upon arrival at airport includes transfer to starting hotel
Walking Distance
Moderate to moderately extensive walking is required to fully enjoy this tour. Some walking may be on uneven surfaces.
Currency
US dollar
Hotel Amenities
In room: Hair dryers, irons, ironing boards, in-room safes, refrigerators & coffee makers throughout tour. Hotels throughout tour offer beautiful swimming pools, fitness centers, on-site restaurants & guest laundry services (for a fee).
Additional Information
Sunscreen with a SPF rating of 30 or greater, sunglasses, hats, visors, binoculars and you may want an umbrella for the occasional shower. Airline Baggage Fees for Inter-Island flights ARE included in the tour price.
Further information is mailed upon receipt of your reservation. A total of three mailings are sent to assist you in preparing for your tour…Get Ready, Get Set and Go! Our "Get Ready" packet is sent confirming your reservation. Our "Get Set" packet provides further details approximately 90 days prior to departure with important details regarding making your travel arrangements. Finally, our "Go" packet arrives 2-3 weeks before departure containing all your final documents.
Updates
Updates to this document are available from our Discovery Reservations Team, and will be posted online at CountryTravelDiscoveries.com/HAW.
Travel Protection Available?
Yes, see CountryTravelDiscoveries.com/TravelProtectionPlan.

Terms & Conditions
Tour reservations are subject to the terms and conditions on our website at CountryTravelDiscoveries.com/terms.
Groups
Have a group? We can make your group's vacation cost-effective and easy, with discounts for groups as small as five and other benefits. Learn more at CountryTravelDiscoveries.com/groups.
Share it
---