Explore 5 great National Parks in spellbinding Red Rock Country—including the 4,000-feet-deep and 277-mile-long Grand Canyon! Sunset at the canyon is simply spectacular. You'll also thrill to towering rock formations in Sedona…the natural rock bridges of Arches National Park…grand mesas, buttes and pinnacles in Zion and Bryce Canyon National Parks…radiant cliffs at Capitol Reef National Park, which the Navajo called "sleeping rainbows"…and a visit to an ancient Pueblo village in the heart of Navajo Country. The textures, colors and contours of these vibrant desert landscapes across five national parks will take your breath away!
Explore 5 National Parks: Grand Canyon, Zion, Bryce Canyon, Arches and Capitol Reef
Discover the geologic wonders of the Grand Canyon -- at over 4,000 feet deep and 277 miles long, it's a sight you won't want to miss! Learn its history at Mather Observation Point and stay at a park lodge.
See 710-feet-high Glen Canyon Dam at Lake Powell
Explore Sedona's arts and attractions
See ancient Native dwellings and modern Najavo crafts
Learn about WWII's famed "Code Talkers"
Enjoy "cowboy" entertainment and dinner by hosts Shannon and Jenifer Steed in the desert town of Escalante
Flexible see-it-your-way options: Sedona Trolley, Off-Road Hummer, Jet Boat Ride, Lake Cruise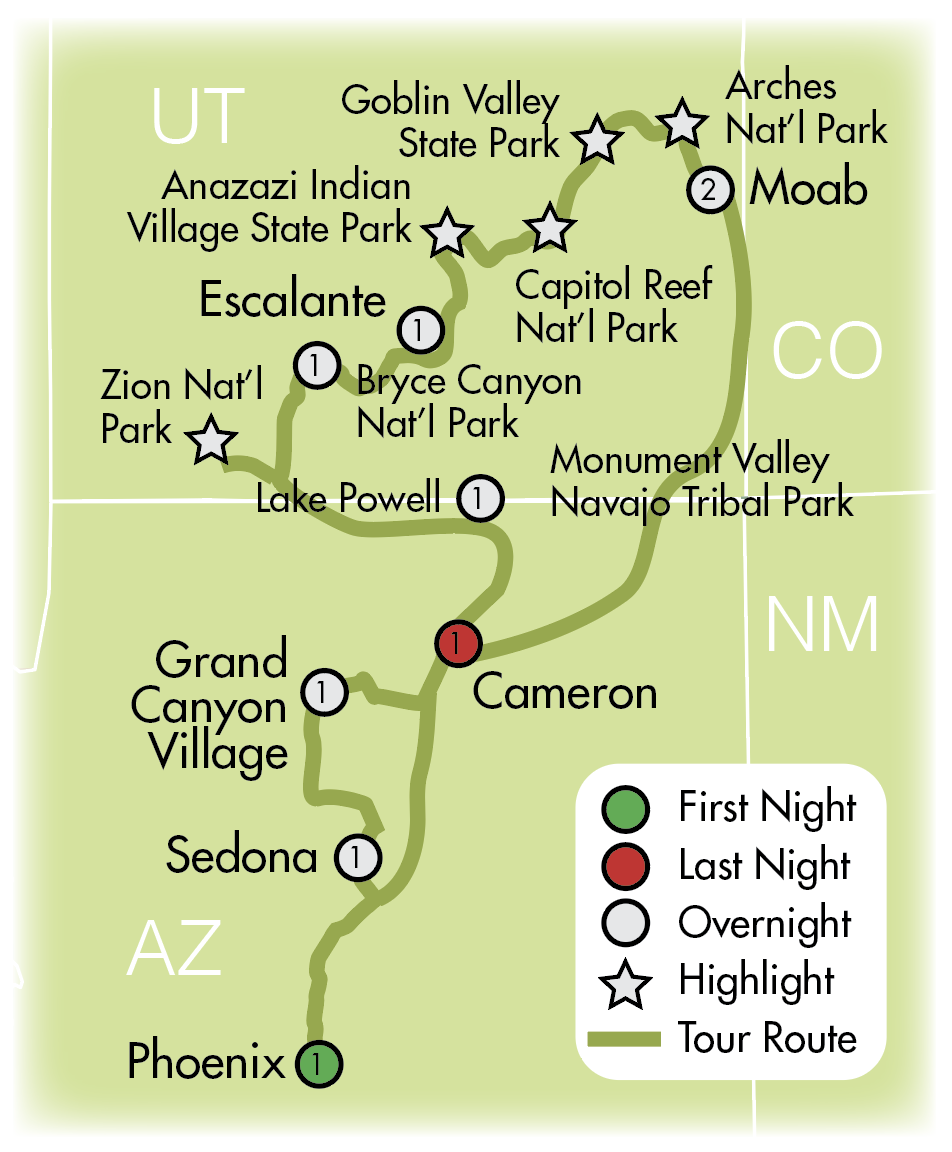 DAY 1–IN THE CITY OF THE SUN
This evening, meet your friendly travel companions at tonight's welcome reception and hear about the excitement ahead.

DAY 2–SEDONA
Start your canyon experience by visiting the historic Indian ruins of Montezuma Castle, preserved cliff dwellings carved into the sandstone cliffs. Then thrill to a scenic desert drive to Sedona, a city surrounded by unbelievable towering rock formations. Enjoy a visit to Tlaquepaque Arts and Crafts Village, explore the eclectic shops and galleries on your own. This afternoon, join us on an optional Sedona Trolley tour where you will get an up-close view of the desert! Later relax and enjoy the views from your balcony in Sedona. B
DAY 3–GRAND CANYON NATIONAL PARK
This morning, travel through Oak Creek Canyon, a steep, narrow and very colorful gorge, then get ready for your visit to the south rim of the Grand Canyon! After receiving a detailed history of the park at Mather Observation Point, enjoy some free time at the rim and maybe even do some hiking if you choose. Cap off the day with the Park's famed Sunset Tour to catch the canyon sunset. B, L

DAY 4–GRAND CANYON/LAKE POWELL
Venture on to Desert View Watchtower for a last breathtaking look at the canyon before heading north. After lunch you'll tour Glen Canyon Dam, a vital link in the Colorado River Storage Project, which is a series of dams and reservoirs crucial to life in several southwestern states. Glen Canyon Dam stands 710 feet high from the bedrock and contains an amazing 9 trillion gallons of water when Lake Powell is full! This afternoon, try an optional cruise on the brilliant blue waters of Lake Powell. B, L
DAY 5–ZION NATIONAL PARK
Today at Utah's spectacular Zion National Park, you'll see an unusual combination of plummeting canyons, wide plateaus and soaring multicolored sandstone cliffs. Enjoy a guided tram tour along the park's Scenic Drive. Then enjoy a peaceful evening before starting another day of geological and cultural wonders in Bryce Canyon. B, L

DAY 6–BRYCE CANYON NATIONAL PARK/COWBOY NIGHT
In Bryce Canyon National Park, pinnacles of limestone, sandstone and mudstone shoot toward the sky in fanciful formation. Then in the desert town of Escalante, meet Shannon and Jenifer Steed. Shannon will share the town's unique history with us, and you'll get a "taste" of life in southern Utah when he and Jenifer cook up a great meal for dinner, complete with "cowboy" entertainment. B, D

DAY 7–CAPITOL REEF NATIONAL PARK/MOAB Start the day with the grand mesas, buttes and pinnacles of Escalante National Monument and explore a replica of a six-room, 1,000 A.D. dwelling in an Anasazi Indian Village. Next, soak in the radiant cliffs of Capitol Reef National Park—the Navajo called them "sleeping rainbows"—followed by the rock sculptures of Goblin Valley. Tonight, you're free to explore downtown in Moab, where you'll unpack for the next two nights. B, L

DAY 8–ARCHES NATIONAL PARK
With more than 1,500 arches, this geographic wonder of the world awaits! No one quite knows why this many sandstone "arches" were formed by nature in this one national park. We have a chance to see and photograph dozens! In the afternoon, relax or take a swim at the hotel or take one of our optional excursions. B, L

DAY 9–NAVAJO NATION/WWII "CODE TALKERS"
Today, head to the heart of Navajo Country. Get your camera ready for a picture postcard view of Monument Valley. Learn about the "Code Talkers" of World War II and the important role they played in military communications. B, L

DAY 10–PHOENIX
This morning return to Phoenix where we say farewell to your newfound friends–and to the Southwest's rugged natural beauty. B

Quality Accommodations
Night 1: Radisson Hotel Phoenix Airport
Night 2: Sky Rock Inn of Sedona
Night 3: Red Feather Lodge Grand Canyon
Night 4: Lake Powell Resort & Marina
Night 5: Bryce Canyon Pines, Bryce
Night 6: Canyon Country Lodge, Escalante
Nights 7-8: Moab Valley Inn
Night 9: Cameron Trading Post

Dates:
Apr 3-12, 2022 Sold Out
Sep 11-20, 2022 Limited Availability
Oct 9-18, 2022 Limited Availability

Price Per Person:
Double: $2,337, Single: $3,155

Pre/Post Hotel:
$178/night -Spring
$128/night -Fall

Depart/Return: Phoenix, AZ



Option—Sedona Trolley Take in all the best places around town on a fun-filled trolley tour, including a stop at the remarkable Chapel of the Holy Cross and a breathtaking photo stop at Airport Mesa. Price: $29 per person.

Option—Lake Powell Cruise Enjoy the beautiful rock formations, painted walls and amazing colors of Lake Powell. Price: $57 per person.
Option—Jet Boat Cruise This 3-hour, 30-mile jet boat ride on the Colorado River takes you from Canyonlands National Park to Dead Horse State Park. Price: $110 per person.
Option—Off-Road Hummer Adventure Experience a two-hour "extreme" ride through the beautiful remote back-country. Although these trips are off the main road, the guides are well-versed on these trails, and your Hummer, the ultimate 4x4, provides an exciting yet comfortable ride. Price: $110 per person.

Average Temp
Temperatures vary greatly on this tour, as elevation changes (we go from 1,000 feet to over 7,000 feet above sea level). Expect highs in the mid 80's (or warmer) and lows down to the mid-50's (or colder) in some of the higher mountain elevations at night.

Time Zone
Mountain
Arrival Time
Schedule your flight to arrive by 5:00 p.m. on Day 1.
Departure Time
Schedule your flight home to depart after 2:00 p.m. on Day 10.
Airport-Hotel Shuttle
Starting hotel offers a 24 hr. complimentary airport shuttle.
Vehicle Parking
Free parking is available for at our starting hotel.
Walking Distance
Moderate to moderately extensive walking is required to fully enjoy this tour. Some walking in National Parks can be on uneven surfaces. High elevations may cause some difficulties for people who have breathing issues, please consult your doctor before the tour.

Hotel Amenities
Hair dryers, irons, ironing boards & coffee makers throughout tour. Guest laundry is available on Days 7 & 8. Exercise room and swimming pool available at most hotels.
Additional Information
Sunscreen and a pair of binoculars will add to your enjoyment of this tour. The road on the Off-Road Hummer Adventure can be rough in spots causing the ride to be bumpy especially after a heavy rain. The Off-Road Hummer Adventure is an "extreme" adventure, with portions offering a straight up and straight down ride. It is not recommended for the faint of heart or those not fond of heights. Elevations reach 7,000 ft on parts of this tour.
Further information is mailed upon receipt of your reservation. A total of three mailings are sent to assist you in preparing for your tour…Get Ready, Get Set and Go! Our "Get Ready" packet is sent confirming your reservation. Our "Get Set" packet provides further details approximately 90 days prior to departure with important details regarding making your travel arrangements. Finally, our "Go" packet arrives 2-3 weeks before departure containing all your final documents.
Updates
Updates to this document are available from our Discovery Reservations Team, and will be posted online at CountryTravelDiscoveries.com/GCR
Travel Protection Available?
Yes, see CountryTravelDiscoveries.com/TravelProtectionPlan.
Terms & Conditions
Tour reservations are subject to the terms and conditions on our website at CountryTravelDiscoveries.com/terms.
Groups
Have a group? We can make your group's vacation cost-effective and easy, with discounts for groups as small as five and other benefits. Learn more at CountryTravelDiscoveries.com/groups.
Share it
---