In 1932 the United States and Canada unified Glacier and Waterton Lakes National Parks into an International Peace Park to commemorate goodwill between the nations. Together, they form one of the most beautiful regions of mountains and alpine lakes on earth. See this awe-inspiring area from both sides of the border on this brand-new tour.

*A passport is required for this tour as we experience Glacier National Park from both sides of the U.S. / Canada border.
Enjoy a classic Red Bus Tour in Glacier National Park
Spend 2 nights in Waterton Lakes National Park of Canada
Experience a sightseeing cruise on Waterton Lakes and a dinner cruise on Lake Coeur d'Alene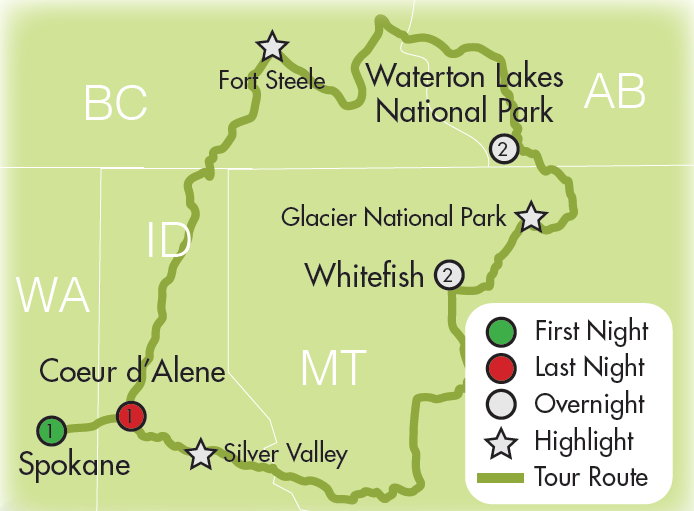 DAY 1—WELCOME TO SPOKANE!
Arrive in Washington and meet your fellow travelers at a welcome dinner together. D
DAY 2—SILVER VALLEY
Travel east into Idaho and tour its historic Silver Valley, home to a robust mining industry dating back to the earliest days of westward expansion. Visit a working mine and learn about the methods of hard-rock mining. Continue to Whitefish and check in for two nights at Grouse Mountain Lodge. B, D
DAY 3—GLACIER NATIONAL PARK
Head into Glacier National Park for the famous Red Bus Jammer tour along Going-to-the-Sun Road. Nicknamed the Rubies of the Rockies, these historic style vehicles have been providing scenic and educational tours of Glacier for generations. After lunch in the park, return to Whitefish with time to explore its classic Western downtown area for dinner and shopping. B, L
DAY 4—WATERTON LAKES NATIONAL PARK
Enjoy an "encore" trip through the park for stunning views of high peaks, alpine lakes, and colorful wildflowers. Look for some of the park's famous wildlife, including mountain goats, bighorn sheep, and of course grizzly bears. After our encore of Glacier, we'll cross into Canada together to view stunning Waterton Lakes National Park. Enjoy a two-night stay just a short walk from the shores of Emerald Bay. B, D
DAY 5—GLACIER-WATERTON INTERNATIONAL PEACE PARK
Spend the morning at leisure in Glacier-Waterton Intenational Peace Park! Take a stroll along the shoreline trail or sit and enjoy the mountain views that go on for miles. Experience afternoon tea at the historic Prince of Wales hotel overlooking Upper Waterton Lake. Later, we'll board the Waterton Shoreline Cruise and travel through crystal clear waters to where Glacier and Waterton parks meet at the international border. B, High Tea
DAY 6—CANADA'S FRONTIER
After another peaceful mountain morning, head west into Canada's Old West at Fort Steele Heritage Town. Historical guides and activities take you back to the height of the gold rush that ushered in this boom town in 1864. Protected as a historic site by British Columbia, the town includes 98 preserved or renovated structures. B, L
DAY 7—COEUR D'ALENE
Cross back into the United States and journey to Coeur d'Alene, ID. Spend the evening on Lake Coeur d'Alene enjoying a gourmet dinner aboard a sunset cruise. B, D
DAY 8: RETURN HOME
Today we return home from Spokane, WA with lasting memories of our National Park visits. B

Quality Accommodations
Night 1: Holiday Inn Spokane Airport, WA
Nights 2-3: Grouse Mountain Lodge Whitefish, MT
Nights 4-5: Aspen Village, AB
Night 6: Best Western Cranbrook, BC
Night 7: Holiday Inn Express Coeur d'Alene, ID
Dates:
Aug 8-15, 2023 Sold Out

Price Per Person:
Double $2,737
Single $3,845

Pre/Post Tour Hotel:
$218/night

Depart/Return:
Spokane, WA
Inclusions:
Free airport shuttle or hotel parking
Welcome Dinner and meals as indicated (B=breakfast, L=lunch, D=dinner)
Fees and tips for included attractions and meals
Luggage handling of one suitcase per person at hotels
Free bottled water on coach
24-hour emergency call service
Arrival Time
Our Welcome Dinner on Day 1 is at our hotel, Holiday Inn Spokane Airport, starting at 6:30 pm. We recommend scheduling your flight to arrive by 4:00 pm.
Departure Time
Schedule your flight home to depart the Spokane Int'l Airport any time after 2:00 pm on Day 8.
Airport Transportation / Vehicle Parking
Our starting hotel offers a complimentary shuttle service to/from the Spokane Int'l Airport. If you are driving to the starting location, they also offer complimentary parking for the duration of the tour.
Walking Distance
Moderate walking is required to fully enjoy this tour. Some walking will also be on uneven paths. While walking canes are allowed, we are unable to accommodate travelers using other mobility devices, including walkers and wheelchairs.
Average Temps
August – high of 78°, low of 58° (please note that temperatures are cooler in the mountains)
Time Zone
Mountain
Hotel Amenities
Each hotel has a hair dryer, iron, ironing boards, Wi-Fi, and a coffee maker. Holiday Inn Spokane, Grouse Mountain Resort and Holiday Inn Express Coeur d'Alene hotels also offers swimming pools.
Additional Information
A total of three mailings are sent to assist you in preparing for your tour, including information sent upon receipt of your reservation.
It's important to note that elevations reach 6,600 feet on this tour.
Dress on tour is casual. Sunscreen, sunglasses, hat, visors, and comfortable walking shoes will add to your enjoyment of this tour. Temperatures can fluctuate in this region, so we recommend bringing a light jacket with you when out in the morning or evening.
A valid US Passport is required for travel to/from the United States (we will be crossing the Canadian border at International Peace Park).
Travel Protection Available?
Yes, see CountryTravelDiscoveries.com/TravelProtectionPlan.
Share it
---