A 19th century island fort, an underwater ecosystem of coral and mangroves, and flooded grasslands teeming with wildlife make up Florida's diverse National Parks. Experience all 3 with up-close tours plus time to explore in the bustling vacation cities of Key West and Fort Lauderdale.
Visit Biscayne, Dry Tortugas and Everglades National Park
See amazing wildlife, from dolphins, cranes, gators and more
Spend 3 nights in Key West, the southernmost point in the US

Key West highlights, plus Harry Truman and Hemingway houses
Take a guided tour of the Micosukee Indian Village

Free airport shuttle or hotel parking
Bag handling (one per person) at hotels
Fees/tips for included attractions/meals
Welcome reception, 24-hour emergency call service, free bottled water on coach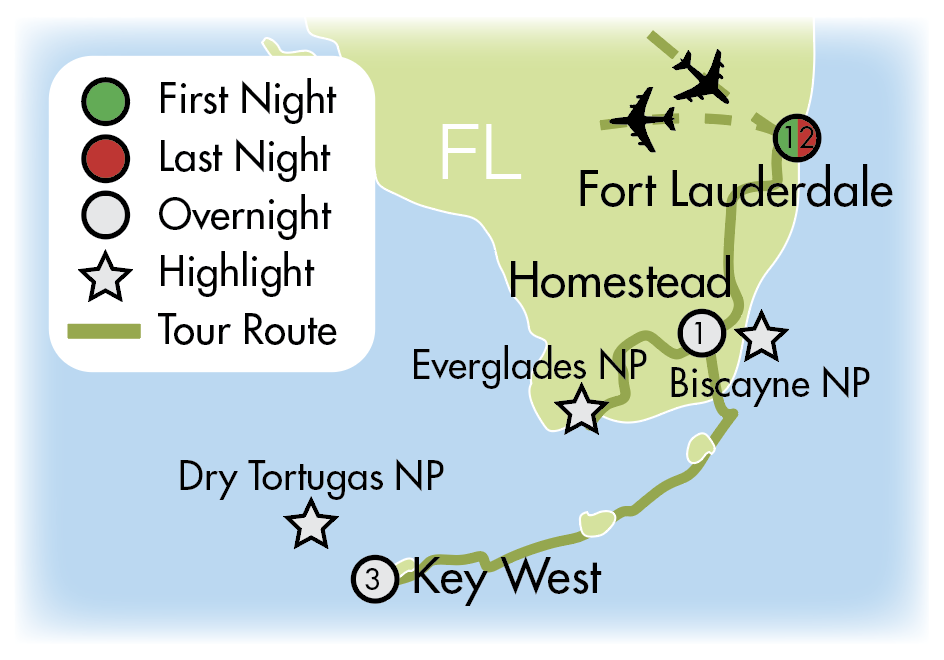 DAY 1—WELCOME TO THE SUNSHINE STATE
Welcome to Ft Lauderdale. This evening, you'll meet your fellow travelers and Discoveries Director at our welcome dinner. D
DAY 2—BISCAYNE NATIONAL PARK
Head south to the shores of Miami and Biscayne National Park, where mangroves along the coast provide a home to manatees, crocodiles, dolphins, and sharks. Continue along Florida's iconic Highway 1 through the Florida Keys all the way to its final stop – Key West. Enjoy an authentic island dinner along the harbor at Conch Seafood Republic before checking in for a 3-night stay in paradise. B, D

DAY 3—DRY TORTUGAS NATIONAL PARK
Board the Yankee Freedom ferry for a full day trip to one of the most remote and least visited National Parks in the US, Dry Tortugas National Park. This island in the middle of the Gulf of Mexico is home to historic Fort Jefferson, a 19th century naval command center. Tour the fort with a park guide or spend the day relaxing on the island's pristine beaches watching for sea turtles. B, L

DAY 4—KEY WEST
Enjoy a full day in one of the premier vacation destinations in the entire world. Board the world-famous Conch Train for a narrated tour of the area and immerse yourself in the vibrant island community with shops, restaurants, and beaches in every direction. The day is yours to explore at your own pace. Visit any of the island's attractions such as the Truman Little White House or the home of Ernest Hemingway. B, D
DAY 5—EVERGLADES NATIONAL PARK
Adventure awaits as we leave paradise and enter the unspoiled wilderness of the Everglades. Have your camera ready as we board the Backcountry Boat Tour and visit the home of crocodiles, manatees, dolphins, and countless tropical birds. Walk amongst the wild on the Anhinga Trail boardwalk, known for close up views of the park's famous residents. Continue to Homestead for dinner and a one-night stay. B, D
DAY 6—SHARK VALLEY
Visit Everglades Safari Park for a guided airboat adventure through the swamp and a wildlife handling demonstration. After an open-air tram ride through Shark Valley, check in for a two-night stay at Ft. Lauderdale's premier historic hotel, the Riverside. Located on the world-famous Las Olas Blvd, shops restaurants, and the water are steps away. B, L
DAY 7—FORT LAUDERDALE
Tour Ft. Lauderdale with our local guide to learn about the rich history and culture of the area. Often called the "Venice of America," you'll have time to board the water taxi to explore Ft. Lauderdale's vast system of canals at your leisure. Enjoy a final evening of dinner and fellowship looking back on a fun and exciting trip. B, D
DAY 8—FAREWELL
After a leisurely breakfast, we must say farewell and return home with sun filled memories of the Sunshine State. B
Quality Accommodations
Night 1: Hilton Garden Inn, Ft Lauderdale
Nights 2-4: Fairfield Inn Key West Keys Collection
Night 5: Hampton Inn & Suites, Homestead
Nights 6-7: Riverside Hotel, Ft Lauderdale

Dates:
Nov 7-14, 2022
Price Per Person:
Double $2,687; Single $3,675

Depart/Return: Ft. Lauderdale, FL
Pre-/Post-Tour Hotel: $188/night

HELPFUL INFO:
Average Temps
Highs in the mid 70's/lows in the mid 60's (Jan/Feb)
Highs in the mid 80's /lows in the mid 70's (Nov)
Time Zone
Eastern
Arrival Time
Schedule your flight to arrive by 4:00 p.m. on Day 1.
Departure Time
Schedule your flight home anytime after breakfast on Day 8.
Airport Info
24-hour complimentary shuttle service is available for Pre & Post Tour Accommodations. Day 8 of the tour ends at the Riverside Hotel which does not offer shuttle service to the airport. For those folks who wish to fly home on Day 8, the motorcoach will make 2 runs to the airport based on flight schedules. Your Tour Manager will advise timing and which shuttle you should be on based on your flight schedule.
Vehicle Parking
Complimentary for duration of tour at our Pre-Night Hotel, Hilton Garden Inn Ft Lauderdale/CruisePort.
Walking Distance
Moderate to moderately extensive walking is required to fully enjoy this tour. Some walking can be on uneven surfaces.
Currency
US Dollar
Hotel Amenities
Refrigerators, microwaves, hair dryers, irons, ironing boards, Coffee makers, swimming pools and exercise rooms throughout tour.
Additional Information

Please plan to bring a sun hat and sunscreen for your time at Dry Tortugas National Park.
Further information is mailed upon receipt of your reservation. A total of three mailings are sent to assist you in preparing for your tour…Get Ready, Get Set and Go! Our "Get Ready" packet is sent confirming your reservation. Our "Get Set" packet provides further details approximately 90 days prior to departure with important details regarding making your travel arrangements. Finally, our "Go" packet arrives 2-3 weeks before departure containing all your final documents.
Updates: Updates to this document are available from our Discovery Reservations Team, and will be posted online at CountryTravelDiscoveries.com/FNP.
Travel Protection Available?
Yes, see CountryTravelDiscoveries.com/TravelProtectionPlan.
Terms & Conditions
Tour reservations are subject to the terms and conditions on our website at CountryTravelDiscoveries.com/terms.
Groups
Have a group? We can make your group's vacation cost-effective and easy, with discounts for groups as small as five and other benefits. Learn more at CountryTravelDiscoveries.com/groups.

Share it
---