Visit the world famous Floriade, held once every ten years in the country renown for flowers, plants, vegetables, fruit and scents - The Netherlands. Floriade Expo 2022 celebrates the theme "Growing Green Cities" with 40 inspiring country presentations, a spectacular greenhouse complex, colorful displays, horticultural experts and more! Be welcomed on a Rhine River Cruise, explore renown gardens, experience German and Dutch culture, taste European recipes, and stay in charming hotels.

Sep 1-12: Travel with Olbrich Botanical Gardens Horticulturalist Jeff Epping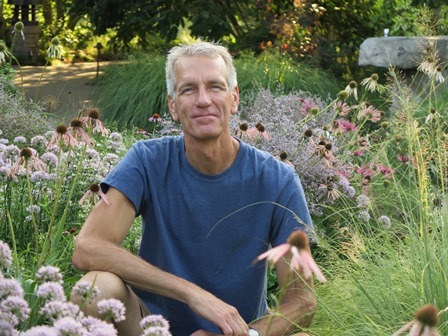 Visit FLORIADE Garden Exhibit, held once every ten years
"Welcome to Europe" Rhine Cruise
HORTVS Peter Janke's Garden and its ancient oaks, beech trees and woodland garden

World-renown Maximilianpark, created by Piet Oudulf
Legendary Westphalian Water Castles
Cutting edge De Herrenhof Gardens, featuring cottage-type planting
Jardin de Wilz and Grand-Chateau d'Ansembourg Gardens

Hermannshof Weinheim Garden
Bag handling (1 per person) at hotels
Entrance fees for included attractions and gratuities for included meals
Welcome dinner, 24-hour emergency call service, round-trip air from U.S.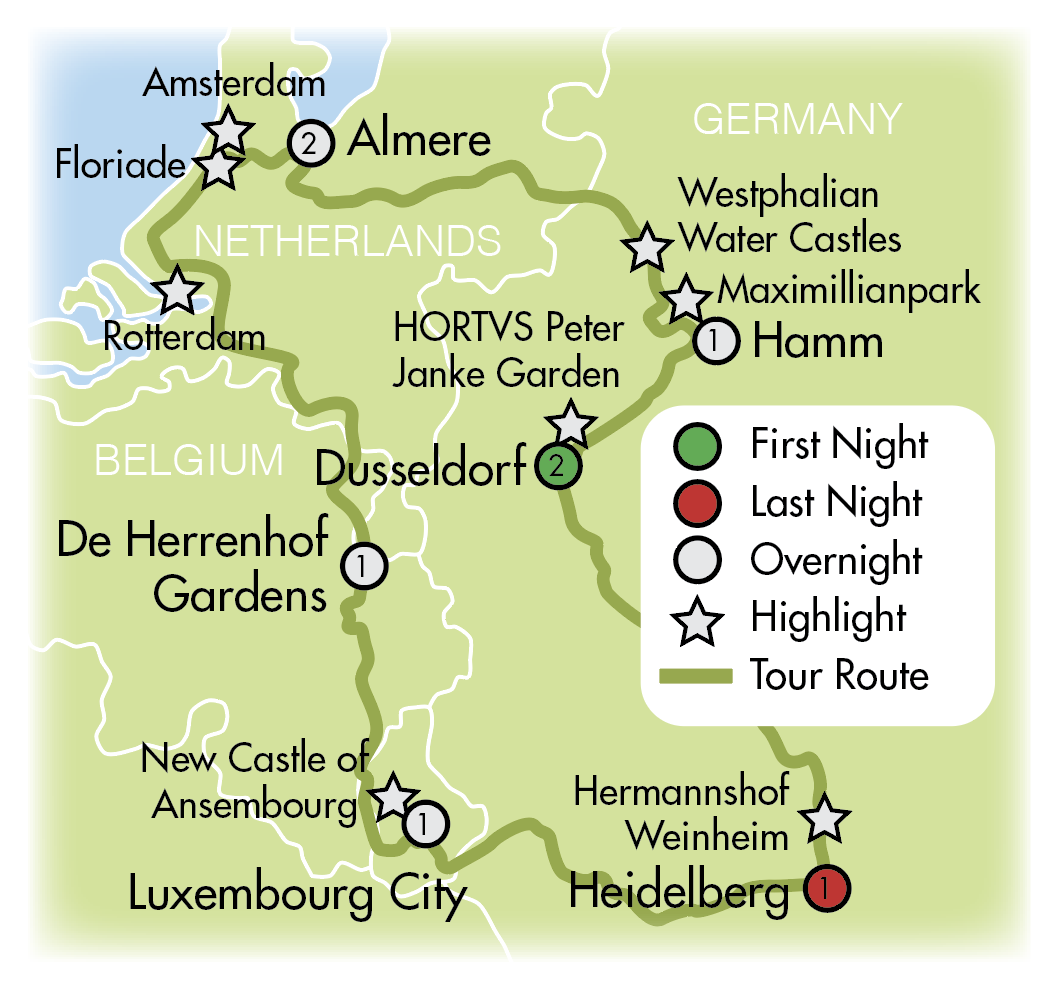 DAYS 1-2—WILLKOMMEN!/RHINE RIVER
After an overnight flight from Chicago, we arrive at Frankfurt Airport where we'll meet our English speaking guide and be taken by deluxe motorcoach toward the town of Hilden. Enroute, relax with a "welcome to Germany" Rhine River cruise that passes beautiful landscapes, small villages, and the famous Loreley Rock. Tonight, we're treated to a welcome dinner at our hotel for the next two nights in the suburbs of Dusseldorf. D

DAY 3—PETER JANKE/LANDSCAPE PARK
First up is the HORTVS Peter Janke's Garden, where you will be greeted by ancient oaks and beech trees that shield the woodland garden with an alley of formally planted Mediterranean cypresses that guides the way to the house. In the afternoon and early evening, we will spend time at the famous Landscape Park, one of the most popular natural and cultural landscapes in the north Rhineland. Since 1994 the nature, industrial heritage, and a fascinating spectacle of light have combined to form a park landscape unlike any other in the world. B, D
DAY 4—MAXIMILIANPARK
Travel to the town of Hamm after a full breakfast at our hotel to visit the worldrenowned Maximilianpark, created by internationally acclaimed Piet Oudolf. Known as the "Rockstar" among garden architects, Piet Oudolf has an impressive knowledge of plants with a reputation that is based on his remarkable sense of composition and artistic sensitivity. We enjoy dinner at our Hotel Alte Mark in the town of Hamm. B, D

DAY 5—WATER CASTLES
En route to the Netherlands, we will stop in a couple of the legendary Westphalian Water Castles, a string of palatial fortifications that were once ruled by power Princes and Bishops. These striking castles, mostly surrounded by water protected the dominions of powerful lords in the medieval and Renaissance periods of European history. Dinner for the group at the Best Western Plus Plaza Almere in the town of Almere welcome us for the next four evenings. B, D

DAY 6—FLORIADE!
We spend the majority of the day exploring the FLORIADE Garden Exhibit. Your included day pass will allow you to fully absorb the International Horticultural Exhibition Floriade, an event that only happens once every ten years. Floriade is the park to enjoy the scent and color of flowers, plants, vegetables, and fruit. The Expo offers 40 inspiring country presentations, a spectacular greenhouse complex, a cable car over the park, pavilions with sustainable innovations, and a vibrant arts and culture program. B, D

Note: Travelers who wish to spend more time at the Floriade are welcome to do so on Days 7 & 8. Otherwise, we are pleased to offer the following excursions, included in your price, on Days 7 & 8

DAY 7—AMSTERDAM/DUTCH WINDMILLS
Breakfast at the hotel before a guided tour through the capital of the Netherlands. Amsterdam is famous for its elaborate canals, beautiful old houses, lively squares, and many world-class museums. From the Anne Frank House, Van Gogh Museum, Dam Square, to the Royal Palace of Amsterdam the city has a great deal to offer the eager sightseer. Later, we head to Zaanse Schans for a visit to the historic windmills of the Netherlands. There were once 600 active windmills here, generating power for water pumps and machines. B, D

DAY 8—ROTTERDAM
Travel to Rotterdam after breakfast for a guided city tour. The second largest city in the Netherlands, Rotterdam is the world's largest port through which European freight passes on its way to and from the continent. Rotterdam is also the architecture city of Holland that prides itself on innovation. Its skyline is always changing and there are many things to do in and around the city from museums, excellent food, entertainment, and shopping. B, D

DAY 9—DE HERRENHOF GARDENS
On to the southern Dutch city of Maastricht. Today, we spend time visiting 'De Herrenhof Gardens in Maastricht'. The cutting-edge garden has a formal structure and cottage-type planting. You'll experience a rich green garden with hellebores and euphorbia, an orchard, and a small nursery. Dinner this evening is at a quaint local restaurant in Maastricht, our home for the night. B, D
DAY 10—GARDENS/LUXEMBOURG
We head to Luxembourg, with a visit to two gardens enroute. First, we visit Jardin de Wiltz, where you will find an ensemble of artistically laid-out watercourses, generously proportioned terraced ponds, flower beds, and stone fields. Watch the local "Hasselstein" rock change its color with the changing of the weather. We also visit the gardens of the Grand-Château d'Ansembourg. The New Castle of Ansembourg in central Luxembourg is one of the famous castles belonging to the Valley of the Seven Castles, featuring lovely stately gardens. Then gear up for a guided tour of Luxembourg City. Capital of the only Grand Duchy in the world, its stunning blend of live theater, museums, UNESCO World Heritage sites, architectural jewels, and Michelin-rated food makes this one of the most unique experiences in Europe. B, D

DAY 11—HERMANNSHOF
Enjoy a guided tour of Hermannshof Weinheim by experienced Director Cassian Schmidt. Schau-und Sichtungsgarten Hermannshof is a gorgeous botanical garden first established over 200 years ago. The garden cultivates about 2500 taxa arranged in naturalistic plantings, including two theme gardens containing over 350 plants. The garden contains a number of notable trees, including specimens of Platanus orientalis and Platanus hispanica that are over 230 years old, Cedrus atlantica, and Sequoia dating from the late 19th century. Enjoy a farewell dinner with the group and overnight at Hotel Holländer Hof Heidelberg. B, D

DAY 12—AUF WIEDERSEHEN
A kaleidoscope of colors and memories take us home as we say our farewells and return to Chicago. B
Quality Accommodations
Night 2: Hotel Am Zault, Dusseldorf, Germany
Nights 3-4: Hotel Alte Mark, Hamm, Germany
Nights 5-8: Best Western Plus Plaza Almere, Netherlands
Night 9: Hotel NH, Maastricht, Netherlands
Night 10: Park Inn by Radisson Luxembourg City Hotel
Night 11: Hotel Hollander Hof, Heidelberg, Germany

Dates:
Sep 1-12, 2022 Call for Availability

Price Per Person:
Double $4,797
Single $5,215

Pre-/Post-Tour Hotel: $188/night

Depart/Return: Chicago, IL

Land only pricing available
Average Temps
Highs 60-66 / Lows 50-54
Time Zone
+7 hours ahead of Central Time
Arrival Time
Flights available 90 days prior to departure.
Departure Time
Flights available 90 days prior to departure.

Airport Info

Complimentary shuttle service is provided for Pre/Post Hotel accommodations.

Vehicle Parking
Free parking is offered during the tour with Pre or Post tour night accommodations.
Walking Distance
Moderate to Extensive walking on uneven pavement and pathways is required to fully enjoy this tour.
Currency
Euro

Hotel Amenities
Hair dryers, TV/cable, telephone, and Spa services available at hotels.
Additional Information
Flight time from Chicago to Frankfurt is 8 hours 10 minutes, Frankfurt to Chicago is 9 hours 15 minutes. These flights are non-stop.
Land Tours begin one day later. Airport transfers not included with Land Only Tours. Air & Land Tours include government imposed taxes, fees and airline fuel surcharges at time of printing.
Dress on tour is casual.
Further information is mailed upon receipt of your reservation. A total of three mailings are sent to assist you in preparing for your tour…Get Ready, Get Set and Go! Our "Get Ready" packet is sent confirming your reservation. Our "Get Set" packet provides further information approximately 90 days prior to departure with important details regarding making your travel arrangements. Finally, our "Go" packet arrives 2-3 weeks before departure containing your final documents.
Updates
Updates to this document are available from our Discovery Reservations Team, and will be posted online at www.CountryTravelDiscoveries.com/FLO
Travel Protection Available?
Yes, see CountryTravelDiscoveries.com/TravelProtectionPlan.
Terms & Conditions
Tour reservations are subject to the terms and conditions on our website at CountryTravelDiscoveries.com/terms.
Groups
Have a group? We can make your group's vacation cost-effective and easy, with discounts for groups as small as five and other benefits. Learn more at CountryTravelDiscoveries.com/groups.

Share it
---