Historic Milwaukee, Inc. and John Gurda are pleased to partner with Country Travel Discoveries on this extraordinary tour of Wisconsin's two largest cities and other Wisconsin architecturally significant and historical sites.
Meet John Gurda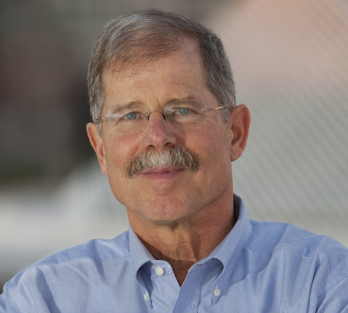 John Gurda is a Milwaukee-born writer and historian. An author of 22 books, his writings focus on Milwaukee-area neighborhoods, industries and places of worship. His most ambitious efforts include The Making of Milwaukee, an in-depth look at the city's past, and Milwaukee: City of Neighborhoods, a historical account of 37 of Cream City's neighborhoods. John has also shared his knowledge throughout nine seasons of Around the Corner with John McGivern™, which airs on Wisconsin PBS.
Tour Old Milwaukee with local Historian John Gurda, including a tour of The Basilica of St. Josaphat and the Humanities Room at Milwaukee Central Library, John's home away from home
Ride the rails on East Troy's Railroad
Explore Black Point Estate, built in 1888 as a summer home by Conrad Seipp, a beer tycoon from Chicago
Cruise Geneva Lake, see the mansions from the water while enjoying lunch
Go back in time at the Milton House, the last certified Underground Railroad in Wisconsin
Enjoy a guided tour of the First Unitarian Society's Meeting House, designed by Wisconsin's own Frank Lloyd Wright
Visit Monona Terrace at sunset, FLW's "dream civic center" becomes reality in 1997
Take a guided tour of Wisconsin's State Capitol
Spend two nights on Capitol Square at the recently renovated Park Hotel, Madison's only hotel on the square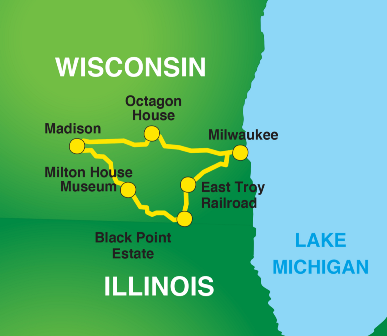 DAY 1-MONDAY, OCTOBER 11—OLD TOWN MILWAUKEE WITH JOHN GURDA/THE BASILICA OF ST. JOSAPHAT/EAST TROY RAILROAD MUSEUM Welcome! Today we meet your Discoveries Director and fellow travelers for an informative and fun welcome breakfast. We'll start our tour at Country Travel DISCOVERIES' Elm Grove headquarters. Located in a historic mill property, this beautifully renovated space kicks off our week together. Boarding our deluxe motorcoach, see some of Milwaukee's oldest and most historic neighborhoods with John Gurda. One of the highlights of our tour will certainly be our time at The Basilica of St. Josaphat. Meant to symbolize the ethnic heritage, spiritual devotion and patriotic pride of early Polish immigrants, the Basilica is the largest church building in Milwaukee. After we enjoy the flavors of our European lunch at Old Town Serbian Restaurant, we head southwest from Milwaukee to the charming town of East Troy. When we reach East Troy, it's All Aboard! as we embark on a scenic two-hour rail journey from the East Troy Railroad Museum. En route, we'll make a tasty stop at Elegant Farmer, known for their 'Apple Pie Baked in a Paper Bag'. Tonight we overnight in the quaint resort town of Lake Geneva. B, L

DAY 2–TUESDAY, OCTOBER 12—BLACK POINT ESTATE/GENEVA LAKE LUNCHEON CRUISE/MILTON HOUSE
After breakfast, we'll depart our hotel for the Black Point Estate and Gardens on Geneva Lake. Built in the late 1880's, Chicago beer baron Conrad Seipp intended the estate to be a respite for this family from the heat and bustle of the city. We'll tour this ornate Queen Anne Victorian-style house and afterwards, enjoy a scrumptious lunch on our two-hour lake cruise. This is a fantastic way to see all the stately mansions that line Geneva Lake. Next, travel to Milton for a tour of the Milton House Museum. As the last certified Underground Railroad Station in Wisconsin, we'll have the chance to walk the same passageway that ushered freedom seekers to a new life. From Milton, we journey north to Madison as we overnight at the Best Western Premier Park Hotel, just steps from the Wisconsin State Capitol building, State Street and the area's many restaurants. B, L
DAY 3–WEDNESDAY, OCTOBER 13—MEETING HOUSE/STATE CAPITOL/WISCONSIN HISTORICAL SOCIETY/MONONA TERRACE
This morning we'll enjoy breakfast followed by a tour of the First Unitarian Society Meeting House, one of Madison's most well-known Frank Lloyd Wright buildings. Next, we'll visit the only granite dome in the United States at the Wisconsin State Capitol. Reaching to a height of over 265 feet, the Capitol dome is topped by Daniel Chester French's elegant gilded bronze statue, Wisconsin. Inside, we are treated to the unique textures of 43 varieties of stone from around the world, hand-carved furniture and exquisite glass mosaics. Afterwards, we'll have time to visit the Dane County Wednesday Farmers Market and enjoy lunch on our own at the Capitol Square. Next, we head to the Wisconsin Historical Museum to learn about our state's native peoples, the origins of America's Dairyland, and even step into a lead mine. At the nearby Monona Terrace, we'll take an in-depth look at this Frank Lloyd Wright masterpiece on the shores of Lake Monona. After we savor a wine-and-cheese reception at Monona Terrace, Smoky's Supper Club will host our farewell dinner. Located at a site infamous for bootlegging during Prohibition, we're sure to have a memorable meal here. Overnight again at the Best Western Premier Park Hotel. B, D
DAY 4–THURSDAY, OCTOBER 14—OCTAGON HOUSE/MILWAUKEE CENTRAL PUBLIC LIBRARY WITH JOHN GURDA
After a farewell breakfast, we'll depart our hotel and travel east to Watertown. We arrive at the Octagon House, which was completed in 1854. One of the largest single-family residences in the state's Pre-Civil War times, the five-floor, octagon-shaped structure was designed and built by John Richards, a pioneer Watertown settler. We depart Watertown for a tasty lunch en route to Milwaukee and another exciting session with John Gurda. We'll spend extended time at the Milwaukee Public Central Library and Gurda's home away from home, the Humanities Room for a tour led by John. This behind-the-scenes look will demonstrate how John does the bulk of his research for his many books, articles and stories. As we bid goodbye to John, we return to Country Travel DISCOVERIES Elm Grove Headquarters. We're sure to have made new friends and incredible memories along the way. B, L


QUALITY ACCOMMODATIONS

Night 1: Comfort Inn & Suites, Lake Geneva
Nights 2 & 3: Best Western Premier Park Hotel, Madison

Dates:
October 11-14, 2021
HMI Member Price Per Person:
Double $1,197; Single $1,425
(Please call to receive this pricing.)

Non-Member Price Per Person:
Double $1,297; Single $1,525

Depart/Return:
Elm Grove, WI

*Due to special group pricing, this tour is not eligible for any additional discounts.

Average Temps
high low 60s/lows low 50s
Time Zone
Central Time
Arrival Time
Please plan to arrive at the Country Travel Discoveries office located at 13416 Watertown Plank Rd, Suite 200, Elm Grove by 7:45 a.m. on Monday, October 11. This will give you ample time for Breakfast and Send off. We will depart the CTD office at 8:45 a.m.
Departure Time
Travelers will be returned to Country Travel Discoveries on Thursday, Oct 14 at approximately 4:15 p.m.
Airport Info N/A
Vehicle Parking
Complimentary parking is offered during the tour at the Plaza Building, located at 13500 Watertown Plank Rd. which shares a parking lot with Country Travel Discoveries.
Walking Distance
Moderate walking at a leisurely pace is required to fully enjoy this tour.
Currency
US Dollar
Hotel Amenities
Hair dryers, TV/cable, iron/ironing boards available at hotels.
Additional Information
Dress on tour is casual.
Further information is mailed upon receipt of your reservation. A total of three mailings are sent to assist you in preparing for your tour…Get Ready, Get Set and Go! Our "Get Ready" packet is sent confirming your reservation. Our "Get Set" packet provides further information approximately 90 days prior to departure with important details regarding making your travel arrangements. Finally, our "Go" packet arrives 2-3 weeks before departure containing your final documents.
Updates
Updates to this document are available from our Discovery Reservations Team, and will be posted online at www.CountryTravelDiscoveries.com/HMI
Travel Protection Available?
Yes, see CountryTravelDiscoveries.com/TravelProtectionPlan.
Terms & Conditions
Tour reservations are subject to the terms and conditions on our website at CountryTravelDiscoveries.com/terms.
Groups
Have a group? We can make your group's vacation cost-effective and easy, with discounts for groups as small as five and other benefits. Learn more at CountryTravelDiscoveries.com/groups.

Share it
---