Austen. Christie. Conan Doyle...Join Annie's Publishing and Country Travel DISCOVERIES as we go undercover in search of the stories and places that stirred the imaginations of some of Great Britain's most beloved authors. From 221b Baker Street to the Agatha Christie home, go behind the scenes to tour the worlds of favorite classic and contemporary sleuths, including Sherlock Holmes, Inspector Morse, Miss Marple, DCI John Barnaby and others. En route, experience iconic British sites from the Tower of London and Oxford to the World Heritage Sites of Stonehenge and Bath. See England's longest-running play, Agatha Christie's The Mousetrap, ride the famed Dartmouth Steam Train, visit the last true cheesemaker in Cheddar, and more.
City tour of London, including the Tower of London
Tour Buckingham Palace
Walk the haunts of Sherlock Holmes
See sites made famous by Agatha Christie, including Greenway House
Take in The Mousetrap, the world's longest-running play
Enjoy a Midsomer Murders Tour in Oxford
Visit the ancient Roman Baths & Pump Room
Visit Jane Austen Center in Bath
Ride the Dartmouth Steam Train
Stand in awe at prehistoric Stonehenge
Bag handling (1 per person) at hotels
Entrance fees for included attractions and gratuities for included meals
Welcome dinner, 24-hour emergency call service, round-trip airfare from U.S.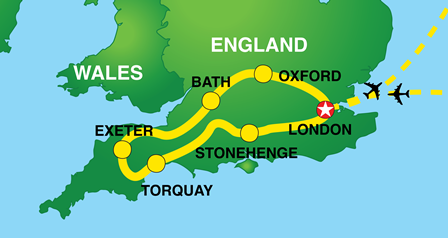 DAYS 1/2–WELCOME TO LONDON!
Our group flies from Chicago O'Hare to London Heathrow Airport, where we'll meet our professional Tour Director and motorcoach driver. A panoramic tour of London gives us an introduction to this amazing city. Enjoy an included welcome lunch at a traditional British Pub located near the River Thames. L, D
DAY 3–AGATHA/TOWER OF LONDON
The game is afoot, as we start the morning with an Agatha Christie Walking Tour in London's West End, where many of her characters enjoy the high life. We'll explore two areas very well known to Agatha: London's vibrant Theatreland and the affluent districts of Mayfair and St James's. We'll also see the home of Agatha's world's longest running stage play, The Mousetrap, along with her beautiful book-shaped memorial. And, we'll take a look at some of the luxury hotels immortalized in her novels. Later, a visit to the Tower of London is in order. Located on the northern bank of the River Thames, this internationally famous monument is one of England's most iconic structures. It is a 900-year-old castle and fortress notable for housing the crown jewels which are under armed guard in the Jewel House. These gems are a unique working collection of royal regalia and are still regularly used by The Queen for important national ceremonies, such as the State Opening of Parliament. B, D
DAY 4–SHERLOCK/BUCKINGHAM PALACE/THE MOUSETRAP
Elementary, my dear Watson! Grab your deerstalker as we embark on a Sherlock Holmes Tour of London, exploring sites that inspired Arthur Conan Doyle, as well as locations featured in film and TV adaptations of the detective's great adventures. The tour starts at the very place where Holmes and Watson first meet and then takes in literary sites from gentlemen's clubs to grand hotels and, of course, 221b Baker Street. We'll also visit locations featured in screen adaptations starring Jeremy Brett, Benedict Cumberbatch and Robert Downey Jr. This afternoon, tour the State Rooms at Buckingham Palace. Open to the public when the Queen is on holiday. You'll marvel at the opulence of the rooms where The Queen and members of the Royal Family receive and entertain their guests on State, ceremonial and official occasions. We'll enjoy a pre-theater dinner before attending The Mousetrap in London's West End. This murder mystery is the longest running play in the UK and the world. Agatha Christie herself stipulated that this thriller must not be made into a film—that still holds true today. B, D
DAY 5–MIDSOMER MURDERS/OXFORDSHIRE
Today we journey to Oxford. The Midsomer Murders Tour of Oxfordshire will transport you into the charming yet sinister world familiar to DCI John and Tom Barnaby, and uncover the locations that give the show its distinct character since it was first broadcast in 1997. Along the way, we will head to the towns and villages of Midsomer, situated across several English counties (including Buckinghamshire and Oxfordshire) that have played a role in more than 250 suspicious deaths over the years. The tour will visit fairy tale houses, ancient churches, cozy pubs, charming village greens, quaint stores and grand estates that appear prominently in the magical but rather deadly county of Midsomer. We'll get behind–the–scenes information about the show, Midsomer Murders, and discover fascinating details about historical places that have appeared in numerous episodes. B, D
DAY 6–INSPECTOR MORSE
After breakfast, we join the Inspector Morse Tour in Oxford, where we'll take a close look into the world of author Colin Dexter's famous detective, Endeavour Morse. With Oxford being the setting for both the books and the TV series you will visit many settings familiar to Morse, Lewis and Hathaway. On this two hour guided walk, you will hear about the colleges and other places known to Morse and also get the inside track on the enigmatic detective. We'll visit the actual locations from the series, explore the old city of Oxford, and go behind the scenes of Inspector Morse. Then, this afternoon in Oxford is at your leisure. B, D
DAY 7–JANE AUSTEN/BATH/ROYAL CRESCENT
In Bath, we enjoy an audio walking tour spotlighting author Jane Austen. She is one of Bath's most famous residents, and two of her novels are set here: Northanger Abbey and Persuasion. The tour includes extracts from Austen's novels and letters, which describe Bath as it would have been in its Georgian heyday. Next, visit the Jane Austen Centre, which offers a snapshot of life during Regency times and explores how living in this magnificent city affected Jane Austen's life and writing. If you wish, you may visit the Regency–themed Tea Rooms on the 2nd floor to enjoy a cup of tea and homemade cake. Afterwards, we'll see Number One Royal Crescent, a Georgian townhouse that creates a wonderfully vivid picture of life in Georgian Bath. Built between 1767 – 1774 to the designs of the architect John Wood the Younger, the Royal Crescent is justly considered one of the finest achievements of 18th century urban architecture and represents the highest point of Palladian architecture in Bath. We overnight in Bath this evening. B
DAY 8–ROMAN BATHS/ENGLISH TOURING
This morning before leaving Bath, we'll visit the Roman Baths and Pump Room. Bath was founded upon natural hot springs with its steaming water playing a key role. The Roman Baths were constructed around 70 AD as a grand bathing and socialising complex, and are one of the finest historic sites in Northern Europe. You'll want to visit The Great Bath, the magnificent epicenter to the complex, and walk on the ancient cobbled pathways as the Romans did 2,000 years ago. En route to Exeter, we'll stop at the Cheddar Gorge Cheese Company, the only cheesemakers left in Cheddar – the home of Cheddar cheese. We'll watch the cheesemakers during the various stages as they transform their rich, local milk into award–winning, authentic Cheddar Cheese. Upon arrival in Exeter, we'll spend the afternoon at leisure before checking into our hotel for the next two nights. B, D
DAY 9–AGATHA/ DARTMOUTH STEAM TRAIN
Torquay Museum houses the Agatha Christie Gallery—our first call this morning. You can trace the eventful life of the best-selling author of all time in this gallery dedicated solely to Agatha Christie, and her life, novels and plays. Visitors can step inside Poirot's study and lounge, reconstructed in the Agatha Christie Gallery—it even includes items from his beautiful London Art Deco apartment. And, keep an eye out for the beautiful walking stick that David Suchet famously carried as Poirot. Afterwards, we'll take the Dartmouth Steam Train to Churston Station to visit the beloved holiday home of Christie and her family for a further glimpse into their lives. This relaxed and atmospheric house is set in the 1950s, when Agatha and her family would spend summers and Christmases here with friends, relaxing by the river, playing croquet and clock golf, and reading her latest mystery to their guests. Also there is Christie's walled garden, home to a restored peach house and vinery, as well as an allotment cared for by local school children. A visit to Greenway isn't complete without seeing the Boathouse, scene of the crime in Dead Man's Folly, and the battery complete with cannon. B, L
DAY 10–STONEHENGE
En route to London, we'll make a stop at Stonehenge, the world famous prehistoric monument in Wiltshire. Stonehenge is the remains of a ring of standing stones set within earthworks. Archaeologists believe it was built anywhere from 3000 BC to 2000 BC. Archaeological evidence suggests that Stonehenge could have been a burial ground from its earliest beginnings as the dating of cremated remains found on the site indicate that deposits contain human bone from as early as 3000 BC…we'll hear other theories during our visit. Back in London, we'll have a relaxing and delicious farewell dinner and reminisce about our travels with your new friends. B, D
DAY 11—CHEERIO!
After breakfast transfer to London Heathrow Airport for your flight home carrying memories of the sites and haunts of mysterious England and its authors. B


Quality Accommodations:
Nights 2-4: Premier Inn London City - Aldgate
Nights 5-6: Best Western Linton Lodge, Oxford
Night 7: MacDonald Bath Spa Hotel, Bath
Nights 8-9: Mercure Exeter Southgate Hotel, Exeter
Night 10: Holiday Inn London Heathrow Bath Road

Dates:
Sep 20-30, 2020
Price Per Person:
Double $4,497;
Single $5,125
Land only pricing available. Please call.
Pre-/Post-Tour Hotel: $198/night

Depart/Return: Chicago, IL


Average Temps
Highs in the mid-60s / Lows in the mid-50s
Time Zone
+6 hours ahead of Central Time
Arrival Time
Flights available 90 days prior to departure.
Departure Time
Flights available 90 days prior to departure.
Airport Info
Crowne Plaza Chicago O'Hare offers complimentary shuttle service for Pre/Post Hotel accommodations.
Vehicle Parking
Free parking is offered during the tour at the Crowne Plaza Chicago O'Hare with Pre or Post tour night accommodations.
Walking Distance
Moderate to Extensive walking on uneven pavement and pathways is required to fully enjoy this tour.
Currency
Great Britain Pound (British Pound Sterling)
Hotel Amenities
Hair dryers, TV/cable, telephone, and Spa services available at hotels.
Additional Information
Land Tours begin one day later. Airport transfers not included with Land Only Tours. Air & Land Tours include government imposed taxes, fees and airline fuel surcharges at time of printing.
Dress on tour is casual.
Further information is mailed upon receipt of your reservation. A total of three mailings are sent to assist you in preparing for your tour…Get Ready, Get Set and Go! Our "Get Ready" packet is sent confirming your reservation. Our "Get Set" packet provides further information approximately 90 days prior to departure with important details regarding making your travel arrangements. Finally, our "Go" packet arrives 2-3 weeks before departure containing your final documents.
Updates
Updates to this document are available from our Discovery Reservations Team, and will be posted online at www.CountryTravelDiscoveries.com/EMT
Travel Protection Available?
Yes, see CountryTravelDiscoveries.com/TravelProtectionPlan.
Terms & Conditions
Tour reservations are subject to the terms and conditions on our website at CountryTravelDiscoveries.com/terms.
Groups
Have a group? We can make your group's vacation cost-effective and easy, with discounts for groups as small as five and other benefits. Learn more at CountryTravelDiscoveries.com/groups.
Share it
---