Travel with us and explore the cities, small towns, farms, and gardens of Eastern North Dakota. Explore flowers and foliage of the "must-see" International Peace Garden perched on the Canadian Border, go more than 40 feet below ground into a Cold War-era missile control center, and enjoy vistas of the scenic Red River of the North as it flows through Fargo. It's a legendary trip through the northern Great Plains you won't soon forget!

Visit the International Peace Garden on the US/Canada border
Go behind the scenes at the state-of-the-art Ralph Engelstad Arena, visit with a favorite local candy maker, and relax in the city's stunning Japanese Gardens
Tour the Fargo Air Museum to see historic aircraft
Experience The Hjemkomst Center, home to the Hjemkomst Viking Ship and a Hopperstad Stave Church replica
Travel through North Dakota's "City of Bridges"
Meet locals at their farms and businesses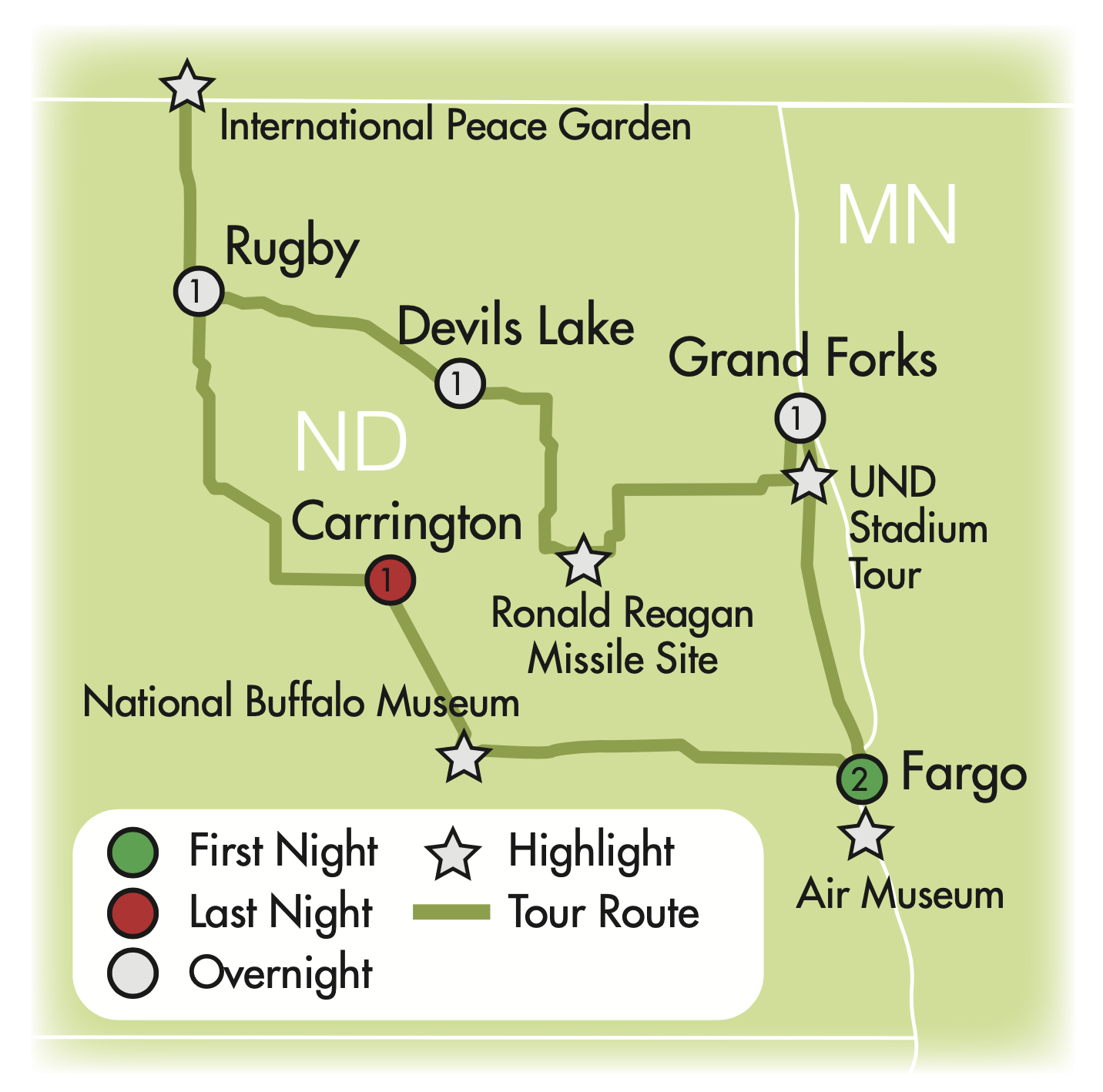 DAY 1—WELCOME TO FARGO!
Enjoy meeting your fellow travelers and Discoveries Director at a welcome dinner in Fargo, North Dakota's largest city. Our hotel provides scenic views of the city and is the second tallest building in the state! D
DAY 2—BAGG BONANZA FARM/FARGO CITY TOUR/VIKING CENTER/BREWERY
Our day begins with a trip to the historic Bagg Bonanza Farm. The centerpiece of the 15-acre wheat farm is a fully restored 21-bedroom house formerly used by workers who lived on-property under a unique arrangement with its owner. After a home-cooked lunch on the farm, experience a guided city tour of Fargo before our visit to the Fargo Air Museum to see historic aircraft—many still in flying condition. Later, cross the river to Moorhead, MN to experience The Hjemkomst Center, home to the Hjemkomst Viking Ship and a Hopperstad Stave Church replica. Next, tour a local brewery, founded by four friends, that has grown to serve thirsty customers across several states. Tonight, freely explore Fargo's eclectic Broadway Street District on your own. B, L

DAY 3—VALLEY CITY/MISSILE CONTROL CENTER/HOMETOWN HERO
Today, we travel through Valley City, known in North Dakota as "The City of Bridges". We will view one of the tallest and longest trestle railroad bridges in the country and the city's medicine wheel. Don't forget your camera for the scenic drive up the Sheyenne River Valley, with a stop at Baldhill Dam Overlook where you'll have a chance to spot white pelicans. Near Cooperstown, explore the Ronald Reagan Minuteman Missile State Historic Site. Feel like a real missileer as you descend 40 feet below ground to a control center that could have changed the fate of the world with one turn of a key. This afternoon, learn about Carl Ben Eielson, Hatton's hometown hero, who was known as "America's Aviator". Enjoy a special BBQ cookout dinner in Grand Forks. B, L, D
DAY 4—GRAND FORKS/BEE KEEPING/BARN QUILTS/DEVILS LAKE CRUISE
This morning, learn how the people of Grand Forks came together to recover from a devastating flood that nearly wiped out the entire community. We'll go behind the scenes at the state-of-the-art Ralph Engelstad Arena, visit with a favorite local candy maker, and relax in the city's stunning Japanese Gardens. Lunch is hosted by the Nelsons, whose family has farmed the region since 1880. Todd Nelson shares his insights into growing wheat and demonstrates his family's newest project—beekeeping and honey-making. Next, artist Sylvia Daws takes us on a ride through the countryside to show us some of her unique barn quilt designs near Michigan, ND. We'll cap the evening off with a pontoon boat ride and dinner at a resort on the shores of the ever-rising Devils Lake. B, L, D
DAY 5—FARM MUSEUM/INTERNATIONAL PEACE GARDEN
Step into yesteryear amid the state's largest collection of antique farm equipment. You'll love the steam engines, tractors, threshers, and autos on display. We'll later take a look around the Dale and Martha Hawk Museum. From there, head for the Canadian Border, where we will spend the afternoon exploring the International Peace Garden's 2,300 acres encompassing two pristine freshwater lakes, scenic hiking trails, wildflowers, waterfalls, and a variety of wildlife. July's departure features floral designs, while September's focuses on fall foliage. Enjoy an included lunch and dinner at the Peace Garden. (Note: Passport or passport card is required.) Overnight in Rugby, the "Geographical Center of North America". B, L, D
DAY 6—TREE NURSERY/DAKOTA SUN GARDENS
Go behind the scenes at the only conifer (evergreen) seedling nursery in North Dakota, where about one million trees are seeded, cared for, and sold every year. The trees are used in shelterbelts, living snow fences, wildlife block plantings, and more. Near Carrington, meet vintners Merleen and Bruce Gussiaas, the award-winning winemakers who produce more than 20 wines using local fruits and grapes. Enjoy samples as you relax in the shade and sun gardens on their property. B, L
DAY 7—FAMILY DAIRY/NATIONAL BUFFALO MUSEUM
Bright and early, we'll be just in time for the morning milking at the Vandebaf Dairy. Connie and her family explain why they emigrated from the Netherlands to raise more than 1,500 dairy cows in rural North Dakota. Our trip concludes with a visit to the National Buffalo Museum in Jamestown, where you will experience an in depth story of the North American bison. Heading back home from Fargo, you'll be amazed by the unique sites and charming people of North Dakota. B


Quality Accommodations
Nights 1-2: Radisson BLU, Fargo
Night 3: Country Inn & Suites, Grand Forks
Night 4: Sleep Inn, Devils Lake
Night 5: Cobblestone Inn, Rugby
Night 6: Cobblestone Inn, Carrington
Date:
Sep 17-23, 2023
Price Per Person:
Double $1,897
Single $2,375

Pre/Post Tour Hotel:
$218/night
Depart/Return:
Fargo, ND
Inclusions:
Free airport shuttle or hotel parking
Welcome Dinner and meals as indicated (B=breakfast, L=lunch, D=dinner)
Fees and tips for included attractions and meals
Luggage handling of one suitcase per person at hotels
Free bottled water on coach
24-hour emergency call service
Arrival Time
Our Welcome Dinner on Day 1 is at our hotel, Radisson BLU Hotel, Fargo, starting at 6:30 pm. We recommend scheduling your flight to arrive by 4:00 pm.
Departure Time
Schedule your flight home to depart the Hector International Airport in Fargo, any time after 2:00 p.m. on Day 7.
Airport Transportation / Vehicle Parking
Our starting hotel offers a complimentary shuttle service to/from the Hector International Airport. If you are driving to the starting location, the hotel charges a nightly $7 rate for self-parking, for the duration of the tour.
Walking Distance
Moderate walking is required to fully enjoy this tour. Some walking will also be on uneven paths. While walking canes are allowed, we are unable to accommodate travelers using other mobility devices, including walkers and wheelchairs.
Average Temps
July – high of 85°, low of 65°
September – high of 75°, low of 45°
Time Zone
Central
Hotel Amenities
Each hotel has a hair dryer, iron/ironing boards, and a coffee maker. All hotels also offer a refrigerator, Wi-Fi, exercise room and some have a swimming pool. (Exception: Radisson and Cobblestone Hotels do not have pools.)
Additional Information
A total of three mailings are sent to assist you in preparing for your tour, including information sent upon receipt of your reservation.
Dress on tour is casual. Sunscreen, sunglasses, hat, visors, and comfortable walking shoes will add to your enjoyment of this tour.
Temperatures can fluctuate in this region, so we recommend bringing a light jacket with you when out in the morning or evening.
Travel Protection Available?
Yes, see CountryTravelDiscoveries.com/TravelProtectionPlan.
Share it
---