We'll venture deep into the heart of Nordic Europe to discover Scandinavia's fascinating countries of Sweden, Denmark and Norway. Starting in Sweden, journeying to Denmark and ending in Norway, this Scandinavian adventure is back by popular demand! Slightly larger than California in size, the country of Sweden stretches from the Baltic Sea north to the Arctic Circle. With landscapes ranging from mountains to forest bordered by extensive waterways, Sweden's natural beauty is truly something to behold.

Next we're onto the tiny kingdom of Denmark to visit one of the oldest monarchies in the world. Primarily an agricultural country, the Danes are known for their dairy products, pork, windmills, lager and Lego. The storyteller Hans Christian Andersen, the philosopher Kierkegaard, the physician Niels Bohr are some famous names we'll learn more about on our travels. And in Norway we'll see mountains and fjords that dot the rugged coastline. A country of endless rivers and stunning waterfalls, Norway is arguably one of the most scenic countries on earth. Along the way we'll visit historic cities and charming towns, taste Scandinavian cuisine, and most importantly, meet the warm Nordic people. We're sure to return home with cherished, lifelong memories of our time in Sweden, Denmark and Norway.
Visit three capital cities of Scandinavia
Tour the Vasa Ship & Tivoli Gardens
Meet local families to experience their way of life in each country
Ride an overnight ferry crossing from Copenhagen to Oslo
Visit world-famous Kronborg Castle
Stroll through Vigeland Sculpture Park
See a Stave Church dating back to the 12th century
Ascend the famous railway "Flamsbanen"
Cruise Naeroyfljord from Flam to Gudvangen, a UNESCO Site
Climb Mount Floien on the funicular
Enjoy a short concert at composer Edvard Grieg's Troldhaugen
Airport Meet-and-Greet service, English-speaking tour rep and guides
Bag handling (1 per person) at most hotels
Entrance fees for included attractions and gratuities for included meals
Welcome dinner, 24-hour emergency call service, round-trip air from U.S.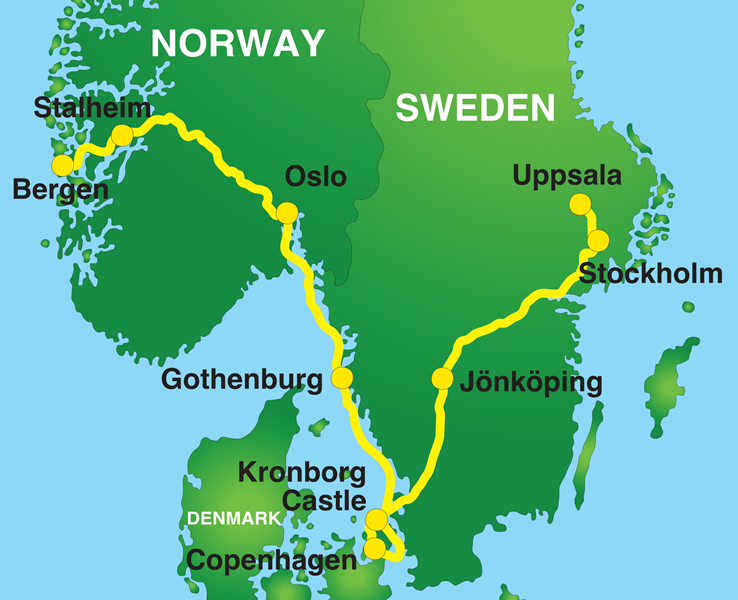 DAYS 1-2–CHICAGO/STOCKHOLM
Situated on the Baltic Sea and freshwater Lake Malaren, Stockholm is one of the world's most beautiful harbor cities that blends the medieval with the modern. Built on 14 islands that are part of the Stockholm archipelago, Stockholm offers fascinating landscapes and cosmopolitan areas. We'll see the fabulous 10,000-pipe organ and 18-karat gold-covered mosaics of the City Hall, an architectural masterpiece of the twentieth century. Our tour will feature views of the Royal Palace from Old Town, where we'll have free time to wander this historic area and enjoy lunch on our own. Our last stop of the day is the famous Vasa Museum. The warship Vasa was sunk on her maiden voyage from Stockholm in 1628. Later, in 1961, the vessel was brought to the surface and restored. Afterwards, we check into our hotel to enjoy dinner tonight. D
DAY 3–UPPSALA/SIGTUNA
This morning, we explore Uppsala, the original Viking capital of Sweden. Today, Uppsala is best known for its University, the Carolina Rediviva Library and its impressive medieval Cathedral. The city also served as the original capital for the Vikings. We'll take in all the sights on a guided walking tour of this historic city. After lunch, we travel to Sigtuna, a quaint town located on Lake Malaren and known for its well-preserved all-wood houses. Returning to Stockholm for the evening, we'll have time to dine at local restaurants or take a stroll through the charming streets of the city. B, L
DAY 4–JONKOPING/FAMILY FARM VISIT
We depart in the morning to travel through Sweden's fabulous countryside to Jonkoping, located just south of Lake Vattern. En route, we visit with a traditional Swedish family on their farm. You'll see their operation and hear how they maintain the farm followed by a typical Swedish lunch before arriving at the hotel for the evening. B, L
DAY 5–DANISH RIVERIA/KRONBORG CASTLE
Today, we ride the ferry to Denmark and then onto Copenhagen. On our drive, we'll travel portions of the "Danish Riviera" including a stop at Kronborg Castle. This 16th century castle's copper roofs, spires and gardens were made famous by Shakespeare's play Hamlet and was recently listed as a UNESCO World Heritage Site. Continuing our drive, we'll stop in the Helsingor area to meet a wonderful farm family. Later, we arrive in Copenhagen, the capital of Denmark and our comfortable home for the next two nights. B, L, D
DAY 6–COPENHAGEN
Enjoy time on your own this morning to explore the National Museum of Denmark, stroll along the harbor area or the pedestrian friendly Stroget lined with quaint shops and restaurants. This afternoon, we'll regroup for a city tour. We'll visit the little Mermaid sculpture, the Gefion Fountain, MAERSK Shipping headquarters, the Parliament, the palace of the Danish Royal Family Amalienborg, The National Library "The Black Diamond" and the old quarter Nyhavn, close to the medieval canals. Our tour will showcase the Medieval, Renaissance and classical parts of the town as well as the modern city. Afterwards, we'll enjoy free time at Tivoli Gardens, a charming old fashioned amusement park dating back to 1843. This evening we return to our hotel for dinner and overnight. B, D
DAY 7–ROSKILDE/DFDS SHIP TO NORWAY
Today, we continue by coach to Roskilde where we visit the famous Viking ship museum. Here we'll explore their exhibitions and living workshops to determine how Scandinavian Vikings were able to cross sea and rivers from the Black Sea to North America, and later conquer parts of present day France, Ireland, England, Scotland and Eastern Europe. We'll lunch on our own before returning to Copenhagen and the harbor area. Tonight we embark our ship for an overnight crossing to Norway. B, D
DAY 8–OSLO
Wake up this morning in Oslo! Interestingly, Oslo is the oldest of the Scandinavia capitals with a history dating back 1000 years. A mix of old and new architecture, parks, hills, lakes and fjords, are all found throughout the city. We'll take this all in on a narrated tour of this capital city located on the innermost of the Oslo fjord. Here we'll enter the world-famous Vigeland Park to be amazed by over 200 bronze and granite fountains and sculptures created by Gustav Vigeland, Norway's most beloved sculptor. We'll visit another museum of note, the Viking Ship Museum, which displays the world's three best preserved 10th century ceremonial ships. We'll also admire the contemporary architecture of the Oslo Opera House. Completed in 2008, it appears to float like an iceberg on the water. Dinner tonight is at our hotel. B, D

DAY 9–STALHEIM
We leave Oslo behind and travel the country roads to a traditional Norwegian mountain farm on our way towards Stalheim. Old traditions and new ways of operating show how the mountain farm life has changed over 100 years. Here you can experience life on the farm, meet livestock such as calves, goats, chickens, pigs, rabbits, lamb and more. En route we will also visit one of the beautiful Stave churches in Norway. Elaborately carved wooden churches were once present in many parts of northwest Europe. Today, they are almost exclusively found in Norway. Continue to Stalheim located high on the mountain with sweeping views of the Nærøy valley. B, L, D
DAY 10—FLAM/AURLAND FJORD CRUISE
This morning we'll take in the breathtaking views from our village hotel before we venture on the Flam Railway. With twisting tunnels that spiral in and out of mountains, the Flam Railway reflects the most daring and skillful engineering in railway history. The 12-mile journey passes through numerous tunnels and showcases views of rivers cutting through deep ravines and waterfalls cascading down snow-capped mountains. This afternoon, we cruise from Flam to Gudvangen amid spectacular scenery of Aurland and Næroy Fjords. After a day riding the rails and cruising the fjords, we return to our hotel along the historic Stalheimskleiva road. This drive is known for its hairpin turns and stunning views of the valley below. B, D
DAY 11–HARDANGER/BERGEN
Today we travel to the Hardanger Fjord area, known as "Norway's Garden" for the temperate climate and rich soil that produces an amazing array of fruit trees. We'll stop at the Hardanger Juice and Cider factory for a guided tour of the farm and production facilities along with some tasty samples. As we continue on to Bergen, Norway's second-largest city, we'll soak in the surroundings of this city's many mountains and fjords. This evening we take the funicular to Mount Fløien, where you have an amazing view of Bergen, the city between seven mountains. We'll savor dinner and the views this evening at Restaurant Fløien, before returning to the city. B, D
DAY 12–BERGEN
This morning, we'll visit Bryggen, one of Norway's main attractions, known for its colorful wooden houses on the old wharf. Bergen was the largest city in Norway until the 1830s and has a long maritime history in shipping and finance. The pier "Bryggen" was built after the great fire in 1702 and is included on UNESCO's World Heritage List. We will also see the Fish Market, one of Norway's most visited outdoor markets, where you can buy seafood, fruit and vegetables. Later, we visit the famous Norwegian composer Edvard Grieg`s home Troldhaugen. Our guided tour will feature a short unique concert, where the pianist will present their interpretation of Grieg`s music. Afterwards, we return to Bergen for an afternoon at our leisure, followed by a delectable farewell dinner at the historic wharf. B, D

DAY 13—BERGEN/CHICAGO
After fond farewells, return home with memories of delightful days and extraordinary scenic adventures throughout Scandinavia. B

Quality Accommodations
Nights 2-3: Scandid Hotel Kiara, Stockholm
Night 4: Elite Stora Hotellet, Jonkoping
Nights 5-6: Imperial Hotel, Copenhagen
Night 7: DFDS Ship
Night 8: Comfort Hotel Borsparken, Oslo
Nights 9-10: Stalheim Hotel, Stalheim
Nights 11-12: Thon Hotel Orion, Bergen

Dates:
Aug 31-Sep 12, 2020
Price Per Person:
Double: $5,297; Single: $5,995

Pre/Post-Tour Hotel: $228/night

Depart/Return: Chicago, IL
Share it
---